"Bad driving experience" - The biggest obstacle is yourself!
"The first time I took a car to drive it was just joy, I already imagined myself traveling 200 km per hour on roads around the world... But that's not what happened"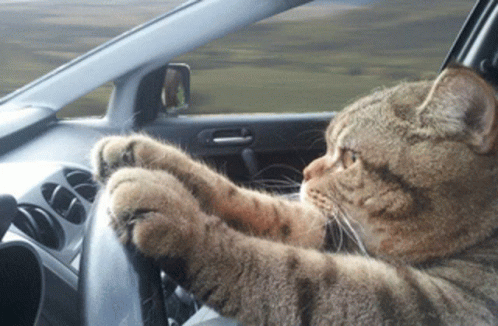 Image Gif
I drove so slowly that it seems that every moment the car would die in the street, I looked like a paralyzed robot because of the statue that was behind the wheel... not I managed to get distracted, the attention I had was so much that it was totally uncomfortable to drive.
In theory everything seems to be easier... from the moment you start to direct things it changes. Thinking and driving is perhaps one of the biggest problems... it is necessary to be aware at all times how to drive, how to act in the face of any obstacles that may arise along the way.
Gives a chill in the stomach...
and suddenly you start to sweat cold and shake everything... it feels like your body doesn't belong to you, you get tense, your brain starts bugging everything.
I remember that, I didn't care about the shoes I was going to wear, and there was a day when I was already behind the wheel lol and I decided to wear a boot with thin and high heels, unfortunately when I stopped the car I didn't feel where I was stepping. brake or clutch...
and you already know what happened right?
I stepped on the gas, and hit the car in a flower vase in front of the house and broke everything...
It was the worst feeling I've ever felt in my life... my heart raced... it accelerated, accelerated that I stopped at that moment and I couldn't do anything else.
In the beginning everything is more difficult, but if you persist you start to notice that that feeling of fear passes, and everything becomes so normal and you start to feel able to make it happen.
Nothing is impossible, you just have to believe, act and continue even with fear... Everything becomes easier as you insist on continuing!
Even if you are afraid to go, you can overcome any obstacle.
---
Posted via proofofbrain.io
---
---