The End of the Beginning ... and the beginning of the end for Facebook & Google
Finally, 14 months after filing the Crypto Class Action against Facebook & Google, the first interlocutory hearing to establish prima facie case and obtain leave to serve Facebook & Google in the USA is finished.
Judgement is reserved and will probably take another month or two (or three).
While only a small part of the overall proceedings, this mammoth exercise has involved seven appearances (via MS teams) ranging from 1 - 3 hours each in front of two Judges, starting on 11 Sep 2020 and finishing on 11 October 2021.
I went from being an unknown self-represented litigant with a claim the first Judge was initially quite skeptical about, to being a respected experienced solicitor advocate putting the legal "icing on top of the icing on the cake" of prima facie case on one of the most important and ground breaking pieces of litigation to come before Australian Courts in many a year.
Thousands of pages of evidence have been filed as well as a video and html interactive charts of ETH & BTC price and volume with relevant dates of ad ban activity marked (thanks @brianoflondon).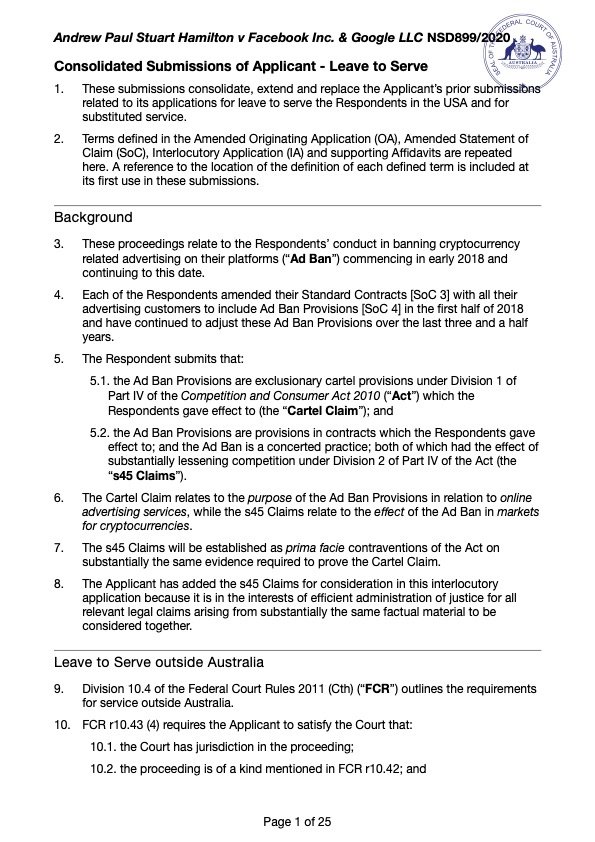 This process, while lengthy, has been most valuable as I have learned a lot and continually improved and refined the case.
Also, the past 13 months have brought numerous legal and factual windfalls to my case. Avenues of defence which Facebook & Google may have pursued have been closed off by decisions in other cases, and the overall environment has become much more accepting of cryptocurrencies and more and more concerned about the power and behavior of Facebook & Google.
I'm confident that I will obtain a finding of prima facie case and get leave to serve and then I can move onto the next step of getting a "no adverse costs order" which will put me on a level playing field costs wise with these immensely wealthy companies.
The legal case theories I am pursuing will dramatically change the competition law landscape worldwide regarding Big Tech and online advertising as well as being the first substantial case about the cryptocurrency industry.
I expect that once the Judgement is published there will be a lot of media and legal commentator attention on the case.
Thankfully @brianoflondon loves this sort of stuff (and is great at it) so he will handle most of it leaving me to focus on the Court work itself.
Hive itself will also get attention and coverage out of the case which will boost Hive's profile further.
Watch this Hive space for more developments as they occur....
Please vote for my Hive witness. (KeyChain or HiveSigner)
---
---