Maximizing Earnings and Supporting High-Quality Content on Hive: The Helios Token Project
The Hive blockchain is a decentralized blogging platform that allows users to share their content and earn rewards in cryptocurrency. However, as with any other platform, the quality of content varies greatly, and many deserving posts often go unnoticed. This is where the Helios token comes in.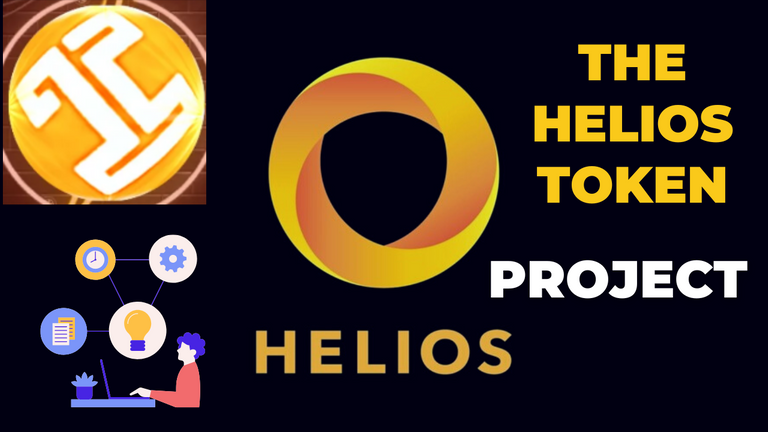 INTRODUCING HELIOS: A PROJECT SUPPORTING QUALITY CONTENT WRITERS IN THE HIVE ECOSYSTEM
Helios is a project designed to support the best content writers in the Hive ecosystem. Its purpose is to add benefits to the ecosystem and curate high-quality content that is often ignored. Helios is being controlled by @coininstant, and new features are constantly being added to the platform.
One of the best things about Helios is that it allows users to burn their tokens against their posts to receive juicy upvotes. However, it is important to note that only genuine, high-quality posts are upvoted, and plagiarism or fake content is not rewarded.
Another benefit of the Helios token is that users can delegate their Hive power to helios.voter and earn 20% APR. According to my thinking, there is no other platform that pays such a decent amount for delegating power. This means that users can earn passive income by simply delegating their Hive power to Helios.
In addition to earning 20% APR, users can also earn an additional 15% by simply holding the Helios token in their wallet. This is a great incentive for users to hold onto their tokens and not sell them on the market.
"Burn Helios Tokens for Increased Rewards on Helios.surf"
If users want to earn even more than 20% APR and 15% holding rewards, they can burn their Helios tokens using #hivekeychain via https://helios.surf/?i=1. This will earn them even more rewards and increase their earning potential on the platform.
Overall, the Helios project is a win-win situation for all users. It supports the best content writers in the Hive ecosystem, rewards users for delegating their Hive power, and offers additional rewards for holding and burning Helios tokens. Moreover, users can be assured that their rewards are being distributed fairly, and only high-quality content is being upvoted.
The Helios project is not just beneficial for content creators and Hive users, but it also contributes to the growth and development of the Hive ecosystem as a whole. By curating and promoting high-quality content, Helios is helping to improve the overall user experience on the platform. This, in turn, attracts more users and investors to the ecosystem, leading to increased activity and engagement.
Moreover, the Helios project is a great example of how blockchain technology can be used to create decentralized communities that operate on a fair and transparent basis. The use of the Helios token and its associated rewards system ensures that all users are treated fairly, and that high-quality content is rewarded accordingly. This creates a more inclusive and equitable environment for all users, regardless of their background or level of experience on the platform.
Constantly Evolving with New Features and Developments
The Helios project is also constantly evolving, with new features and developments being added on a regular basis. This ensures that users always have something new and exciting to look forward to, and that the project remains relevant and competitive in an ever-changing market.
The Helios team is committed to improving the user experience and promoting the growth of the Hive ecosystem, and this is evident in their dedication to the project and their willingness to listen to user feedback.
If you are interested in supporting the Helios project, you can delegate your Hive power to helios.voter. If you have any questions or concerns, you can reach out to the project owner @coininstant and @asgharali (that is me).
The Helios project is a great addition to the Hive ecosystem. It offers a unique opportunity for users to earn passive income, support high-quality content creators, and earn additional rewards for holding and burning Helios tokens. I encourage all Hive users to join this project and be a part of the growing community.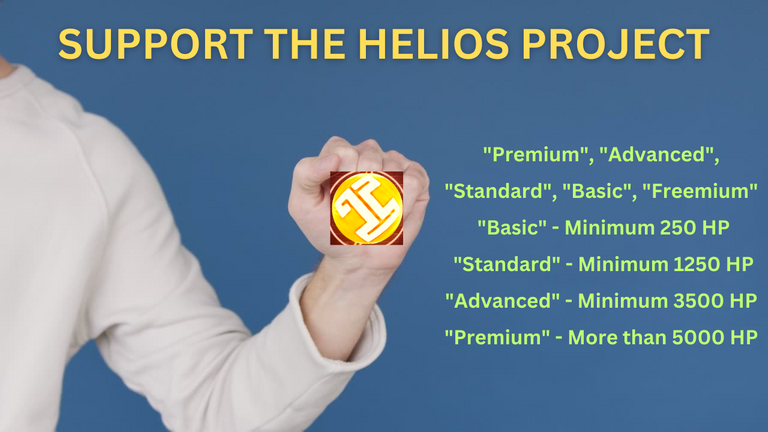 UNDERSTANDING THE DELEGATION SYSTEM OF THE HELIOS PROJECT
The delegation system of the Helios project is structured in a way that rewards users for their contributions to the ecosystem. There are five different levels of delegation based on the amount of Hive power that is delegated, ranging from the basic level which requires a minimum of 250 HP, to the premium level which requires more than 5000 HP. Users who delegate more than 250 HP are eligible for shortlisting and have a greater chance of receiving an upvote for burning tokens.
In addition to the potential for upvotes, users who delegate their Hive power to Helios also receive a status based on their level of delegation. This status ranges from freemium for those who delegate the minimum amount of 250 HP, up to premium for those who delegate more than 5000 HP. This system not only incentivizes users to delegate more Hive power to the project, but it also provides a sense of achievement and recognition for their contributions to the ecosystem.
"Premium", "Advanced", "Standard", "Basic", "Freemium"
"Basic" - Minimum 250 HP
"Standard" - Minimum 1250 HP
"Advanced" - Minimum 3500 HP
"Premium" - More than 5000 HP
Throughout this article, I have endeavored to provide comprehensive information on the Helios project and how you can maximize its benefits by delegating to @helios.voter. I hope that this information has been informative and valuable to you. Your feedback is greatly appreciated, so please do not hesitate to share your thoughts in the comments section below. Thank you for taking the time to read through this post.
You can reach us by joining the official HELIOS-VOTER Discord Channel or sending a message on Discord to Asgharo#2972.

TWITTER TELEGRAM HIVE WHATSAPP DISCORD
IMAGES AND GIF TAKEN FROM CANVA, EDITED IN CANVA
REMEMBER: We should prepare for the unexpected and hope for the best. Life may not be easy, but you must do your best and leave the rest to God.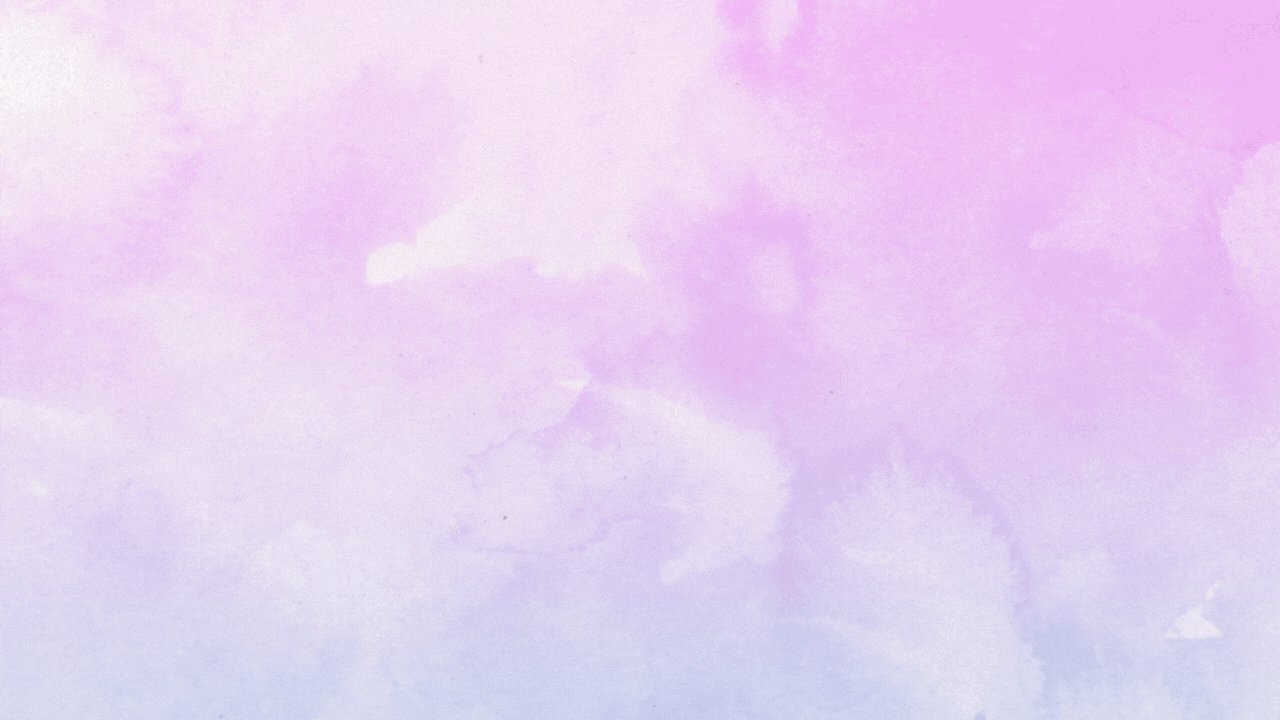 Posted Using LeoFinance Beta
---
---