Brave Browser Is Actually Quite Awesome

I first used Brave when it just launched, i think that was in 2018 or maybe late 2017, I can't remember for sure.
Back then, it was clunky, buggy and despite the rewards, it was really painful to use that I couldn't make the switch.
Fast forward to 2021 and I needed to use it because it was one of the supported browsers for a wallet that I had to install. I've been pleasantly surprised in the day or so that I have been using it and it is fast becoming my favorite.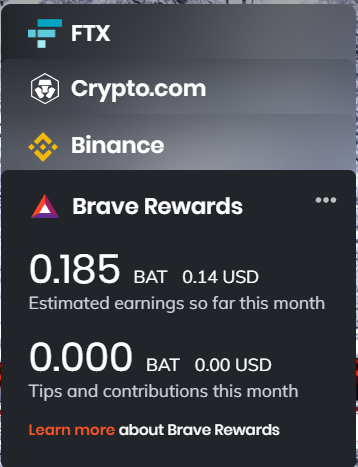 So how much do I make in a day? Not a lot but considering it is my third browser at the moment, the additional 14-15c a day is pretty sweet for some casual browsing. It adds up to a meal a month for me in a moderately high cost living country.
The other cool thing about Brave is that because of the default disabling of javascript etc. it makes for a good way to bypass a lot of the paywalls of news sites. Opening a link in incognito helped me get past the Bloomberg paywall and the SCMP article limit also appears unlimited on Brave.
In order to get more crypto adoption, promoting Brave as a way to earn decent cash while browsing and also to bypass paywall seems like a good way. If you have been resisting the switch to Brave, I highly recommend that you consider it.
---
---