Progress Update - Sometimes Life Happens
Sometimes Life Happens and there is nothing you can do about it. I am not making excuses. The Key is to get back up and start being consistent again once that "moment" has passed. It will not last forever but it might last longer than you would like.
Learn from it and move on and try not to repeat it in the future.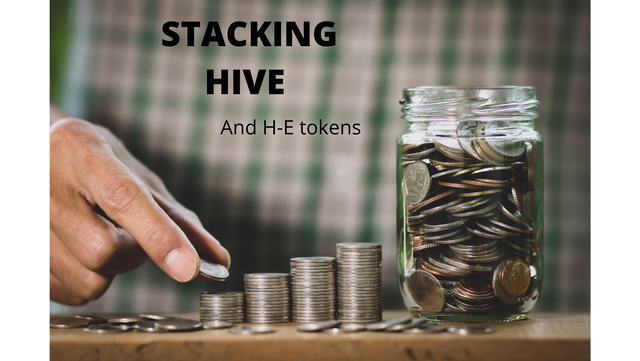 Hive Target
I am targeting 2,500 Hive Power by the end of the year. I am working very hard to hit that goal.
It is a stretch but I don't want to settle for a small achievable goal which would not push me.
I currently have 1856 HP. I need around 650 more HP to reach my goal by year end. This would be adding around 120 HP per month for the rest of the year. I will be a push but I think I will try my best to make that goal.

Author and Curation Rewards
This week, my 7 day Author rewards took a big hit due to circumstances that helped me miss publishing my posts for several days. It dropped to 10.82. This was due to me not posting and nothing to do with the vote values I received.
The main thing is for me to start over by creating content on a daily basis. My 30 day Author rewards decreased as well to 113.08.
My 7 day curation rewards were 1.88 for the past week. I have been working to have less of my curation in the dust threshold range, I am hoping the small amounts I power up each week will assist with that.



Hive Account Growth
The increase reflected in the chart looks impressive until you look at the increase over the course of the week. My HP increased by 7. Not bad at 1 HP per day but it could have been much better if I would have been consistent.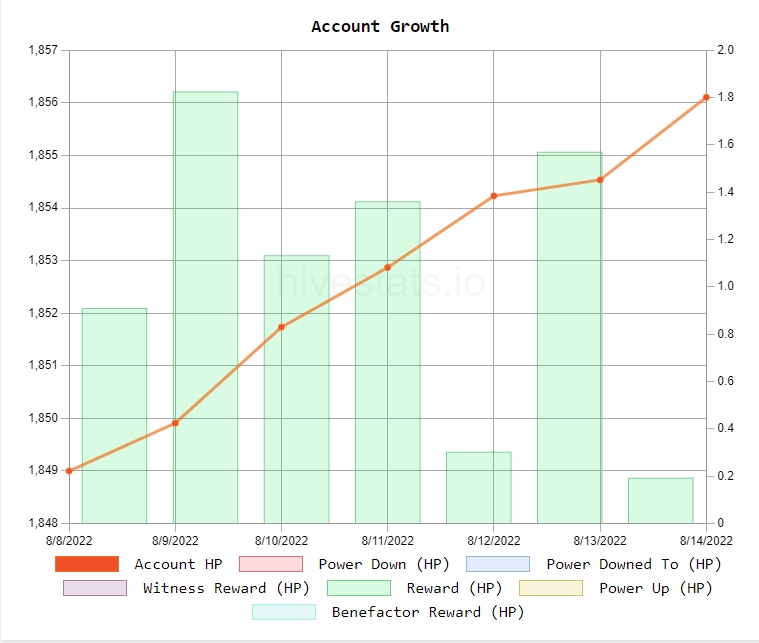 Hive Curation
My Hive curation APR is back below my targeted range of 8% to 10%. It is 7.25%. Not too far below where I would like it to be but far enough that I need to work to get it back up in the targeted range.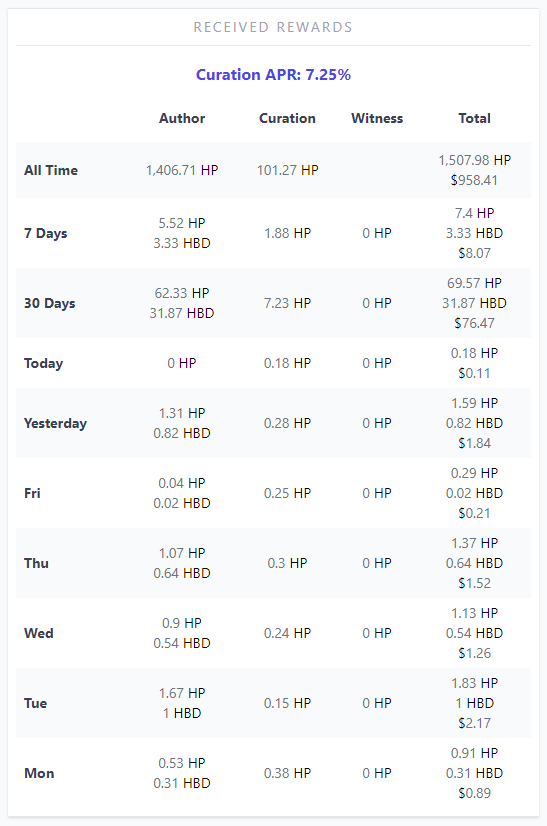 Hive Engine Tokens
Currently my main focus is to increase my Hive balance and the four below Hive Engine Tokens. It is a careful balancing act between these goals. However I believe they work to compliment each other.
These tokens that I have chosen have several use cases that are important to me. Here are my targets and progress for each of the specific tokens I have created a 2022 goal.
CTP - 25,000 - current holding 17,424 (removed 2000 delegation-in)
69.6% of Goal
Alive - 20,000 - current holding 15,314
76.5% of Goal
OneUp - 20,000 - current holding 7,032
35.1% of Goal
LEO - 1,000 - current holding 348
34.8% of Goal

EVER FORWARD!!!
---
To help support the community, I have become a Hive Engine Witness. My HE witness name is @darmst . If you would like to support me support the community, I would appreciate your Workerbee vote. You can vote at https://primersion.com/he-witnesses I am currently around 30th on the list.
Posted Using LeoFinance Beta
---
---