Sudan towards civil war?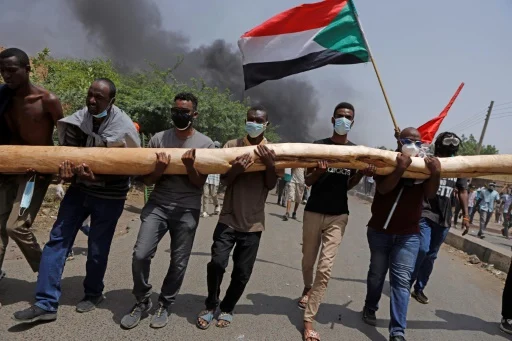 Source image
At least eight protesters were shot dead during yesterday's anti-military demonstrations in Sudan, the Sudanese Medical Committee said. In central Khartoum, security forces fired tear gas and water cannons in the afternoon trying to prevent protesters from marching towards the presidential palace, witnesses said.
The crowds took to the streets in Khartoum and its sister cities of Omdurman and Bahri were the biggest in months. Demonstrations also took place in Wad Madani in the south, in the western region of Darfur, in the eastern states of Kassala and Gedaref, as well as in the city of Port Sudan, witnesses said. In Omdurman, witnesses reported tear gas and gunfire as security forces prevented protesters from entering Khartoum. Protests in the capital and other cities marked the third anniversary of major demonstrations during the uprising that overthrew former President Omar al-Bashir and led to a power-sharing agreement between civilian and military groups. June 30 is also the day al-Bashir took power in a 1989 coup.
Yesterday, for the first time in months, Internet and telephone services were cut across the country. Extensive internet blackouts had already been imposed after the coup d'etat last October to weaken the protest movement. Staff from the two Sudanese private sector telecommunications companies, speaking on condition of anonymity, said authorities ordered them to shut down the internet again yesterday. Phone calls within Sudan have also been cut off and security forces have closed the bridges over the Nile linking Khartoum, Omdurman and Bahri.
Yesterday's eight deaths, six in Omdurman, one in Khartoum and another child in Bahri, brought the number of demonstrators killed by the coup to 111. Numerous were injured as well as attempts by security forces to storm Khartoum hospitals where they were being treated, the Sudanese medical committee said.
The UN special representative in the country, Volker Perthes, said yesterday that the violence must stop, while the US embassy in Khartoum called for restraint and the protection of civilians so that no more lives are lost.
References:
https://www.aljazeera.com/news/2022/6/30/internet-blackout-as-sudans-protesters-rally-on-uprising-anniversary
https://edition.cnn.com/2022/07/01/africa/sudan-protests-deaths-intl/index.html
https://www.reuters.com/world/africa/internet-cut-sudans-capital-ahead-pro-democracy-protests-2022-06-30/


BLOGGING
GEOPOLITICS | ENVIRONMENT | WAR | ECONOMICS | SOCIETY | GAMING

CURRENTLY PLAYING



IF YOU SIGN UP ON THIS GAMES WITH MY REF LINK CONTACT ME FOR HELP

---
---