My Mobile Market Friday office!
Welcome to
#MarketFriday
where we all join
@dswigle
(our lovely founder of Market Friday!) in sharing markets around the world!
I have very limited markets in my area, and so any time I get to travel, it's a GREAT opportunity to share some new markets!!! Today I'm giving you some BIG HINTS as far as where the heck DREEMIE is (if you've been collecting clues!)
And don't forget...you don't know what my final question is going to be....so be sure to keep all your guesses to yourself for now...or else you might be giving someone else a huge advantage over you hehehe
Let's get started!!!
I will show you where my mobile office was today ...
It started here on a beautiful bench with tropical breezes and yummy smells all around! Gotta love the free wifi that comes with being on the port too!!!
https://images.ecency.com/p/2N61tyyncFaFc5ntfuipfg8oUptKPSKgdk8JMWeKqjuXGfGsrwCbAXmuANmEkwWRa8GVvFrJ1jFiJp2hcg5b1FR67biYHtBR7YYnxXTgt5vQMLFaSXbBXx4XHNijXCXtxyWSsf9FnDdg.webp?format=webp&mode=fit
And it finished here...on the Observation Lounge ..relaxing as the horn bleeeew and we pulled out, headed to our next destination!

But this is all about markets, right? Come, hold my hand as we embark on the markets of Tortola, British Virgin Islands.
Here, I had to stop for a pose with this little scenic shot! BVI= British Virgin Islands!
https://images.ecency.com/p/2N61tyyncFaFc5ntfuipfg8oUptKPSKgdk8JMWeKqcbfupxCVvYKYYiQyEazJweW9Vzo25W5T3SWSx1XSMWzUBfe3osoAZdxFXMJwhzTc6ZWga3eEqSXYgBrm3kZQWb3aojQDjfDZCg6.webp?format=webp&mode=fit
Then we walked down this main street. Each sland in the Caribbean has a very specific feel. The fact that this one is a British island gives it a more "posh" feel to me. This is what the beautiful "main street" feels like.
https://images.ecency.com/p/54TLbcUcnRm4Bw8fmw3Y3deXChf9UQSDSsMgDEZRozbwmY72XHhzp6PbE5hfNCR5mJ9hx3MrxNHfQ2qwn4T2c8UXtPjzMTvJDm9uTrd5qNCcKzeZx17YAokL8CtAChCv6J85iTczr.webp?format=webp&mode=fit
Even when you walk past the stores, this is what you see between them... lovely, right?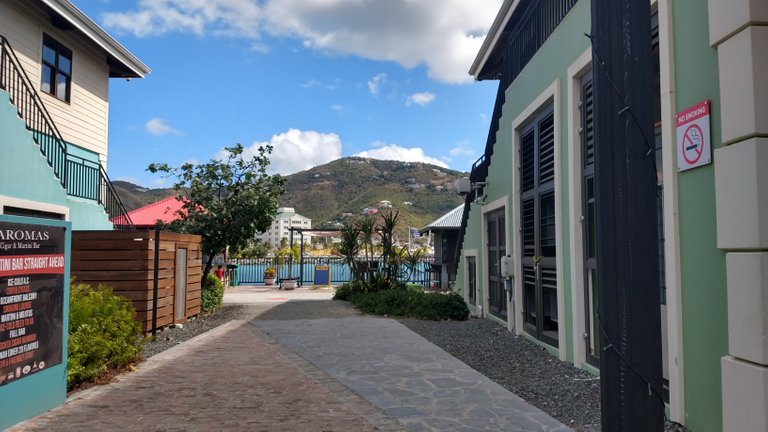 And let's take a look at some of the "wares" that they have to delight.
https://images.ecency.com/p/JvFFVmatwWHT5Fvr9KYC2ckcJeTNPxSHwBGG4zr8d6ay31mws6uCmEKd7ijk3BsH6j17K9oRLUQGZ5sNThZeo34zKFQdE3c1kgSa6KPqSin4PSLZw3bH67tL7LvJ7g6gwjLySZzLSA.webp?format=webp&mode=fit
And heheh...of vourse I had to take a pic of this cute little story about the Pirate!! lol and special pens (my specialty) and....sea glass earrings! (pretty nice, right @bluefinstudios?)
https://images.ecency.com/p/JvFFVmatwWHT5Fvr9KYC2ckcJeTNPxSHwBGG4zr8VYdJNQP3yQMenhuvbJcNhzEKGY6N1twBRBQ8nUaU9ZLzEh2krKDYVP2Ep6YXM8ddinwsBf4qBWcfiUuUAGcMxyYb6dFFdXTG2a.webp?format=webp&mode=fit
I don't mind that these shops are fancier, and it certainly comes with many perks, but I would always prefer to head deeper into the island to try to feel more of the native culture. We didn't have much time! So it's not like we could delve too deep, but here is where we headed a few streets further.
https://images.ecency.com/p/TZjG7hXReeVqFVvkXVUAoCnJ1v1VgroFt8gEbR89p5eVMPDYYAJ2NtBmRmFUD1q8hGVPkdWcd43xxWph2uR8VTLWj1u15qb6ewKt5XCDQG6QcM9WSnLvwEWpHUMjvXUvTb6WYFPeVrvUaA.webp?format=webp&mode=fit
We met lovely Veronica and her husband Earl. We talked while we shopped and she told us a bit about her family and life on the island. You know, when I go shopping for things- it's not the price that pulls me in. I don't like haggling and I don't like being sold high prices because I'm American. I will pay something fair every time, but I will always gravitate towards a kind person, regardless of the price.
https://images.ecency.com/p/JvFFVmatwWHT5Fvr9KYC2ckcJeTNPxSHwBGG4zr8RzSR3iJRTxvY9GywzdnnxRso238uirKmxUh2wGjL8BwPfzw1vg1Q8gFK2bSYdCLvoX4Jkms1yr1EbtsekeqUs1FLBdiUB45SMC.webp?format=webp&mode=fit
And that is the heart of Veronica and Earl. They are the kind of people that make you want to invite yourself to their house for tea and a chat, hehe! And I bet that they would oblige too!
Hi Veronica and Earl! (I got their email address so they could see my blog 💕)
We ended up buying a necklace, a pirate patch( hehe you know I had to get the pirate patch!) and two magnets from them.
Then we went down a bit to find some more goodies. Again, the people who pulled me in with their kind chatter are the ones who won my business. I love supporting businesses who make people feel special. We need to keep them around for a long time!
Then we needed to find out where the local market was... and of course for market Friday...this was mandatory!
https://images.ecency.com/p/JvFFVmatwWHT5Fvr9KYC2ckcJeTNPxSHwBGG4zr8L7SpbGSzjRjCPM2NrzFiNG67qqtYsgNg6NDZZiDMLE5V9KmkZ46B7GJYTVReP46H8jLnrYHtA4WEr9XHGjk9oWoyuPouunTC7Y.webp?format=webp&mode=fit
Check out all the little treats that are local that we don't have with us. The tasty drinks! The seasonings! Check out the coconut oil, and how they are in the different bottles! hehehe And they even have gluten free things for me! hehe
https://images.ecency.com/p/JvFFVmatwWHT5Fvr9KYC2ckcJeTNPxSHwBGG4zr8L2d2hUW8SEyc5HziFxaDCbGwS4HuQwLRxXX7L39QabhurS5j3mSprM8zwakFQdXiReQE4p2qTsxptjq1Cufgvbhkt8RbyngsqQ.webp?format=webp&mode=fit
And we HAD to take a peek at the hot deli section, and we were not disappointed!!! We grabbed a few items and then walked to a little park section to eat our DELICIOUS ribs! hehe
Along the way we saw a momma chicken and all her little chicks! lol and then ...maybe the daddy too?? lol
https://images.ecency.com/p/JvFFVmatwWHT5Fvr9KYC2ckcJeTNPxSHwBGG4zr8R3Y9vVMnHwGTR1w4iw4EqCw4UBiyikxyyYTbMHRxJoWBCF2NkbYnC1s6zXRAyMHw6YU1o1xWBiByaRq3nPEQVwYLZf8jBxqgb8.webp?format=webp&mode=fit
Finally, it was time to head back, and I saw one last picture that had to be taken! hehhee
https://images.ecency.com/p/2N61tyyncFaFc5ntfuipfg8oUptKPSKgdk8JMWeKr8hU4gKu1UyQNwRrvoUeGvDDBmogvd8LGpWwq7E349qEayjxv48usc6Wprk5tQbHDqvraEThVKGYy3ZCBesRBhWWowLioQCau8Rk.webp?format=webp&mode=fit
Arrrrrgh!!! 😜
Hope you thoroughly enjoyed this Market Friday with me!!
And...are you wondering where the daily clue is for the "Where the heck is Dreemie" contest? well.... they're all in the post!!! 🥰 Go get your clues!! hehee
All images are mine 💕
---
---