Shocking truth: Your money habits are shaped by experience, not logic

What we all do with money may not make sense to the next person and that's fine. In chapter one of The Psychology of Money, Morgan explains why. This is simply because of our unique experiences of how the world works.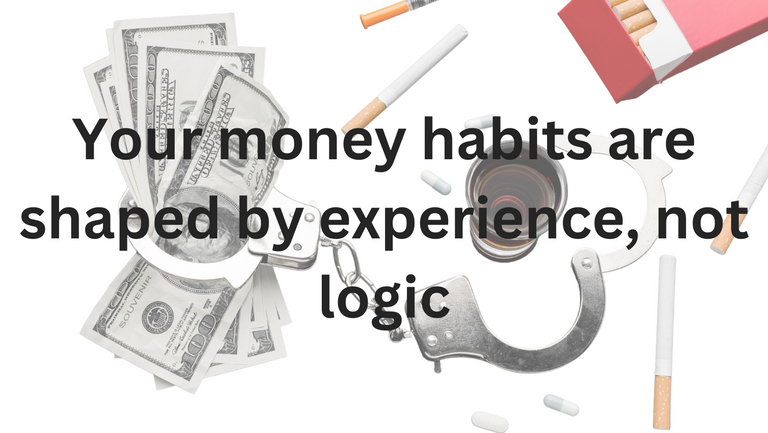 Design with Canva
Each person had been born into a different generation and depending on what year that was, their experience about the market is completely different. So, one tends to handle money based on those experiences.
For instance, he did give an example of someone whose aunt worked in a sweatshirt shop and how we might consider those jobs as slaving away for a capitalist. But to the boy's aunt, this job we consider slavery was a fine option compared to sleeping with different men for pennies.
There were other instances such as John F. Kennedy not knowing what the Great Depression is until he learned it in his history book. His family had been wealthy as at the wealth marking in that era. His dad had houses, and servants, and traveled more. They were considered so wealthy that his dad had to give people jobs as gardeners just so those people can earn a living.
Again, Morgan points out the poor people who would rather keep buying lottery tickets in the hopes that they will hit the jackpot one day.
All of these examples and more tend to differentiate why Adam handles money differently from Andrew. And it's because of how the world worked in their time.
Therefore, he mentioned that someone who grew up when inflation was high will hardly invest in bonds when he has money later on in his life. And anyone who grew up in a booming stock market will definitely invest in stocks later on in his life.
So, compared to the logical reasonings of Financial advisors, people make investment decisions not based on their goals as it is being preached but based on their experiences. It's more of a psychological or emotional thing than facts and logic. Whatever you do with your money makes sense to you and sounds stupid or crazy to the next person because both of your experiences are different.
He did also mention how recent retirement account savings, Roth IRA, and 401K are new to each of us and which is why we struggle to invest in these investment portfolios. No matter how you try to explain that this is the best retirement reward we could give ourselves, the fact that we didn't experience it firsthand in the past could be why we are hesitating to take your judgment.
Key takeaway:
When I read this chapter for the first time, I made a mental note to stop judging people on how they spend their money. I could directly understand why someone who had to watch their dad die and leave his money behind might be moved to spend every Penny he earns later in life because he doesn't want to end up like his father..... Working hard and not living long enough to enjoy it.
You can see how fear influences the decision we take with money. Again, this is a psychological and emotional thing instead of facts and logic.
And I could understand the waiting game that poor people who constantly buy lottery tickets play and how they are hoping one day they will hit the jackpot and all of their problems will be solved and they can afford the good things in life.
What's the lesson here? When you see someone spend their money in a way you consider crazy, don't judge, find how and why and try to understand them.
Posted Using LeoFinance Beta
---
---