[PT/EN] Supernatural Fear / Medo Sobrenatural
[EN]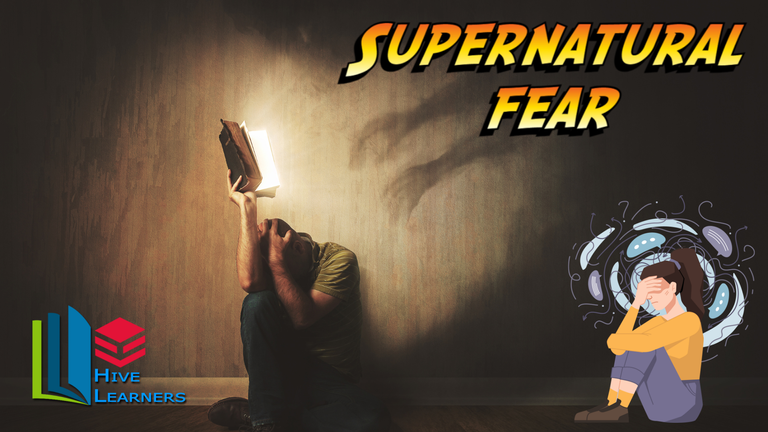 Banner created in canva
When I was a child, I would wake up in the middle of the night and sometimes find animals watching me in my room. At the time, I shared a room with my brother and it was common to see animals such as snakes and black birds. I was terrified of them and my defense was to stay paralyzed or curl up in a blanket to feel safer.
These animals chased me for several nights and to my childish eyes they seemed very real. I would wake up at night and there would be two vultures in a chair in front of our bed. I was paralyzed and couldn't speak a word, I would just open my eyes and there would be the birds staring at our bed. I couldn't scream to call my parents or wake up my brother, even my breathing stopped with fear. For several nights I could see these birds watching us.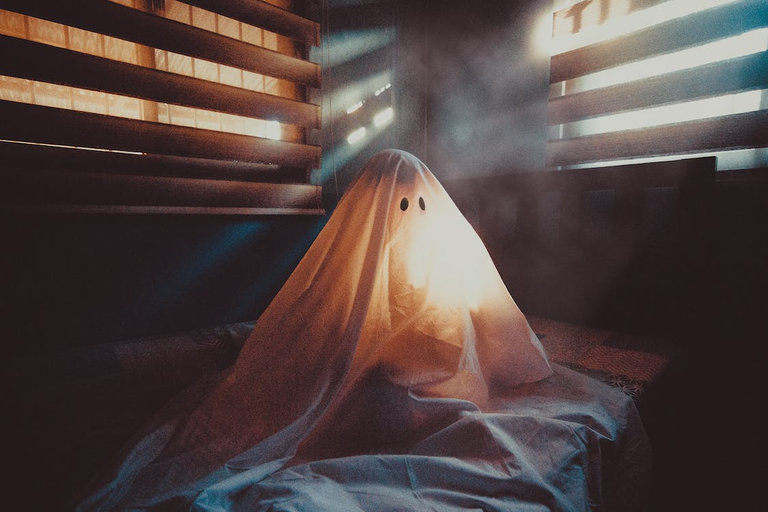 src
One night I woke up and there was a snake between the mosquito net and a cobrogó, which was in our room for ventilation. That day I couldn't call out or scream for help either, I just sat paralyzed with fear watching the snake move around the room, until I fell asleep and told my parents the next day what had happened. When they went to look for the snake, there was nothing in the room or in the next room, where the snake could have gone.
I was a strange child who saw things at night, sometimes when I closed my eyes I got dizzy and felt like I saw the universe with its infinite constellations of stars. All these things scared me, but as the years went by I grew up and they disappeared until I no longer remembered them.
Just like animals, children can see things that adults can't, because they are spiritually more open to them. Or simply, everything I saw and thought was real was just my imagination playing tricks on me. These were the things that made me afraid during my childhood.
As an adult, the fear has changed address and it's no longer animals that we're afraid of, but human beings themselves. When I was at university, I used a private student bus to get from home to university and back again, which took about two hours.
One day, when I was returning home, all the students were getting on the bus to wait for it to leave, at which point two men got on and announced a robbery. They were carrying firearms and fear gripped everyone on the bus, as they looked very dangerous. They quickly took everyone's cell phones and other items. Fortunately, there were no reactions and only material losses.
A few months after this event, I was also on my way home from college. This time, when I was getting off the bus to go home, in my neighborhood, I was approached by three bad guys who were carrying bladed weapons. One of them had a huge knife, and there was a thicket near where I got off. They pulled me into it and for a moment, thinking I was going to be killed, I started to hand over my belongings and get rid of the men, but they resisted pulling me into the thicket.
Fortunately, after they had taken all my belongings, even my sneakers. I managed to escape and run as far away from the place as possible. After that day, when I saw death in their eyes, I feel insecure about going out at night. And depending on the location, if it's a place with little movement of people, I'm already scared and want to go home.
We all have fears, and at certain times they can even be beneficial, as they are our body's natural form of defense against a given situation. However, fear created by traumatic experiences is something negative, where the person becomes paralyzed and can't react to a given situation.

[PT]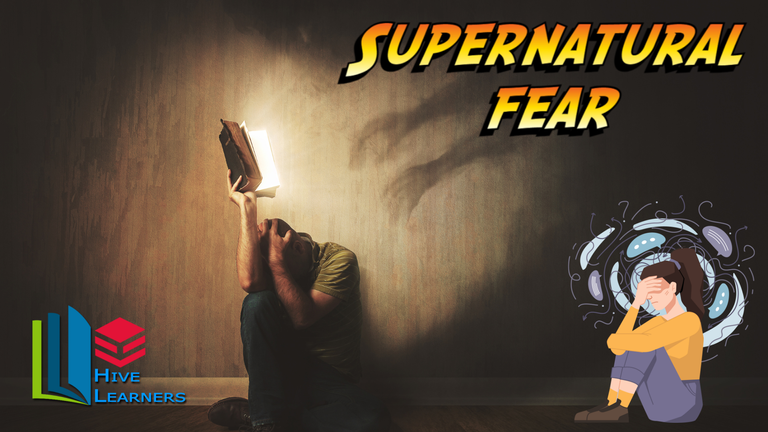 Banner created in canva
Quando eu era criança acordava no meio da noite e algumas vezes me deparava com alguns animais me observando no quarto. Nessa epoca eu dividia o quatro com meu irmão e era comum ver animais como cobras e pássaros pretos, eu morria de medo disso e minha defesa era ficar paralizado ou se enrolar com coberto para me sentir mais seguro.
Esses animais me perseguiram por várias noites e aos meus olhos de criança pareciam muito reais. A noite acordava e estava lá dois urubus em uma cadeira em frente a nossa cama. Eu ficava paralizado e não conseguia falar nada, apenas abria os olhos e lá estava os pássaros olhando de maneira fixada para nossa cama. Eu não conseguia gritar para chamar meus pais ou acordar meu irmão, até minha respiração parava de tanto medo. Por várias noites eu conseguia ver esses pássaros nos observando.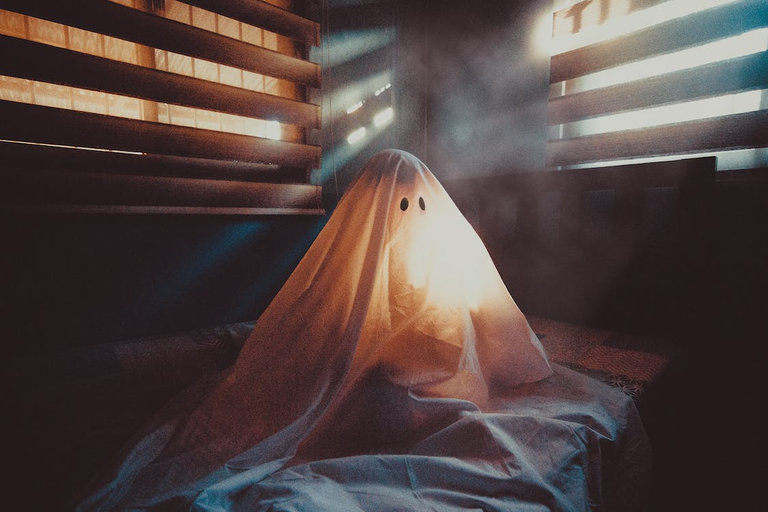 src
Certa noite eu acordei e havia uma cobra entre o mosquiteiro e um cobrogó, que havia no nosso quarto para ventilação. Nesse dia eu também não consegui chama ou gritar por socorro, apenas ficava paralizado de medo vendo a cobra se movendo no quarto, até adormecer e no outro dia conta aos meus pais o que havia acontecido. Quando eles foram procurar esse cobra não havia nada no quarto e no cômodo vizinho, onde poderia ter ido devido o cobrogó.
Eu era uma criança estranha que vi coisa as noite, as vezes quando fechava os olhos ficava tonto parecia que vi o universo com suas infinitas constelações de estrelas. Todas essas coisas me deixava assusto, mas com o passar dos anos fui crescendo e isso foi desaparecendo, até que eu não lembrasse mais.
Assim como os animais as crianças podem ver coisas que os adultos não conseguem ver, por serem espiritualmente mais abertos as essas coisas. Ou simplesmente, tudo que eu via e achava que era verdadeiro era apenas minha imaginação pregando peças. Essas eram as coisas que mim faziam medo durante a infância.
Já adulto o medo mudou de endereço e não é mais de animais que temos medo e sim do próprio ser humano. Quando estava na faculdade eu utilizava um onibus particular dos estudantes para fazer o percurso de casa a faculdade e vice-versa, esse percurso durava cerca de 2 horas.
Em um determinado dia quando estava voltando para casa, todos os estudantes estavam entrando no onibus para aguardar o momento de partida, nesse instante entraram dois homem e anunciaram assalto. Eles portavam armas de fogo e o medo tomou a todos que estavam naquele ônibus, pois eles pareciam bastante perigosos. Rapidamentee, eles levaram os celulares de todos e outros objetos. Felizmente, não houveram reações e só houve perdas materiais.
Após alguns meses deste acontecimento, também quando estava voltando da faculdade para casa. Dessa vez, quando eu estava descendo do onibus para ir para casa, em meu bairro, fui abordado por três mal elementos que estavam portando arma branca. Um deles possuiam uma enorme faca, e no local onde desci havia perto um matagal, eles me puxaram para lá e por um momento achando que seria morto comecei a entregar meus objetos e me asfatar daqueles homens, mas eles resistiam em mim puxar para mata.
Felizmente, depois de terem levado todos os meus pertences, até meus tênis. Consegui escapar e correr o mais longe possível daquele local. Depois desse dia, em que vi a morte nos olhos daqueles indivíduos me sinto inseguro em sair na rua à noite. E dependendo do local, caso seja um local com pouca movimentação de pessoas eu já fico com medo querendo voltar para casa.
Todos nos temos medos, e eles em certos momentos pode até ser benéfico, pois é uma forma de defesa natural do nosso corpo a dada situação. Porém, a medo criado por experiência traumáticas é algo negativo, onde a pessoa fica paralizada e não consegue reagir a uma dada situação.


---
---