Chess Puzzle of the Day (Jul 3, 2022) | Problema de ajedrez del día (3-Jul-2022)
♔♞♙ Chess Puzzle of the Day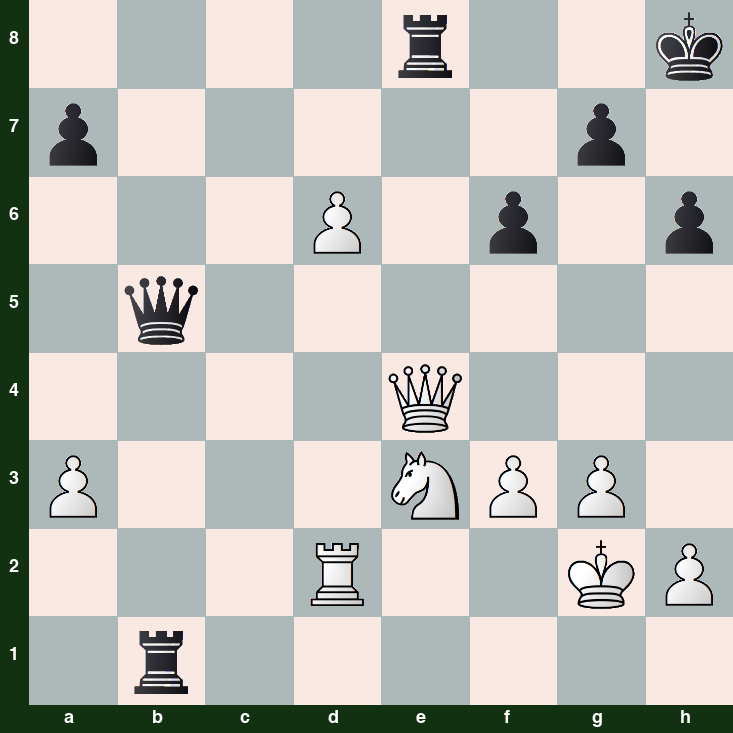 White to play and win
White has managed to optimize his pieces to the maximum, while keeping the black pieces on the sidelines. The problem with the second army is its redundancy (the queen and rooks perform the same function) and the fact that the rooks are terrible at controlling passed pawns on the front. Have fun solving this while we celebrate Nepo's victory in the Candidates tournament!
Do you want to exercise your tactical skills a little? Then solve this chess puzzle. Indicate the correct move and a full continuation. If you want, you can point out the tactical motives and other patterns present.
I also want to invite you to participate in the many chess tournaments on lichess.org. If you play chess online, join in! Free registration.
More information about this series of posts.

♔♞♙ Problema de ajedrez del día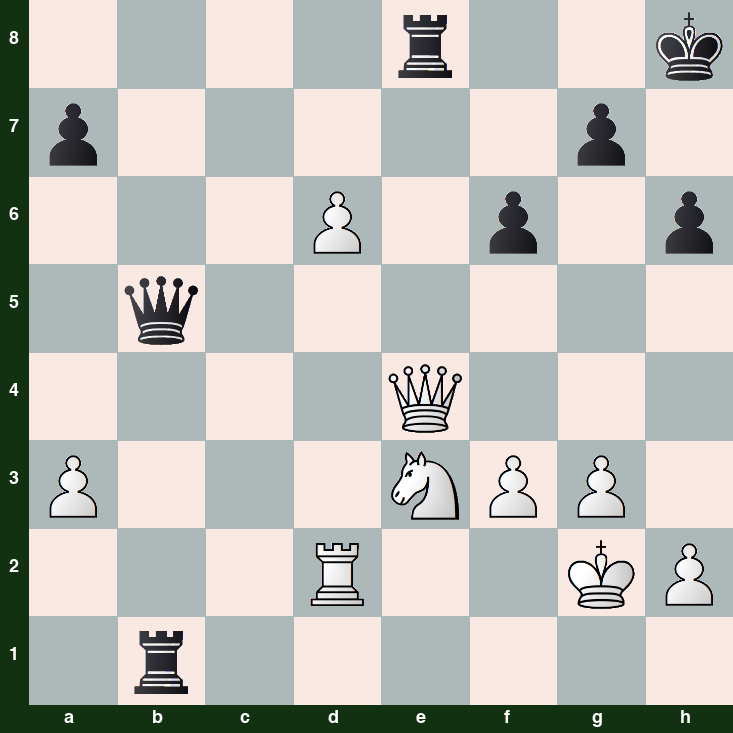 Juegan blancas y ganan
Las blancas han conseguido optimizar sus piezas al máximo, mientras que mantienen las piezas negras al margen. El problema con el segundo ejército es su redundancia (la dama y las torres realizan la misma función) y el hecho de que las torres son terribles para controlar los peones pasados en el frente. ¡Diviértete resolviendo esto mientras celebramos la victoria de Nepo en el torneo de Candidatos!
¿Quieres ejercitar un poco tus habilidades tácticas? Entonces, ¡resuelve este problema de ajedrez! Señala la jugada correcta y una completa continuación. Si lo deseas, puedes señalar los motivos tácticos y demás patrones presentes.
También quiero invitarte a participar en los diferentes torneos de ajedrez en lichess.org. Si juegas ajedrez en línea, ¡anímate a participar! Inscripción gratuita.

Más información sobre esta series de posts.
---
---