Analyzing Elon Musk's 'JOBS IN THE FUTURE' post [EN/PT]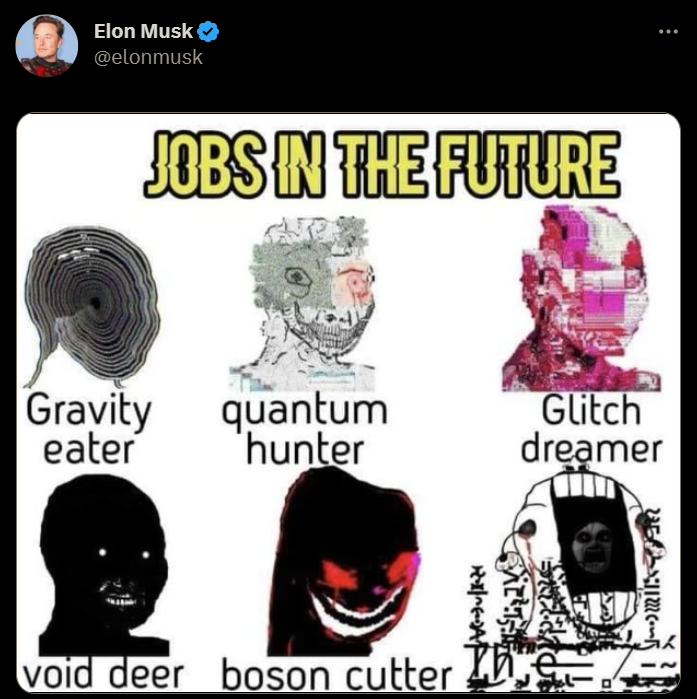 How Musk sees people
On the 19th of this month, Elon Musk posted an intriguing meme-like analogy of what jobs in the future are going to be like. Since a lot of people look up to him, I thought deciphering what he really meant with this image would be a good idea, so I can both understand what he, as a driving force in the world, thinks of other people and how he plans on treating other people in the future.
Understanding world leaders will help me predict what path I should take in life and how I can help my loved ones prepare.
Rules of engagement
I will write a lot of conjecture and if you think I'm wrong, you tell me why, and if I agree with you after receiving your comment, I will change my mind or work on a new solution that involved my data and your combined. I might converse so we can exchange information.
If I deem your feedback isn't well-informed enough, is wrong or doesn't add anything I already understand, I might not debate with you. If you're rude, I will ignore you, because scientific debate mustn't include neurosis.
Impact
The problem with Musk sharing something like this is how he doesn't see people as people - so exposing his point of view to those that admire him makes more people less prone to treating each other as complete human beings. We're going through how he profiles others.
Note that these aren't the actual jobs. These are profiles of people targeted by companies. Jobs are centered toward controlling these profiles. So, if you don't want to be easily controlled, expand your horizons. Don't you dare fit in one of these. You'll be nothing but sheep being farmed.
This change is already happening. It's not something from the future. A lot of companies consistently promote cultural behavior that restrains people into one of these profiles.

Gravity eater
This profile refers to fat people and others who are hooked in physically harmful vices that harm their neurological thinking processes, such as drugs, alcohol, caffeine and everything else highly toxic introduced into your body.
Companies centered towards this profile produce intoxicating food and beverage, market cultural events and influencers that display how good it is to ingest all this crap and convince consumers this is the answer they're looking for.
Quantum Hunter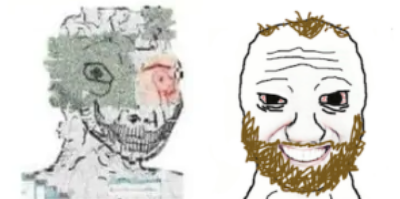 This profile refers to people who are addicted to porn and others who are hooked in artificial ways to satisfy their sexuality. This includes porn, plastic dolls, vibrators, fleshlights, sex workers and all forms of monetized activity that exclude actual socialization in order to get laid.
Companies centered towards this profile produce porn stars, erotic influencers and content geared towards masturbation in general. Constant and easy sexual satisfaction produces an excess of addictive neurotransmitters, making you as addicted to it as sugar and drugs.
Note that recurring to an easy way to satisfy your brain progressively dumbs you down and every profile here incentivizes people to do anything but being in control of their own lives and their own brains.

Glitch dreamer
This profile refers to games and everything else that includes entertainment as escapism, such as korean drama, anime and marvel movies. This adrenaline shot has been my personal vice for most of my life.
Companies centered towards this profile produce games with no innovation but that use a tried-and-true formula like Call of Duty. Big companies like Riot Games and Blizzard have been branching out of their main genre, using their already established popularity to control a larger part of the market. When you're gaming, you're thinking about nothing else.
If you're a gamer, I'm sure you've seen ads trying to get you to open bank accounts that are catered toward gamers. What in the actual fuck, am I right?
---
More in part 2
This is very tiring, so I'll continue the other half of profiles Musk mentioned in another article.
---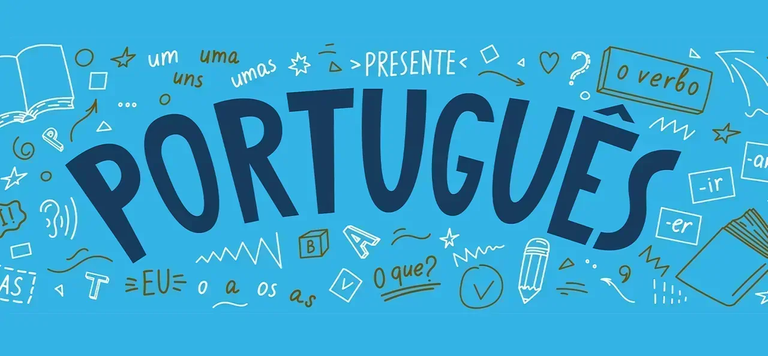 Como Musk vê as pessoas
No dia 19 deste mês, Elon Musk postou uma intrigante analogia em forma de meme de como serão os empregos no futuro. Como muitas pessoas o admiram, achei que seria uma boa ideia decifrar o que ele realmente quis dizer com essa imagem, para que eu possa entender o que ele, como uma força motriz do mundo, pensa das outras pessoas e como ele planeja em tratar outras pessoas no futuro.
Compreender os líderes mundiais me ajudará a prever qual caminho devo seguir na vida e como posso ajudar meus entes queridos a se prepararem.
Regras de engajamento
Vou escrever muitas conjecturas e se você acha que estou errado, me diga o porquê, e se eu concordar com você depois de receber seu comentário, mudarei de ideia ou trabalharei em uma nova solução que envolvesse meus dados e seus combinados . Eu poderia conversar para que possamos trocar informações.
Se eu considerar que seu feedback não é bem informado o suficiente, está errado ou não acrescenta nada que eu já entenda, talvez não debata com você. Se você for rude, vou ignorá-lo, porque o debate científico não deve incluir a neurose.
Impacto
O problema de Musk compartilhar algo assim é como ele não vê as pessoas como pessoas - portanto, expor seu ponto de vista àqueles que o admiram torna mais pessoas menos propensas a tratar umas às outras como seres humanos completos. Estamos analisando como ele traça o perfil dos outros.
Observe que esses não são os trabalhos reais. São perfis de pessoas visadas pelas empresas. Os trabalhos são centrados no controle desses perfis. Então, se você não quer ser facilmente controlado, expanda seus horizontes. Não se atreva a caber em um desses. Você não passará de ovelhas sendo criadas.
Essa mudança já está acontecendo. Não é algo do futuro. Muitas empresas promovem consistentemente um comportamento cultural que restringe as pessoas a um desses perfis.
Comedor de gravidade
Este perfil refere-se a pessoas gordas e outras que estão presas a vícios fisicamente prejudiciais que prejudicam seus processos de pensamento neurológico, como drogas, álcool, cafeína e tudo mais altamente tóxico introduzido em seu corpo.
Empresas voltadas para esse perfil produzem comidas e bebidas inebriantes, comercializam eventos culturais e influencers que mostram como é bom ingerir toda essa porcaria e convencem o consumidor de que essa é a resposta que ele procura.
Caçador Quântico
Este perfil refere-se a pessoas viciadas em pornografia e outras que se fisgam de forma artificial para satisfazer sua sexualidade. Isso inclui pornografia, bonecas de plástico, vibradores, lanternas, profissionais do sexo e todas as formas de atividade monetizada que excluem a socialização real para transar.
Empresas voltadas para esse perfil produzem atrizes pornô, influenciadores eróticos e conteúdos voltados para a masturbação em geral. A satisfação sexual constante e fácil produz um excesso de neurotransmissores viciantes, tornando-o tão viciado quanto o açúcar e as drogas.
Observe que recorrer a uma maneira fácil de satisfazer seu cérebro o emburrece progressivamente e todos os perfis aqui incentivam as pessoas a fazer qualquer coisa, exceto estar no controle de suas próprias vidas e de seus próprios cérebros.
Glitch sonhador
Esse perfil se refere a jogos e tudo mais que inclui entretenimento como escapismo, como dramas coreanos, animes e filmes da marvel. Essa injeção de adrenalina tem sido meu vício pessoal durante a maior parte da minha vida.
Empresas voltadas para esse perfil produzem jogos sem nenhuma inovação, mas que usam uma fórmula consagrada como Call of Duty. Grandes empresas como Riot Games e Blizzard estão se ramificando de seu gênero principal, usando sua popularidade já estabelecida para controlar uma parte maior do mercado. Quando você está jogando, não pensa em mais nada.
Se você é um jogador, tenho certeza de que já viu anúncios tentando convencê-lo a abrir contas bancárias destinadas a jogadores. Que porra é essa, estou certo?
---
Mais na parte 2
Isso é muito cansativo, então vou continuar a outra metade dos perfis que Musk mencionou em outro artigo.
---
sources:
musk's post https://twitter.com/elonmusk/status/1636979967346061313
https://www.horizons-mag.ch/2019/03/07/can-the-shape-of-the-brain-be-a-diagnostic-tool/
https://www.dictionary.com/e/memes/coomer/
https://www.tecmundo.com.br/voxel/especiais/178281-cyberpunk-2077-gameplay-segredos-data-e-tudo-o-que-sabemos-ate-agora.htm
https://www.bradescoseguros.com.br/clientes/noticias/noticia/diferentes-sotaques-da-lingua-portuguesa
---
---