My favorite Hive Learner authors.

It's still Hive Learner's anniversary week and the celebration mood is still very active. In today's article, I will be taking you through some of my favorite authors and their articles in the HL community.
I have lots of authors I enjoy reading and engaging with from time to time because of the quality and creativity they pour into their articles. There are lots of them but I am going to be sharing just five, it's tough trimming the list to just five but regardless of my choices, we all are awesome writers.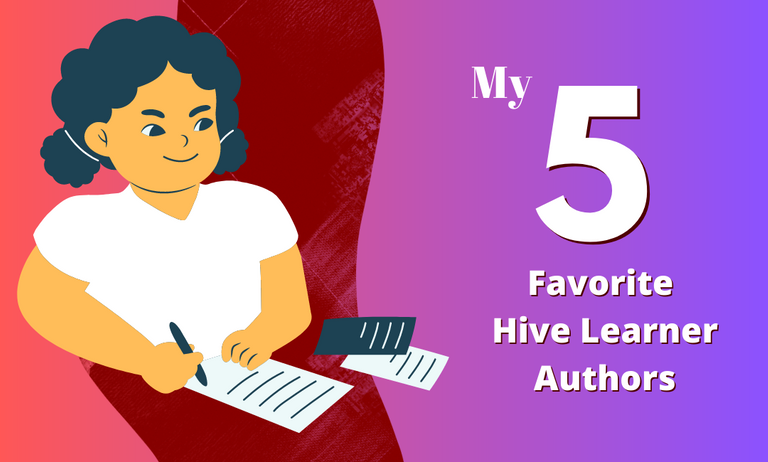 The image was designed by me using Canva app
---
@Bruno-kema is one of the authors I admire so much in the HL community not because he is a moderator but because of his consistency and how he makes his article very relatable to the things happening out there.
He has a way of bringing reality into his article that keeps me hooked to the very last word in his articles. I have learned a lot from him because the message in his content is always clear and easily understood.
I actually love all his articles but When expectations meet reality stands out for me.
I don't know where he got the inspiration from but the article mirrored my journey in life. At a very tender age, I developed a blueprint of what my journey in life would look like. If I am not mistaken, I should be married with kids, and have two houses and a big company by now but the journey has never been easy.
What seems to be very easy on paper became difficult in reality. Luckily for me, I realized earlier that my expectations and reality are two different things.
The article came at the right time because I was struggling with some personal stuff and even though I did not plan to give up, he taught me how to convert my high expectations into the strength I need to keep moving even when things aren't going as planned.
---
@Olujay is another fantastic author and I love to read his content. He is an entertainer and I know a lot of people will say yes to that because he plays guitar but that's not all.
He loves to entertain his readers even without strings, he has his way of bringing fun into his article which makes his content really entertaining for me. In the little time I have known him, he has made me laugh and taught me lessons through his articles.
I had the intention of sharing the birthday cake article that required $40 for correction but I found another article titled- Atomic Happiness; Creating Happy From The Little Things We Do and choose it instead.
I share the same perspective with the author and it made the topic really interesting to me. Happiness is a feeling we all crave but the majority of humans in the world are walking on the wrong part to achieve it.
Feeling happy is not a difficult thing to do if we choose to remain truthful to ourselves about our honest desires. The authors stated in the article that the feeling of happiness can come from little things which is true because many times, we don't need to be wealthy or famous before we can be happy.
He further emphasized how making others happy can help us as well. It means that the feeling is contagious when we make others happy genuinely.
---
The first time I read @starstrings01 article, I was drawn by the creativity he pours into his articles. I became more interested in the engagement he receives and somehow, he has challenged me to be more creative.
Learning from his content has helped me improve my creativity but I am still a work in progress. He is a talented writer and his impact on the life of many newbies like myself can't be quantified.
The Fine Art Of Reinforcement; How To Take Your Skill To Next Level
The author spoke about the need to always revisit the basics in whatever we are doing for improvement, he used himself as an example and it made the article very understanding. We all want to improve our skills but there is a stage we reach and started feeling comfortable not knowing that there are still a lot of things we can improve on.
He emphasized on not just repeating what we can do very well, we have to revisit the basics because that is the only way we can discover more of the things we need to improve on.
---
@Princessbusayo has been one of my favorite authors even before Hive, I have known her to be intelligent and creative with her content.
Her level of consistency is superb and I can't count how many times I have been to her DM to seek ideas. As a writer, she is entertaining, her articles come with lots of personal experience and I enjoy reading them.
Discipline Yourself Through Budgeting is one of her articles I love a lot. In it, she explained the importance of budgeting.
We all know why it is important to make a budget but not everyone understands why they need to keep to their budget. Keeping to a budget is important, it is the only way we can make progress, especially with the financial parts of our lives.
I picked some lessons from the article and you wouldn't regret reading it as well.
---
Do you understand what it means to be a humble writer? Anyone who read @nkemakonam89 will understand how humble she is even with her pen. She is a calm writer who takes her time to pour out her mind into her articles and she does the same with her engagement in the HL community.
I have many times wondered how she copes with her engagement on Hive because she is a mother of pretty boys, she is everywhere at the same time and that makes her a Super Hiver to me. She inspires me in different ways and I admire her for that.
Some Disappointments Are A Blessing; My Wins And Losses
I choose this article as my favorite because of the message in it. Life is about winning and losing and it is impossible for us not to have dark times in our life journey, but picking up ourselves quickly is the only option for us if we really want to keep progressing.
The author shared some life experiences about her wins and losses in life which taught me some lessons. Some disappointments are indeed blessings and it would require that we don't dwell on the disappointment for too long because it might make us miss out on the blessings.



Like I said earlier, I have a long list of authors I would love to share but I am restricted to five for this entry. The HL community is a home of great and quality writers, many came in as an amateur and they are doing really great now. The impact of the community can be felt on the members and I am glad to be one.
I hope you enjoyed reading through, thanks for the engagement as usual.
---
---