My table and a short introduction to Scandinavian jazz

After my post about the missing table there were people who wanted to actually see it - and I admit that it was a mistake not to take the time to find this photo of it. Problem was that I couldn't find it, and so went ahead with just a photo from wikipedia of the city hall.
The greatest problem is that people now think that I have a great Napoleon III mayors desk in several types of exotic wood with brass fittings and sculpted putti and palm leafs... well Danish design isn't like that. Both Danish and Finnish design are, and was even back at the turn of the previous century, about simplicity, natural materials and an air of groundedness. That is the Viking part. So here it is with all my many treasures on it. Details are hard to see because of the photo quality, but it was the only one I could find.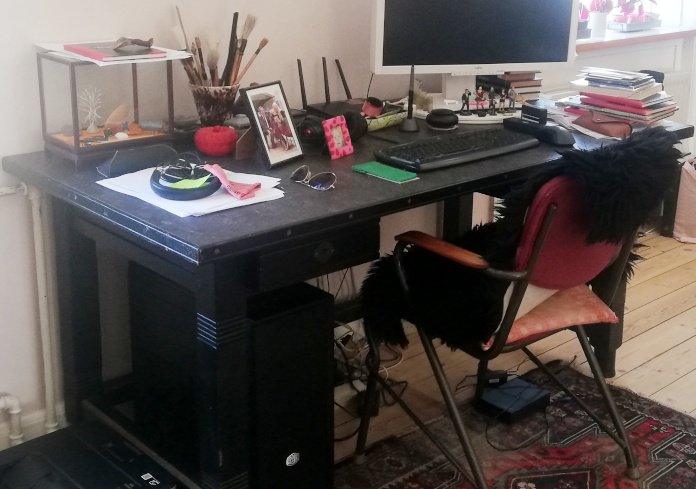 And with that out of the world I will write about Scandinavian jazz as @owasco didn't know about this very special flavour of hot'n'sweet.
Chilly'n'melancholic
When jazz arrived for the first time in Denmark in the 1910-20 it didn't take long for us to learn it. Here's the splendid Leo Mathisen and his orchestra from the early forties.
But to get to the point where things started to be really Scandinavian we have to jump ahead to the sixties where Copenhagen and Stockholm was filled with American musicians who came here for a change of air. Every spring I take my daughter's to the nearby cemetery where great people like Niels Bohr, Hand Christian Andersen and the philosopher Søren Kierkegaard are buried, to put some flowers on Ben Websters grave. He died in the Netherlands on a tour, but was buried here where he lived.
In this environment the local jazz scene flourished and many great local musicians emerged among them the Swedish piano player Jan Johansson who probably was the most important person to take the hot'n'sweet to some place completely different by starting to play Swedish folk tunes - we could call it chilly'n'melancholic.
The clean sound is part of it - as with the table design simplicity, clarity and homeboundness is strong tendency in Scandinavian art. Even more important is the modal feel and the constant changes of major and minor key which is typical of Scandinavian music. As you can see in this post about a small piece of the Danish composer Carl Nielsen - this goes further back than jazz, notice how many times Carl Nielsen changes from major to minor key and back again.
So the jazz suddenly turned melancholic, yearning and haunting. When I listen to it the foggy sea and the damp forest hovers over it and I feel at home. But to people outside Scandinavia I know that it seems very exotic and strange and beautiful.
Here's a very new and young, Danish piano trio which must be said to have this Scandinavian feel to it.
---
---