NEWBIES INITIATIVE TUTORIAL - BLOCKCHAIN GAMES
---
VIDEO TIMELINE
00:00 - 01:00 || Introduction
01:01 - 01:52 || Regular Games
01:53 - 02:53 || Blockchain Games
02:54 - 03:28 || Playing Blockchain Games for fun
03:29 - 05:22 || Earning Crypto Currency in blockchain games
05:23 - 08:02 || Demystifying NFTs
08:03 - 11:13 || Earning and trading NFTs in Blockchain Gamies
11:14 - 12:24 || Blockchain Games on Hive
12:25 - 13:08 || Why Blockchain Games thrive on Hive

Hello everyone, my name is @ksam (Kalu Samuel), and it is my pleasure to anchor this tutorial for the Newbies Initiative Programme.
In the last tutorial by @samostically we learnt about the different Tribe Tokens and the use of tags.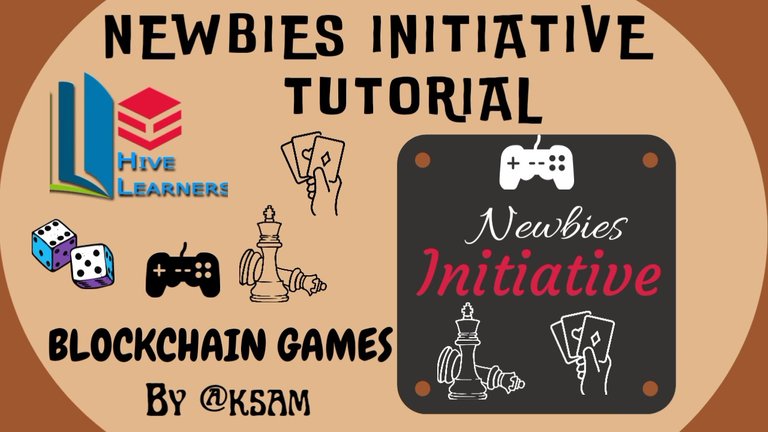 In this episode, we shall discuss Blockchain Games and we shall give a tutorial for Splinterlands Game. Hence, this episode will be divided into two parts.
In the first part, we shall discuss what Blockchain Games are, how they are different from normal games and what you can earn from them (in-game crypto and NFTs).

In the second part, we shall present a tutorial for Splinterlands game to help everyone understand the basics of the game.

UNDERSTANDING BLOCKCHAIN GAME

In the video above, I gave a comprehensive guide and explanation of Blockchain game. However, this post will offer the summary of what I discussed in the video above.
---
"A blockchain game is a video game built on the crypto space."
---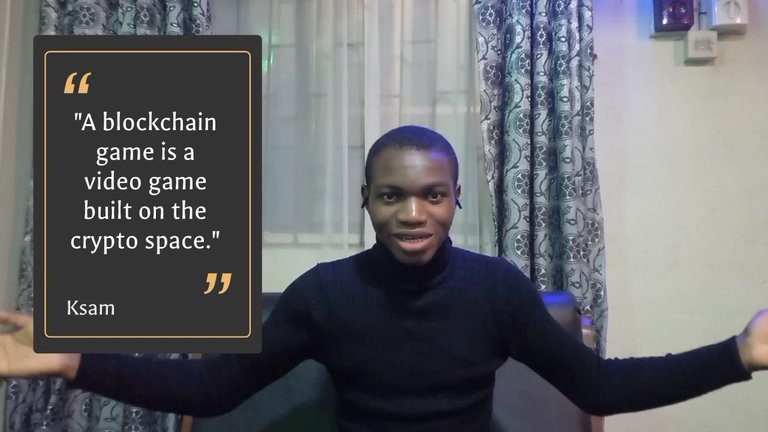 Well, don't worry about cracking your brains for the technical aspect behind it, except if you want to do further research.
Let's keep it simple.
With blockchain games:
You play a Game for fun;
You Earn Cryptocurrency (in-game currency) in the game;
You Earn NFTs in the game; and
You also Trade in the game (trade your crypto coins and sell NFTs at the Market place)
---
That is why it is called PLAY TO EARN (P2E) game.
---
Let's break down it's components, in order to understand it better:

PLAYING BLOCKCHAIN GAMES FOR FUN


---
One of the foremost reasons why we play games is for fun and pleasure; be it an educative game, tactical game, adventure game or sport game.
The fun aspect of games is an undisputed fact!
So, we get that first component, right?

Playing Blockchain games for fun!
---

EARNING CRYPTOCURRENCY IN BLOCKCHAIN GAMES


Every blockchain game has its native tokens. These tokens are used for transactions inside the games: for instance, buying new guns, changing amour, changing skin colour or renting destructive equipment just to pass the next level in the game.
(this is lvl token, the native token of PsyberX game - image gotten from @psyberx discord channel for promotion of PsyberX game)
---
Well, these tokens aren't the same as the "semi-worthless" coins you get in Temple Run 2.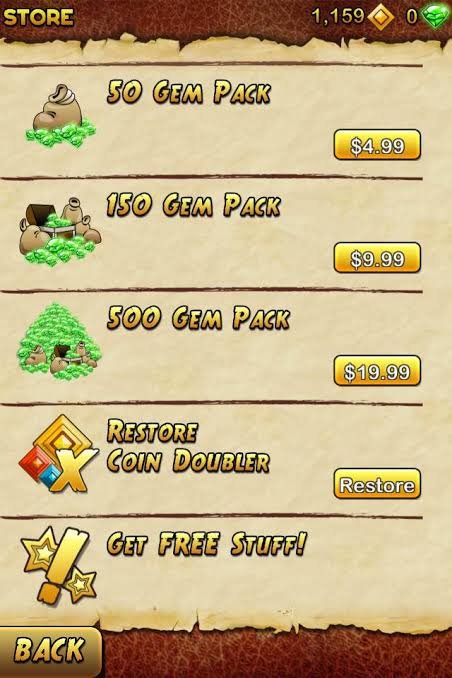 Wait! Before you Slap me on the face for using the word "semi-worthless," this is what I mean:
What can you do with the coins from Temple Run 2 aside purchasing Powerups, utilities and characters in the game store?
---
ABSOLUTELY NOTHING!
---
☆ But here we have tokens which perform the same functions: purchasing Powerups, utilities and characters in the game store.
☆ These tokens are also volatile, such that their value can increase or reduce overtime.
☆ These tokens are tradable with other cryptocurrencies. While some of these tokens are only tradable on the blockchain they are built on, other tokens are tradable on different crypto-exchange platforms.
| | |
| --- | --- |
| DEC/HIVE | LVL/HIVE |
| Dark Energy Crystals (DEC) is an in-game currency of Splinterlands Game | Level 1 token is an in-game currency of Psyberx game |
| By owning a Hive account, you have access to Hive engine where you can trade DEC | By owning a Hive account you have access to Hive engine where you can trade lvl |
| | |
| --- | --- |
| SLP/USDT | GODS/USDT |
| Smooth Love Potion (SLP) is an in-game currency of The Axie Infinity gaming metaverse. | GODS is an in-game currency of God's Unchained. |
| You can register to trade with Binance by Clicking here | You can register to trade with Okx by clicking here |
---
To put it in simple relatable terms, they become cash 🤑
So, in summary, you can earn the native crypto coin of that game which can be used to purchase powerups within the games, utilities and characters. The value of the coin can also increase with time and can be tradable with other crypto-coins.
---

EARNING NFTs IN BLOCKCHAIN GAMES


---
O well, NFT isn't a crypto coin, like some would think.
An NFT is a digital or electronic asset that represents objects in the real-world like: art, images, music, in-game assets, video and historical items.
Possessing an NFT grants you full right of ownership to the item, such that you can choose to re-sell at a higher price or you can do what ever you wish with it. IT IS YOURS!
---

In blockchain game, you can either win or purchase some available assets in the game like: Guns, Game Characters, Game Cards of various rarity, upgrading your assets or having a Land Owner Title (yea, you can own a land in a game – this is a whole level in gaming world).
And these assets are undoubtedly NFTs.
These items can be used in the game, they can be rented out to other players for a fee (your passive income) and they can be auctioned in the game marketplace at a higher price (massive income).
---
Imagine winning a digital asset in a game and you are able to sell it at $200 at the Game's market place.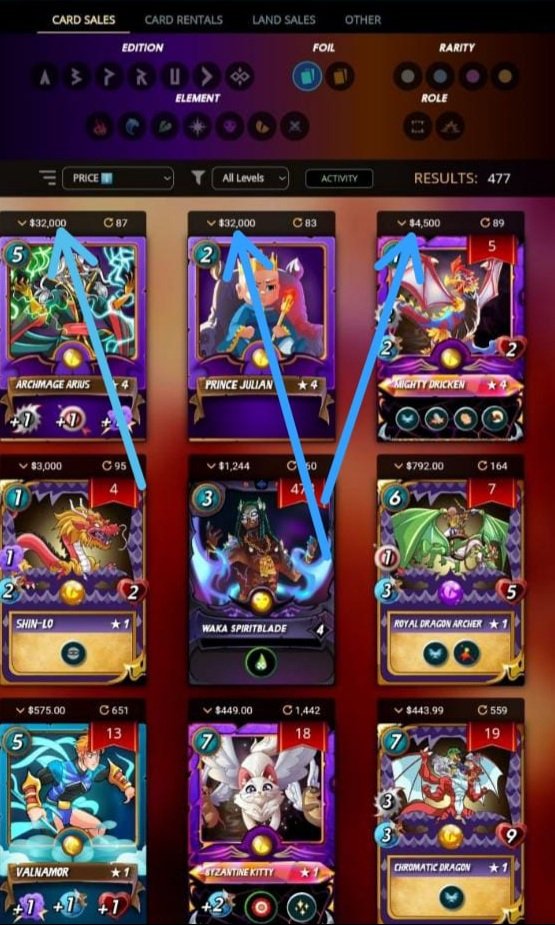 Mhen!!! Can you see the price of those Cards auctioned for sales??? 🤑🥺 - Image from Splinterlands Market place
---

Just like I said earlier, the native tokens of the particular game can be traded with other coins or with multiple coins in Centralized Exchanges. For instance, SPS and DEC.
For the NFTs also, you can trade them at the NFT SHOW ROOM and MARKET PLACE of the unique game, and get your coins 🤑

Here on Hive, we are privileged to have a host of many active Blockchain games and many games in development, all built on Hive Blockchain. Such that we are the first and immediate beneficiaries in earning on this game.
This is because Hive is a fast, transaction-free blockchain, with a fully active community that promotes creativity and development.
Some of the Blockchain games on Hive include:
Splinterlands
Rising Star
Rabona
Ragnarok (upcoming card game)
Psyberx (upcoming First Person Shooter game)

Having understood what Blockchain Games are and the aspect of earning in-game Cryptocurrency and NFTs on blockchain games, the next part of our tutorial will focus on Splinterlands game.
Stay tuned!

The line dividers are property of Hive Learners Community
All images, except indicated otherwise, are mine.
Designs were made through Canva and Powerdirector.
---
▶️ 3Speak
---
---