My New Life in Germany
My life has changed so much since the war. Every time I want to talk about it in detail and instead of writing it down, I write it in my head. I'm always storing in mental storage boxes I've created little fun facts and trivia about my unplanned stay in Germany so let's see how this telling goes.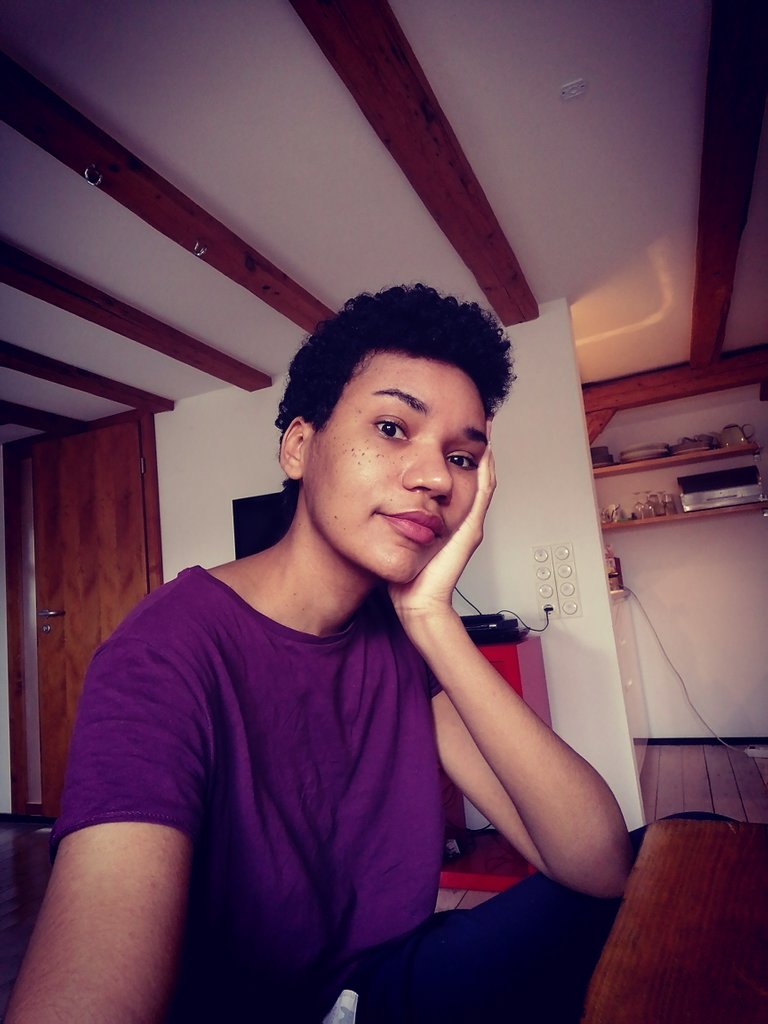 My last day at my host family's place in Dresden
My time is Germany has been so interesting so far. This country is very efficient. I know many people say they don't like the sound of German words, but for me it sounds like music. The language is conservative and not loud. It's actually very polite for me and I think those exaggerated enunciation of hard consonants that people on tik tok or YouTube do to make German language sound 'funny' is just basic trolling.
I had to leave my extremely kind host family on the 30th of March because my time there had come to an end. The arrangement was only a temporary one because they are expecting relatives this April. Luckily for me, and while I was in Warsaw, Poland, I received a new letter of admission for a program I had applied for in 2019. The university of Göttingen informed me that they'd decided to re-admit everyone again. This was for a program I had deferred twice because I did not have the 10k euros necessary to be able to apply for a visa.
I took this opportunity that fell on my laps, paid my student fees and began to search for accommodation. I was told by everyone online and off that finding accommodation in Germany is difficult. It truly is judging from the stories so I was worried. I'm still not legally registered as a refugee in this country because the queue at the foreign office is so long. Germany can be bureaucratic in this way, so I really wondered how it was going to happen. I applied everywhere and luckily Studentenwerk responded quite promptly to inform me of a room in a shared apartment not far from the University. So I moved to Göttingen day before yesterday. I lodged at a guest room and went to collect my keys yesterday.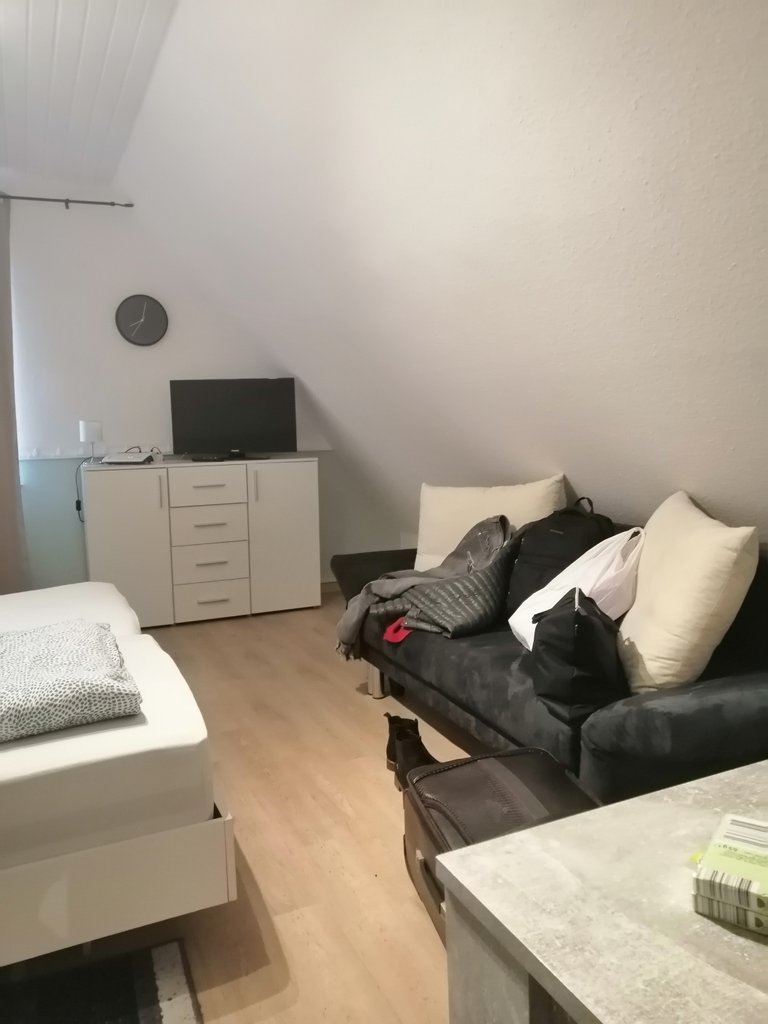 The guest house I stayed in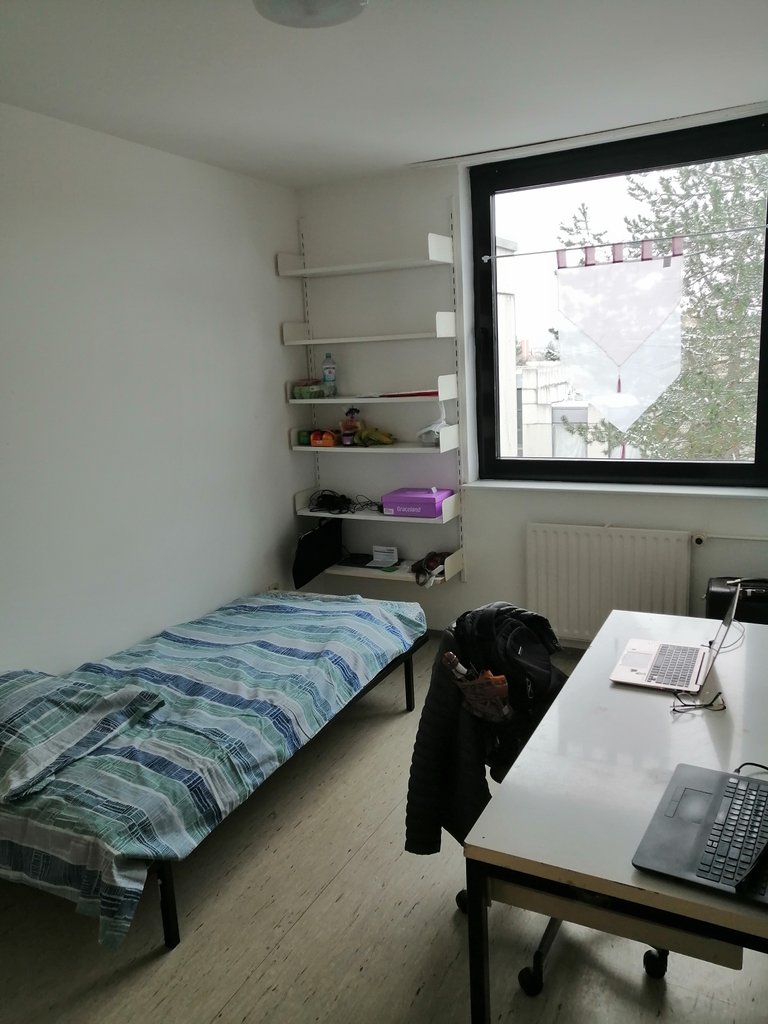 My new room in the shared flat
In Germany, shared apartments are not segregated by gender. You can have men and women share a flat and this is exactly the situation here. It's interesting to experience. I currently live with two guys and I have not met the girl yet. They're nice people and helped me with fixing my wifi. I didn't have a Lan cable and apparently that's the most reliable way to connect to the university's wifi. My old laptop which had a hinge issue is completely broken now so I have to figure out what to do about that. I'm hoping to find a repair store closeby but I hope repairing would not end up being close to the amount for a brand new one.
I was anxious at first about moving here because my boyfriend lives about 5 hours away from this location and because he's gone on a field trip for two weeks in a region with little internet access. While searching for a place to live online, I found someone, an admin in charge of one of the groups here. I sent him a dm, found out he was Ghanaian and he agreed to meet me at the train station when I arrived and the next day to pick my keys and help me go shopping. This person has been so helpful to me and to think it all started from a simple dm with faith and hope! I've settled in well thanks to this person.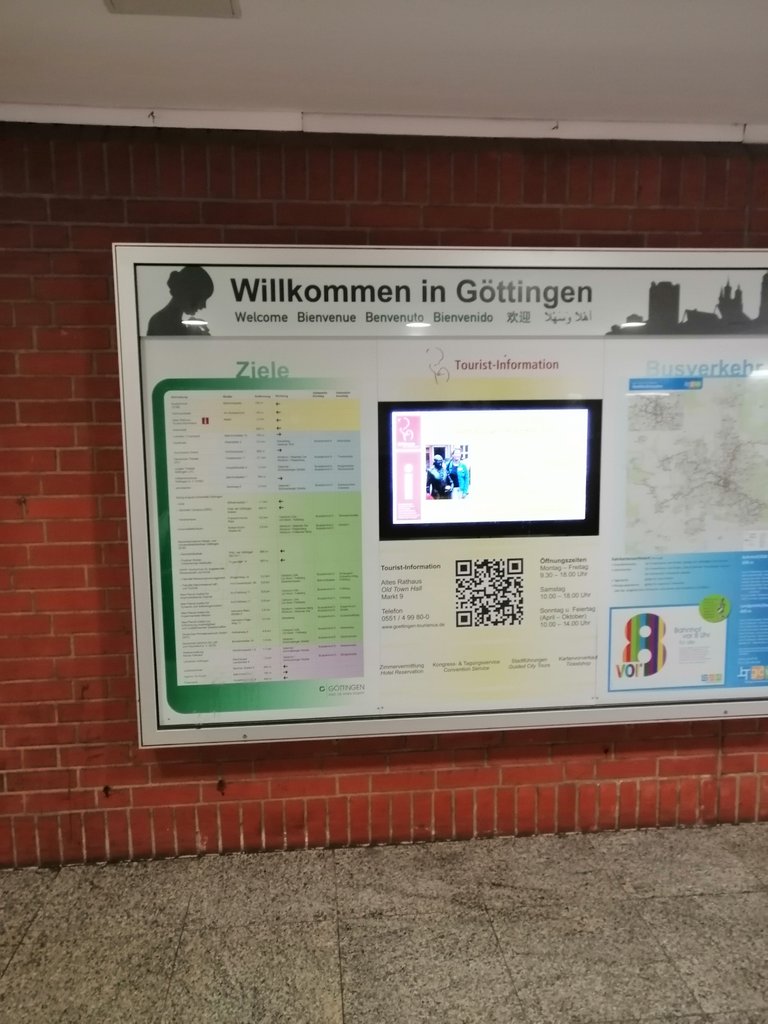 Welcome to Göttingen signboard at the train station
I've currently spent so much money on so many things but thank God I'm not broke. In fact, something incredible happened to me just yesterday evening. I was looking online on ebay Germany for some second hand bicycles because Germany is really a bicycle city. It's so convenient cycling to places. I found one and put out a tweet asking if no one one was interested in going a refugee get a bicycle. Someone actually offered to buy one of my digital paintings got the exact amount of 75 euros and I couldn't believe it! It's my most expensive art sale and such a mood booster.
I'm still not registered in Germany as I've mentioned earlier and without this registration, I cannot get health insurance or a work permit. I need these two urgently because my university has given me just two weeks to open a German bank account of my own. I'm hopeful that next week I'll be able to get these done. Also, I still don't even know how to organize my studies. The portal is online and school starts in about two weeks but I'm yet to figure out how it all works. I've sent an email to someone I think might help so let's see how it goes.
Hoping to really supplement my income with my crypto earnings on hive and since I'm in a new environment I know I'll have lots of new stories to tell.
Thanks for stopping by!
All photos are mine unless otherwise stated
---
---