Want More Followers? Write Better Headlines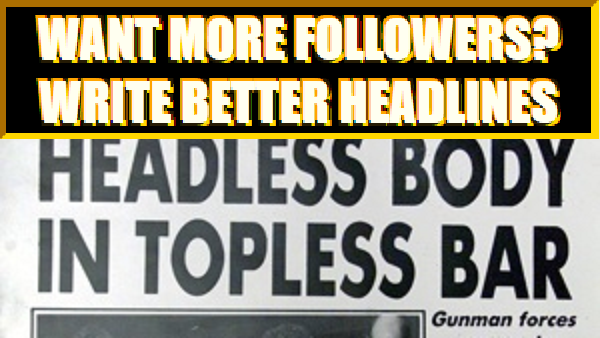 There's a push around Hive social media to attract more traffic from search engines. I know of at least 2 examples:
At LeoFinance, @taskmaster4450le, @forexbrokr, and @hitmeasap (among others) are emphasizing the importance of SEO-- Search Engine Optimization-- to help articles get a better chance of being found by people using Google and other search engines. If we want our posts to reach Page 1 of any search engine (especially Google), SEO is vital.

At Loving HIVE-- by way of @taskmaster4450le-- @ryzeonline wrote about the importance of doing marketing right. While many of the people who make Hive blockchain and social possible in many ways are good or great at what they do, marketing Hive isn't it. That's just a fact, and even they will admit this is true.
SEO isn't difficult, but we need to be relentless in using it. Even older posts can benefit from SEO, especially if they provide content good for any time. Backfitting older posts to use SEO will take a while, but the increased traffic to Hive from search engines pays off big-time in increased ad revenues.
Covering SEO requires its own post or series of posts, but there is one item each of us can improve immediately: Headlines
Context
Growing up in a bad neighborhood in New York City in the 1970s and 1980s wasn't fun, and much of the news reports on TV and in newspapers was about crime. The constant drip-drip-drip of those reports had a profound impact on children and young adults back then. Most of us turned out OK, but that drip-drip-drip had to have an impact on us somehow.
Back then, crime happened so often it was just background noise to us after a while. Yes, we took precautions to be careful, but it wasn't fun. After a while, reports on TV and in newspapers became one big blur; nothing to remember unless it struck home in a personal way.
Out of all the crime reports I encountered during those years, I only remember one just for the headline alone:
---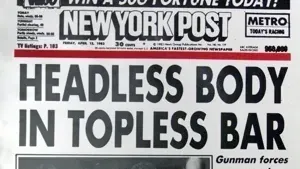 Image source: NPR.org

---
This headline became legendary:
the headline itself was the subject of a number of TV reports and newspaper articles;
it made its was into pop culture while WWW was over ten years into the future;
it became a meme before we knew about memes;
books about marketing and advertising refer to this headline.
I think I read about this event; I can't recall. I know it was on TV. I don't remember much if anything about the details of this killing.
But I remembered this headline far into my future.
Old Headline in Today's World
Had this headline appeared in this time, it would have been considered click-bait. By itself click-bait is neither good nor bad; it's just a tool like a computer or a hammer.
Bad click-bait makes you feel cheated when you click on the link and end uphaving to make 187 clicks befor you arrive at the content you wanted to see.
Good click-bait, on the other hand, delivers the goods. You would have been taken to the article about that event, and you would understand why the headline was perfect for that article.
The Power of Headlines
If that headline can have that much impact on many people who encountered it, imagine what a headline of that caliber can do for your posts here and elsewhere.
None of us should expect to win awards for the headlines we add to our posts, although winning lottery contests here would be cool.
However, we can improve our SEO game by making better headlines-- not just the H1 headline for post title but also H2 headlines for relevant topic subheadings.
Observed Characteristics of Effective Headlines
This is what I've noticed on high-traffic web sites:
the headlines are similar to search queries any of us would make;
the headlines are clear;
the headlines make a point;
the headlines are quick summaries of the content beneath them.
I don't claim to be an expert in SEO (yet), but I'm learning from role models I encounter in various tribes and communities.
How To Make SEO-Friendly Headlines
Summarize the purpose or point of the post in one sentence.
Remove excess words from this headline.
Test the headline from 2) by using search engines to see what suggestions come up.
Adjust your headline as needed.
Include the headline (or some form of it) in the content below it.
One More Considration
Devices Used
Headlines need to be mobile-friendly.
When all we had for surfing the Web was a personal computer or a workstation, SEO wasn't a thing.
When SEO became a thing but mobile devices were still in the future, screens were big enough for most headlines as they were intended.
Once mobile devices became the rage, screen space was at a premium. That meant headlines needed to respect that space.
Some people may be using mobile devices to read your post after a search engine brings it to them. Long headlines on small devices make the reading experience a bit more difficult than expected. Even if they thought your post was valuable in some way, would they want to read other posts from you? If they encounter another long headline, they may pass on future content from you.
No one wants to hear that, but how often have we reacted in this way?
Other Benefits of Better Headlines
Just as better headlines help Hive social in the SEO game, better headlines also help us as Hivers.
Although there are some Hivers who don't have much of a presence because they truly don't understand writing or posting, many Hivers have lots to offer their tribes and communities...
... If only they could get noticed.
There are many reasons why this is the case for Hivers like us (I'm still in this group, so it's true for me, too). While I don't know enough to explain why this is so or what we can do to fix that, I know enough to say that improving our headlines should help us and can't hurt.
For some posts we write, effective headlines are a no-brainer. For other posts, it's harder to come up with them; it's our mission to find that effective headline.
If people are interested enough to click on our headline to read our posts, and they leave the post wondering about us, we didn't do the headline right. But if they leave the post feeling good about what we wrote and give us another look and they like that post, perhaps that's enough reason for them to follow us. I want to say "yes," but the fact is I don't know at this time.
When I find something which worked for me, I want to share that with my fellow Hivers so they can save time living the dream on Hive. New Hivers can benefit from that knowledge, and it's a way for me to use my self-interest in service of others.
Just as important is providing cautionary tales so that others can avoid those mistakes. If you've tried sending out for tokens for PIZZA, BEER, LUV, etc. when you weren't ready to do so, you know exactly what I mean.
Either way, better headlines and effective headlines make it easier for us to achieve whatever we set out to he when we post and when we post over time.
Conclusions
Many Hivers here, in a variety of ways, are finding ways to bring organic search traffic to their tribes and communites, and more broadly to Hive. Marketing as a whole is important in this push. Included in that push is SEO, and SEO is something each of us can do right now.
---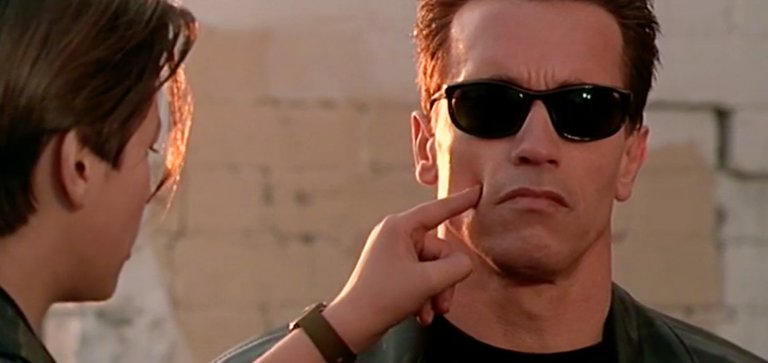 "Do it now!!
Image source: FourThreeFilm.com
---
One key piece of SEO involves the headlines we use. Headlines don't need to be memorable or legendary, but they need to be effective.
Effective headlines cause search engines to rank the post higher, and a higher search engine results page ranking give the post a better chance of attracting people to your post on Hive.
It's a numbers game, and SEO is a tool to put the numbers in our favor if we know what we're doing. Making effective headlines is vital in our SEO efforts not just for search engines but within Hive as well.
---
Posted via proofofbrain.io
---
---