The Melody from Beyond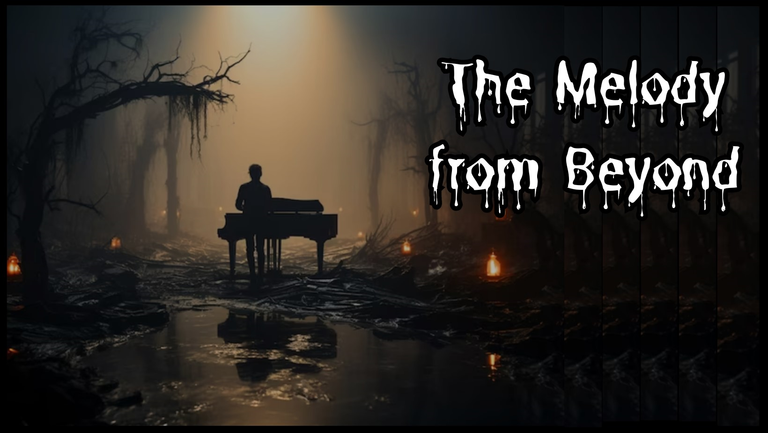 I believe that our fears are linked to some past experiences, things that have affected our minds and left us traumatized. I know people who have phobias of the most diverse things: clowns, spiders, elevators, among others. I, jokingly, was afraid of bills... Seriously, I think that many of the situations that cause us excessive fear occur when we are children.
I remember the times when I felt absolutely terrified listening to sinister stories told by my grandfather when I was a child. I remember the times when I got really scared lying in bed and imagining things after hearing some of his stories. These stories are common in families, they're not serious, but I always avoided causing any kind of fear in my son, so that he wouldn't become a fearful child like I was. I've been careful not to do it, and I haven't allowed anyone else to do it either, and he's not afraid of almost anything, not the dark, not ghosts, not anything like that.
However, for a long time in my life, I was afraid of the supernatural (I'm not anymore). It always stirred my imagination so much that a very strange situation occurred when I was an army soldier on guard duty.
That day, I was on watch at one end of the barracks. I went on watch at 2 o'clock in the morning and left at 4 o'clock. This was the most isolated post in the barracks, with no sign of civilization around, just mountains to my sides and, in front of me, a swamp, while I stood with my back to the barracks in that sentry box.
It was a beautiful Friday evening, and I was staring into nothingness, hearing only the sound of water from a nearby stream. Many years before, a soldier had died crossing under a small bridge during field training, and everyone in the barracks knew this story, it was a legend there. As you passed the bridge, you could see a plaque with the soldier's name in his honor.
Because of this event, many soldiers avoided, if possible, standing guard at that guardhouse at dawn, for fear of this story. I was one of those who always tried to avoid this cursed post, but that night I had no luck, and there I was, at the most frightening time possible. For a while, I lived in absolute silence, and the minutes passed slowly, until something sinister happened.
At first, I couldn't believe what I was hearing and tried to clear my mind to understand. It was impossible that I was hearing the sound of a piano in that place. It was sad music that went on for a long time, and I was desperate. This may sound contradictory, but at the time, I wasn't very religious, but I still started praying and trying to somehow get the sound away from my ears. I couldn't believe this was happening. I wanted to run out of there, but there was no way I could leave my post; if I did, I could be severely punished. So I had to put up with it. I don't think the minutes have ever passed so slowly. I just wanted to be replaced soon, I wanted to get out of there. Was I going mad?
After a while, the sound subsided, and finally my surrender came. It was a great relief that this torture was over. I asked the soldiers who were on guard at the same time if they had also heard the piano. They said no, thought I was making it up or even found it funny. Perhaps I really was going mad, or perhaps the story of the soldier who died on the bridge had stirred my imagination. However, when we arrived at the dormitory, one of the soldiers called me over to a corner and said that he had also heard that eerie music.
To this day, I can't explain that event, whether it was supernatural or not. I know what I experienced in those two hours of terror, alone, in the dark, surrounded by legends and stories, and I still remember the sad music that played throughout that time, leaving me terrified.
Being afraid of the supernatural is something that many people carry around, but today I can say that these things don't affect me as much as they used to. With maturity, we become more afraid of what is alive: a malicious government, inflation and, of course, bills. With today's mindset, if I heard the sound of that piano in that situation, I'd just stand there enjoying the scenery and be grateful to have some music to pass the time, even if it was played by some spirit. I wouldn't mind.
---
Credits:
Translated with DeepL
Cover: created by Canva.
Image Thumbnail: Freepick
---
---

[PT]
Acredito que nossos medos estão ligados a algumas experiências do passado, coisas que afetaram nossa mente e nos deixaram traumatizados. Conheço pessoas que têm fobias das coisas mais diversas: palhaços, aranhas, elevadores, entre outras. Eu, brincadeiras à parte, tinha medo de boletos... Falando sério, acho que muitas das situações que nos causam medo em excesso ocorrem quando somos crianças.
Lembro-me das vezes em que senti um medo absoluto ao ouvir histórias sinistras contadas pelo meu avô quando eu era criança. Lembro-me das vezes em que fiquei com muito medo ao deitar na cama e ficar imaginando coisas depois que ouvia algumas de suas histórias. Essas histórias são comuns em famílias, não são graves, mas sempre evitei causar algum tipo de medo no meu filho, para que ele não se tornasse uma criança medrosa como eu fui. Tive o cuidado de não fazer isso, e também não permiti que ninguém o fizesse, e ele não tem medo de quase nada, nem do escuro, nem de fantasmas, nem de nada do tipo.
No entanto, durante muito tempo da minha vida, tive medo do sobrenatural (hoje não tenho mais). Isso sempre mexeu muito com a minha imaginação, a ponto de ocorrer uma situação muito estranha quando eu era um soldado do exército e estava de guarda.
Naquele dia, estava de vigia em uma das extremidades do quartel. Entrei para vigiar às 2 horas da manhã e sairia às 4 horas. Esse era o posto mais isolado do quartel, sem qualquer sinal de civilização por perto, apenas montanhas aos meus lados e, à minha frente, um pântano, enquanto eu ficava de costas para o quartel naquela guarita.
Era uma noite de sexta-feira bonita, e eu estava olhando para o nada, ouvindo apenas o barulho da água de um riacho que passava ali perto. Muitos anos antes, um soldado havia morrido ao atravessar sob uma pequena ponte durante um treinamento de campo, e todos no quartel conheciam essa história, era uma lenda por lá. Ao passar pela ponte, podíamos ver uma placa com o nome do soldado em sua homenagem.
Devido a esse acontecimento, muitos soldados evitavam, se possível, ficar de guarda naquela guarita durante a madrugada, com medo dessa história. Eu era um dos que sempre tentava evitar esse posto amaldiçoado, mas naquela noite não tive sorte, e lá estava eu, no horário mais assustador possível. Durante algum tempo, convivi com o silêncio absoluto, e os minutos passavam lentamente, até que algo sinistro aconteceu.
No começo, eu não acreditava no que estava ouvindo e tentava clarear minha mente para entender. Era impossível que eu estivesse ouvindo o som de um piano naquele lugar. Era uma música triste que durou por muito tempo, e eu estava desesperado. Isso pode parecer contraditório, mas naquela época, eu não era muito religioso, mas mesmo assim comecei a rezar e tentar de alguma forma afastar o som dos meus ouvidos. Não conseguia acreditar que isso estava acontecendo. Minha vontade era sair correndo dali, mas não podia abandonar meu posto de forma alguma; se o fizesse, poderia ser punido severamente. Portanto, tive que aguentar. Acho que os minutos nunca passaram tão devagar. Eu só queria ser substituído logo, queria sair dali. Estaria eu ficando louco?
Depois de algum tempo, o som foi diminuindo, e finalmente minha rendição chegou. Foi um grande alívio que essa tortura tivesse acabado. Perguntei aos soldados que estavam de guarda no mesmo horário se eles também haviam ouvido o piano. Eles disseram que não, acharam que eu estava inventando ou até acharam a situação engraçada. Talvez eu realmente estivesse ficando louco, ou talvez a história do soldado que morreu na ponte tivesse mexido com a minha imaginação. No entanto, quando estávamos chegando no dormitório, um dos soldados me chamou em um canto e disse que também havia ouvido aquela música sinistra.
Até hoje, não sei explicar esse acontecimento, se foi sobrenatural ou não. Eu sei o que vivi naquelas duas horas de terror, sozinho, no escuro, cercado de lendas e histórias, e ainda me lembro da música triste que tocou durante todo aquele tempo, me deixando apavorado.
Ter medo do sobrenatural é algo que muitas pessoas carregam, mas hoje posso dizer que essas coisas não me afetam tanto quanto antes. Com a maturidade, passamos a ter mais medo do que está vivo: um governo mal-intencionado, a inflação e, claro, os boletos. Com a mentalidade atual, se eu ouvisse o som daquele piano naquela situação, ficaria ali curtindo a paisagem e agradeceria por ter uma música para passar o tempo, mesmo que fosse tocada por algum espírito. Eu não me importaria.
---
Credits:
Translated with DeepL
Cover: created by Canva.
Image Thumbnail: Freepick
---
---

---
---