Proyecto: Comunidad y permacultura, lo que la pandemia nos obligó a aprender. // Project: Community and permaculture, what the pandemic forced us to learn.
🌱Buenas noches a toda la colmena!! Cómo han estado? Espero que muy bien!! 🌱
Good night to all the hive! How have you been? I hope that very good!!
🌱Yo les cuento que he estado un tanto ausente en el blog porque, con mi pareja Fabián y nuestros amigos, estamos construyendo nuestra casa. Nuestra primer casa pensada en la permacultura y bioconstrucción , que sea autosustentable, ecológica y construída con la mayor parte de materiales naturales como: madera, barro, pinocha, totora, agua, etc. Como también de materiales reutilizados como: botellas de vidrio, llantas, botellas de plástico, telas, utensilios de todo tipo, etc.🌱
I tell you that I have been somewhat absent on the blog because, with my partner Fabián and our friends, we are building our house. Our first house designed for permaculture and bio-construction, which is self-sustaining, ecological and built with most natural materials such as: wood, clay, needles, cattails, water, etc. As well as reused materials such as: glass bottles, tires, plastic bottles, fabrics, utensils of all kinds, etc.
🌱Quiero agradecer a nuestros amigos con @linkxdx a @alfarero, @merwinrod y Vane, otra amiga que está por entrar en el mundo CRYPTO prontito, que son quienes nos están dando una mano para poder armar nuestra casa. 🌱
I want to thank our friends @alfarero, @linkxdx, @merwinrod and Vane, another friend who is about to enter the CRYPTO world soon, who are the ones who are giving us a hand to build our house.
🌱También quiero agradecer mucho a @juanmiguelsalas quien me eligió como ganadora de 50 POB en su concurso #justwrite Sinceramente no lo puedo creer!! Muchas gracias por esta hermosa sorpresa, lo usaré de una manera muy eficiente. Lo prometo!!🌱
I also want to thank @juanmiguelsalas very much who chose me as the winner of 50 POB in his #justwrite contest. I honestly can't believe it !! Thank you very much for this beautiful surprise, I will use it in a very efficient way. I promise!!
🌱Les cuento la historia... somos un grupo de personas que nos unió la necesidad. Si, la necesidad más básica de todas: una vivienda, un techo. Cuando llegó el covid al Uruguay hubieron muchos desempleos y eso llevó a no poder pagar más alquileres y tener que recurrir a buscar lo que sea porque con hijos o no, aquí te sacan a la calle igual, entonces llegamos a este hermoso lugar, lleno de árboles y cerca del bosque y del campo, y a unas cuadras de la playa y nos dijeron que se podía habitar siempre y cuando se respeten ciertas medidas y se pague la cuota para el acceso al terreno, que es lo que en este momento de crisis económica nos está afectando un poco llegar pero confiamos en que si aportamos a la comunidad de HIVE como lo hacemos ahora aquí, vamos poder lograr todos los objetivos.🌱
I tell you the story ... we are a group of people who united us by need. Yes, the most basic need of all: a house, a roof. When the covid arrived in Uruguay there were many unemployed and that led to not being able to pay more rents and having to resort to looking for whatever because with children or not, here they take you out the same way, then we arrived at this beautiful place, full of trees and near the forest and the field, and a few blocks from the beach and they told us that it could be inhabited as long as certain measures are respected and the fee for access to the land is paid, which is what at this time of economic crisis It is affecting us a little to arrive but we trust that if we contribute to the HIVE community as we do here now, we will be able to achieve all the objectives.
🌱Eso unió a este hermoso grupo que se está formando, todos y cada uno de nosotros somos conscientes de que este proyecto que se está llevando a cabo tiene objetivos sustentables y pensados en el bienestar tanto de las personas como de los animales que lo habitan, como también de la preservacion del entorno, de la flora que ya existe y es parte del paisaje. Así pensamos todos los que queremos formar esta mini-eco-aldea. 🌱
That united this beautiful group that is being formed, each and every one of us is aware that this project that is being carried out has sustainable objectives and thought about the well-being of both people and the animals that inhabit it, such as also of the preservation of the environment, of the flora that already exists and is part of the landscape. This is how all of us who want to form this mini-eco-village think.
🌱Tenemos muchísimo por planificar, dónde van a construir los demás, dónde van las aguas grises para poder hacerle un tratamiento y que se reutilice para regar las plantas, dónde va la huerta, el gallinero, el quincho con la parrila, la piscina, el galponcito para las herramientas y los vehículos (moto o bicicleta). Hay que cercar, alambrar y llenar de plantas para hacer un muro verde, todo a pulmón claro, todo lo hacemos nosotros mismos, y aunque muchos de nosotros antes nunca lo había hecho, estamos felices de aprender de esta experiencia que la vida nos puso en frente. No para quejarnos, ni lamentarnos de la crisis y las necesidades, porque eso no lleva a nada, sino para agradecer que después de todo, esta "plandemia" está uniendo personas que piensan similar y quieren un mundo mejor, apuntar todos para el mismo lado es lo que nos hace un grupo y eso es lo que no debemos olvidar. 🌱
We have a lot to plan, where the others are going to build, where the gray water goes so that it can be treated and reused to water the plants, where the garden goes, the chicken coop, the barbecue area with the barbecue, the pool, the little barn for tools and vehicles (motorcycle or bicycle). It is necessary to fence, wire and fill with plants to make a green wall, everything is clear, we do everything ourselves, and although many of us had never done it before, we are happy to learn from this experience that life put us in front. Not to complain or lament about the crisis and the needs, because that does not lead to anything, but to be grateful that after all, this "plandemic" is uniting people who think similarly and want a better world, all aim for the same side it is what makes us a group and that is what we must not forget.
🌱Les dejo unas fotos de esto que recién comienza pero que se está gestando, y es maravilloso!!🌱
Here are some photos of this that is just beginning but is in the making, and it's wonderful!!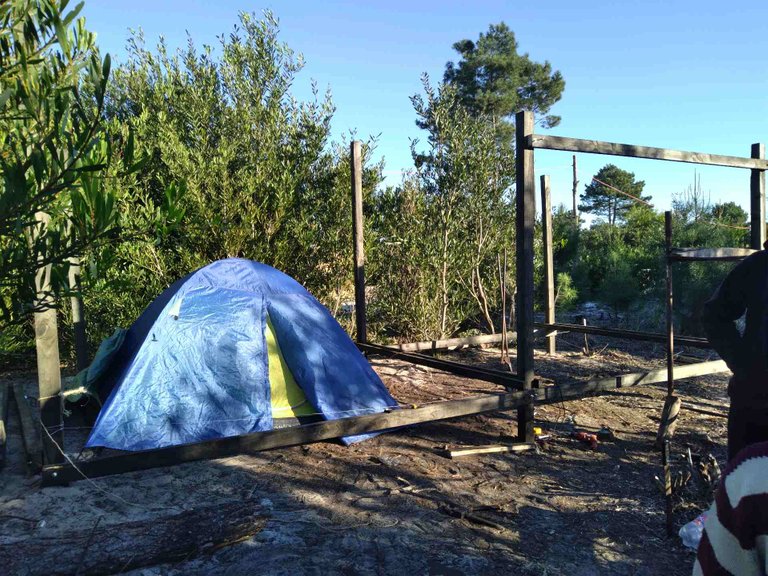 Acampando en el terreno
Camping in the field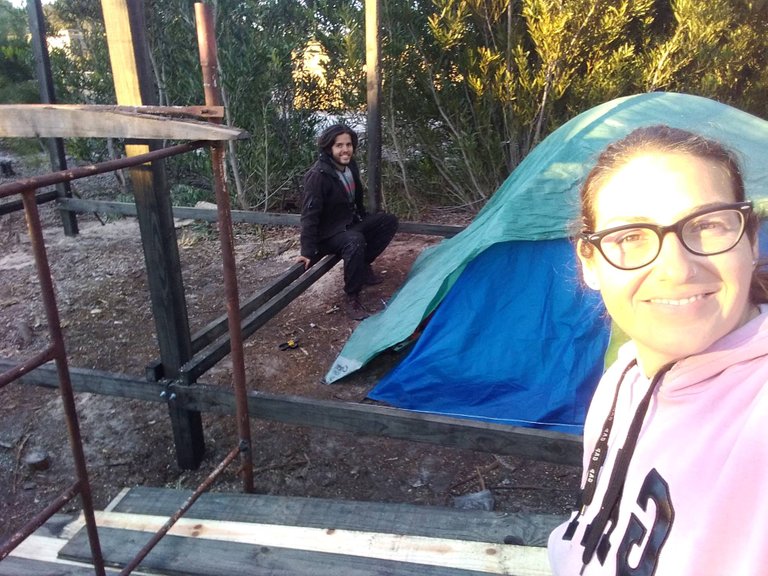 Con Fabi mi compañero, mi constructor y mi amor
With Fabi my partner, my builder and my love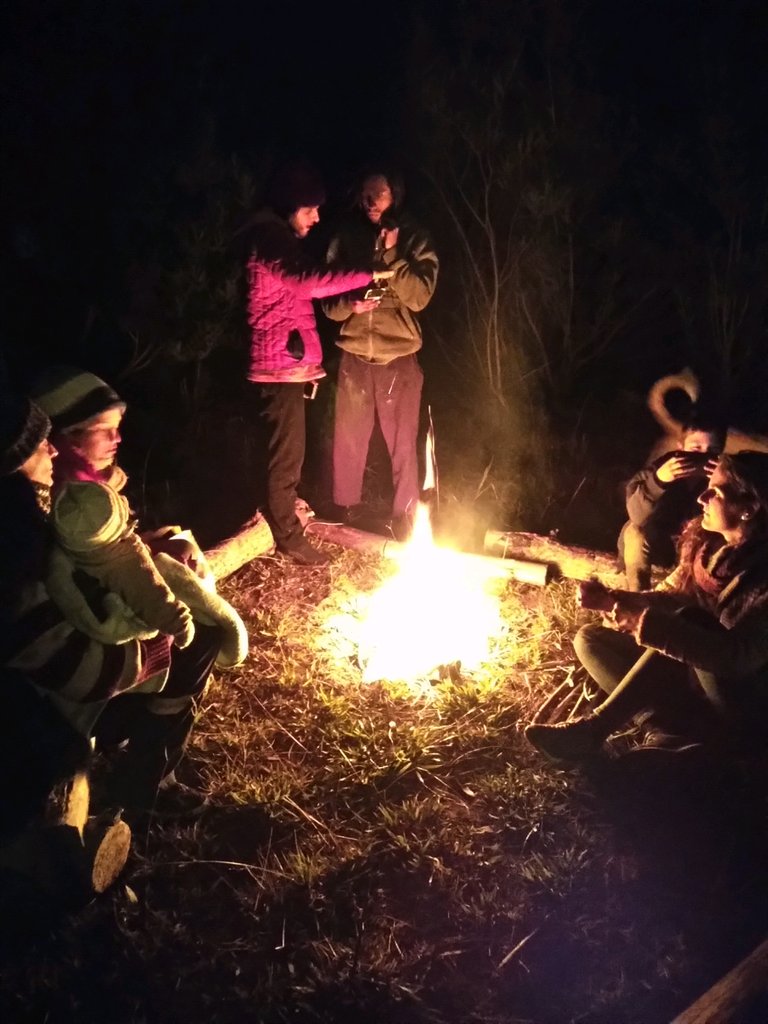 Todos juntos disfrutando de una bella fogata al aire libre
All together enjoying a beautiful outdoor fire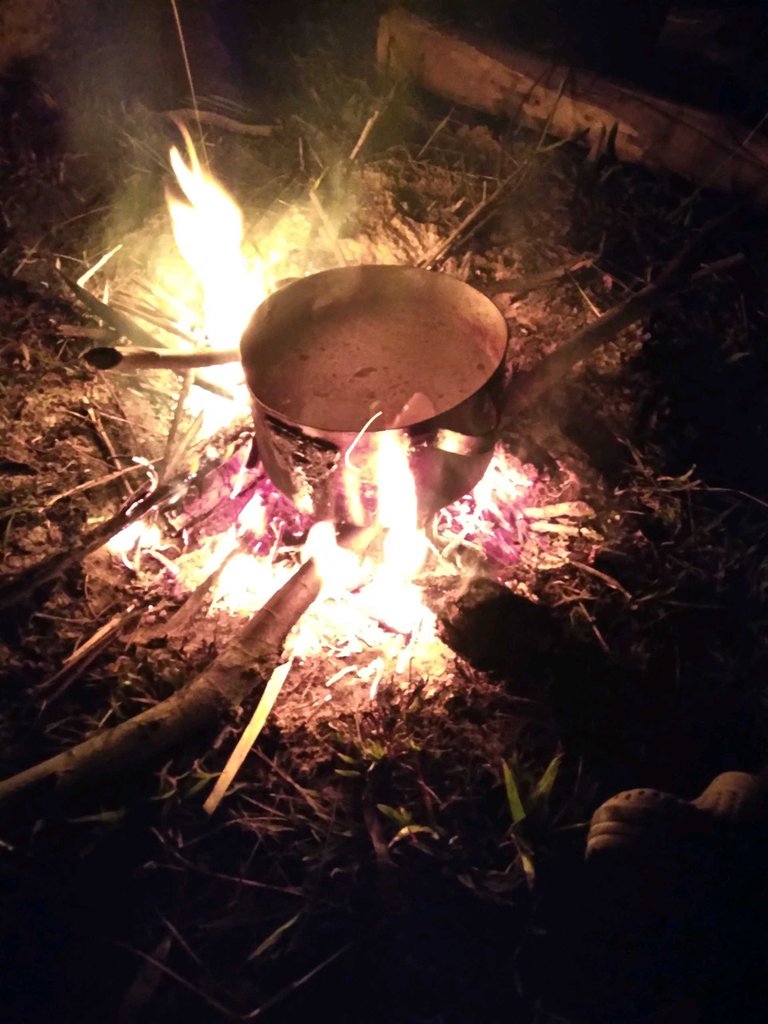 Comida de olla para compartir en comunidad
Pot food to share in community
🌱Gracias a todos, les mando un abrazo enorme y espero poder seguir subiendo mas material en estos días!!🌱
Thank you all, I send you a huge hug and I hope to continue uploading more material these days!
Arrivederchi!! Mimi🌺
---
Posted via proofofbrain.io
---
---