A Perfect Gravy

Would you like some gravy?
Gerald sat down at the table to eat. He picked up the serving spoon in the bowl of gravy. Chunks of the gravy fell onto his plate.
"I've had it."
He said,
"This gravy has the consistency of oatmeal."
Yuck!!
Gravy should be smooth, but this gravy was chunky like like a breakfast cereal.
Many of life's lessons can be learned in the kitchen.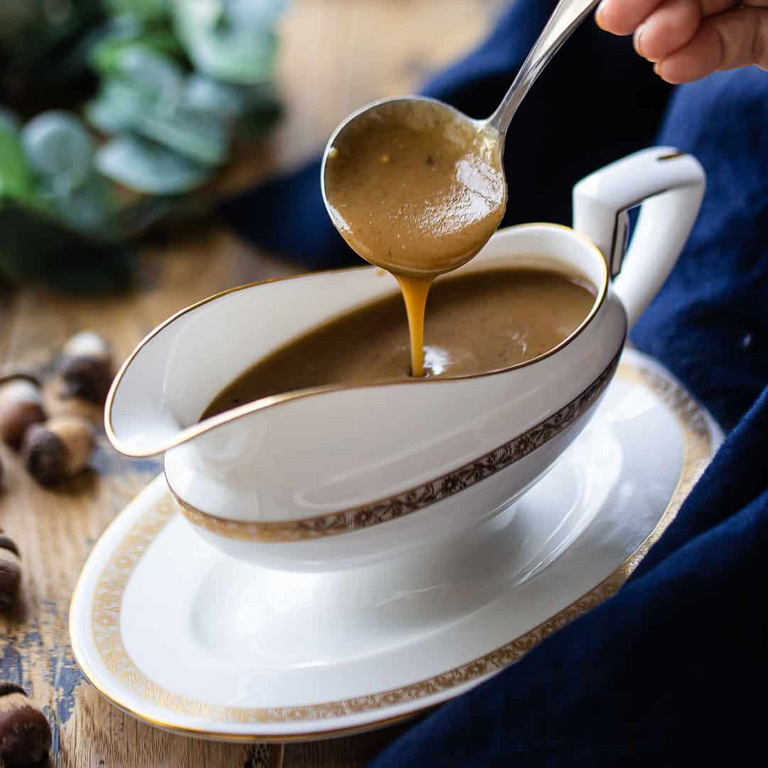 bakingamoment
Consistency vs Chunkage
When it comes to cooking there is a fine line between perfect consistency and chunkage. The way that a substance and especially a liquid holds together is the consistency of that substance. In science we may say "viscosity" or in more common terms "thickness".
For gravy or any sauce, what determines the thickness is how long you stir it under a low heat. Any sauce or gravy is made up of separate ingredients. Gravy is made up of mostly fat and wheat flour with some corn starch, water, milk and flavors. Under a low heat with a slow gradual stirring the ingredients will come together in perfect consistency.
Without the stirring each solid ingredient will begin to clump up and each liquid ingredient will remain separate in a puddle across the pan. The ingredients were made to be mixed together while stirring over a low temperature. That's what gives the sauce its consistency.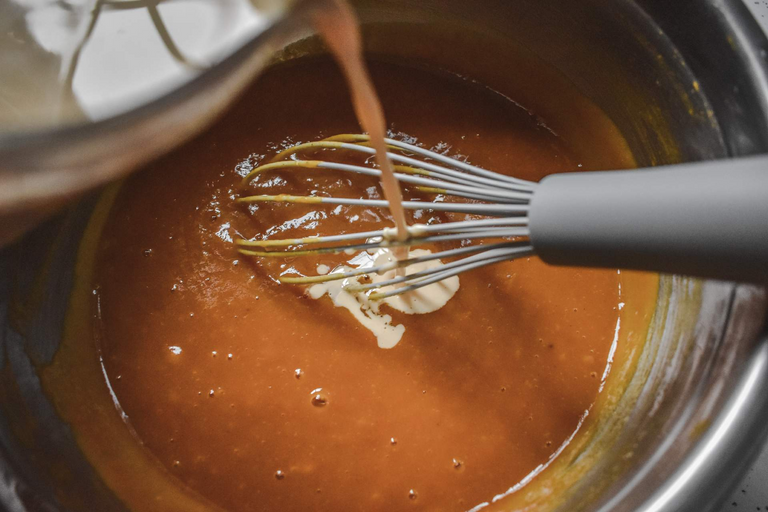 Consistency is "Whole"
In one word consistency is "whole". Consistency should not contain clumpage or chunkage. It's when all the parts work together in harmony and agreement we get consistency and the whole is one fine gravy.
What does this mean?
Consider the expression: "Blood is thicker than water". This expression has been used for over a millennium. It means that family bonds are stronger than any other bonds. Chemically speaking the viscosity of blood is "thicker" than the viscosity of pure water.
But the analogy is missing a major key to understanding consistency. Blood plasma contains 90% water. Without that water, the red blood cells and white blood cells would be stuck. They couldn't carry oxygen to the brain and white blood cells couldn't move to the site of infection.
Like gravy, blood must maintain consistency to perform bodily functions. Maybe we can say "Blood is thicker than water" but without the water the blood all dried up. Every cell and every molecule within a cell are vital to the survival of a human life, even the consistency of blood.
Life works like this on a macro and micro perspective. All the ingredients are here but these ingredients need to be stirred together at the right temperature and with a slow gentle stir for them to all blend together.
Imagine if the wheat flour refused to break down in the gravy.
Instead the wheat protested until it became donuts.
The fat refused to melt and instead joined the donuts' side.
The cornstarch and Salt-N-Pepa formed their own group on the side of the pot and refused to mix becoming a starchy ball of flavor flav.
Finally the milk and water swirl up to become nothing but a pond of elevator music.
Then there is no gravy. There is no jam without consistency.
Once the consistency is right then the flavor is right. Once the flavor is right then you have a tasty creation giving flavor to the whole world.
What kind of flavor are you?
If we are clicking up into our own factions then nothing can work smoothly. It's time to get rid of the thinking that one part is better than another part or that one part contributes more than the others. Every part of the body is important for the whole to function properly. The eye cannot say to the hand, "I don't need you!" And the head cannot say to the feet, "I don't need you!" A consistency of agreement and harmony of all the parts is necessary for the body to function properly.
Smooth Like Butter
These boys only exist today because they overcome their differences. They are all different. Some are spicy and some are bland. Some are shy and some are not. When they bled they are as smooth as butter.

We are a blockchain blog with different languages and different talents and gifts from around the world. Some have a song. Some have a smile. Some have capital and some have connections. Together we are smooth like butter.
Let's not be spewing chunks.
---
Posted via proofofbrain.io
---
---