Watch What You Wish For .:. #MyHiveGoals 2022
Today's title has nothing to do with #MyHiveGoals, but at the core of it, it is all about it... The pattern that happened to me lately is the same that goes with any wish(es) that you can have... So, be careful what you wish for, as it might happen... The problem isn't that you will get what you wish for, but the WAY how you got it...
Long time no see, people... I missed you! I know that I said many times that I'm not a blogger, but still, I like to stay in contact with you guys, my friends that help me out on this Hive journey... As you may know, I was sick for almost 10 days, and before that, I was on a long vacation for almost a month! Today, I'm finally at home (arrived yesterday), still not yet healthy as I would like, but happy that I can write these sentences!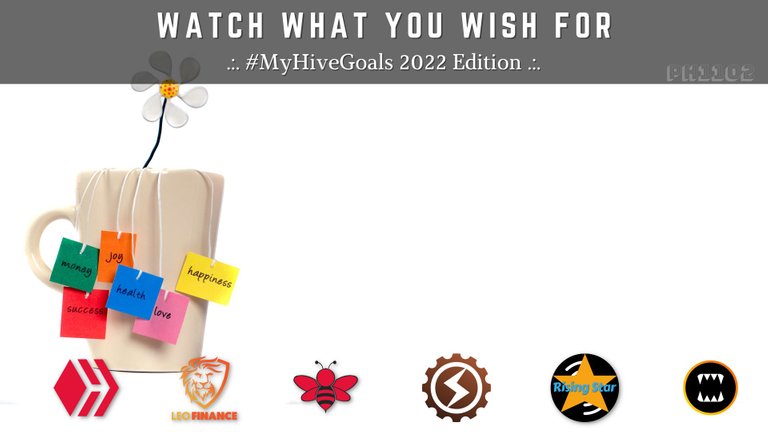 Created in Canva.com
So, what's this all about being careful what you wish for? Well, I'm a big believer in the power of thoughts and wishes... It worked many times for me in the past, and it worked out for me lately, but not in a "pleasant way"...
Two years ago, I went to the gym for the first time in my life... I was going regularly every single day for almost a year, until the moment when, because of the C19, the gym had to close... After that, I continued to work out occasionally at my home... The thing that I didn't calculate with going to the gym is weight gain... I was always skinny and I "couldn't" get any weight for whole my life, and during a year, I got around 10kg... The bad thing with stopping with the gym is that you still eat, but do not burn calories... :)
So, this Spring, I gave to myself a small "life goal" to lose some weight, and I was SPECIFIC... I had a number of 75kg on my mind... I have changed my diet radically, eating more fruits and nuts, workout more times per day, walking more, etc... which gave some results... I lose some weight, but I was still far from that 75...
Then I got sick... It happened 10 days ago, I had a high fever, my throat was sore, I couldn't eat at all, every food was disgusting... We all know that it's most important to eat and drink a lot of liquids when we are ill, but the reality is different... 99% percent of the time when I'm ill, I lose weight... This time it was the same, just 2-3 days ago I stepped to a scale and it showed exactly 75 kg!!! The exact number that I had as a goal for this summer!!!
The Universe work like that... It doesn't care HOW it will lead you to your goal, it will just DO IT... So, be careful what you wish for... it might happen in an unexpected way that you maybe wouldn't like...

Let's get back to the #MyHiveGoals and numbers for the last (two) weeks... As you may notice, I have skipped one week of this report as I was feeling very bad last Sunday... So, this is my first report in August and almost in the middle of the month...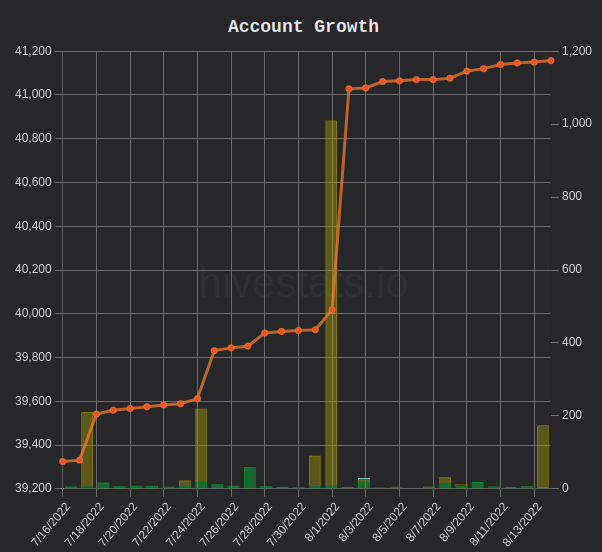 screenshot from hivestats.io
As of vacation, and later health issues, I didn't create a lot of posts during August... to be more exact, I have created only a couple... Long story short, if I subtract my #HivePUD power up, in 2 weeks, I have increased my HivePower by 360, which isn't that bad... Especially, knowing my conditions...

After reaching my LEO Power goal last month, it's time to chase it again in August... This time, I have a better jump start than before, so I'm optimistic about reaching it again... In 2 weeks, I have added 162 LEO tokens to my stake...

I said it before, and I stick to my strategy regarding my WORKERBEE tokens accumulation... When the price went down, I created buy orders and some of them got filled! Happy to have more tokens and I have staked 70 tokens this time... My stake is now 9500 tokens and I need only 500 more to reach my yearly goal!
By growing my WORKERBEE stake, my BEE token earnings are also slowly going up... My BEE POWER goal isn't going up as fast as I would like to, but it grows, and that's the most important...

GAMING GOALS
I have reached my RISING STAR goal a long time ago, but I have continued with my card accumulation despite that... As I had issues, I didn't play the game a lot and I have added only 83 new cards to my collection... From tomorrow, I plan to continue with my pack openings and giveaways if my health allows...
Regarding Splinterlands, a lot of things changed from the last report and from the beginning of my vacation... I will have to re-check everything that has been announced and act accordingly... For now, I have stopped staking the SPS tokens and instead of doing that, I have added liquidity to the SPS-SWAP.HIVE diesel pool... The APR is better and I'm lowering the risk of downward SPS tokens price action...

It's time to update the numbers and put them into the spreadsheet until the next week! So, freshly updated numbers for #MyHIVEGoals, on August 14th, 2022 are: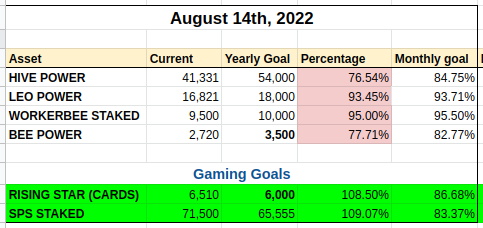 Join us in this awesome #MyHiveGoals and let's grow together! You can find the original post about the challenge by @robwillmann here.
Thank you for your time,
~ph~

The link to my initial 2022 Goals Edition is here...
These are my initial goals for 2022 created on January 2nd, 2022: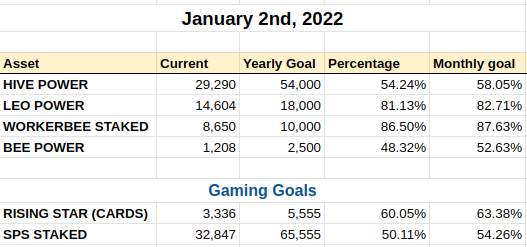 Update 06.02.2022.
BEE POWER 2500 --> 3500
RISING STAR NFTs 5555 --> 6000

If you want to support my witness, you can do it by voting for @ph1102.ctp here https://tribaldex.com/witnesses, or just scan the QR code down below...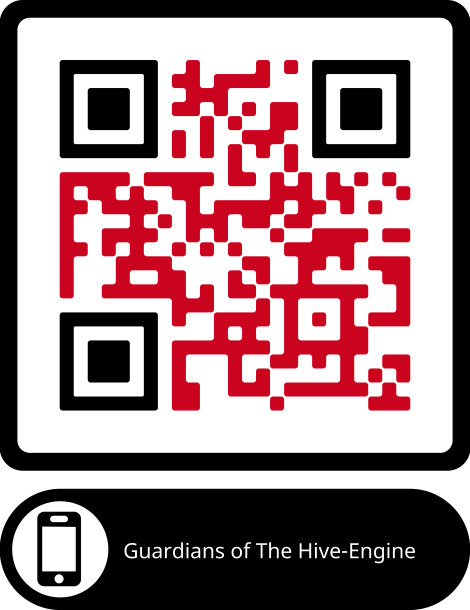 Don't forget to follow, reblog, and browse my Hivepage to stay connected with all the great stuff!
You can also find me on LEO Finance .:. Twitter .:. LBRY
Posted Using LeoFinance Beta
---
---