Peace on a deserted island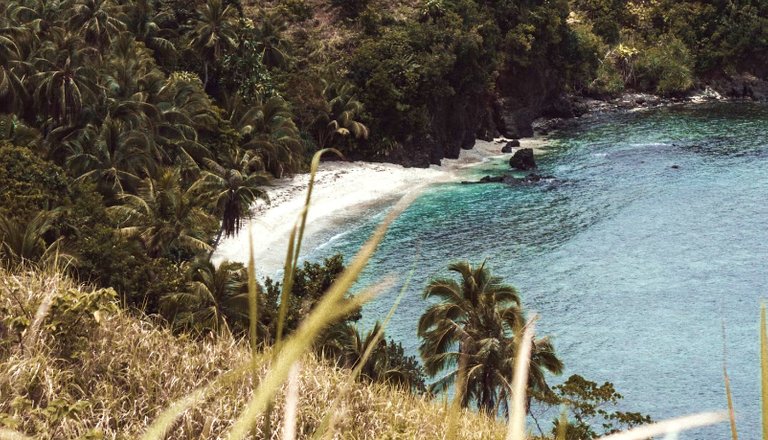 image source
At 09.00 am, students and parents gathered at Bhakti Luhur High School to await the students' graduation. You can see the tense faces of the students and their parents waiting for the results of their final exams. But Anton and Wirjo looked so relaxed. Wirjo was very sure that his son Anton would graduate because Anton was indeed a smart kid at school.
Not long after, Mr Hari as Anton's teacher and homeroom teacher came and said, "Okay ladies and gentlemen, it's time for me to announce the graduation results of your sons and daughters," said Mr Hari.
One by one the student's name was called forward to receive the graduation certificate. When Anton's name was mentioned, he casually walked to the front of the class confidently. Mr Hari looked down and his face looked serious.
"Sorry Anton, you are indeed a smart kid at school, but your test scores ..." Mr Hari said and gave Anton a graduation certificate.
Anton was surprised by Mr Hari's statement. He thought he didn't pass. Anton was very disappointed. Then he opened the letter and his eyes bulged and were surprised to see the results of his graduation.
"Prank .." Mr Haris laughed, "Congratulations Anton, you are the best student and got the highest score," explained Mr Hari.
When he arrived home, Wirjo congratulated his son. He offered Anton to take a scholarship test so that he could continue at the University at no cost. But Anton refused. His father had worked hard to pay for school and his life. It's time for Anton to look for work so he can have money.
Wirjo is a poor man, his daily life is only farming. Sunarti Wirjo's wife died when giving birth to Anton 17 years ago. That night Anton prepared a job application letter, he would send job applications to five companies at once.
But unfortunately, the five companies are currently not in need of employees. Anton saw a brochure from the military base. Anton tried to enter the military and enlisted in the Army. He underwent rigorous training, and now Anton is officially a soldier. His first task is to maintain the security of the Papua region from the threat of armed rebel groups. For three months Anton was in Papua, fighting with rebel forces. After that, he went home to meet his father.
However, neighbours told Anton that his father had died a week ago. Anton is very sad. She cried all night in her father's room. Anton has become a great soldier, has a high rank, and has brought a lot of money given by the President because of his achievements in deterring armed rebels in Papua.
Now he is frustrated because he lost the person he loves the most. Anton felt that even being in the military was useless. He decides to move to a deserted island. He had found the island when he was in the military. An uninhabited island is full of natural beauty. Armed with minimal knowledge and tools, Anton built a place to live and made weapons for hunting there.
Meanwhile, the commanders and generals lost their best soldiers. Anton didn't tell them. Military groups are constantly looking for Anton everywhere. Anton has been declared missing. No one knows where Anton is. Now he feels calmer and more comfortable in his new place. The money he once got from the presidential award has been donated to the poor and orphans. Anton no longer needs money, possessions, and position. Anton also did not have to bother to fight and kill armed troops. He has got the freedom to live on this island. Even though there are no humans, Anton has adopted a coyote as his friend, so he is not lonely.
For five months Anton has lived on this remote island, and he has a longing in his heart to chat with his father and friends. Even though the dog he adopted always accompanies Anton at all times, a dog is still a dog. The animal was impossible to talk to, all he knew was barking. One day when Anton had just returned from hunting, he was surprised to see that the vegetables he had planted were gone. The door of the house he had built from wood was also wide open. "It seems there are other humans on this island," said Anton. Slowly he sneaked into the house with a sharp knife in his hand. How surprised Anton looked into his house.
"Who are you?" asked Anton.
It turned out to be a woman the same age as Anton. Her face is beautiful and her hair is black. Anton thinks she is a military soldier to find Anton's whereabouts.
"Sorry, I have carelessly entered your house," said the woman. "My name is Nia, I came to this island to find a new life, I thought there was no one on this island." Nia continues.
"It's okay, my name is Anton. I am a former army soldier who has run away from the unit," said Anton. "I've been here five months, and I'm the only human living on this island," he continued.
"I've been here three days, why did you run away? Did you have any mistakes in your military career?" Nia asked very curiously.
"No, in fact, I am the best soldier and have excelled in maintaining the security of the country from armed rebels," replied Anton. Then Anton continued his story to Nia, "I am here because fighting and killing humans are against my conscience. I became a military soldier out of compulsion. My father was very poor, no company accepted me to work after I graduated from school. I thought that by becoming a military soldier, I could earn money and help my father. But now my father passed away when I just finished my assignment in Papua, so I have nothing more to accomplish. Therefore, I came to this island to get my freedom."
Nia who listened to Anton's story was very moved. Then Anton continued to ask, "how did you get here?" asked Anton.
"I want to find my freedom, I ran away from home because my parents always fought. I was always ignored. My friends have also betrayed me, people also think I'm not good" Nia said. Then she continued her story again, "I googled about an uninhabited island, so I found this island".
It turns out that they have the same will, namely wanting freedom and peace. Eventually, they became friends and worked together on the island. As time goes by, there is a feeling of love that grows in their hearts. They also relate and have five beautiful and handsome children. They became a happy family on the desert island.
the end.
---
---