Farming Tales & The Power Of Passionate Dev Teams!
So...I wrote a giant guide to the NFT-game, Farming Tales.
It's the first blockchain game I've ever played.
And in my experience so far it's fun, friendly, and (potentially) quite profitable.
Plus it has lots of cool features.
For example… As far as I know, Farming Tales is the first blockchain game to connect the new power of crypto with a long-standing, traditional industry such as agriculture. Similarly, I believe it's the only blockchain game that ships actual farm-fresh products to stakeholders when certain conditions are met.
But what struck me most about Farming Tales is how active the dev-team is.
I've 'coded' a few games myself in my lifetime, but they all stalled for one reason or another, so I'm very familiar with the importance of a passionate, motivated dev-team.
And well, with Farming Tales, there seems to be a lot of passionate people involved behind the scenes. The game moved from Closed Alpha to Open Beta quite quickly, and the game is continually improving. They're about to launch a new UI, release 'wildflower' NFTs to help newbies earn in-game currency easier, and are moving towards launching a full fledged 'town' in-game, as well as increased governance opportunities. They have a fully fleshed-out roadmap that is constantly being realized. Even around Christmas and New Year's, the game was frequently being updated, improved, and patched to create better experiences for it's player base.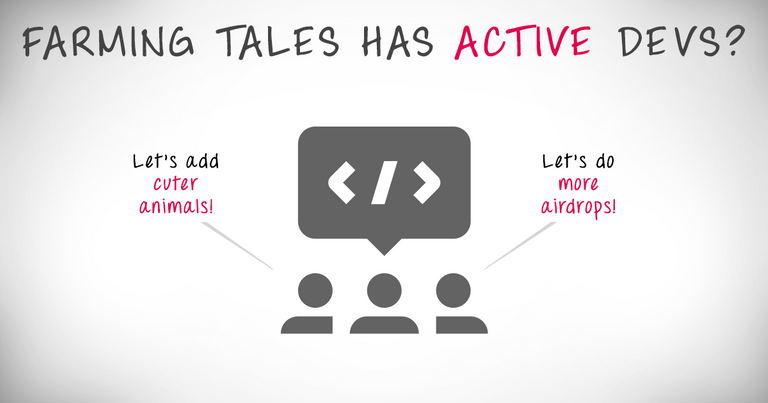 Not to mention that the Farming Tales official discord is always quite active and there's lots of useful info, help, and community there.
Why am I mentioning this?
Because I think it's important and often overlooked when players are exploring new games.
Or at least…
I personally overlooked the value of passionate devs in the past.
I'd care about a game's graphics, game-feel, progression systems, balance, player base, etc. when deciding if I'd invest my time in a game or not.
But all those things can be solved with time, patches, or sequels (and often are)… as long as the game has a passionate, committed, dedicated dev-team behind it.
For example, as a fairly experienced designer & UI-guy, there's a number of things I'd change about Farming Tales' user-interface… but their dev-team is already working on it and a new UI launches in about a week.
Or another example, I feel it's not great that 'common' animals in the game can often cost more to feed than they earn for you (depending on the market), and that's something I'd personally fix… but the Farming Tales dev-team is about to release 'wildflowers' which only cost a small amount of water to harvest, and will earn players daily CBITs, off-setting the cost of 'common' animals soon.
Interestingly, my favorite game is (still) League Of Legends, and in the beginning I absolutely loved the devs behind it, but as time has passed and the devs sold to Tencent, focused on other projects, or seemed to have become far more 'money-motivated' and 'data-driven' than the passion they started with, I've taken more and more breaks from playing League.
What I'm getting at in the above paragraphs, is that a rough game is likely to be refined and polished into something truly great with passionate devs piloting it, but an initially great game can easily be driven into the ground with a poor dev-team at the helm.
And this is something I wish I took into account in most of my earlier game-explorations.
You may have seen some of the issues game companies like Electronic Arts, Activision, or Blizzard have had when their dev-teams get sloppy. (If not, it's only a quick google away.)
Basically, I love games with passionate dev teams, and so do most other gamers, whether they realize it or not. Farming Tales seems to be one of them. @cynshinonline is more about the cute farmer and cool crops, and is having fun playing it too. I guess all I can really do is…
Keep an eye on Farming Tales as time goes on.
But in the meantime, playing the game gave me the opportunity to discuss the massive leverage there is for any project –not just games– in having passionate people behind them. Farming Tales has inspired me to write huge guides, include them in my games to watch post, and now has me musing on the power of passionate dev-teams.
So now I'll turn the discussion over to you.
Have you played Farming Tales? Interacted with the dev-team? Or maybe you have another story about dev-teams and game-publishers in general?
What's your experience with dev-teams in games?
Do you prioritize knowing about a dev-team before you dive into a game? Do you ignore dev teams entirely and just play whatever appeals to you? A mix of both? Do you have any insights or thoughts on the value of passionate, committed devs vs. disconnected ones?
Either way…
Thanks so much for reading, commenting, sharing, and even skimming. I appreciate you and wish you a fantastic day.
---
Want to see my other two posts about Farming Tales?
Stock images courtesy of epic stock site, Envato.com
---
---