This is what a 20 year electroculture garden looks like after a Summer of no watering 🌴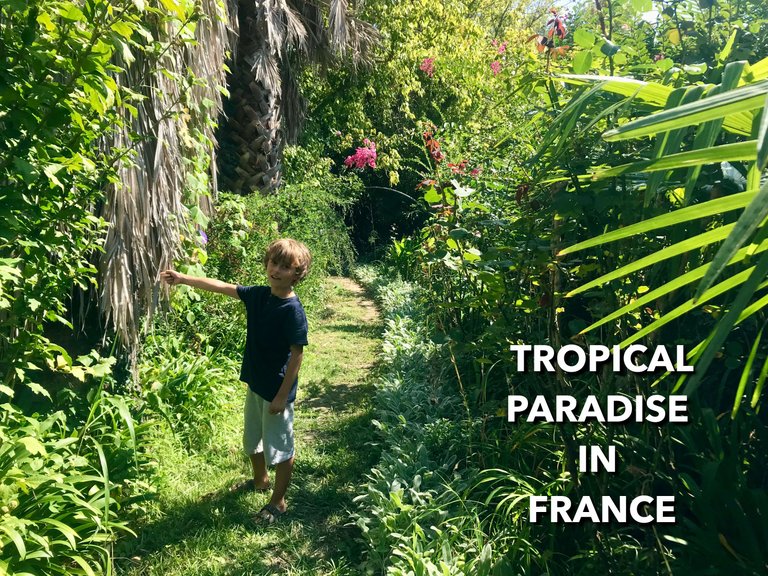 We still have strict guidelines here around watering (we are not permitted to do it unless we have an agricultural licence) so most civilians have all but given up this year believing their garden to have no hope without water. I myself have been ignoring this absurd rule completely, but some people didn't have the choice because their mayor simply cut off the supply from the canals.
Yesterday I had the pleasure of walking around one such garden which since April has had no water supply at all (with just two days of rainfall) and I was absolutely blown away by the stunning beauty of it all, reminded provocatively why I am learning electroculture and in what way it can transform the landscape around us into something which is far beyond the perceived limitations of the local climate.
This story is particularly interesting because the elderly couple in charge of the land (who I met at a party for the first time a few weeks ago) intuitively created a large electrculture device out of scrap metal twenty years ago which is predominantly responsible for the incredible growth they have witnessed in that time.
Needless to say I will reveal in this post what is their magical device (an electroculture first!) and I will also take you on a photographic tour of this magnificent garden, created and maintained solely by a French/Italian couple in their seventies.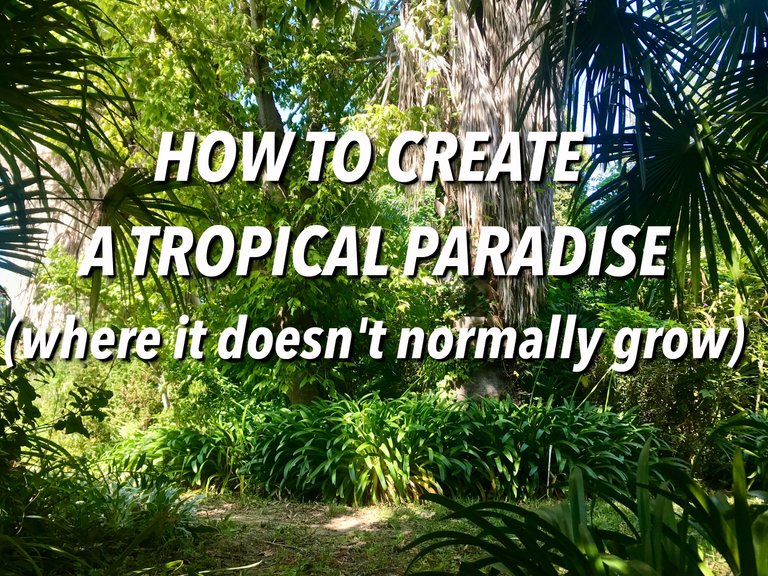 Surrounded by fruit trees & pines the land was bought 30 years ago with nothing at all growing on it. Cars park here just outside it.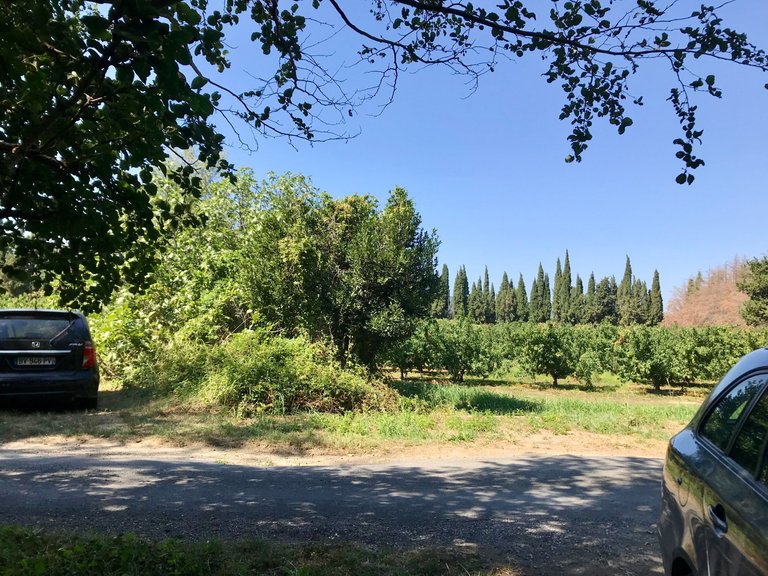 The first thing we see upon entering are these lovely palms and banana trees.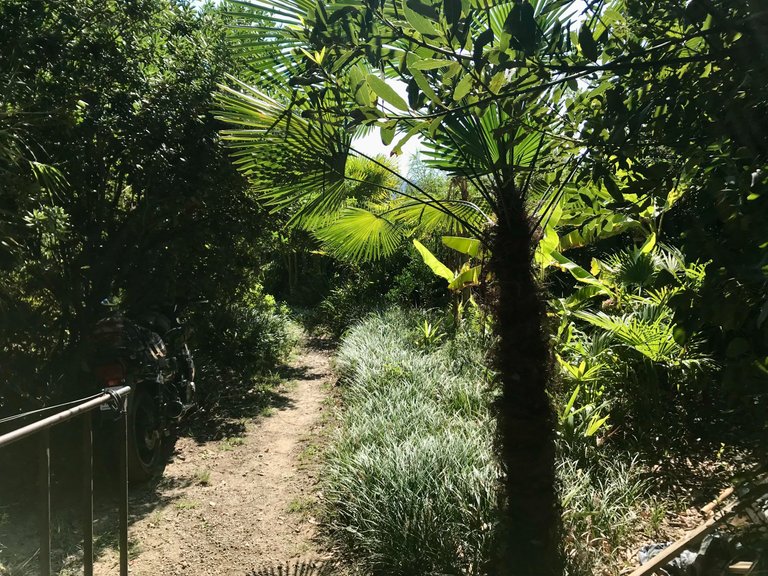 Nothing particularly unusual for the South of France.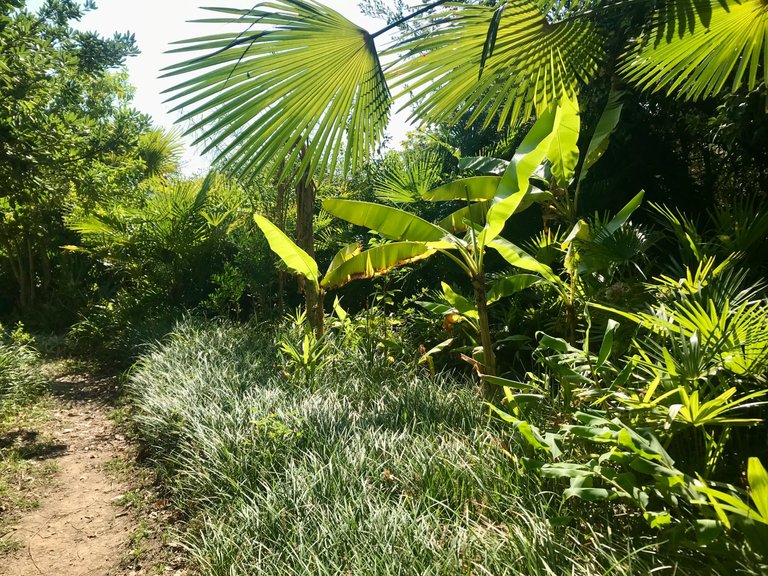 But as you continue walking down this path it just gets richer and richer.
And suddenly one is hit by the sheer enormity of these palm trees.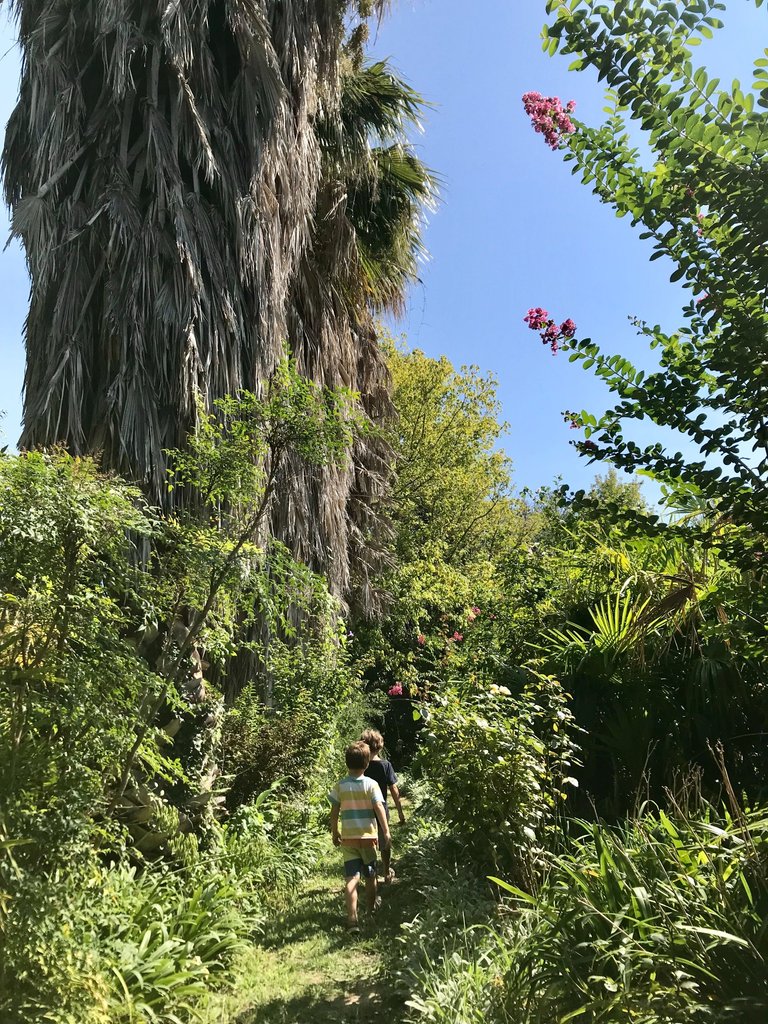 This entrance path really was delightful.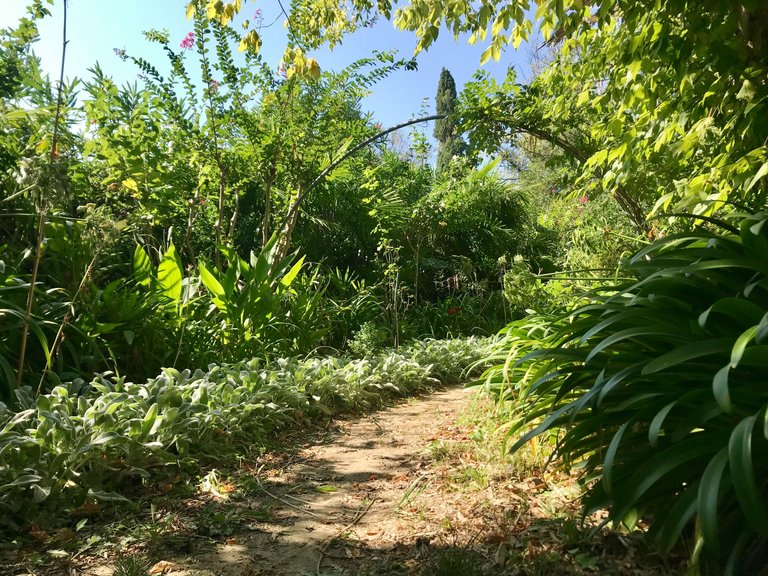 Such perfection at every turn.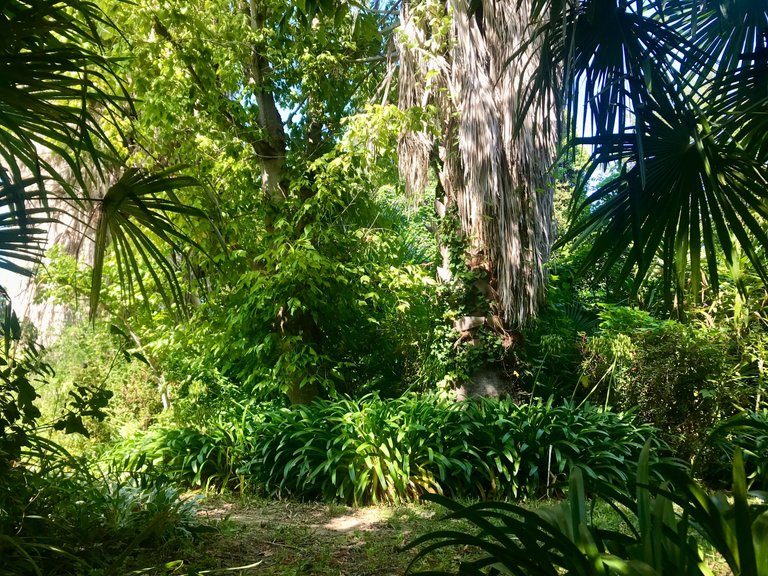 Leading deeper and deeper into what I can only describe as an Asian/European jungle.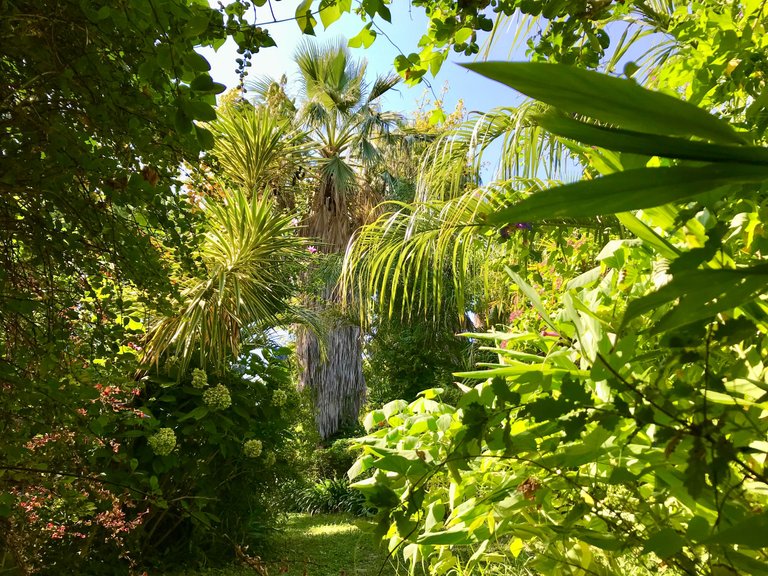 I mean just look at how tall the bamboo in the background are. Extremely unusual to see this in France. And with no water all summer???
The jungle path eventually opens into a clearing with a large tree in the centre and I was immediately struck by the odd looking metal poles stuck in the ground around it.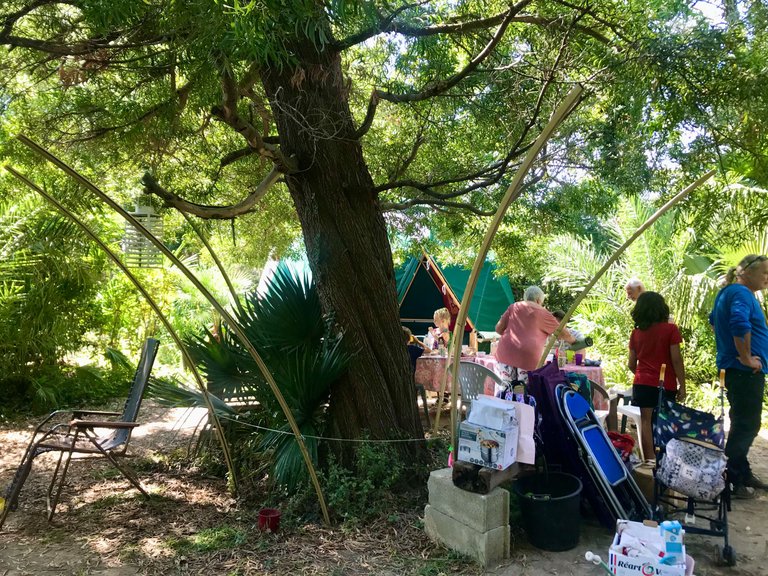 And this my friends is a fantastically simple electroculture device no one in the world has seen before.
Made intuitively from the aluminium frame of an old green house there are seven curved pieces in the ground, put there twenty years ago when the tree was no bigger than a few meters tall. He told me he had no idea why he was doing it. He just felt like it was the right thing to do. He did however use a pendulum to identify the energetic vortex at this spot, which he is now taking advantage of with his aluminium poles.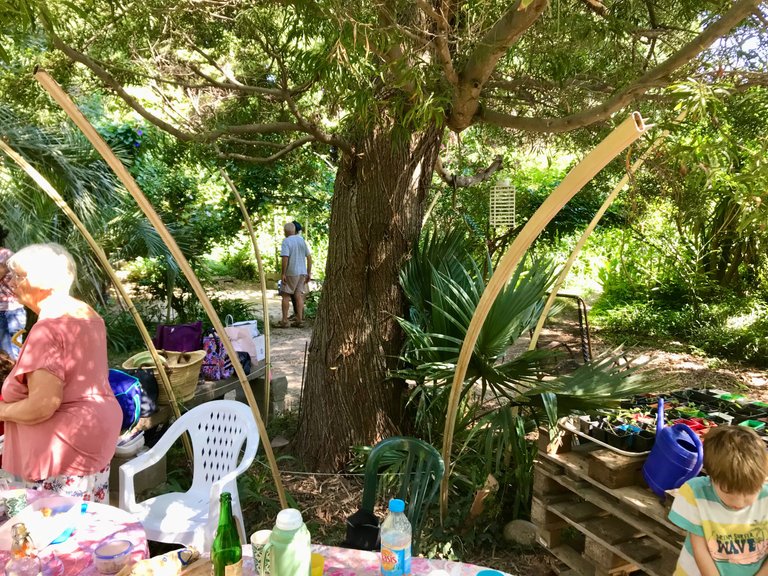 Both he and his wife saw the difference it instantly made to all the plants around it twenty years ago (spanning at least 50m in all directions from the metal poles). Everything started to grow at twice the speed he said. And with twice the vigour. Leading to many magical surprises like fruit trees yielding double or even triple harvests when they would normally only yield one. Not a bad trick to have in your arsenal as a gardener I would say.
Reminds me of this quote:
"The best time to plant a tree is 20 years ago" — Jean Chretien
Except if you're using electroculture in which case you can do it in half the time! It's just that so few people know this.
The tree itself has grown in 20 years to become an absolute monster.
It has basically become a giant electrocultre antenna at the centre of the land, giving energy to anything which falls in its radius while providing some much needed shade in the Summer.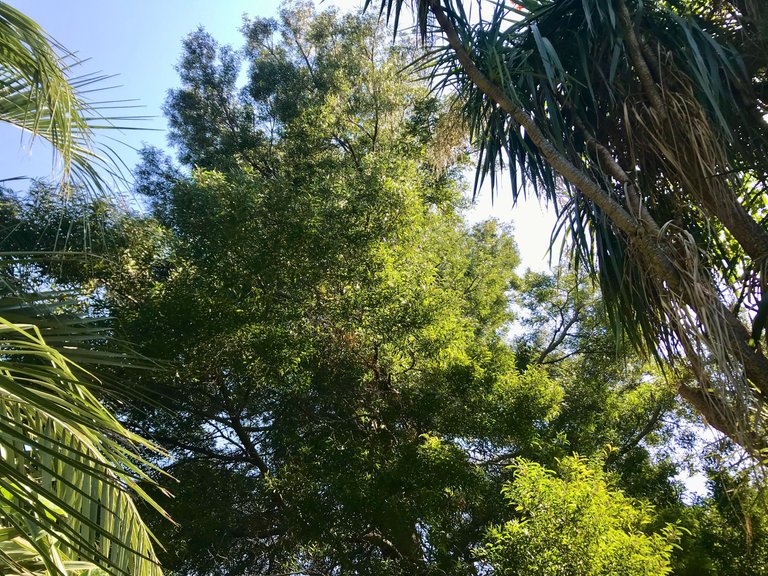 Just in the last few years, thanks to the online explosion of interest in electroculture have the couple come to understand WHY these pieces of metal have had such a profound effect on the area around them.
Since then they have bought a copper pyramid.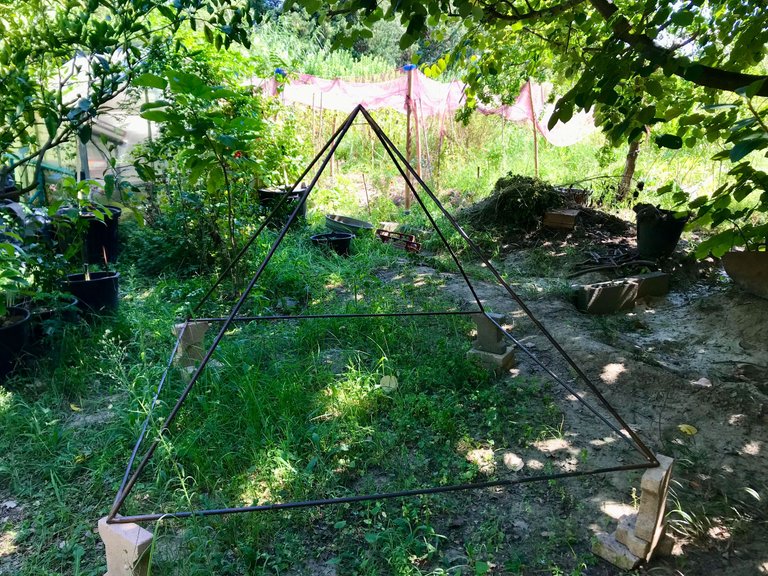 And they have installed magnetised cables into some of their vegetable gardens. Just these ones on the left here.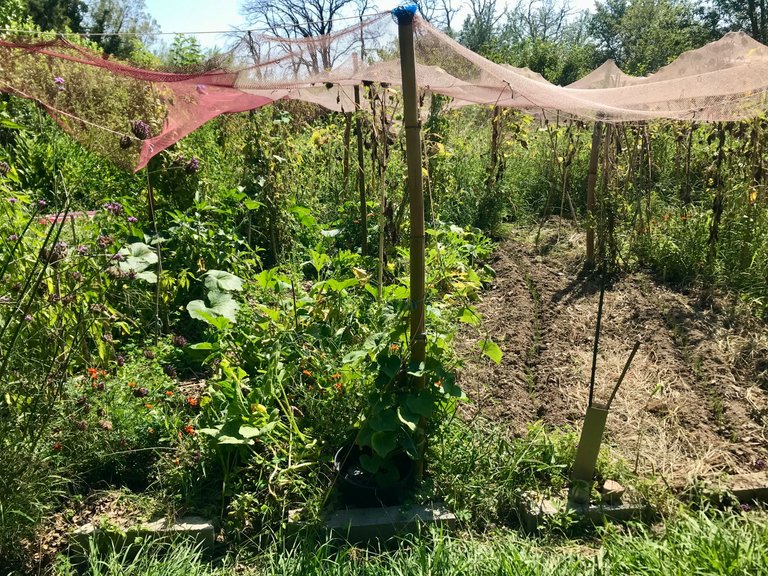 While the ones further off to the right have no cables and the difference is evident.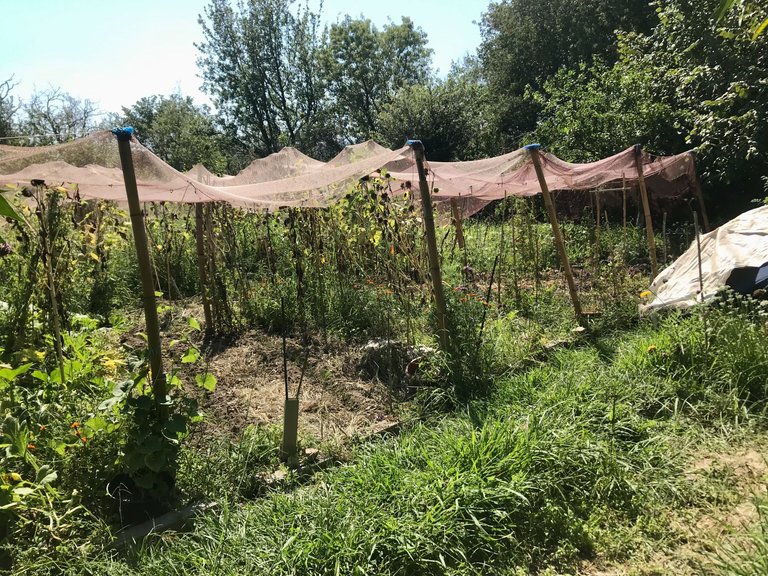 Remember, this vegetable patch has not been watered since April. And yet it looks like this! Such things are simply not possible without electroculture.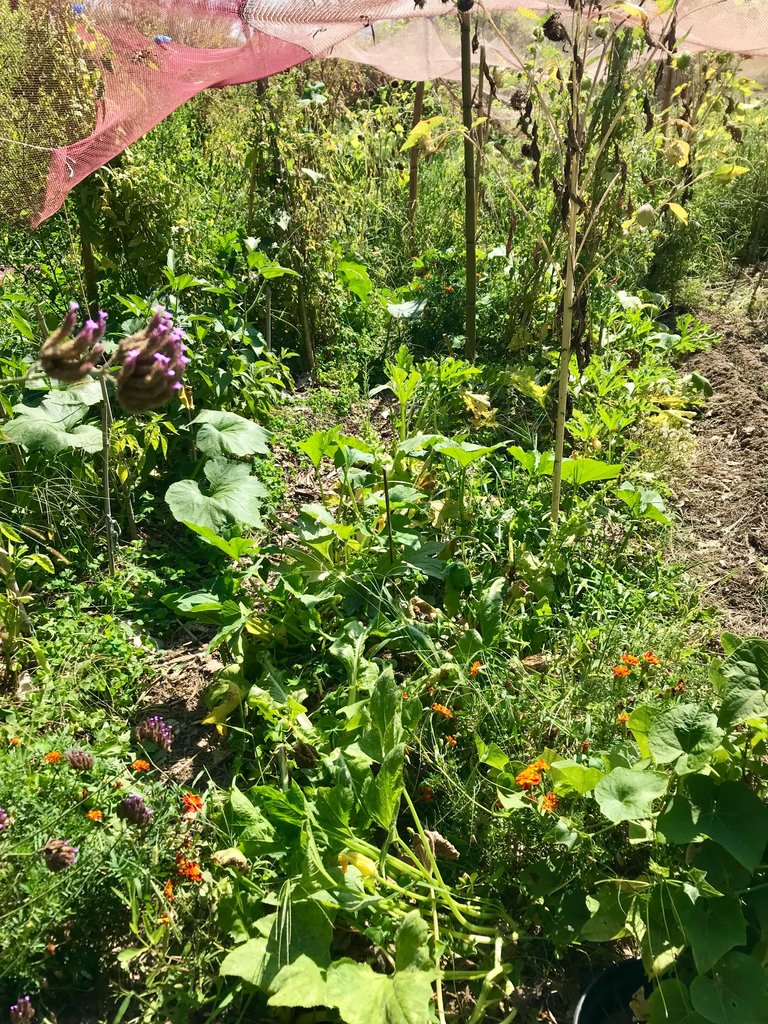 I ran around the land for hours with the children playing games.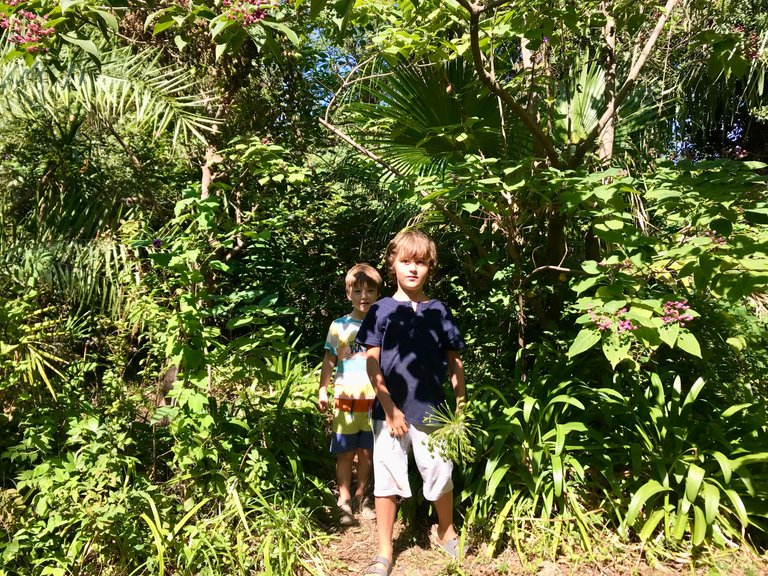 There were many little paths leading off into the jungle, so inviting one simply couldn't help but explore them.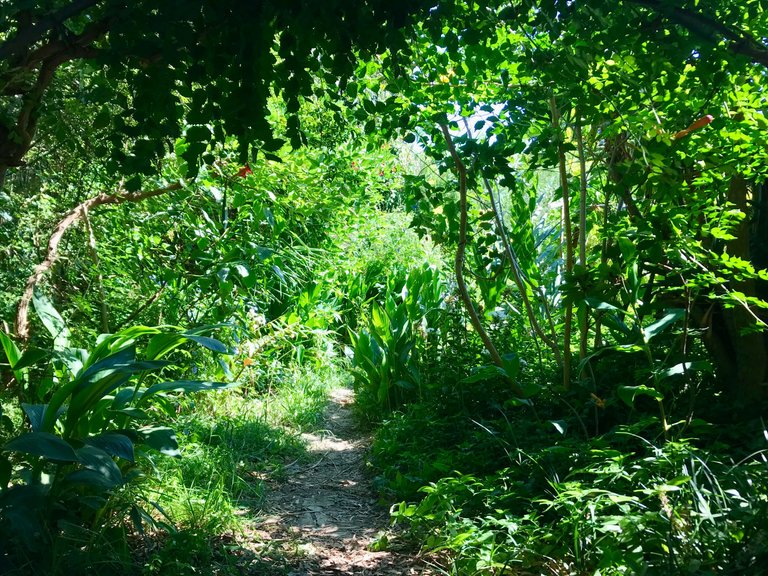 I had to stop and examine flowers more closely at times. So very beautiful.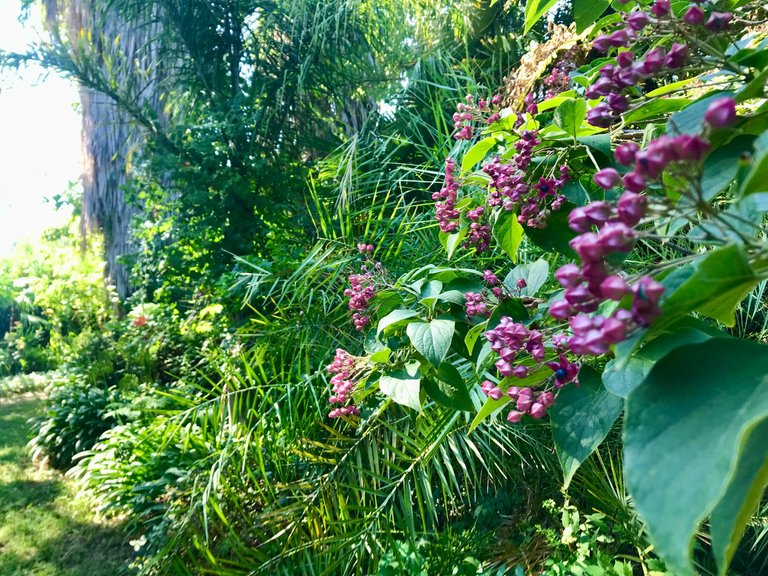 Check out these seed pods!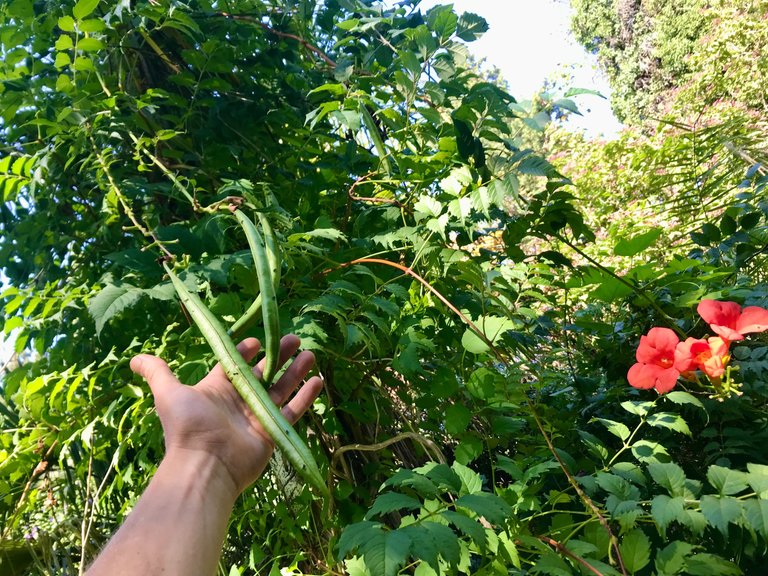 And this cute looking pile of wood for the winter, drying next to the bamboo forest.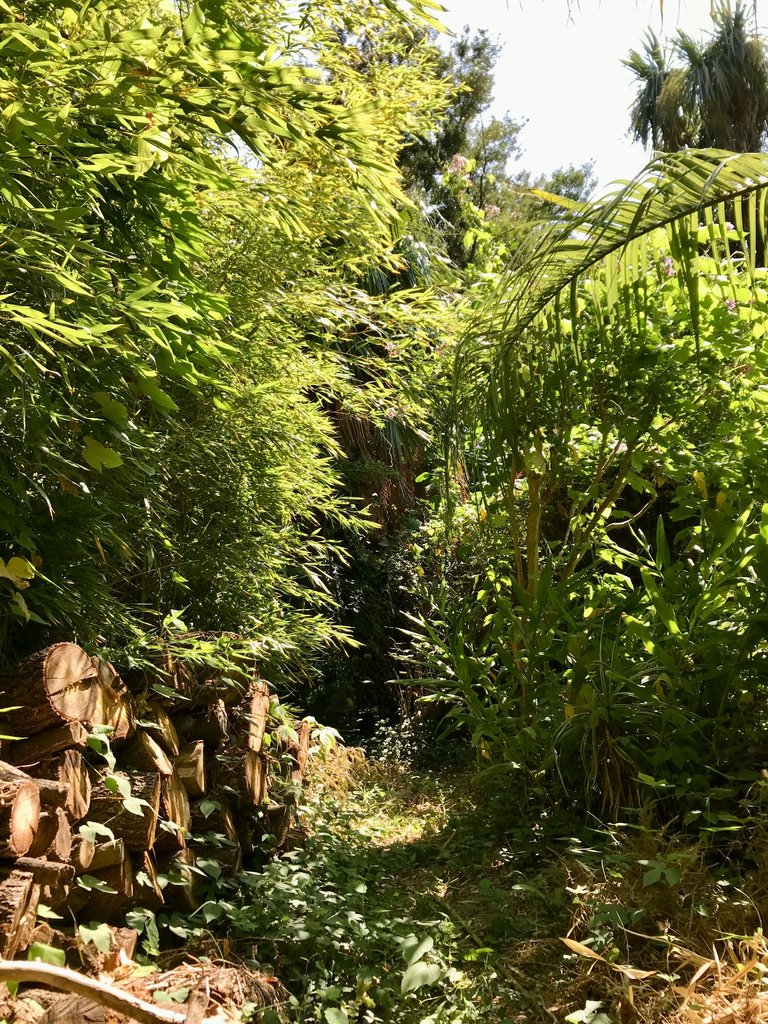 Some of the trees were perfect for climbing :)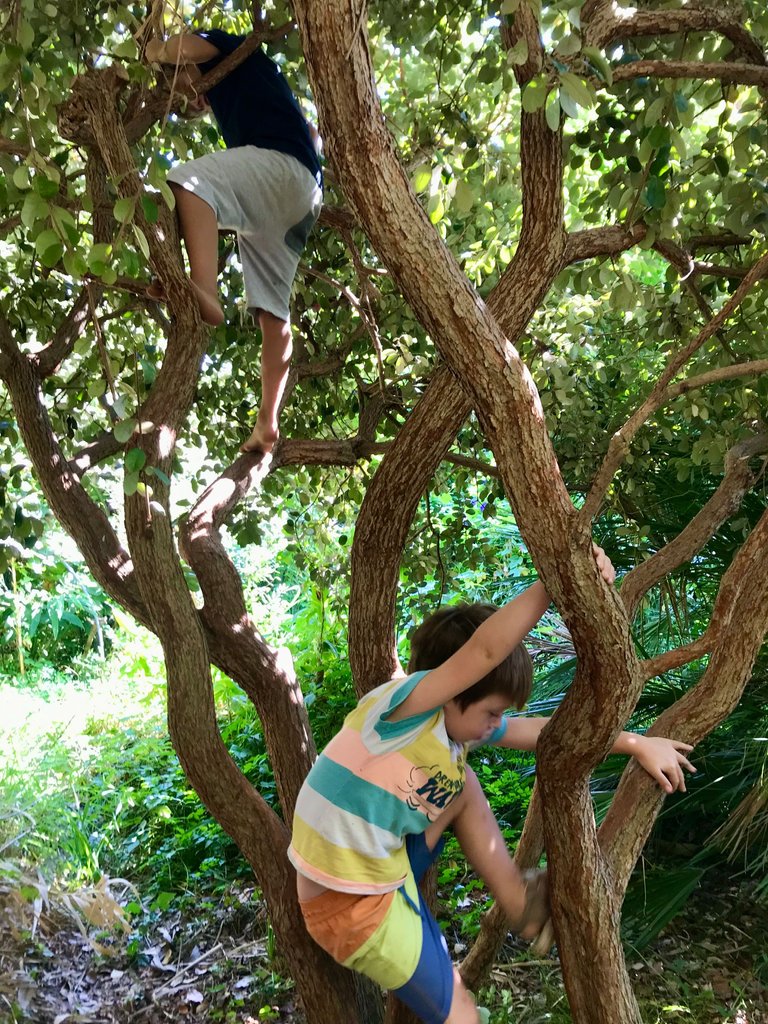 The three biggest palm trees seen here.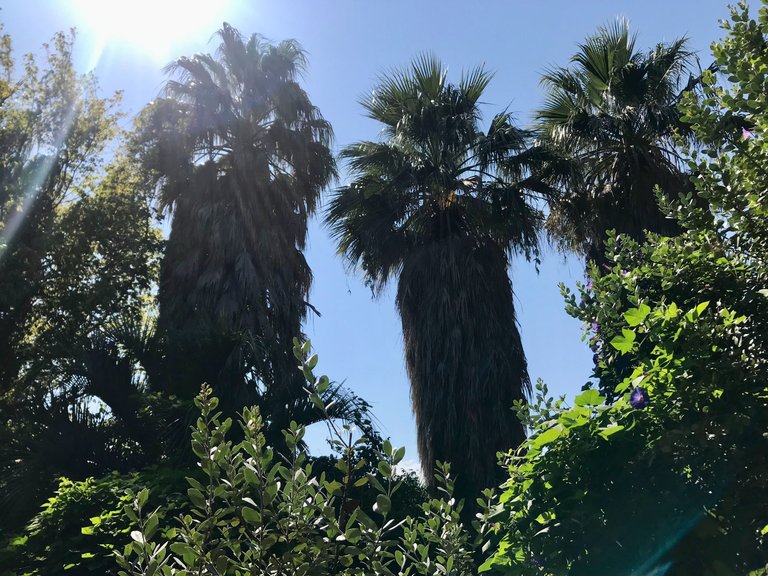 Needless to say there were plenty of edible plants hidden away in this jungle.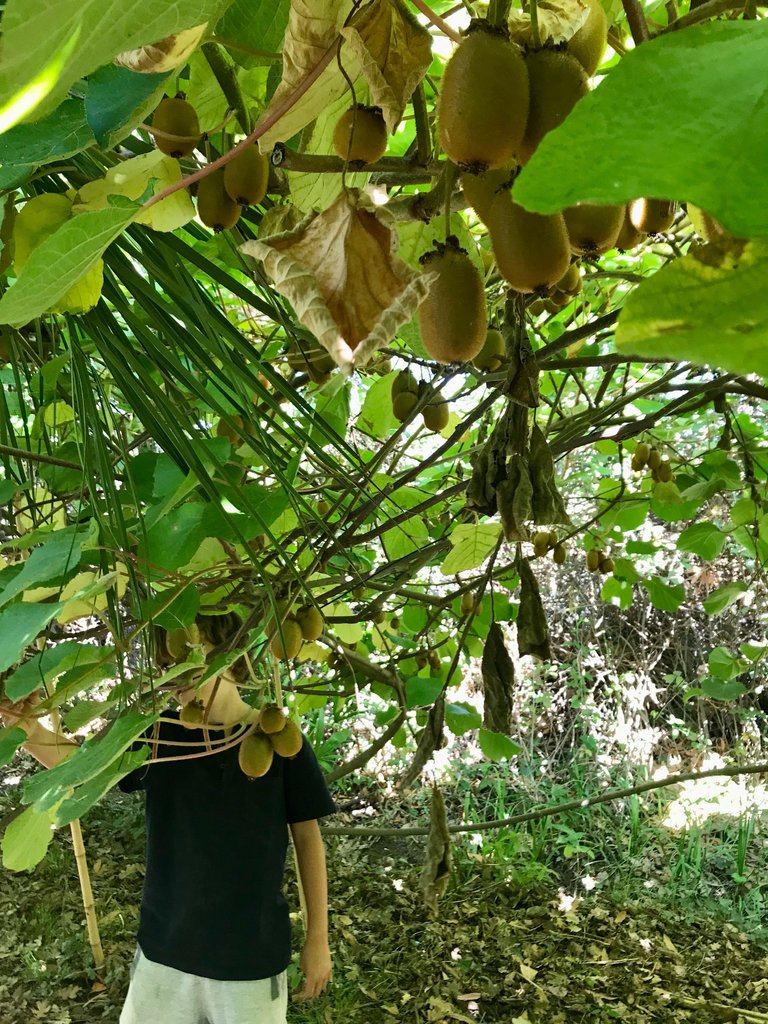 We found this ladder which was evidently being used to pick blackberries.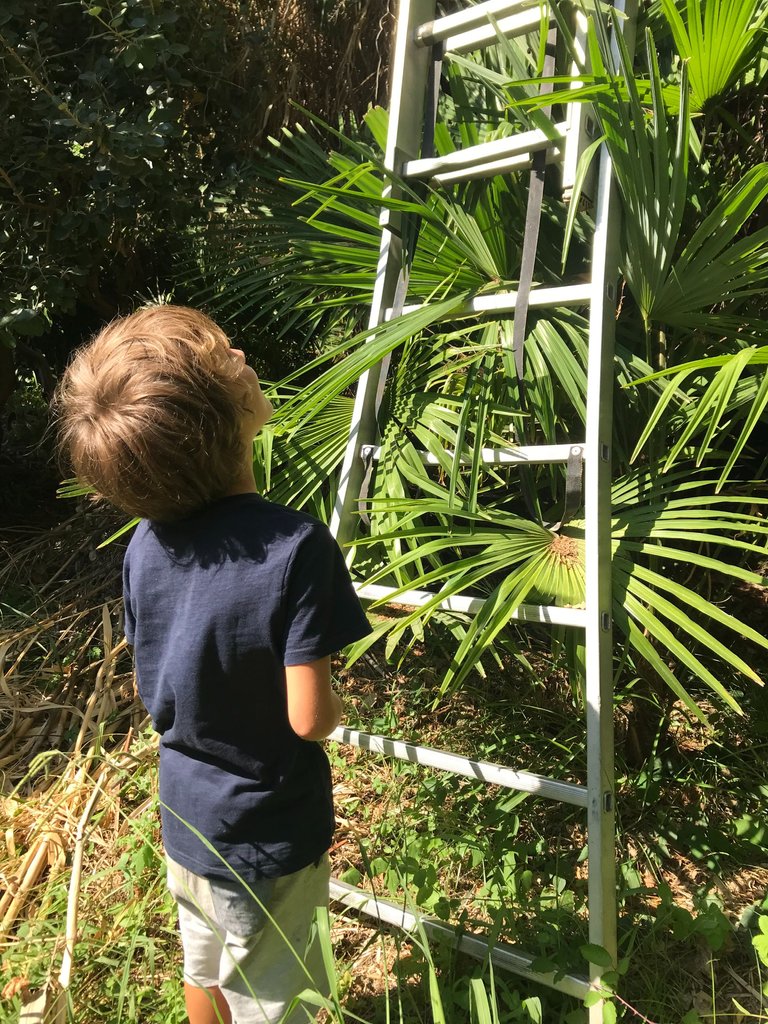 A decent quantity of them it would seem.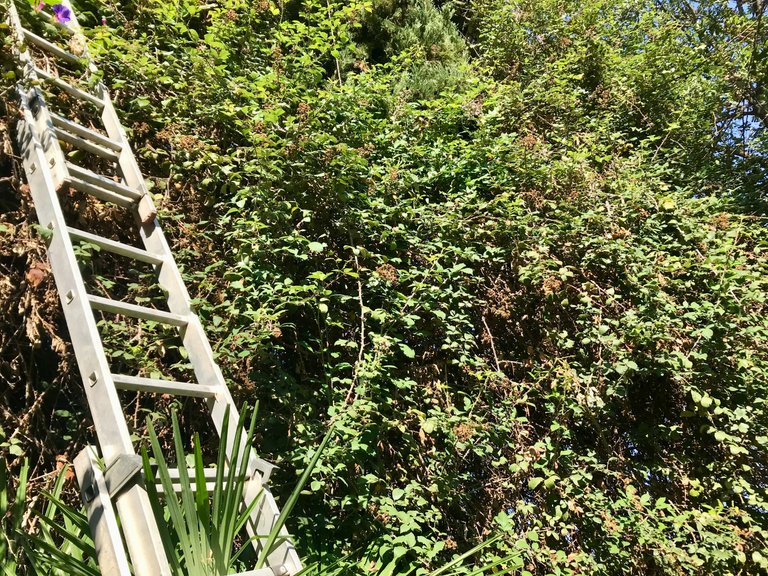 This ladder is not resting on a wall but on plants which have grown up the side of trees.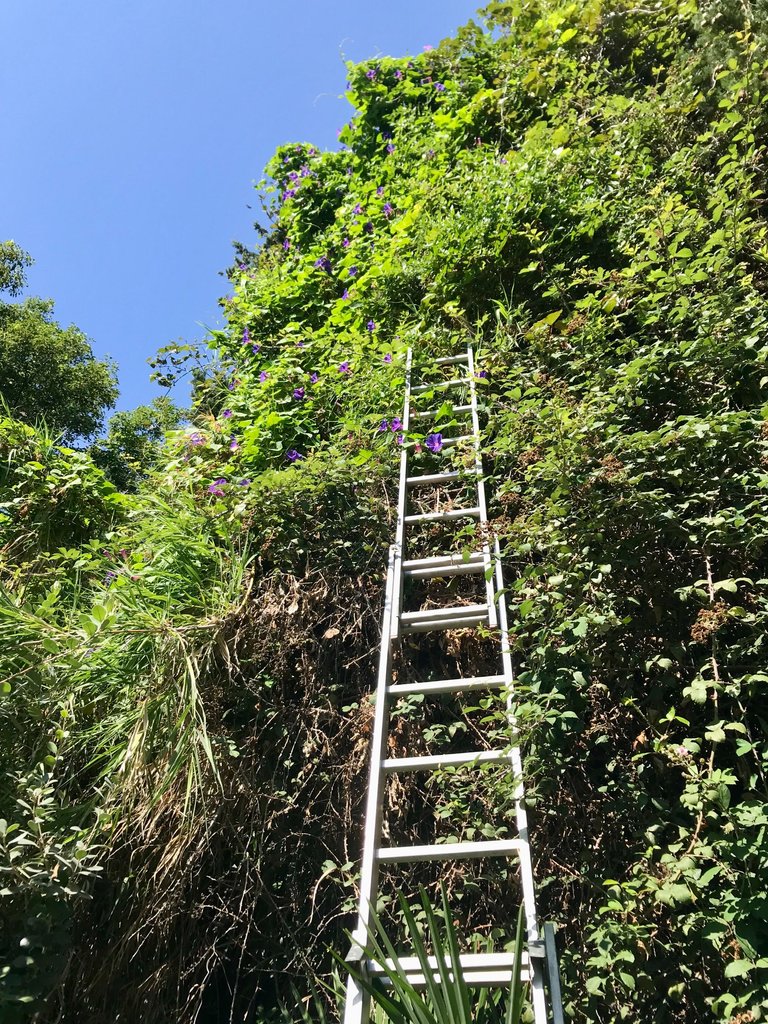 Another 'jungle' view here, with the rather more typical pine trees right at the back there.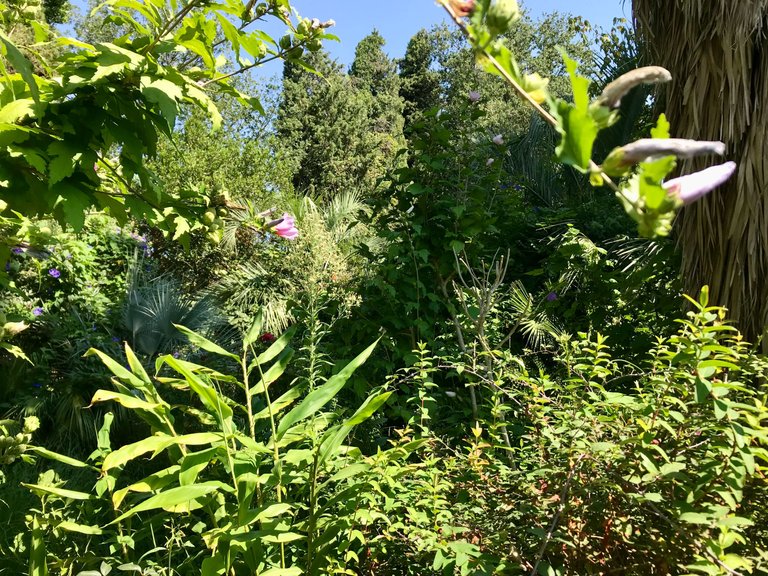 I noticed they had a lot ginger growing around the place. They told me they make cream with it.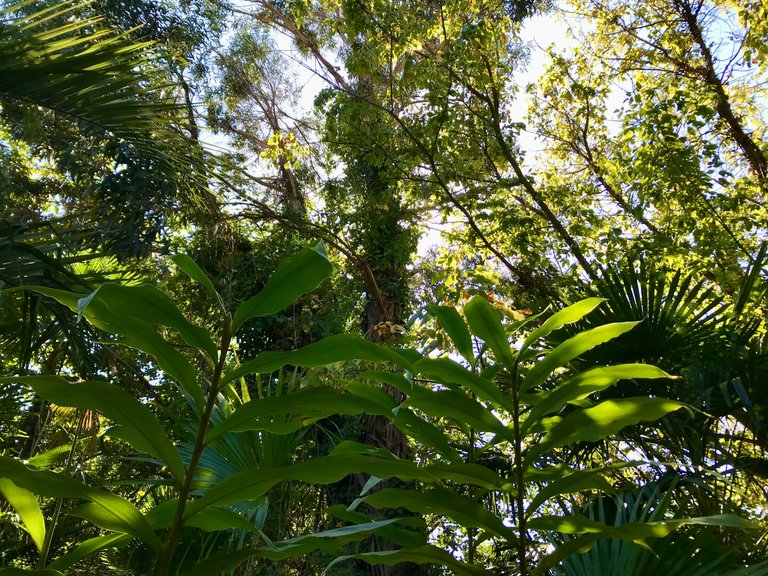 Incredible contrast of colours at every turn.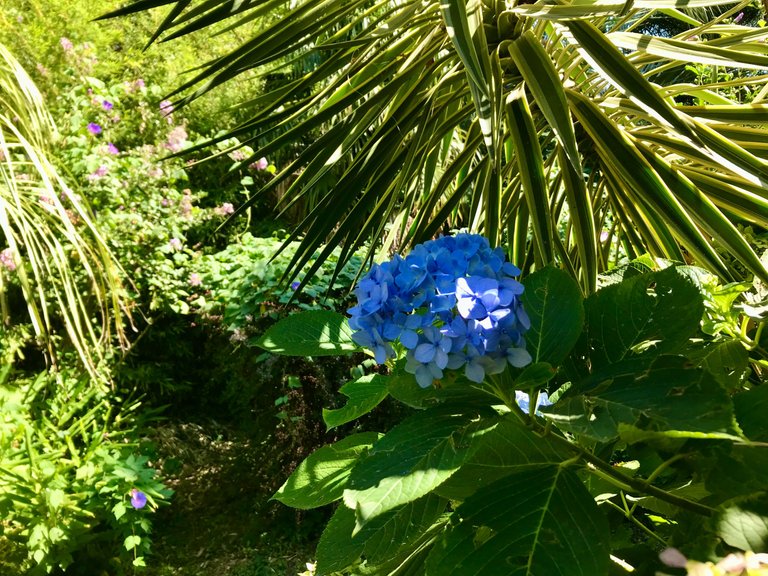 Grape vines here.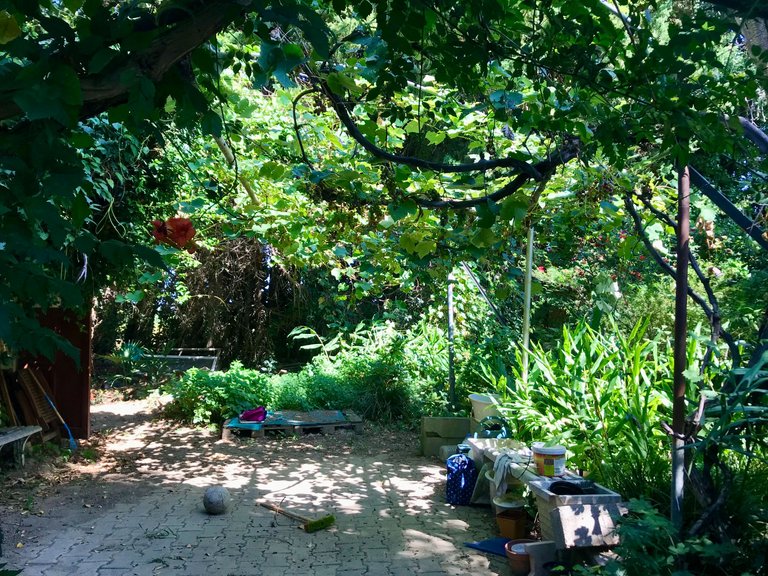 Wild garlic here.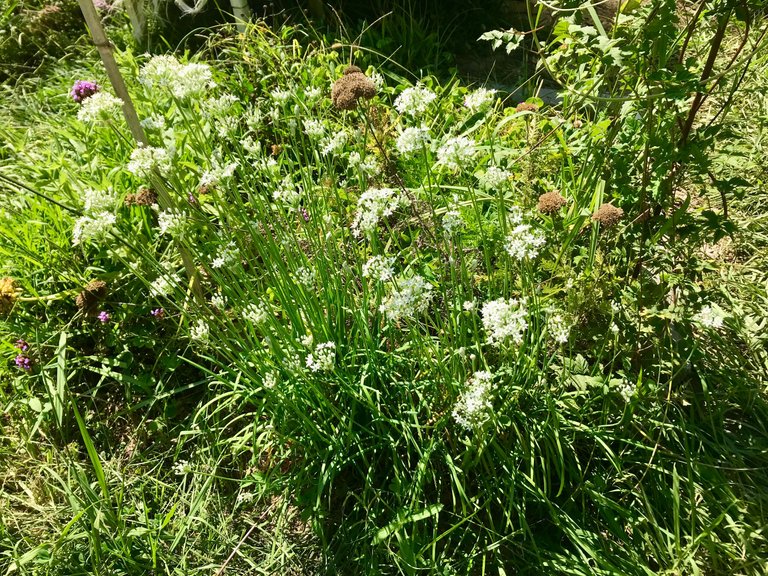 The children could see I was really into taking photos of everything so the game was to avoid getting in my shot ;) If I was able to photograph their faces clearly they were out.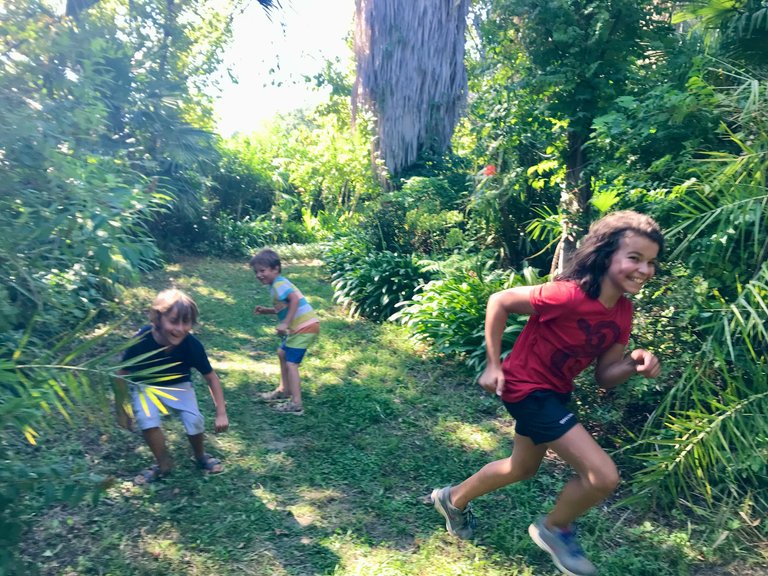 I enjoyed playing this game a lot.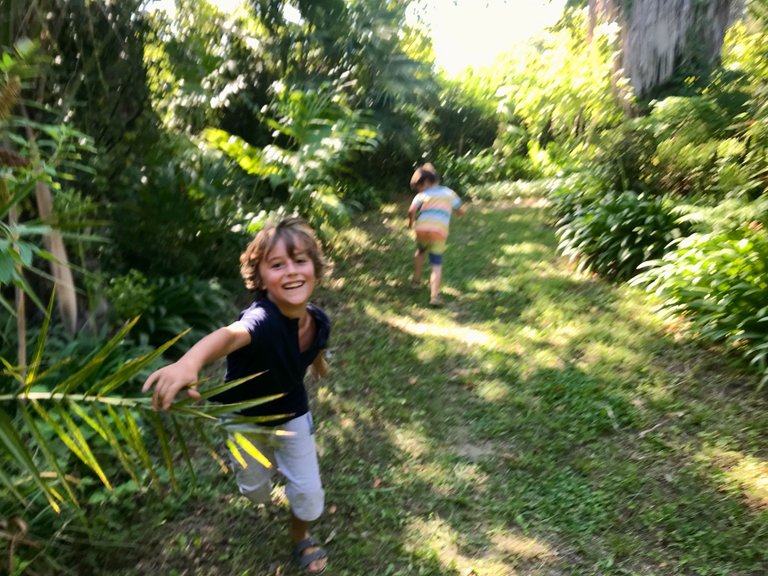 And you're out!
Found these children (no idea who they belonged to) hiding in the bamboo forest.
Just on the other side of this bamboo is a path to the back of their geodesic dome.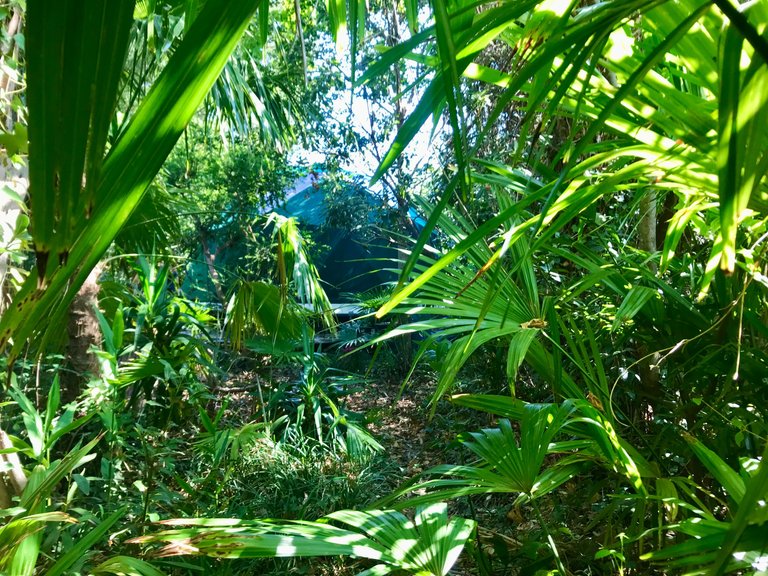 Viewed from the front here.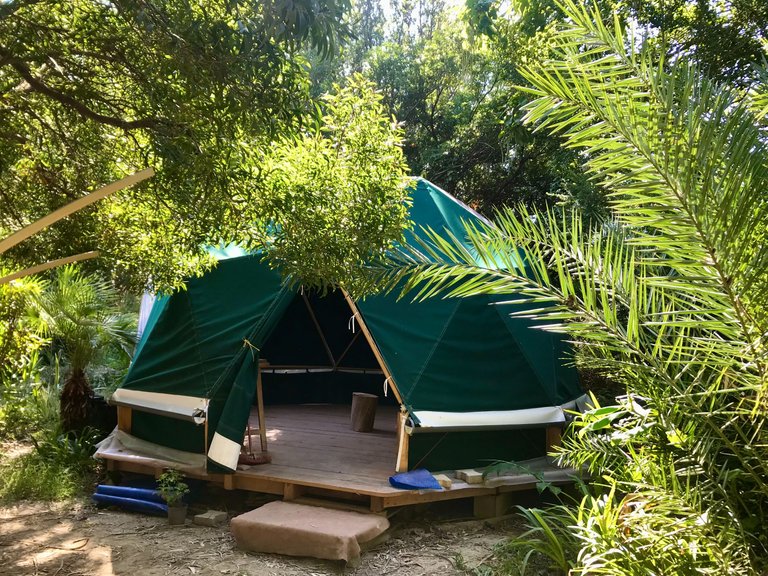 Wonderful on the inside.
Due to their strict dimensions these domes always project energy outward from the centre, benefiting both plants & humans. It is a good space for meditation they tell me.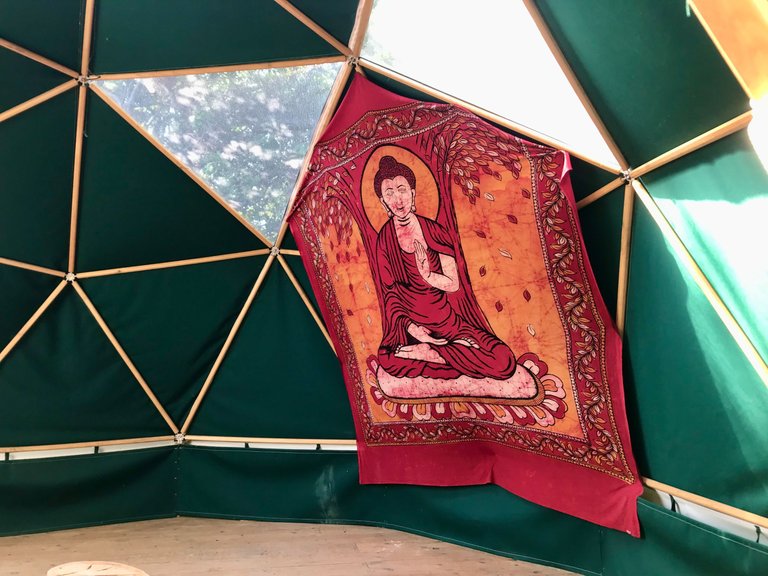 We ate a meal together at lunchtime, all home-prepared food brought by different members of the group and in the afternoon we sat down under the shade of the giant electroculture tree for a story.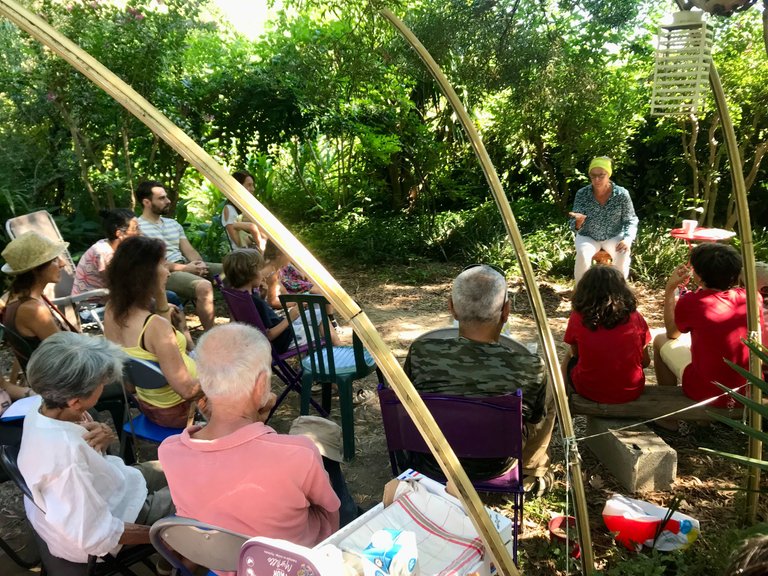 This is how 'performance' worked in the old days. Stories helped us understand who we are and where we are going. That was before storytelling was usurped by Hollywood and turned into a mind control mechanism.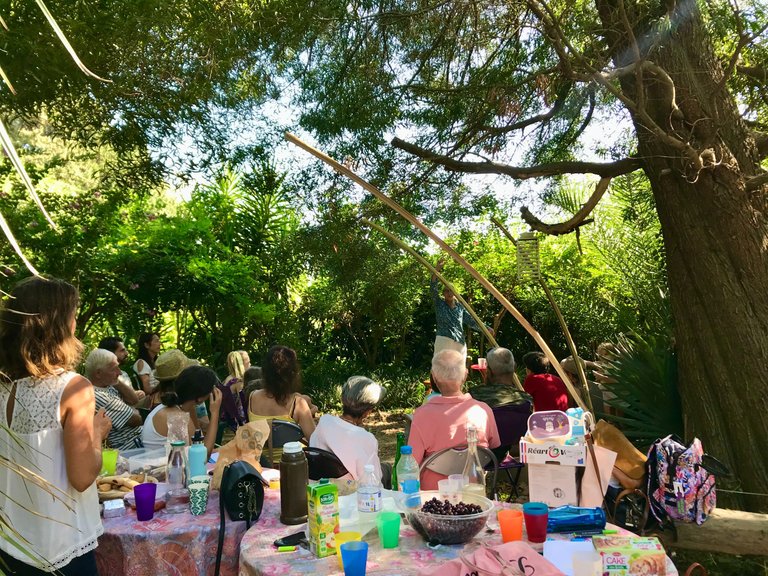 My understanding of French is still developing, so much of the story was lost on me but I enjoyed it none the less and hearing my two children laughing louder than anyone else was a good feeling.
These people, this place, it all moved me very much and I am happy to announce that we have been invited to join their group on a permanent basis. They are local to us and I feel sure this is the beginning of something great for my family and I.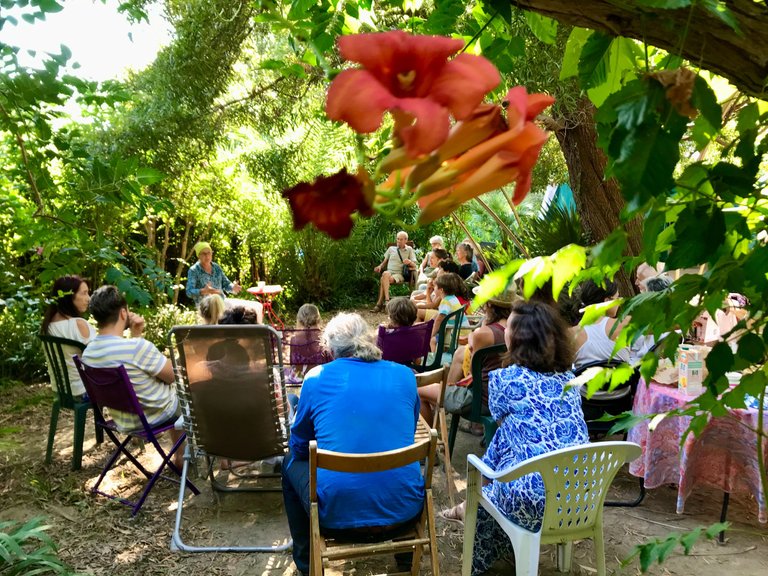 Their group has a name but I guess I will leave that bit out. In short they understand how and why the world is changing at this time and they understand the need for coming together in groups as a way to support each other.
None of them are vaccinated, none of them watch the news, none of them trust the government and no topics of conversation are too weird to lay on the table. Including flat earth!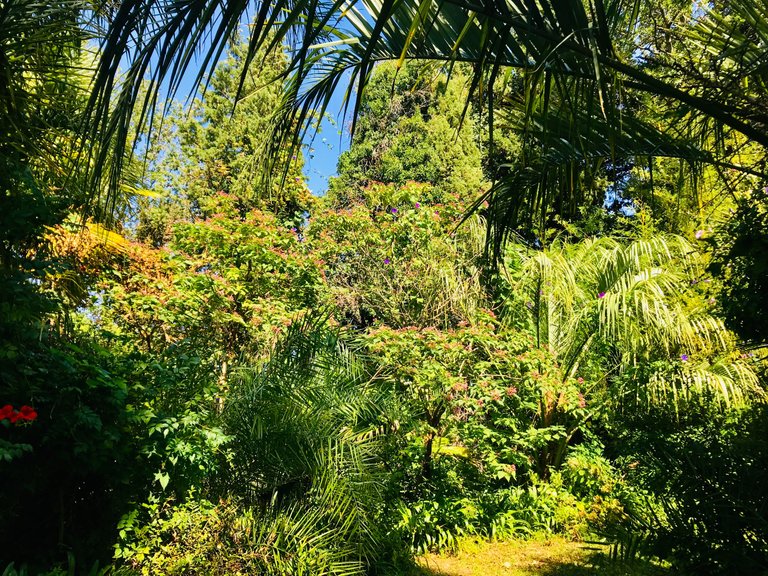 I like these kind of people and needless to say I feel as if I have skills which will be of interest to them. They already asked me to bring my dowsing rods the next time I come ;)
Feeling pretty excited to be honest.
And the question that's got me really scratching my head is would this all have happened if I wasn't using a biocircuit every day?
Love & Light everyone 🌱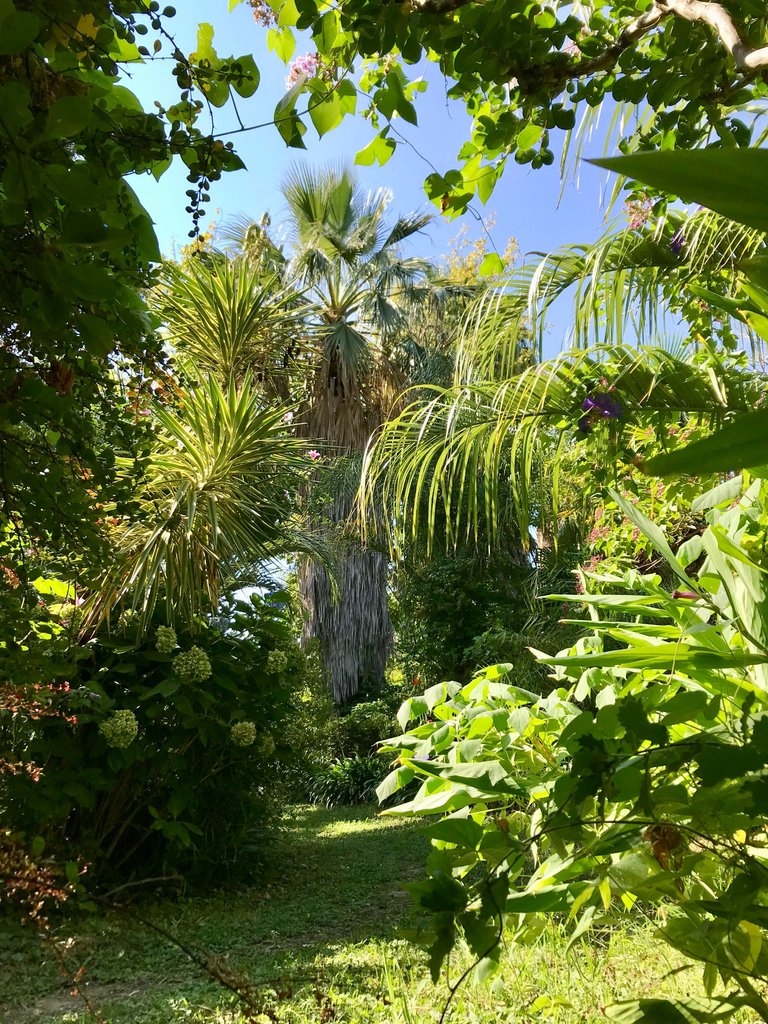 ---
---