[ENG/PT-BR] The lost potential of Splinterlands card skins.

Você pode conferir a postagem em PT-BR!
---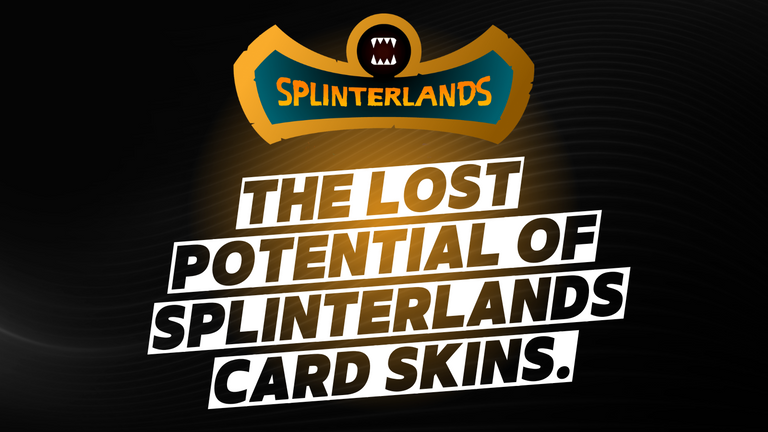 Good Night Everyone!
Taking advantage of the fact that today is a holiday here in Brazil and weather today won't be a problem, I decided to take a look at some points of Splinterlands that I imagine could be improved in order to attract more players as well as keep them in the game, creating "something to do" so that they could somehow reinvest and keep the economy and the will to play high.
Maybe today's subject has already been discussed before, but I would like to comment on my thoughts about the skins section, which as many know, seems to have been released and after some time abandoned. We have only one theme there: Splinterstorm, as we can see in the image below and that's all.

This idea of having skins that only modify the look of cards is a huge lost potential, even more so that cards that have a skin to modify are basically usable only in wild ranked mode. Why was nothing done for the Chaos Legion edition for example?
The market for skins of countless traditional games usually move a huge amount of values and the best of all is that several of them do not modify the attributes of those who equip them to become a P2W, only in the cosmetic / visual issue, as for example the games DOTA 2, League of Legends and Counter Strike.
We can see that although the majority have already been sold, some skins are still there waiting for an illustrious player to buy them, I keep asking myself, why wasn't there an incentive to buy these skins? At least to end all these of this first theme?

I imagine it would be a great opportunity to burn DEC, which is one of the main goals shared for so long, so the Splinterlands 5th anniversary event itself has the theme of burning DEC: whoever burns the most DEC through the event, you have more chances of winning prizes at the end of the event, in addition to the fact that the 200 players who burned the most will win a title based on their classification.
So without the need for a specific event, if there was more marketing around these skins, this will be a routine thing, with players gathering DEC (or perhaps some other trading currency) and earning skins to change the appearance of their beloved cards.

However, how would it be possible to encourage the purchase of these skins in a P2E (Play To Earn) game if they are just cosmetic modifications? Well, I thought of a few points that would be:
Heavy marketing on top of skins, with a release schedule every 6 months for example, of course this time between releases could be any other.
With each release, a different theme as today we only have Splinterstorm:
Set of "halloween" skins, this one is never lacking in games in general;
Set of skins with models in the form of pixels, like the old games;
Skin set "trip to the beach", we could see the MYCELIC MORPHOID in speedo, what an "amazing" sight that would be. 😄
Of course, maybe that alone is not enough, so the second point I thought comes in: the skins would give some bonus, without obviously modifying the attributes of the card it was applied to, it could be a bonus in SP and FP training, for example, or for example, gain more merits individually at the end of a brawl.
Just as we already have Alpha, Beta, Promo and Gold cards, which already grant bonuses when winning battles, we could gain a much smaller bonus, like +0.5% per skin used in battle, so we could have a total of +3% in this example.
I believe that maybe even +0.1% per skin is already a wonderful gain, because in my opinion, little is better than nothing, besides that with well-crafted skins, just the fact that you put them in battles would already be a interesting difference.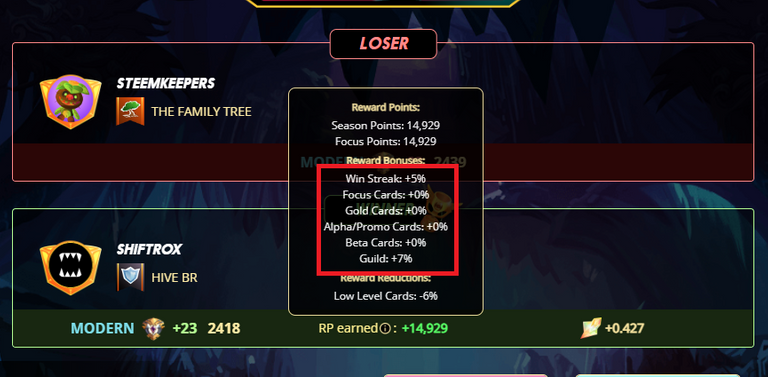 The possibilities are many, I even prefer that the monsters' skins are just cosmetic, without changing anything in their attributes or end-of-battle gains, but it would be good to have some news about this, which could be a great option to help with the burning of DEC and not leave the impression that it was done and left to see ships as they look today.
Perhaps with the news that will still arrive, some of them may have an interesting synergy with the skins, such as Battles 2.0, when that time comes, skins will become even more attractive, due to some new animations that will exist:
Source
And for you? What are your opinions about this? Would it be interesting to have more marketing for the skins? Or is it something that went wrong and should be let go? Leave your opinion and let's talk!
Thank you all so much and see you next time!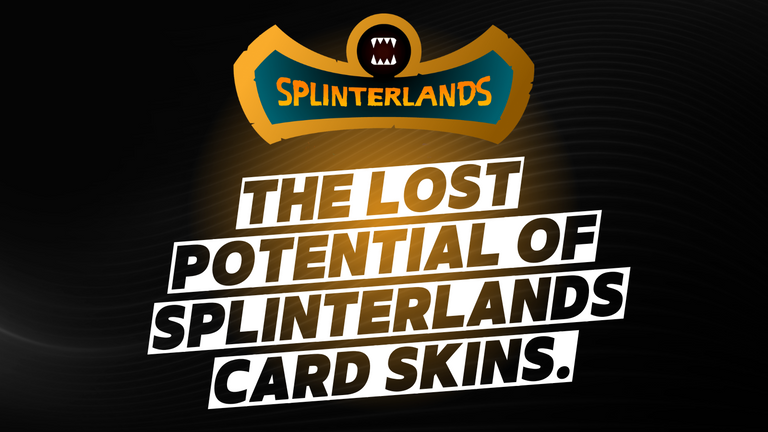 Uma boa noite pessoal!
Aproveitando que hoje é feriado aqui no Brasil e tempo hoje não será um problema, decidi dar uma olhada em alguns pontos do Splinterlands que imagino que poderiam ser melhorados para assim atrair mais jogadores como também mantê-los dentro do jogo, criando "algo para fazer" para que assim eles pudessem reinvestir de alguma forma e manter a economia e a vontade de jogar em alta.
Talvez o assunto de hoje já até tenha sido discutido antes, mas gostaria de comentar o que penso sobre a seção de skins, que como muitos sabem, parece que foi lançada e depois de algum tempo abandonada. Temos lá apenas um tema: Splinterstorm, como podemos observar na imagem abaixo e somente e apenas isso.

Essa ideia de ter skins que modificam apenas o visual das cartas é um enorme potencial perdido, ainda mais que as cartas que possuem uma skin para modificar são basicamente usáveis apenas no modo ranqueado selvagem. Porque não foi feito nada para a edição Chaos Legion por exemplo?
O mercado de skins de inúmeros jogos tradicionais costumam movimentar uma quantia enorme de valores e o melhor de tudo é que vários deles não modificam os atributos de quem as equipa para se tornar um P2W, apenas na questão cosmética / visual, como por exemplo os jogos DOTA 2, League of Legends e Counter Strike.
Podemos ver que apesar da maioria já ter sido vendida, algumas skins ainda permanecem ali esperando que um ilustre jogador a compre, fico me perguntando, porque não houve um incentivo para a compra destas skins? Pelo menos para acabar com todas essas deste primeiro tema?

Imagino que seria uma ótima oportunidade de queimar DEC, que é um dos principais objetivos compartilhado há tanto tempo, sendo assim, o próprio evento de aniversário de 5 anos do Splinterlands tem como temática a queima de DEC: quem mais queimar o DEC pela página do evento, tem mais chances de ganhar premiações no final do mesmo além de que os 200 jogadores que mais queimaram, irão ganhar um titulo por sua classificação.
Então sem a necessidade de um evento especifico, se houvesse um marketing maior em relação a essas skins, isso será algo rotineiro, com os jogadores juntando DEC (ou talvez alguma outra moeda de troca) e conquistando skins para mudar a aparência de suas amadas cartas.

Só que, como seria possível incentivar a compra dessas skins em um jogo P2E (Play To Earn) se elas são modificações apenas cosméticas? Bem, pensei em alguns pontos que seriam:
Marketing pesado em cima das skins, com um cronograma de lançamento a cada 6 meses por exemplo, claro que esse tempo entre os lançamentos poderia ser qualquer outro.
A cada lançamento, uma temática diferente como hoje temos apenas a Splinterstorm:
Conjunto de skins do "halloween", esse nunca falta nos jogos em geral;
Conjunto de skins com modelos em forma de pixels, como os jogos antigos;
Conjunto de skins "viagem para a praia", poderíamos ver o MYCELIC MORPHOID de sunga, que visão "incrível" seria. 😄
Claro que talvez somente isso não seja o suficiente, então entra o segundo ponto que pensei: as skins dariam algum bônus, sem obviamente modificar os atributos da carta em que foi aplicado, poderia ser um bônus na capacitação de SP e FP por exemplo, ou por exemplo, ganhar mais méritos de forma individual ao final de uma brawl.
Assim como já temos cartas Alfa, Beta, Promo e Douradas, que já concedem bônus ao vencer as batalhas, poderíamos ganhar uma bonificação bem menor, do tipo +0,5% por skin usada na batalha, então poderíamos ter um total de +3% neste exemplo.
Acredito que talvez até mesmo +0,1% por skin já seja um ganho maravilhoso, pois na minha opinião, pouco é melhor do que nada, além de que com skins bem trabalhadas, apenas o fato de você colocar elas em batalhas já seria um diferencial interessante.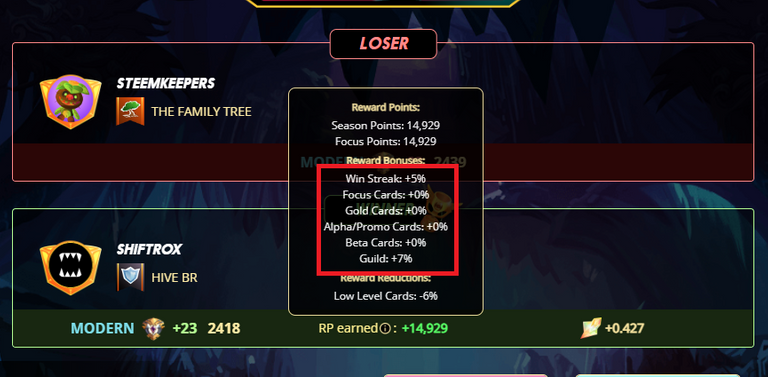 As possibilidades são muitas, eu até mesmo prefiro que as skins dos monstros sejam apenas cosméticas, sem mudar nada em seus atributos ou ganhos de final de batalha, mas, seria uma boa ter algumas novidades em relação a isso, que poderia ser uma ótima opção para ajudar na queima de DEC e não deixar essa impressão que foi feito e deixado a ver navios como é o que parece hoje.
Talvez com as novidades que ainda irão chegar, algumas delas possa ter uma sinergia interessante com as skins, como por exemplo as Batalhas 2.0, quando este momento chegar, as skins se tornem um atrativo ainda maior, por conta de algumas novas animações que existirão:
Fonte
E para vocês? Quais as suas opiniões em relação a isso? Seria interessante um marketing maior para as skins? Ou é algo que deu errado e deve ser deixado de lado? Deixe a sua opinião e vamos conversar!
Muito obrigado a todos e até a próxima!
Let's have fun! Join me at Splinterlands
Follow me on Twitter

Delegate your HP to the hive-br.voter account and earn Hive daily!
🔹 Follow our Curation Trail and don't miss voting! 🔹
Image Credit: Banners created by me in Canva
---
---