Camouflage Is Very Good ⚔ Splinterlands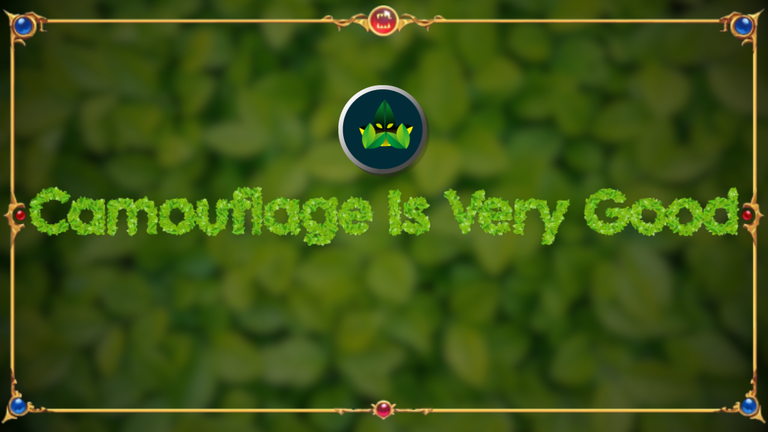 Uma das habilidades que eu vejo pego poucas pessoas comentando no Splinterlands é sobre a Camouflage

. Acredito que o motivo seja por ela não fazer nada tão incrivel ofensivamente, porém seu impacto na sobrevivência de uma carta é absurdo e é a principal responsável por permitir que algumas cartas consigam brilhar no jogo.
São poucas as cartas que possuem a Camouflage

e algumas são bem medíocres, portanto apenas algumas cartas específicas conseguem se salvar e fazer ótimo uso dessa habilidade, as principais que eu posso mencionar são: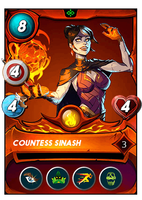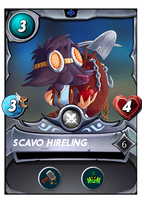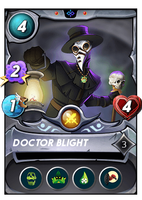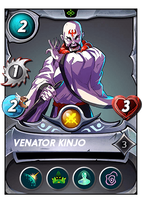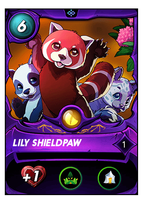 A Lily Shieldpaw foi lançada recentemente e consegue distribuir essa habilidade para todo o time, isso pode ser muito útil para evitar qualquer habilidade de atingir as suas cartas da backline. Além disso há outras opções de suporte muito interessantes como o Scavo Hireling e o Venari Kinjo que conseguem fornecer um ótimo suporte por ficarem vivos por muito tempo.
Agora as cartas que mais brilham com essa habilidade são a Countless Sinash e o absoluto Doctor Light pois ambas conseguem fazer uso de suas habilidades poderosas ao mesmo tempo que permanecem vivas pelo máximo de tempo possível por causa do Camouflage

. O Doctor Blight é a minha carta favorita do jogo e é incrível vê-lo aumentando sua vida com Scavenger

enquanto permanece intocado por qualquer ataque, aplicando Poison

e Affliction

em seus ataques ao longo da batalha.
Já a Countless Sinash consegue buffar todo seu time com Swiftness

e estará sempre focando os inimigos com a menor vida por causa da habilidade Opportunity

, enquanto a própria estará totalmente protegida de ser focada e isso pode lhe garantir uma grande vantagem numérica se seus ataques forem bem sucedidos.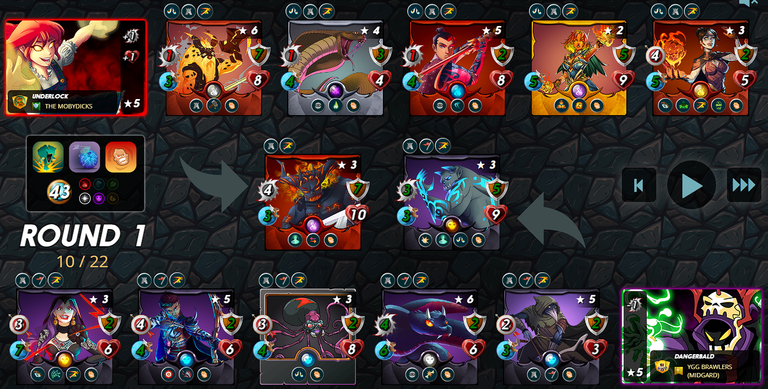 Essa foi uma batalha bem tensa e que a todo momento eu imaginei que seria uma derrota certa. As minhas cartas estavam sendo eliminadas rapidamente e a única carta que estava conseguindo compensar a diferença numérica era a Countless Sinash. Enquanto permanecia intocada com a Camouflage

, seus ataques estavam finalizando os inimigos e equilibrando os números dos dois times, esse foi o principal motivo de eu ter conseguido me manter vivo por tempo suficiente.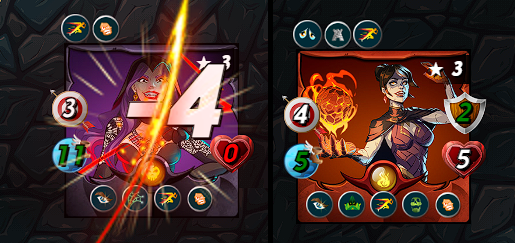 No final da partida ela havia sido a responsável por eliminar quase todas as unidades do time inimigo, isso só foi possível por ter permanecido viva (consequência do Camouflage

) e é por isso que eu digo que essa habilidade é tão boa!
Infelizmente por ser mais defensiva e não ter nenhum efeito "ativável" nós acabamos esquecendo do quão impactante essa habilidade pode ser em uma partida e o quanto ela é imprescindível para o bom funcionamento de alguns combos. O Doctor Blight só consegue ser uma carta Tier S por conseguir ficar vivo por muito tempo devido à essa habilidade, sem ela o potencial da carta diminuiria bastante, por isso eu decidi criar essa postagem para demonstrar meu amor por essa habilidade e o quão forte ela é!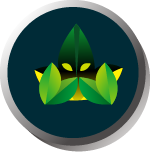 Muito obrigado a todos que leram até aqui, espero que tenham gostado. Se vocês curtirem meus conteúdos, peço que deixem o seu voto na postagem e sigam o meu perfil para poderem acompanhar as futuras postagens.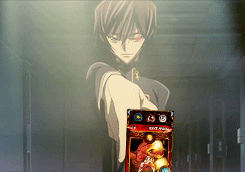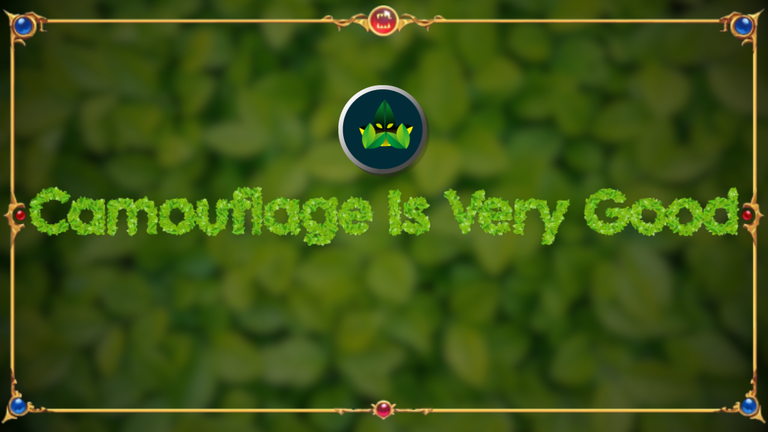 One of the skills that I see few people commenting on in Splinterlands is Camouflage

. I believe the reason for this is that it doesn't do anything particularly amazing offensively, but its impact on a card's survival is absurd and is the main reason some cards can shine in the game.
There are few cards that possess Camouflage

, and some of them are quite mediocre. Therefore, only specific cards can make good use of this ability. The main ones I can mention are: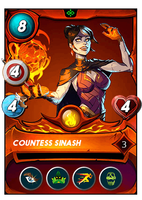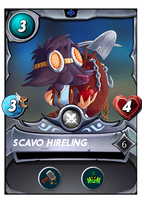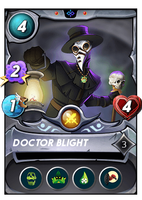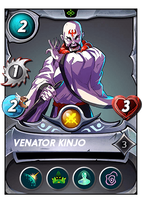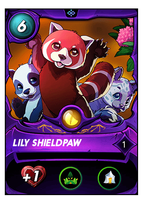 Lily Shieldpaw was recently released and can distribute this ability to the entire team, which can be very useful to prevent any abilities from reaching your backline cards. Additionally, there are other interesting support options like Scavo Hireling and Venari Kinjo, which can provide excellent support by staying alive for a long time.
Now, the cards that shine the most with this ability are Countess Sinash and the absolute powerhouse, Doctor Blight, because both can make use of their powerful abilities while remaining alive for as long as possible thanks to Camouflage

. Doctor Blight is my favorite card in the game, and it's amazing to see him increasing his life with Scavenger while remaining untouched by any attack, applying Poison

and Affliction

in his attacks throughout the battle.
On the other hand, Countess Sinash can buff her entire team with Swiftness

and will always target enemies with the lowest life due to the Opportunity

ability, while she herself remains protected from being targeted. This can give you a significant numerical advantage if your attacks are successful.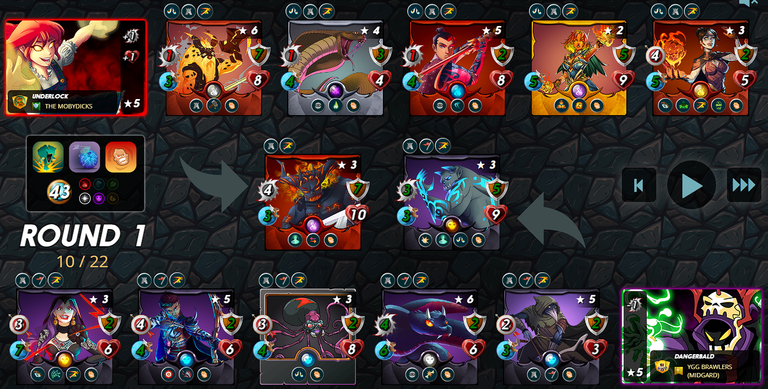 This was a very tense battle, and I constantly thought it would be a certain defeat. My cards were being eliminated quickly, and the only card that was able to offset the numerical difference was Countess Sinash. While remaining untouched with Camouflage

, her attacks were finishing off the enemies and balancing the numbers on both sides. This was the main reason I managed to stay alive long enough.
At the end of the game, she had eliminated almost all of the enemy units, which was only possible because she had remained alive (thanks to Camouflage

). That's why I say this ability is so good!
Unfortunately, because it is more defensive and doesn't have any "activatable" effect, we tend to forget how impactful this ability can be in a match and how essential it is for the proper functioning of some combos. Doctor Blight can only be a Tier S card because he can stay alive for a long time due to this ability. Without it, the card's potential would decrease significantly. That's why I decided to create this post to show my love for this ability and how strong it is!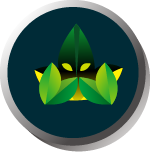 Thank you so much to everyone who read this far, I hope you enjoyed it. If you like my content, I ask you to send your vote on the post and follow my profile so you can read future posts.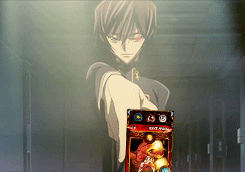 ---
---