One Mana Army ⚔ Splinterlands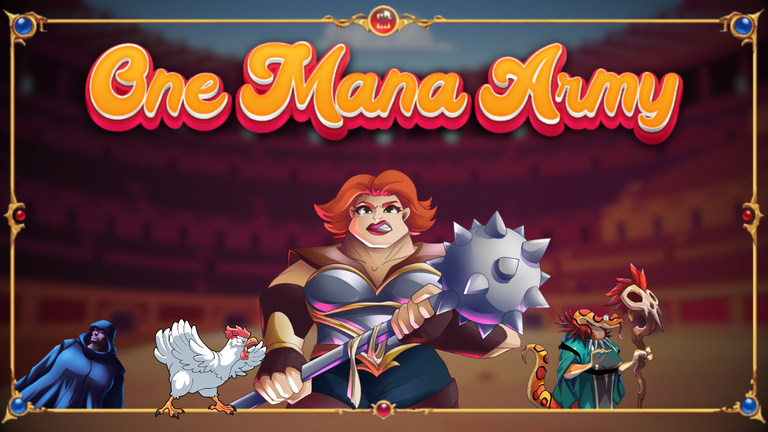 Faltando apenas 2 horas para finalizar o prazo de envio dos times das Brawls no Splinterlands, finalmente enviei todas as minhas batalhas e apesar do resultado não tão positivo (terminei 3/5) algumas das partidas foram bem interessantes e resolvi apresentar uma delas para vocês no post de hoje.
Todos sabem que em partidas Brawls existem as cartas Gladius que são exclusivas para esse tipo de combate e possuem como característica principal a habilidade Bloodlust

, isso torna pouco interessante a elaboração de times com várias cartas de baixo custo pois elas podem servir simplesmente para alimentar uma carta Gladius fornecendo várias ativações de sua habilidade após cada abate. Mesmo sabendo disso em uma partida eu percebi que havia a oportunidade de criar uma composição com várias cartas de custo 1 com potencial de funcionar então resolvi testar.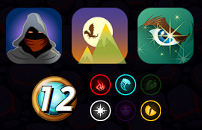 A mana disponível era extremamente baixa e os invocadores não conseguiriam distribuir efeitos por causa da regra Silenced Summoners
, isso remove o principal potencializador das cartas de baixo custo que é adicioná-las em conjunto com invocadores como o Kelya Frendul ou o Tyrus Paladium para protegê-las com a Armadura

.
Mesmo assim eu decidi manter minha estratégia pois dentre as minhas opções de cartas estava o Kra'ar Xoc de level 3. Por estar nesse level a vida inicial da carta se tornou 3 e a velocidade 4, me dando confiança de que após a eliminação das outras cartas ao longo da partida, esta cobra teria vida suficiente para tankar alguns ataques enquanto a minha carta principal faria o trabalho sujo. A carta escolhida para fazer esse trabalho foi a Alva the Crusher pois além de causar dano eu queria uma carta que fosse capaz de resistir à vários ataques ao longo da batalha.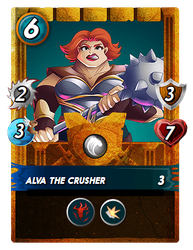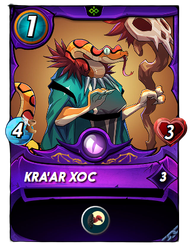 Com essa estratégia formulada agora bastava apenas encher o time com o máximo de cartas custo 1 e 0 que eu pudesse. Esse foi o resultado no campo de batalha: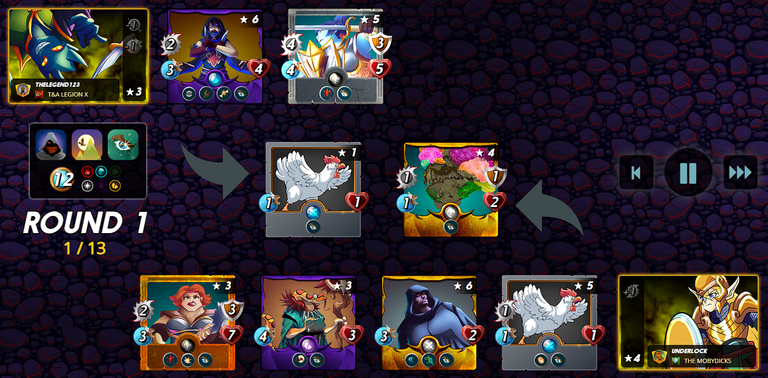 A Isgald Vorst com certeza é um grande perigo pois cada abate irá torná-la cada vez mais forte. Felizmente a interação de uma carta com Sneak

com a regra Equal Opportunity

fará com que a carta priorize sua própria habilidade, portanto o Dhampir Infiltrator perdeu todo o seu potencial pois desperdicou vários ataques causando quase nenhum dano na Alva (foi exatamente por isso que eu quis colocá-la na última posição).
Deu-se início à corrida para vermos qual carta Gladius conseguiria ficar mais forte primeiro e vencer o jogo. No início da terceira rodada a Isgald eliminou seu segundo alvo enquanto a Alva já havia eliminado as outras duas cartas do oponente e já estava partindo para quebrar a armadura da Vorst. O problema começou a surgir na quarta rodada pois ao fazer um novo abate o Bloodlust

ativou e regenerou 1 de armadura para a carta do oponente, fazendo com que meu ataque fosse inútil nessa rodada.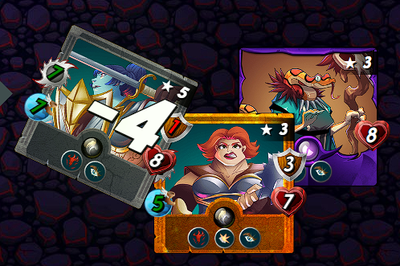 Apesar de ter sido incapaz de causar dano nessa rodada, observe que a Isgald Vorst possui 7 de ataque enquanto a Kra'ar Xoc tem 8 de vida. O level fez a absoluta diferença nessa partida pois o aumento de 1 de vida foi o suficiente para fazer o oponente demorar 2 rodadas para elimnar minha carta. Ao conseguir de fato eliminá-la o Bloodlust

foi ativado novamente e restou apenas as duas cartas Gladius prontas para se degladiarem até o final do combate.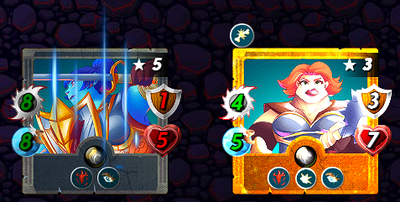 As cartas trocaram golpes e felizmente eu consegui levar a vitória nesse confronto (se algum dos meus ataques dessem Miss o resultado seria outro). Apesar do resultado extremamente acirrado, minha estratégia foi efetiva e consegui enrolar tempo suficiente até que a Isgald ficasse forte o suficiente para tankar muito e causar dano. Para otimizar essa estratégia seria preciso escolher um dos dois caminhos:
Uma partida com armadura disponível através de invocadores ou pela regra Armored Up .
Uma partida completamente sem armaduras com a regra Unprotect .
O primeiro caso faria com que as cartas de custo 0 e 1 sobrevivessem pelo dobro de tempo enquanto a segunda opção impediria essa regeneração constante de armadura por causa do Bloodlust

, em ambas as situações essa composição teria maior eficiência. Apesar de não me encontra em nenhum dos dois casos o meu time conseguiu essa vitória no limite!
Muito obrigado a todos que leram até aqui, espero que tenham gostado. Se vocês curtirem meus conteúdos, peço que deixem o seu voto na postagem e sigam o meu perfil para poderem acompanhar as futuras postagens.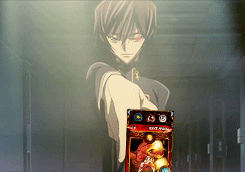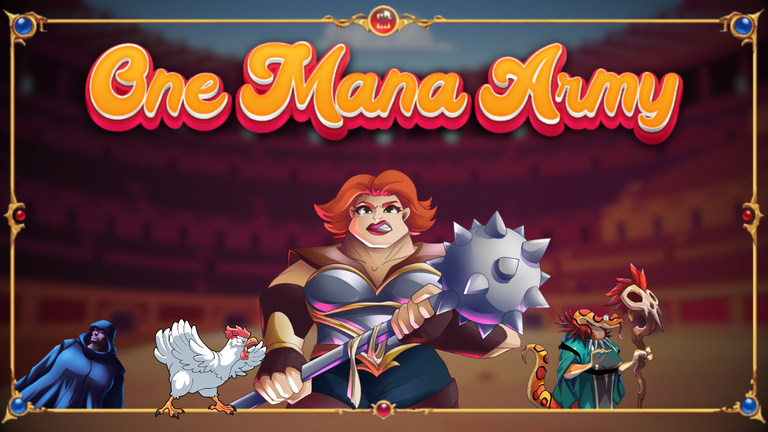 Translated by ChatGPT.
Only 2 hours left to finish the deadline for submitting the Brawls teams in Splinterlands, I finally sent all my battles, and despite the not-so-positive outcome (I finished 3/5), some of the matches were quite interesting, so I decided to share one of them with you in today's post.
Everyone knows that in Brawls matches, there are Gladius cards that are exclusive to this type of combat and have the main characteristic of the Bloodlust

ability, which makes it less interesting to create teams with several low-cost cards because they can simply serve to feed a Gladius card, providing multiple activations of its ability after each kill. Even though I knew this, in one match, I noticed an opportunity to create a composition with several 1-cost cards that had the potential to work, so I decided to test it.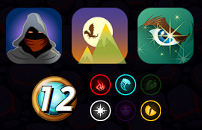 The available mana was extremely low, and the summoners couldn't distribute effects due to the Silenced Summoners
rule, which removes the main enhancer of low-cost cards, which is to combine them with summoners like Kelya Frendul or Tyrus Paladium to protect them with Armor

.
Nevertheless, I decided to stick with my strategy because among my card options was a level 3 Kra'ar Xoc. Being at this level, the card's initial health became 3, and its speed became 4, giving me confidence that after eliminating the other cards during the game, this snake would have enough health to tank some attacks while my main card did the dirty work. The chosen card for this task was Alva the Crusher because besides dealing damage, I wanted a card that could withstand multiple attacks during the battle.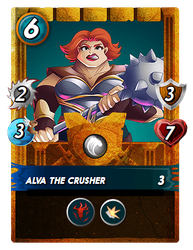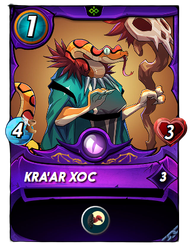 With this strategy in mind, all I had to do was fill the team with as many 1-cost and 0-cost cards as possible. This was the result on the battlefield: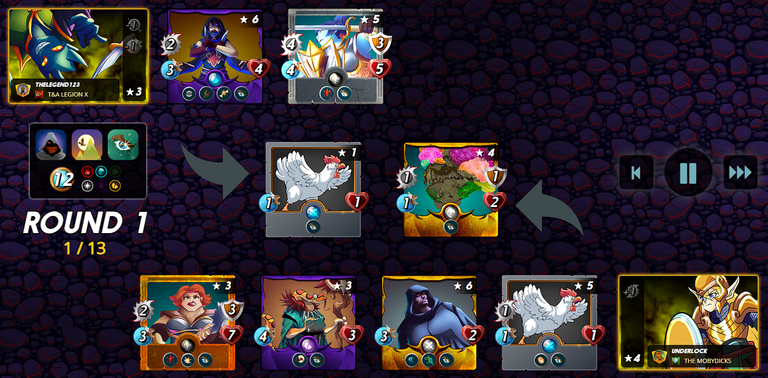 Isgald Vorst is certainly a great danger because each kill makes her stronger. Fortunately, the interaction of a card with Sneak

with the Equal Opportunity

rule will cause the card to prioritize its own ability. Therefore, the Dhampir Infiltrator lost all its potential as it wasted several attacks, causing almost no damage to Alva (that's exactly why I wanted to place her in the last position).
The race began to see which Gladius card would become stronger first and win the game. At the beginning of the third round, Isgald eliminated her second target, while Alva had already eliminated the other two opponent's cards and was now going to break Vorst's armor. The problem started in the fourth round because when making a new kill, Bloodlust

activated and regenerated 1 armor for the opponent's card, making my attack useless in that round.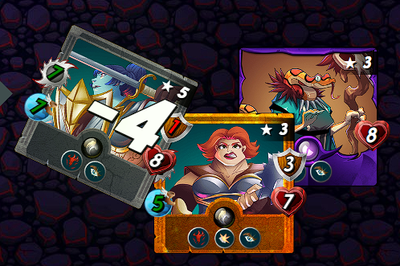 Despite being unable to deal damage in that round, note that Isgald Vorst has 7 attack, while Kra'ar Xoc has 8 health. The level made all the difference in this match because the increase of 1 health was enough to make the opponent take 2 rounds to eliminate my card. After successfully eliminating it, Bloodlust

activated again, leaving only the two Gladius cards ready to duel until the end of the battle.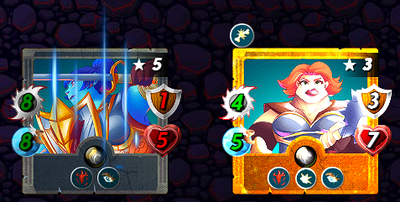 The cards exchanged blows, and fortunately, I managed to win this confrontation (if any of my attacks had missed, the result would have been different). Despite the extremely close result, my strategy was effective, and I managed to buy enough time for Isgald to become strong enough to tank and deal damage. To optimize this strategy, it would be necessary to choose one of two paths:
A match with armor available through summoners or the Armored Up rule.
A match completely without armor with the Unprotect rule.
The first case would make 0 and 1-cost cards survive for twice as long, while the second option would prevent this constant armor regeneration due to Bloodlust

. In both situations, this composition would be more efficient. Despite not being in either of these cases, my team managed to secure this victory at the limit!
Thank you so much to everyone who read this far, I hope you enjoyed it. If you like my content, I ask you to send your vote on the post and follow my profile so you can read future posts.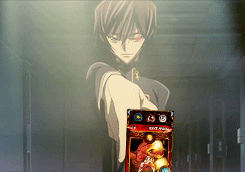 ---
---