Let Our Picture Tell Your Story - Edition 43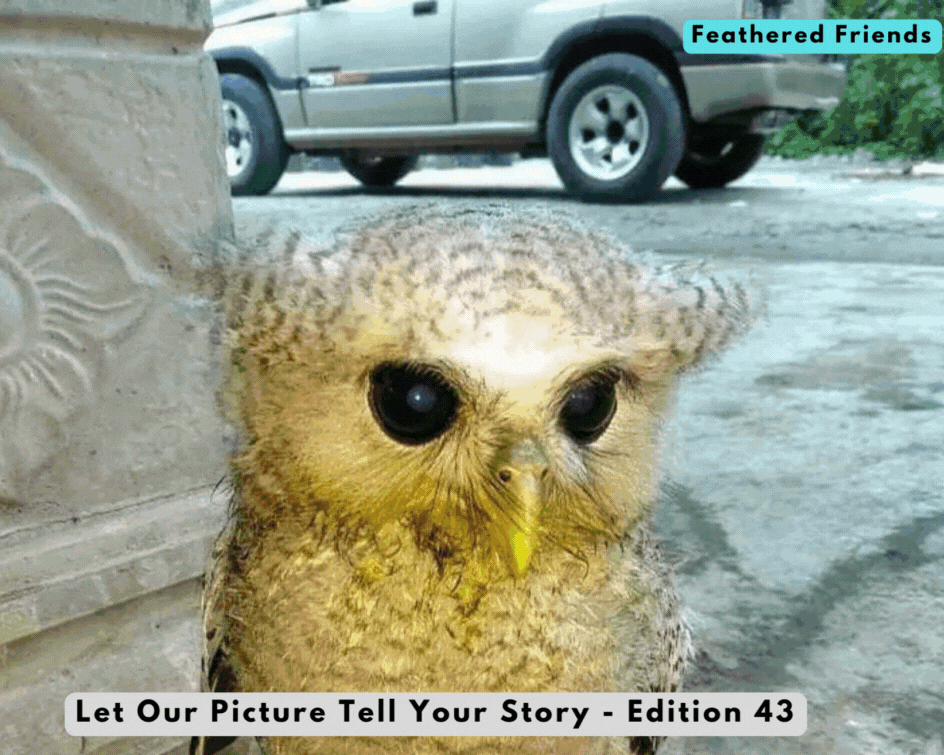 https://images.ecency.com/p/8DAuGnTQCLptZgjHUrRAJGcW4y1D4A5QVJJ7zjzqqKdfVHSS6NapSCC61CYnBwuuaPYvFbinFHNpBTdGqQLUttiFtnudoocWccDWcwn3v8B3x6Wr1zbKJVbkjFedYL36WzE5Uq5Ugsk7Hf7inCwUtQSzvKiSGqgH6addovG9bX4.webp?format=webp&mode=fit
https://images.ecency.com/p/PB8ro82ZpZP35bVGjGoE8x7YLjV9UWTvRS3x5NFPQ8Tkx68evbRTLTMhVHL47uVRJugcqV2QK2D3pE76fjQxshjNgMupnvxiz1G4g9HzEjvUxtfx.webp?format=webp&mode=fit
https://images.ecency.com/p/8DAuGnTQCLptZgjHUrRAJGcW4y1D4A5QVJJ7zjzqqKdfVHSS6NapSCC6cRgsuTqcUwMiozAiZpUjarzfNpAEHvtLoMC6QbJm8QwnzG8nYhCYdDKp16DKWPGTQsZbbnzPospgQocj5jGqgEM6RM3kDCzyx4GBBJtC26PvU6zCvmt.webp?format=webp&mode=fit
**I would love to thank everyone who makes this game so much fun :) ** This includes everyone who has supported the contest, and most of all those who entered. You are so awesome!
We are going to be offering three choices for you to use as a prompt this week - and while you can only win one prize, you can write a story about more than one picture if you want. In fact, write as many stories as you like! It will increase your chances of winning! Or just choose the one that calls to you!
Also please note that if you have an image posted in the Feathered Friends community, and feel it would be a good fit for this contest, you should let me know so I can use it next time :)
---
Collage made in Canva using the images sourced below.
---
Full credit for the images goes to the following authors and posts, please show them some love!
---
---
Buumah the owl @azmirulamin :
https://ecency.com/hive-106444/@azmirulamin/a-bird-that-belongs-to-carnivorous-animals-owl-strigiformes
---
---
Crowned Sparrow by @chromiumone :
https://ecency.com/hive-106444/@chromiumone/its-a-contest
---
---
Goose @marianomariano :
https://ecency.com/hive-106444/@marianomariano/a-place-where-time-has
---
---
For this week, let's each try to tag at least two good friends who we know would love to play. Share the love, and make the contest even bigger.
@erikah @hetty-rowan . @jfuji can we please see yours this week?
Rules
There are only a couple of guidelines you should follow for this contest:
Your story should be in the comment section of this post.
Your story should have a title.
Have fun!
Rewards
@melinda010100 and the community account Hive-106444 and your upvotes generously provide the prizes for this challenge. There is a reward pool of 8 HIVE and 1000 ecency points for our winners.
We have an extra pool of 8 HIVE per month donated by @dreemsteem. Join me in thanking @melinda010100 @dswigle and @dreemsteem @gornat @archon for the extra prizes.
First prize is 3 Hive
Second prize 2 Hive
Third prize is 1 Hive
Engagement 1 Hive
Special mention 1 Hive
Ecency points will be awarded to participants based on their contribution to this edition of the challenge. Prizes will be added as needed.
---
---
Post rewards go towards supporting the Let Our Picture Tell Your Story prize fund.
Kindly note that this edition will end at the time of payout.
The winners will be announced after the payout of this post. Deadline for entries is at payout.
Keep your entries coming in. Please tag your friends and let's meet in the comment section. If you think you might have posted a photo that would be a good fit, let me know! Please note, it must have its own post in the Feathered Friends community to be eligible. All images used will be displayed with a link to the original post, as well as a mention so the author can come check it out, and hopefully make up a story.
Keep your eyes 👀 peeled and look for my post announcing the winners of this edition.
I look forward to reading your stories as always. Kindly note that while we welcome your stories and interaction with participants in the comment section, leaving spam comments like 'nice picture' are not acceptable and will not be rewarded.
Check out @nelinoeva 's contest Show me a photo challenge
@barbara-orenya also feature the best posts in her Featured feathered friends compilation and helps you get more exposure. So, get your photographs in ASAP.
Also, I would like to thank Archon for your kindness and support 🙌
Thank you everyone for your kind support and participation. Those who have already participated or have requested a tag:
@chocolatescorpi @khoola @umirais @ayesha-malika @chincoculbert @cmplxty @pibara @gemstone @beeber @mineopoly @mynatasha @jacoalberts @doziekash @taufar @otuyanancy @kemmyb @enginewitty (for you and your girls) @littlebee4 @thequizshow @marito74 @eylz619 @itsostylish @lesmann @vikbuddy @lxsxl @tattoodjay @daniky @cescajove @queenstarr @ninahaskin @elentogether @sammy00 @farm-mom @orikkot @papilloncharity @phoenixwren @bayuismail @corvidae @phoenixwren @jacobtothe @samsmith1971 @joetunex @juliamulcahy @insaneworks @ninahaskin @bloghound @faisalhanafih @katleya @embunpagi @zhanavic69 @annymharie @chromiumone @mcyusuf @flaxz @dswigle @sayofunmi @olawalium @flaxz.alive @flaxz @tengolotodo @heskay @nkemakonam89 @naniplayergamer @samsmith1971 @silversaver888 @stevemuis @popurri @soyunasantacruz @nickydee @sagesigma @seeger @buckaroobaby @cute-cactus @balikis95 @killerwot @humbe @redheadpei @hindavi @tali72 @florian-glechner @ganjafarmer @meesterboom @ellenripley @gornat @abelfotografia @dandays @ninahaskin @aideleijoie @digitalis @sunscape
If you would like to be added or removed from the tags, please ask :)
---
---