Malice Comes In Many Forms - pob-wotw entry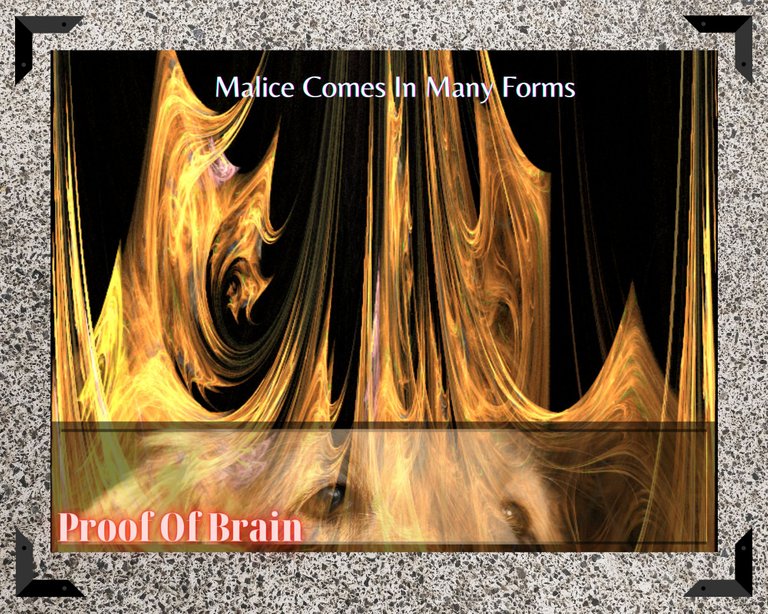 "Don, can you please show the class how to solve this problem?"
"Yes Miss Bracket. I'll be happy to."
"Watch closely, class. Feel free to take notes."
Don smirked as he expertly solved what was perhaps the most difficult math problem any student had been given in the days since school had resumed. "This Miss Bracket must have a real mean streak to put me on the spot, but I'll show her."
"Excellent work, Don. You are very gifted."
"Thank you, Miss Bracket."
The ancient demon now known as Don walked back to his desk, and when nobody was looking he took out a firecracker he had kept from the Fourth Of July celebration.
"This will teach the old bat to try and make me look like a fool!" he thought while lighting it, and swiftly tossing it behind the large metal desk.
With a malicious smile he was grateful that he had thought to give it an extra long fuse. She would be firmly seated when it went off.
BANG!
The entire class hit the floor in fright, and Don did the same in order to blend in. Girls screamed, and Miss Bracket howled in pain.
She continued screaming and crying long after the scare was over. "Does anyone have a phone?" asked a tall, thin girl named Greta.
Nobody spoke up. Several students began to cry.
"I'm going for help, you do what you can for Miss Bracket." said Greta.
Soon the students were ushered out of the room, some to wait their turn with the school counselor.
Later at recess, he noticed a new kid maybe a year older than him tormenting a second grader. He smiled. "There's hope for humankind after all. That kid has plenty of malice in his soul."
The next day, Miss Bracket was not in the classroom. "Hello, my name is Mr. Cedar. I will be your substitute teacher until Miss Bracket is well." Mr. Cedar was a tall, heavily muscled man. His name caused many snickers and giggles.
"I know you are all very concerned about Miss Bracket. It turns out that she sat on the firecracker which was placed in her chair.
I realize that it was probably meant to be a harmless prank, but she was extremely lucky that her injuries weren't more... Permanent. However, let me assure you that she will make a full recovery. Until then, I will be your teacher."
RINGGGGGGG!!!!!
"School is finally out for the weekend..." sighed the very bored demon. With everyone on high alert, he didn't dare stir up any mischief. He had rarely been this bored in all of his many thousands of years of life.
"Greg! Let's race home today, I bet I win!" he said to the little brother of the child he was possessing. "Maybe the little runt will fall and break a leg. Would serve him right." he thought to himself.
"Sure, Don!" But I'll win."
Once he was free of "his" brother, he started slowly towards home.
"If only I could free Taspirin, we could have some real fun." he said wistfully, thinking how much better life could be with another demon by his side.
Arriving back at the house, he heard a lot of excitement in the living room. Never one to jump into a situation unprepared, he eavesdropped.
"I promise to take good care of him, Dad! Please can we keep him?"
"If I can't find the owner and you prove to be responsible, yes. But unless I'm mistaken this is a purebred Golden Retriever puppy. It's a valuable dog, not a stray. Someone has to be looking for him "
"YES!!! Can he sleep in my room tonight?"
"NO. He sleeps in the garage until I can find out more about him. And you won't go near him after bedtime, or give him a name. If I catch you doing either, I will find a home for him. It won't be hard, he will have his pick... Just look at the little guy, nobody could resist him."
"Oh hello Don, I didn't see you standing there." said Dad, mildly surprised that his oldest son had remained quiet and hadn't even tried to approach the puppy.
"What's going on, Dad?"
"I found a puppy on the way home!" supplied Greg enthusiastically.
"Well I'll leave you to tell your tale, Greg. I need to get the garage ready for the guest of honor."
The puppy was placed in the garage, and as soon as he was alone he began to make the saddest sounds imaginable. It was obviously causing Greg great pain. Don tried to act sympathetic, but really just came off as aloof.
After a short time the sounds quieted. The family went about their routine, except for Greg who just went through the motions. He was more excited than he had ever been in his life.
In the middle of the night, when all was quiet, Don crept out of his room. He went directly to the garage, and took the sleeping puppy.
Racing through every shortcut he knew, he made good time getting to Midnight Street. The enlarged fox den which was Taspirin's prison was close. As he approached, the helpless puppy wriggled and clawed to escape, sensing the danger. It was no use, Don had an iron grip on him.
"You want me to possess WHAT?" Taspirin roared.
"It's just until we can find a human host who we can actually get in here. That blasted warning signal is too effective. I wouldn't mind a new host myself. That stupid toddler wakes up almost every month."
"You mean you can't even suppress the soul of a child, Belazarkin? You have become weak."
"It's easy enough to suppress him, but his screaming when he wakes up gives me a headache. We really need to go, are you ready?"
"But it's a puppy... A baby dog."
"Fine, you can stay here and wait until I can get something better."
Seconds later the sweet little puppy had red glowing eyes, and was trying unsuccessfully to form words. Frustrated, it settled on growling.
When placing the possessed puppy back in the garage, Don accidentally knocked over a tool box. Not hearing anything, he hoped that it hadn't woken anyone.
Creeping through the kitchen, he encountered Greg.
"Don, I saw you leave with the puppy from my window. What were you doing at this time of night? And you do know what Dad said about not seeing him after bedtime? If you had been caught we would have lost him! And the only thing I have ever wanted is a dog."
"I know Greg, which is why I had to do this. Puppies can't sleep through the night, especially in a new place. I went and got him, so he could do his business and get tired out. If he starts howling on his first night here how long do you think Mom will be patient? She's never been keen about having a family dog "
"That's true... But you took an awfully big chance."
"But it paid off. Let's get back to bed before we do get caught."
Dad stepped out of the little dining nook. He had been hiding there since he realized one or both boys were up. He breathed a sigh of relief.
Dad had wanted a family dog for a long time. His wife, who hadn't had pets growing up never saw it as important. More of an inconvenience really.
And the way Don had acted earlier had him concerned. If he didn't really want the dog, would he commit to his share of the work?
"Don seems to have warmed up to the idea of keeping him." Dad thought with a smile as he went into the garage to pick up the "sleeping puppy" and carry him into the living room.
There was still a good bed of coals in the fireplace. He placed the puppy on the couch, stirred up the glowing hot embers, and put a log in.
"Welcome to the family, little fella." he said. Holding up the puppy to his face, one sleepy eye opened. Dad almost dropped the puppy.
"Wow, the fire reflected off of your eye, and I could have sworn I saw a devil in it. I must be more tired than I thought. Let's see what's on TV."
This has been part four of Just Down The Road
Cover image is my original artwork edited to add the title, border, puppy eyes, and border using Canva and their gallery
---
Posted via proofofbrain.io
---
---