The Frailty Of Humans (pob-wotw entry)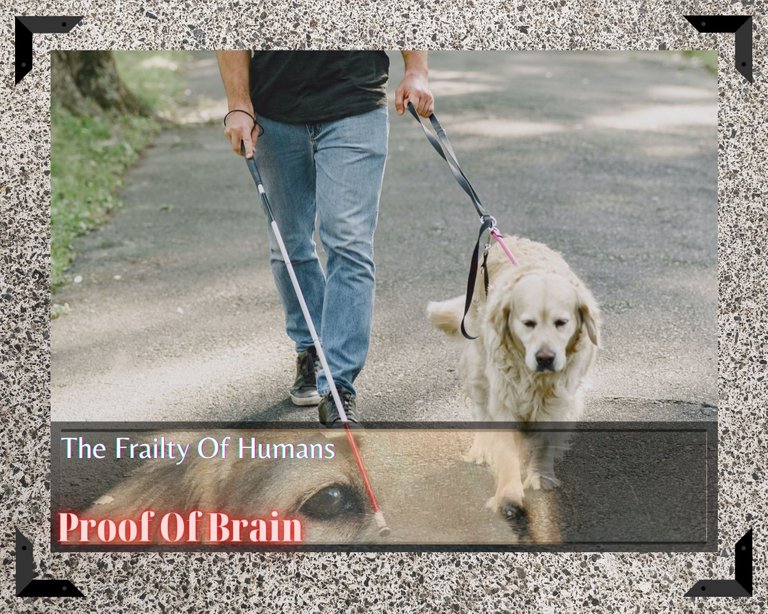 "Dad! Can't we skip it just this once?" Greg pleaded. It was Saturday morning. Don and Greg both had Martial Arts classes.
"No Greg, you made a commitment. Part of becoming a strong human being is by disciplining yourself. And anyway, I'm taking the puppy to the vet today. We have to have him checked out. I also need to try to find the real owner."
The whole time, Greg was distracted. Don managed to flip him - hard. He had the wind knocked out of him.
"Ah yes, humans are so frail. The slightest thing hurts them..." Don thought with satisfaction.
After class, Mom took them out for burgers. She then had one errand after another.
"Don, do you get the feeling that Mom is stalling?"
"Yeah... But we can't do anything about it."
Finally, late in the afternoon they got home. Dad was in the living room. "Can everyone please come here? It's time for a family meeting."
"Is he ok?" asked Greg, worried.
"I have both good and bad news, guys. The good news is that the puppy is in perfect health. The bad news is, the vet found a chip under the skin. It's as I suspected, he was never a stray."
At this news, Mom brightened. Despite trying to hide it, her smile was evident. Greg tried to hold back the tears brimming in his eyes. Don was curious where his fellow demon might be going. At least he was out of the cave, therefore unlikely to go mad.
"This is why I called the meeting. The puppy is not for sale, he was bred for a guide dog program. We have four options."
"Uh, dad? Does that mean one day he will help a blind person cross roads?" asked Don.
"Yes, if everything goes as planned."
Don turned away. He couldn't help but laugh a little. Having watched that very same animal become possessed by an ancient demon, he knew how that would end. The frailty of humans never ceased to entertain him.
A frail, helpless, and blind human at the mercy of Taspirin? That would be almost as much fun as having him become a part of the family. But not quite... The house was entirely too boring.
"What are the choices, Dad?" asked Greg, wanting to get back to the point.
"We have been offered the choice of being puppy raisers, or taking one of the puppies which wasn't selected for the program. This one would be ours to keep, free of charge as a finder's reward. Alternately we can wait for a future litter. We can take first choice, also free."
"Those are only three options, honey. What is the fourth?" asked Mom.
"Well, we don't have to have a puppy. That's why I asked for a meeting. So we can vote on it."
"If we decide to raise him for someone, how long will we get to keep him, Dad?" asked Greg.
"It will be at least one year. But I really hope you will go meet the other puppies before you decide. I saw them, and they are perfect. You've never lost a dog, but I have. It hurts. A lot."
'Will we ever see him again afterwards, if we raise him?" asked Don, only mildly curious. Obviously Taspirin would not be in the dog that long.
"Most likely yes, at least once more. But we will never be a part of his life again. You will lose him. Let's go look at the other two, before we vote."
"Alright, Dad. Did he go back there too?"
"No, I actually left him at the vet's, to be neutered."
COUGH COUGH COUGH
"What's wrong, Don?"
"I just need a drink. I'm fine." he sputtered.
"Good, then shall we go see the puppies? You'll get to meet the mama dog too, she's so nice!"
Greg was thoughtful. "If we decide to help raise a guide dog, what happens next - for us, I mean?"
"From what I understand, we will be right back where we are now. We can either do it again, get a puppy of our own, or decide not to have a dog at all. Personally I don't think any of us would feel like having another one around for a long while."
He really is great!" exclaimed Greg, playing with one of the two puppies, while the rest of the family watched.
"I better do something." thought Don, also known as Belazarkin. He most certainly did not want a puppy.
Pretending to check out the loner puppy, he let it see his glowing eyes. It ran to its mother. And wasn't seen again by anyone for hours.
"Hey Greg, what about the other one? Have you seen it yet?"
"No, I'll have a look."
Don then quickly gave the more outgoing puppy the same treatment. He hid inside the couch, and refused to come out.
"Well, shall we vote now?" asked Dad.
"I want the one I found."
"I'm with Greg." said Don.
"I vote we wait a couple more years." was mom's decision.
"I vote we take the little outgoing fella, but if you guys are sure about this, I'm proud of you for doing such a good deed." said Dad.
Secretly he had hoped that by leaving the guide dog puppy at the vet, they would be more open to the other two. By presenting the boys with a chance to take home a puppy of their own immediately, he was almost positive that they would see it his way. What had gone wrong?
"Ok, we will pick him up Monday night. But Don, you will need to get permission from school first to take him with you every day. That's part of the agreement with the Foundation."
"I'll do it!!! It would be so cool to train a seeing eye dog!" exclaimed Greg, literally jumping up and down at the idea.
"Sorry, but I don't think that would be a good idea, Greg. This is going to be difficult enough next year. I know it seems a long ways off, but the year will fly by. This is going to be one of the hardest things you will do in your life. This is my final decision, either Don takes him during the day, or we don't do this."
After the longest weekend of Greg's life, Monday night his new best friend came home. And promptly snarled at the two boys waiting to greet the cute puppy.
This is a 100% power up post
Cover image Photo by Gustavo Fring from Pexels edited to add the title and border and puppy eyes using the Canva gallery
---
Posted via proofofbrain.io
---
---