The Legend of Witherston Castle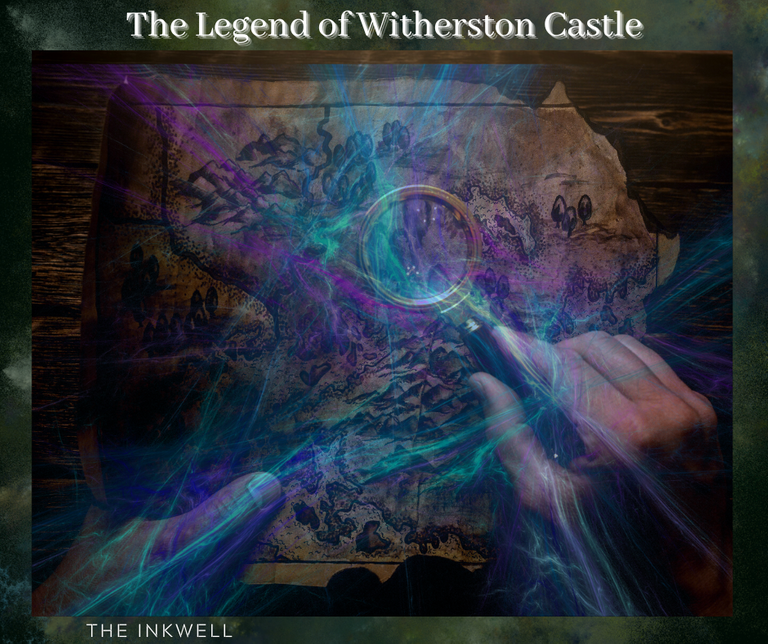 "Is there really a hidden treasure map in Witherston Castle, Jim?"
"Yes Mona, and a ghost protects it. If anyone finds it, the ghost hides it again before it can be memorized. At least that's what the brochure says."
Mona scrunched up her tiny nose. "Whose ghost is it? And that's assuming I believe it's real, and not just something they made up to get more tourists to book a room."
Jim grinned as he looked at the brochure. "Some say it's King Remon. But most seem to think it's his son, Prince Breska. And if you didn't believe, you never would have asked that question."
Mona giggled. "You know me too well, Dear."
He smiled without looking up. "I should, it'll be fifteen years in two weeks. And I knew this would be your idea of the perfect anniversary trip too."
She walked across the plush white carpet, and took the brochure from him. "You're excited about it too. Admit it, this is much more interesting than your dusty old history books."
Two weeks later, the couple sat on a huge feather bed, admiring the lush green countryside outside of their window.
Jim grinned. "This place is incredible."
"It is... but it doesn't have that mysterious feel to it," sighed Mona.
He chuckled. "Of course not. It's the middle of the day, and the sun's out."
Mona frowned, and rose. "I'm going down to the kitchen. I want some of that fresh goat's milk, and maybe a slice of homemade bread with wild raspberry preserves on it."
"I guess if you can't have spooky, traditional food is the next best thing. Enjoy your snack, Honey."
When she walked across the room, one of the large oak floorboards creaked.
Jim's mischievous smile betrayed his serious tone. "What if that loose floorboard was actually a hidden passageway?"
Mona flipped her sleek, shoulder-length hair. "Humph! If it were, every maid who ever swept this floor would know about it. Anyway, everyone knows that these castles have their secret passageways in the walls."
After she left, he dug into his suitcase, and pulled out a flashlight.
"Maybe it's not a secret passageway, but it sure is a great place to hide something. And Mona's right, it can't have been loose for very long without someone getting curious."
He pulled on the board as hard as he could, and shone the light in. "It's too dark to tell."
Jim went out to the car, and got the crowbar out of the trunk. "I better take the toolbox too, I'll need to fix it," he thought guiltily.
"Interesting... I can't pry this out, even though it's obviously loose."
He carefully kept trying, from various angles. It wouldn't give any more than it had simply by moving it by stepping on it.
Once he was where it met the wall, he slid the crowbar into the crack. Before Jim could apply pressure, the board slowly began to tilt on large, ancient metal hinges.
He looked down into the depression under the floor, eyes wide. "Wow... a hidden staircase under the floorboard, leading into the wall? I've never heard of them being built like that!"
"I hope Mona is back soon. She's going to love this!" Jim waited a few more minutes, but couldn't contain his curiosity. "I guess it wouldn't hurt to check it out. I won't go far, I'll be back before she finishes eating."
Shining his light ahead, he descended down the rough hewn stone steps, into the thick castle wall. Walking down, it almost felt as if he were going under the floor instead of inside the wall.
After what seemed like an eternity, the stairway opened into a small room. On the far side was a small square cubby carved into the wall.
"I don't believe it! That must be the map..."
He picked it up, and it fell apart. Instead of disintegrating into dust, it became a mist. That mist slowly grew and took the shape of a young man.
Jim took a step back, but remained calm. "I'm sorry if I disturbed you."
The semitransparent figure smiled sadly. "You didn't. This place is so boring. Without people, I don't know what I'd do!"
"Oh. Is there anything I can do to help?" asked Jim.
The figure shook its head, causing some of the mist to temporarily drift away. "Just your being here helps. I can't leave, there's nothing anyone can do to help me move on."
"Why can't you move on?"
He gestured towards his misty body. "I've been cursed to guard this stupid treasure map!"
"Are you Prince Breska?"
"Me? No, I was his servant. My name is Frisco. When he became ill, he hid some of his favorite things and made a map. He had Filazon, his sorcerer, make the map indestructible. Then Filazon linked the map and I together."
Jim gasped. "You mean you're still alive?"
Frisco shook his head sadly. "Prince Breska hid the map in the dungeon's torture chamber. When it flooded, that didn't work out so well for me..."
Jim's face paled. "I'll try to figure out something. But I need to get back to the room now."
Frisco nodded. "Nobody ever stays here more than a few days, except for the staff. And they're all either too scared to talk to me, or only interested in getting the treasure."
Jim began the long climb, with Frisco floating easily ahead of him. "Have you thought about giving it to the new owner? That might break the curse..."
A panicked tone entered his voice. "The last time I tried that, I wasn't able to take my human form for decades. Try sitting somewhere, unable to see or hear, and not being sure you'll ever do so again. It's torment."
Jim nodded, a pained look on his face. "Will I see you again? I'm sure I can think of something."
"I see you're almost back to your room. This is as far as I can go. If you want to see me again, just use the secret passageway. I'll leave it in this room until you check out."
When Jim poked his head up into the room, he saw Mona staring at the large gap in the floor. As he crawled out, her eyes widened, and she sat down on the bed.
He blinked rapidly to adjust to the bright light. "You were right! The passageway was in the wall. And I met the ghost too."
"There's no such thing as a ghost."
He chuckled.
Realizing what she'd just said, she blushed. "That's not fair! I came here hoping to see a ghost, and you end up meeting one."
"Come on down then. Maybe you'll have an idea on how to help him."
The color drained from her face. "A real ghost?"
He grinned from ear to ear. "Yeah. He seems like a cool guy."
Reluctantly she crawled into the hole. When the mist formed into the shape of a person, she almost bolted. Fortunately for Jim, she calmed down before she trampled him.
"So you were cursed to guard the treasure?" Mona asked, after he finished his story.
He nodded.
She scratched her head. "Then maybe we should try to put it where nobody can ever find it," she suggested.
"I don't think I can give you any hints where it is... But maybe I can move it myself. It's worth a try. Goodbye and thank you, in case this works and I can't come back."
After they said their goodbyes, the couple returned to their room.
That night Frisco visited the little apple grove in the courtyard, turning into mist and checking the small metal box hidden under the roots of the biggest tree.
It took all of his strength to move the soft earth. After he finished, he took the box inside the castle wall. Then he created a new passageway, and deposited the box in a corner. Afterwards, he dissolved the passageway.
"I feel different..." Frisco thought, as he turned a glowing golden color. Then he smiled broadly as he saw a bright light in the distance.
The next morning, Jim shielded his eyes from the bright sun streaming into the room. "Good morning, Mona. How did you sleep?"
She turned over. "Not well at all, I want to go exploring again. That was scary at first, but now I can't wait."
"Well let's see what else is in the passageway," suggested Jim.
She got up and grabbed the crowbar. Ignoring the fact that neither of them had enjoyed so much as a single cup of coffee, she tried to get the board to move.
Mona frowned. "It's gone."
"Impossible. Frisco said he'd leave it there for us," he reminded his wife.
She handed him the crowbar, and stood aside.
After a full two minutes, he stood. "You're right, it's gone... I think maybe Frisco broke the curse, and the passageway disappeared with him!"
---
---
Cover image made in Canva Pro using their gallery and my original fractal artwork
---
---