Spirit // Mind // Heart - At War
Why so quiet?
Why so calm?
Why so boring?
Why was it this, why was it that?
Why isn't it like this, why isn't it like that?
Why should it be or why shouldn't it be?
I could literally feel my own spirit screaming so loud.
I could hear my mind laying a mountain of complaints, and my heart about what it doesn't like, what it can't deal with, cope with, or tolerate.
What needs to be adjusted, overlooked, condoned, or accommodated?
But in some way, it has been bothered, worried, confused, and devastated too.
When will this whole drama come to an end?
When will they be at peace with one another again?
If the spirit, mind, and heart cannot relate, decide, and agree on something, if they can't complement one another and try to work things out, how then would the right thing to be done be known?
How will further decisions be made if they aren't in agreement with themselves?
---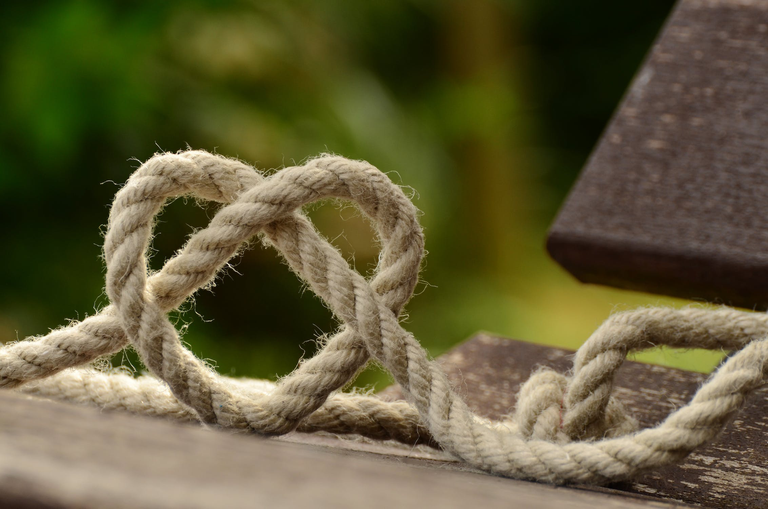 ---
I hate to think this way, I hate to reason this way even more.
But I think I am fed up with everything, the circumstances surrounding me, and even more annoyed that I can't even complain or do a thing about it.
It's hard to stay calm in a situation like mine, I've always been the one to not care about a thing, to always walk away in a room filled with things that don't sit well with me or people that feel entitled or something.
I walk away really fast from situations that might come to wear me down or bring me to my knees without mercy.
This way I am not easily affected and appear stronger than my peers because things don't easier get for me.
But now I don't even know if the story is the same and I hate it.
I hate the fact that I can't even tell exactly what to do at this point.
I wanna air my mind and then walk away, but I wanna thread carefully too and it kills me to be caught up in such a dilemma.
I can't even say what's wrong cause, to be frank, I don't have the full details, I just know something isn't right with the way I am feeling and I hate it.
And I can't help but rant about it, so I am so sorry if this finds you.
---
---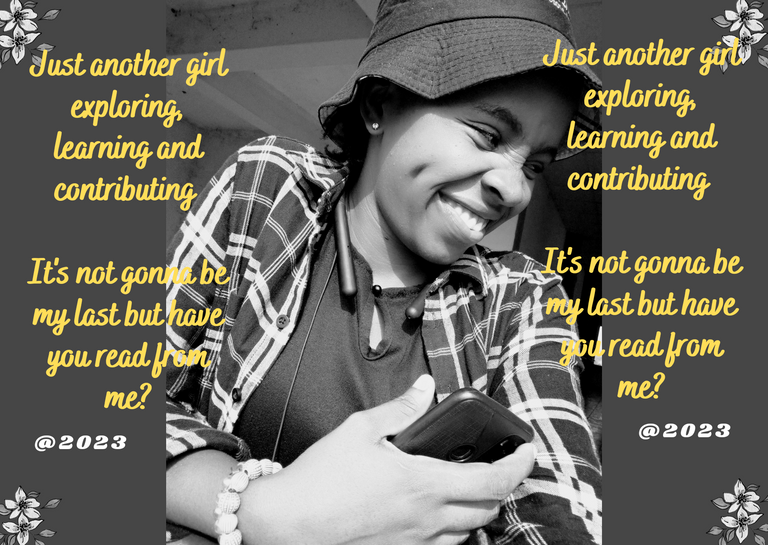 ---
---
𝐀𝐮𝐭𝐡𝐨𝐫
~ 𝐈 𝐚𝐦 𝐖𝐚𝐤𝐲! 𝐀 𝐦𝐮𝐥𝐭𝐢-𝐭𝐚𝐥𝐞𝐧𝐭𝐞𝐝 𝐚𝐧𝐝 𝐨𝐩𝐭𝐢𝐦𝐢𝐬𝐭𝐢𝐜 𝐲𝐨𝐮𝐧𝐠 𝐠𝐢𝐫𝐥 𝐰𝐡𝐨 𝐢𝐬 𝐳𝐞𝐚𝐥𝐨𝐮𝐬 𝐚𝐛𝐨𝐮𝐭 𝐥𝐢𝐟𝐞 𝐚𝐧𝐝 𝐞𝐯𝐞𝐫𝐲𝐭𝐡𝐢𝐧𝐠 𝐢𝐭 𝐡𝐚𝐬 𝐭𝐨 𝐞𝐢𝐭𝐡𝐞𝐫 𝐨𝐟𝐟𝐞𝐫 𝐡𝐞𝐫 𝐨𝐫 𝐭𝐡𝐫𝐨𝐰 𝐚𝐭 𝐡𝐞𝐫. 𝐀 𝐠𝐢𝐫𝐥 𝐰𝐡𝐨 𝐢𝐬 𝐢𝐧𝐭𝐞𝐧𝐭𝐢𝐨𝐧𝐚𝐥 𝐚𝐛𝐨𝐮𝐭 𝐬𝐞𝐥𝐟-𝐠𝐫𝐨𝐰𝐭𝐡 𝐮𝐧𝐝𝐞𝐫 𝐚𝐥𝐥 𝐨𝐝𝐝𝐬.
𝐈 𝐛𝐞𝐥𝐢𝐞𝐯𝐞 𝐦𝐲 𝐞𝐱𝐢𝐬𝐭𝐞𝐧𝐜𝐞 𝐢𝐬 𝐬𝐨𝐥𝐞𝐥𝐲 𝐛𝐲 𝐠𝐫𝐚𝐜𝐞 𝐚𝐧𝐝 𝐬𝐨 𝐈 𝐚𝐦 𝐚 𝐩𝐫𝐨𝐝𝐮𝐜𝐭 𝐨𝐟 𝐠𝐫𝐚𝐜𝐞, 𝐩𝐞𝐫𝐟𝐞𝐜𝐭𝐥𝐲 𝐩𝐨𝐫𝐭𝐫𝐚𝐲𝐢𝐧𝐠 𝐦𝐲 𝐛𝐢𝐫𝐭𝐡 𝐧𝐚𝐦𝐞 "𝐀𝐛𝐮𝐧𝐝𝐚𝐧𝐭 𝐆𝐫𝐚𝐜𝐞".
𝐈 𝐚𝐦 𝐭𝐡𝐞 𝐥𝐚𝐬𝐭 𝐨𝐟 𝐦𝐲 𝐤𝐢𝐧𝐝 𝐛𝐞𝐜𝐚𝐮𝐬𝐞 𝐈 𝐚𝐦 𝐮𝐧𝐢𝐪𝐮𝐞 𝐚𝐧𝐝 𝐬𝐩𝐞𝐜𝐢𝐚𝐥 𝐢𝐧 𝐚 𝐝𝐲𝐧𝐚𝐦𝐢𝐜 𝐰𝐚𝐲
𝐇𝐈𝐕𝐄 𝐡𝐚𝐬 𝐛𝐞𝐜𝐨𝐦𝐞 𝐦𝐲 𝐬𝐨𝐜𝐢𝐚𝐥 𝐇𝐎𝐌𝐄 𝐚𝐧𝐝 𝐒𝐏𝐀𝐂𝐄 ~
             21 September 2023
                   @
                Thursday
---
---