A Jaunt to Orsu Waterfall🌊🌊

We had planned this journey and been anticipating it for a while, and the day finally came - everyone was elated. At first the weather looked like it was going to cause us to cancel because there was a huge storm the very morning of. But after an hour or two, it fizzled out and we embarked on the journey.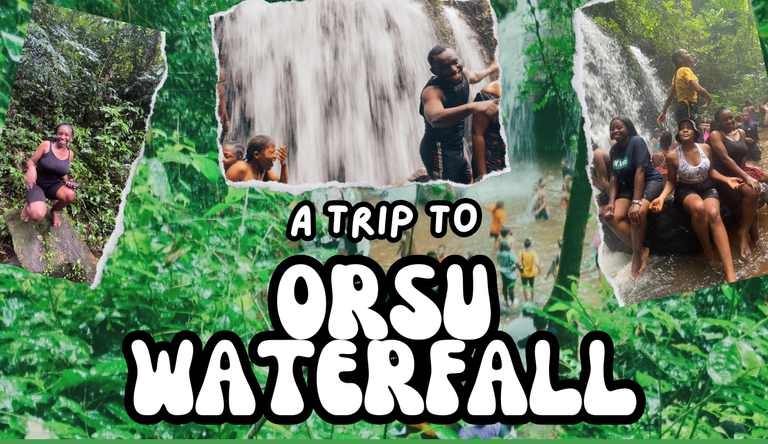 Designed Using Canva
---
Source
(Kindly click the link above to watch a short montage of the trip, an error occurred in uploading - My apologies and thank you)
It was a fun and eventful journey that lasted a little over four hours. At some point it felt like we were travelling interstate but we finally made it 🤗.
The waterfall is located in a closed off faraway village named Awgu, in Enugu state. The people of Awgu, at least the ones we encountered on our way, seemed like lovely, peaceful and cultured people. The waterfall is the one source of tourism for them and they chose to leave it as it is and make it open to strangers and outsiders.
Our bus pulled into what looked like a field surrounded by two minute buildings and some bamboo sheds. I wish I got a shot of it. I met up some of my peers and then we began the journey to the entrance of the waterfall. I say "the journey" because the path to the waterfall felt like a separate hiking event on its own 😅.
The place was extremely bushy; it had grasses poking out at you from every angle. Ingrained on the ground amidst all that grass was a tiny trail where we lined up in order to pass.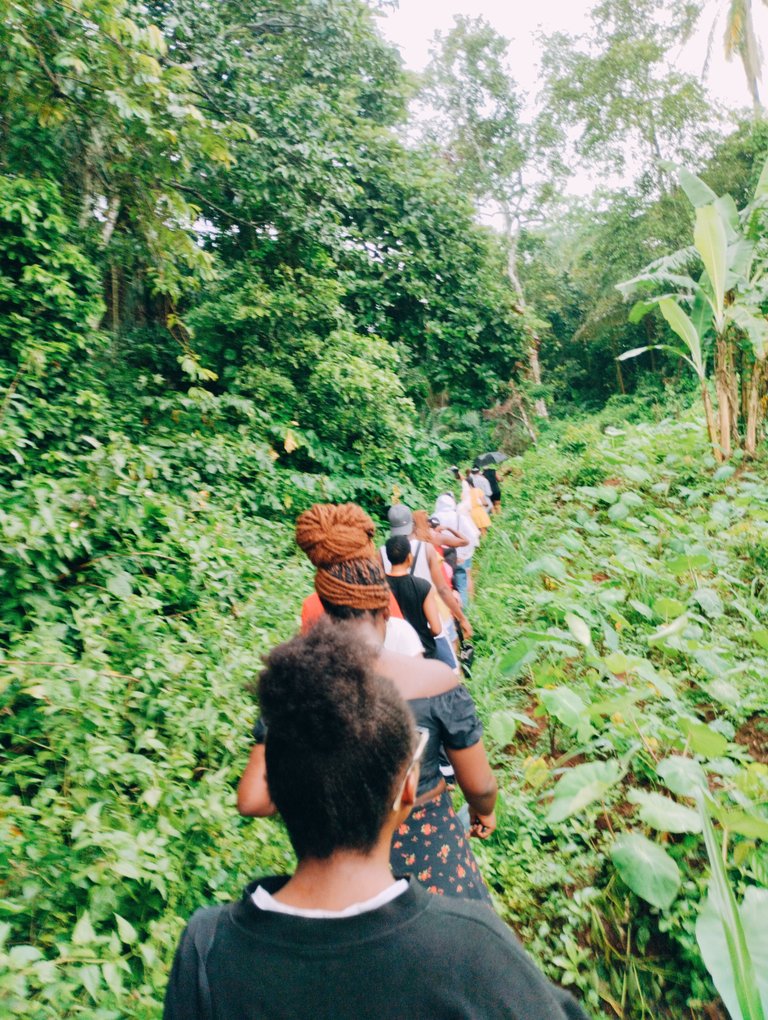 After ten minutes of light hiking, we could finally hear the glorious sound of speedy flowing water hitting rocks. We also made out voices of people laughing and even some music playing in the background.
The entrance was so inconspicuous, if you didn't focus, you would miss it because it blended in with the rest of the greenery. We proceeded to walk into the front of it.
There was a little hidden area where I and my friends went to change into more appropriate clothes. After changing we entered the water. As you can see it was filled with rocks; and it was super chilly. We took some pictures sitting on the rocks and made some videos.
| | |
| --- | --- |
| Me🤗 | Friends |
The event was a very enjoyable one as we had fun, played some water games, drank, there was even an MC to man the occasion.
It was hands down one of the best memories I made this year. At some point I went to stand directly under the flowing water and it was absolutely amazing... and chiling to the bone😅.
We had some minor issues locating the place but apart from that I'd say the journey and experience were a blast.
---
Thanks for reading🤗❤️🌹
[//]:# (!pinmapple 6.47685 lat 7.53115 long Orsu Waterfall enugu d3scr)
---
---