The Encounter in the Woods - Woods Man (Continue The Story Contest by @erh.germany)

The Encounter in the Woods
by @erh.germany
On the fifth day of their trek in the forests of Upper Italy, the boys finally reached their campsite. Immediately throwing down their heavy shoulder luggage.
Neigel wiped the sweat from his brow with a blue-red-white striped scout cloth, as he had done countless times before, so that by now the cloth was worn and faded, a sign of his challenges. Just like his once dark blue shirt and the shirts of the other boys had long since seen better days, but that was how it was supposed to be.
Walter tossed him his sleeping roll, which Neigel quickly caught and then threw himself with it onto the soft forest soil. The others came panting after them and, exhausted but happy, after some banter about who should look for the firewood, they began to set up their place. The heavy fabric pods for their spacious tent were hoisted onto the appropriate brackets, Mark and Vincent, the other scouts, doing so in routine fashion.
"Soon it will be your baptism!", Neigel called out to Vincent, the youngster, and everyone laughed in joyful and comradely anticipation, as Vincent was the only one who had not yet received his name. Neigel, who had been christened "Surfboard", had to endure his baptism in the form of remoulade and mustard in his hair and had been given things to eat that he would never have eaten in his life had it not been part of the ritual.
"Eh really, guys, don't mess with me!", Vincent replied, but of course knew full well it would come to exactly that. Earning the name was a mixture of fun and seriousness. Oddly enough, at home, one failed to pull off this form of character wisdom and slyness. But even though Vincent anticipated his initiation, he also was a bit hesitant.
There were only four of them who had hiked up to the hill this time and they would meet the rest of the group again in a few days. Surfboard, as the oldest and in charge of the small flock, turned to his comrades as they sat around the cosy crackling fire and hungrily gobbled down their dinner, the obligatory tinned ravioli and Vienna sausages. Still chewing, he said, "Tomorrow two of us are going down to the next village. We urgently need new provisions. Who volunteers?"
Walter, who was called "Ram", was the first to speak up: "Me in any case, I have to shit so badly, no one will believe me!"
"And may the Ram have some flowered toilet paper?" interjected Mark, aka "Please", who couldn't understand how anyone could crave sanitary facilities when the whole point of their venture was precisely to escape from pleasant civilisation. "Say, can't you do your business among the trees like any normal pathfinder, are you a real woodsman or a sissy from the city?"
"Shut up, Please! You don't know how it tears your guts apart if you can't poop!"
Vincent was holding his girth in laughter because Surfboard had pulled his trousers halfway down, pretending to press and then giving up exhausted. With his shorts still down, Surfboard dropped to one side and shouted, "Done, good old battering Ram, you shall have the pleasure of an enamelled toilet bowl again! I'm guessing that Please doesn't want to join, so Vincent and you are going to the village together."
"Next time I'll stay at the camp, I promise," Vincent, still chuckling, got immediately excited by the prospect that he would probably meet girls in the village.
Girls, after all. They had it better on their hiking trips anyway. Once, a group of eight had managed to stay at a local's place, a farmer had opened a barn for them and on another occasion, according to Vincent, a teacher had even invited them to spend the night at his house, including dinner.
"Hellooh, good evening, kind sir, I'm a girl, tinkle, tinkle. Can't you let us in, we're starving and dying of thirst here in the wicked hard world," Please mimicked what he meant by girlishness. "
Remember when we were chased away by that crazy guy who set his dog on us?"
"Shoosh, yeah, that's right, or when we got lost in the bog and came out at a wind turbine where the workers looked at us like aliens?"
So the evening passed in cheerful chit-chat and during night they slept peacefully.
The next morning, Vincent and Ram having already set off down into the valley more than two hours ago, Please and Surfboard spent their morning in relaxed silence.
Surfboard, who was cutting a stick for a piece of grilled meat and whistling a tune, was interrupted by his friend: "Shht! Listen, do you hear something? That can't possibly be the boys."
Surfboard put down his carving and both looked in the direction from which they heard sounds. From the undergrowth they saw a figure coming in their direction. It waved at them from a distance.
In approaching them, they realized a man, already a bit aged, conspicuous about him was his rather run-down appearance, but in another way he seemed even elegant, with a hat on the already gray curls protruding under it and dressed with a walking stick. "Good day, buona giornata, young gentlemen!" he called to them. Eyes shining bright.
---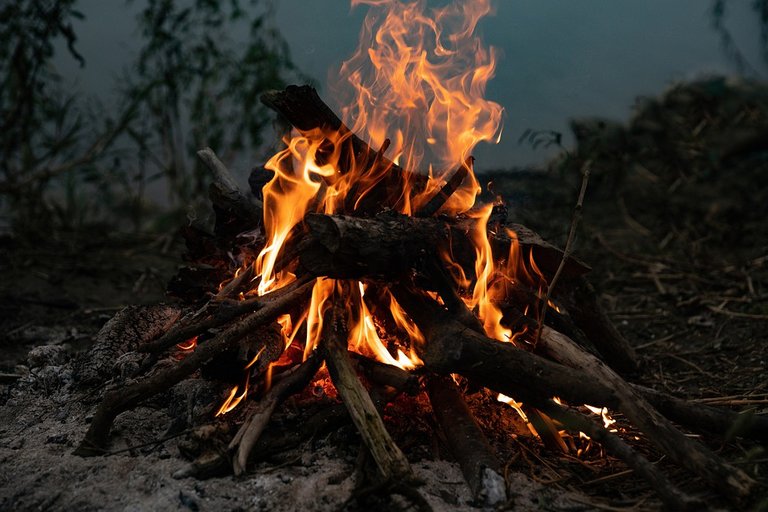 Pixabay
---
Woods Man
Despite feeling a little nervous, Neigel began slowly approaching the conspicuous man who was walking towards their campsite.
Mark was also feeling some anxiety and grabbed Neigel's arm, quietly exclaiming:
"Surfboard wait... Do you have your entrenching tool, pocket knife.. Some protection of some sort?"
Neigel chuckled a little.
"Relax Please, he looks a little strange from off in the distance, but I'm sure he's just camping out here and wants to say hello. I got this."
As the man started closing the gap between them, Neigel noticed he was covered in all sorts of animal pelts.
Neigel began feeling a bit more nervous but didn't want his discomfort to be obvious to the odd man approaching.
The hat the man was wearing seemed modern, something fashioned in the past ten years perhaps, and a bit weathered, but the walking stick was nothing more than a large vine like branch that had been intricately carved with different patterns and symbols.
The animal pelts were of course the most shocking to Neigel.
Neigel looked back at Mark, witnessing a look of sheer horror in his eyes, and said calmly:
"Don't worry Mark, it will be ok."
The man approaching sensed their fear in the way that comes natural to a fifty five year old approaching a couple of teenagers, and spoke in a calm and maturely confident manner.
"Hello young men, I'm currently foraging in this area for a bite to eat, no need to be alarmed. May I rest my legs for a moment and sit with you?"
Neigel, feeling a bit less nervous by the man's deep and calming voice said:
"Yes sir, you are welcome to sit with us and rest your legs. Our other two comrades will be returning shortly. They are out getting some... uh... foraging too.."
The man smiled and knew right away that Neigel was in charge of his fellow scouts and felt a pang of childhood nostalgia with how Surfboard was trying to emulate his way of speaking.
"Thank you young man, are you in charge of this expedition out here with your friends?"
"Yes sir! I've been a scout for two years now and finally get to teach my comrades how to survive in the wilderness without the assistance of our scoutmasters. It's a big responsibility and I'm up for the challenge!"
The man smiled with a nod, and began to sit down slowly on a large log the boys had placed by the campfire site.
Once seated, he started unfastening his large pelt coat, laden with large buttons made of bone, presumably the antlers of a deer or elk. It appeared as though this large coat was sewn with some thick hemp like strand, which connected pelts to an inside layer of thinner hide. For as rudimentary as it was, it was well made, and went all the way down past his knees.
Once removed, his underclothing was two layers of cotton fiber based undershirts, white that looked mostly greyish brown from years of weathered use, and his pants were modern looking black jean fabric, and also worn down roughly.
His boots were a strange looking concoction of more furry pelts that encapsulated what looked like regular boots. It was hard to know for sure, but they looked tough and he left them on.
He reached into an inside pocket of the coat, and pulled out a corncob looking pipe, already stuffed with some tobacco, and a bag containing a ridiculous amount of matches.
Neigel and Mark no longer felt any nervousness at all, and were intently watching his methodical like movements as he performed his undressing and smoking ritual. It was rather unusual and pleasantly relaxing to watch for them.
After a few minutes of the three of them sitting there in silence, Neigel felt the need to break the silence.
"uhh, scuse me sir.. I hope you won't be offended if I ask, how come you're wearing a bunch of animal pelts, and uh.. I feel like it would be appropriate to introduce ourselves. My name is Neigel, they call me Surfboard, and this is my buddy Mark, who goes by Please."
The man realized how awkward this was for the boys, and realized introductions were not a bad idea anyway.
"Pleased to meet you Surfboard and Please. I go by the name Woods Man."
Neigel and Mark just gave a little nod..
"Yes about the pelts.. Well you see, I've lived in these woods for thirty years now, and it's been necessary for me to keep myself warm during the night and winter months. The clothing that I wear underneath is not enough to protect me from the elements."
He didn't explain how he made the coat and fur covered shoes, but it seemed obvious enough that he had to hunt for these animals over time and slowly create this magnificent display of furry warmth.
Both Neigel and Mark hadn't a clue what to think or say.. and Neigel just responded with "Wow.."
As if things couldn't get any stranger, the man let out a yawn, looked down at his pelt coat, and then just plopped down on it and started snoring within two minutes.
Neigel and Mark exchanged looks and then Neigel just shrugged his shoulders and they both just sat there in silence watching this strange man sleep and snore rather loudly for a woodsman named Woods Man.
Two hours had passed when Walter and Vincent were seen in the distance returning from their trip to collect provisions.
Neigel immediately started walking towards them to alert them of the man so they wouldn't be scared to death and cause a scene.
Woods Man stirred and started waking up at this point and Neigel had already closed the gap on his friends.
As he was explaining the situation, he heard Walter's guts start audibly rumbling.
"Are you freakin' kidding me Ram! I thought you would have emptied your guts back in the sissy boys bathroom already!"
"Shut up Surfboard, it's these damn Vienna sausages backing me up!"
"Yeah right, you are just a sissy who's afraid of a big woodsman, don't lie.."
They all sat down and when formalities were done, Woods Man said "Ok boys, I should probably get moving along now."
The youngest in the bunch Vincent, seemed the most curious at this point.
"Mr. Woods Man, if you don't mind me asking.. How come you live in the woods like this?"
Woods Man gave a little chuckle.
"Well young lad, it's quite a story.. but I'm happy to stay for a few more minutes and tell you all about it."
As if by instinct, the boys started cracking out snacks to prepare for story time. Walter of course eating nothing but his favorite Vienna sausages. Surfboard asked Woods Man if he would like a portion of their snacks to share before embarking on his foraging for the rest of the day.
Woods Man just looked down at Walter already scarfing down Vienna sausages for a brief moment and said, "No thanks young man, but I very much appreciate the kind offer."
Woodsman began telling the story of how he ended up in the woods and decided to stay.
"I was an intern in college for quantum physics when I was barely older then you fine young men, and my professor turned out to be a very wealthy man who invited me on a trip to sit in with one of his seminars here in Italy."
"Our trip didn't happen, as his privately owned jet crashed down in the very woods where we sit. He was well adept to the ways of the woods, and despite being a wealthy man, he understood very well the meaning of life. I did not have such an insight, and money ruled every aspect of my thinking."
"He offered me a lucrative sum of twenty dollars for my two books of matches, in which he used to start fires with a bag of one hundred thousand dollars worth of one dollar bills for kindling."
"He was the one who hunted for all of the meals we ate, and he charged me a small fee for every meal."
"He was giving me an opportunity to learn how to survive, which I overlooked greatly."
"When my twenty dollars had expired, and I had not asked him how he was able to obtain our meals, he simply told me that I failed, and was no longer welcome on his camp site, and if he saw me again, he would consider me an intruder and take my life."
"I knew he was not joking a single bit, and without question I got away from this man and nearly died in the woods afterwards."
"I hadn't the slightest clue how to hunt, fish, what kinds of plants I could eat, nothing.. All I could think about was how my entire life was a lie.. as I starved."
"Once I could no longer bear the hunger, I started eating leaves and grass and whatever I knew was not likely to kill me. I started thinking of ways to make traps, to make spears, to hunt for wild game in any manner I could."
"The first year was the hardest, at times I was so weak I could barely muster the energy to crawl on my belly and eat grass, but I somehow pulled through."
"When I had become proficient at providing for myself in the woods, I never wanted to go back to society ever again. I've met other young scouts like yourself, and the scoutmasters all know I am here. From time to time they bring me some clothing and light provisions like these matches, tobacco, undergarments, and this nicely tailored hat that I'm wearing. I always try to keep a lot of matches after what happened."
"My experience was a gift, because it showed me the true meaning of life, what matters and what doesn't matter."
"You boys are all attentive, and I appreciate that, because I can see you are all kind hearted and have a bright future ahead. I hope you have learned something today on your expedition, something which may give you insight and wisdom through your journey in life."
"I very much enjoyed sitting and speaking with all of you, thank you for allowing me to rest my legs briefly at your camp site. I must be off now, best wishes to all of you, and may your future be a good one."
Mark, who had been the quietest during all of this was tearing up and having a difficult time holding his emotions in. The rest of the boys sat with knots in their throats for a moment, and Neigel gratuitously gave Woods Man a nod and broke the momentary silence.
"Thank you for sharing your story Mr. Woods Man, we really enjoyed our time with you."
He reached out and shook Woods Man's calloused hand, and Woods Man gave him a wink with his glimmering blue eyes, turned and faded off into the wilderness.
The End
---
Thank you @erh.germany for this cool contest. I loved this storyline that you provided, and felt that you left perfect spots open for storyline expansion. It was masterful in how you crafted it, and I decided to take a story that I wrote on Jan 16, 2019 and meld it into the new story as an expansion, 30 years into the future of Woods Man. What did you think of this twist I added? I can't wait to read your thoughts!
PS. Apologies for going a bit over the recommended amount of words in the rules, I have a difficult time making stories short, but I did my best to keep it on the shorter side :D
@wrestlingdesires as per your request, dropping a tag for you to read this :) also my friends @owasco, @carolkean, and @jerrytsuseer. Also the other tags from @erh.germany's original post, if you would like to have a read @itsostylish, @litguru, @samsmith1971, @kemmyb, @deeanndmathews, @oivas, @gwilberiol. Also feel free to drop your post links in the comments if you would like to share your story with me. I plan to click on all of your blogs anyway, and me dropping the tags here is a bit of a reminder for myself. Anyone else who participated, please feel free to drop me links so I can visit and read your story continuations!
Thank you to any and all who read my continuation of The Encounter in the Woods. I brainstormed this story for about three days and then began writing about 24 hours ago, slept, and finished it up with all the appropriate edits before posting today.
This concludes the Woods Man (Continue The Story Contest by @erh.germany) continuation story.
I appreciate all the great comments and support. Your time is a valuable commodity, and I always keep this in mind and do my best to respond to everyone.
Have a great day! -@futuremind
---
---