Tanduay Memories - Escalante City, courtesy of Google Street View

Before I start. All photos in this post are taken from Google Street View for reasons you'll shortly read about and as such, I respect the holder's copyright if there is any, but I am going to use them anyway as I absolutely disagree with anyone 'owning' an image taken in a public place. The point is. I am NOT claiming to have taken any of the photos with which I use to illustrate this post. Other photo sources will be given at the end of the post.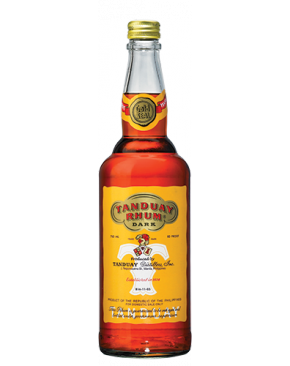 )
During the first ten years of this century when I was travelling a lot, I rarely carried a camera. There were a couple of reasons for this; I had an insane idea that I would be able to remember everything with total clarity well into my old age when my travelling days were over and secondly because I've always been uncomfortable photographing people, especially as I was rarely on a glossy tourist trail.
In retrospect, despite my slight current sadness at the realisation that I can't remember everything, I balance this with the fact that I was lucky enough to be allowed to share people's live, albeit for a short time without anyone seeing me as a fancy foreigner (hopefully!) or ever being able to accuse me of being into 'poverty porn'. I'd hope that my interest in people and their massively different lives to my own was seen as the genuine interest and necessity to learn about others that it truly was.
Having people pose outside their tumbledown shack in a downtown Pasay City shanty or a tiny, one-room, breeze block 'farm house' in rural Laos so I could take pictures on a camera that cost the equivalent of three months salary to them always felt such a vulgar thing to do and served no purpose other than to provide me with a pictorial reference. The payoff for me was always the experience, the incredible and genuine people I met and the friendship I was shown. My gratitude for such experiences is limitless.
Reading today, the coffee shop culture and daily lives of the many Filipinos on Hive, I often sadly don't feel much of a connection. It's most certainly not what I experienced and feels totally removed from the times I do remember, other than the few days I'd spend in downtown Makati, but these posts do trigger memories of the country itself and have me scrabbling for the few photos I did take and attempting to patch together some ever more distant memories into a coherent narrative.
I was giving this some thought and remembered Google Street View. Did they have my memories stashed away on their servers? They have all my other personal data, and so the first place I zoomed off to was Escalante City, a small town on the North-East coast of Negros Occidental, a province which in turn is a part of Negros Island, the fourth largest island in the Philippines.
I decided to try and reconstruct the trip by following Street-view to the places I passed through and visited, would I recognise anything or would everything look alien and new? I can see the pictures in my mind but would they correspond with the Street-view images?
Happily surprised would be an understatement!
So here is a brief outline of the trip, the details aren't important, it's more a proof of methodology with which I wanted to demonstrate to myself, that I could put some sparkle and clarity back into my memories by illustrating them with photos courtesy of Google!
Visiting Escalante hadn't been a plan, it had been a late-night phone call and a request from a friend to help someone get back to their hometown and family that had got me booking last minute tickets on the now-defunct Zest Air to Bacolod, the largest city on the island. I'd only four days left of my trip before departing for a couple of nights in Hong Kong from where I'd catch a flight back to the UK and had been expecting to glam it up a little in the bright lights of Manila but hey, an extra mini-adventure wasn't going to go amiss and so it came to pass that I found myself in Escalante City after an hours flight, thirty minutes tricycle ride and a six-hour bus ride with someone I'd only met a few hours previously!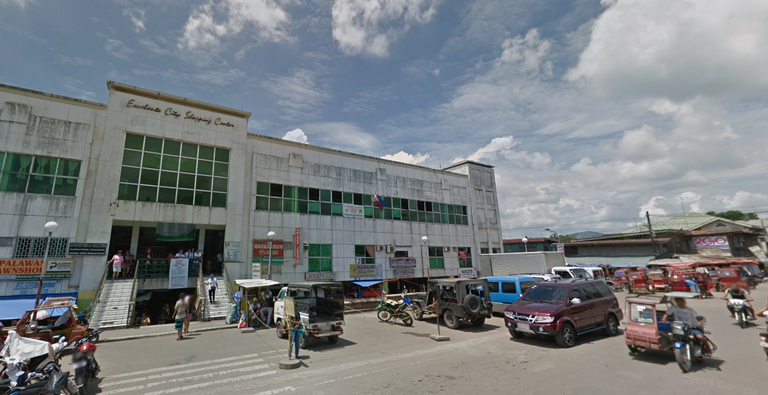 The rather grandly entitled 'Escalante City Shopping Mall' was simply an indoor market!
My memories of the bus ride to Escalante are a little sketchy and at some point, I will slowly click the whole journey by following the map but what I do remember are a huge number of lorries carrying sugar cane and the sugar cane plantations themselves that seemed to stretch in every direction to every horizon.
I also recall, steam trains. Seriously. I was tired and hadn't been drinking but there were American style steam locomotives in almost every public park in every small town we passed through. What makes this even more strange is that there are no railways there. This memory will need further research for no reason other than to reinforce my sanity. The bus was yellow, I do remember that, and we passed through the most beautiful little town which had a long row of brightly painted buildings in a Spanish colonial style.
But the journey wasn't quite over. After the bus dropped us outside the Escalante City Shopping Centre late in the afternoon, my backpack and my travelling companions brightly coloured plastic sack were thrown onto the top of a tricycle and we had one final 4 km trek to a tiny settlement that was hidden in the midst of a huge sugar cane plantation in the middle of nowhere.
Not even Google could help me out with this for despite remembering and seeing the track we turned onto from the main road on Google maps, it appears to be a road too far for the Google street cars!
Strings of tiny 2 peso sachets of washing powder and softener and huge plastic bags of Skyflakes hung from a grill over a dimly lit window that was shielded with a raised wooden shutter. A sun-worn 'Load Na Dito' sign was strung above.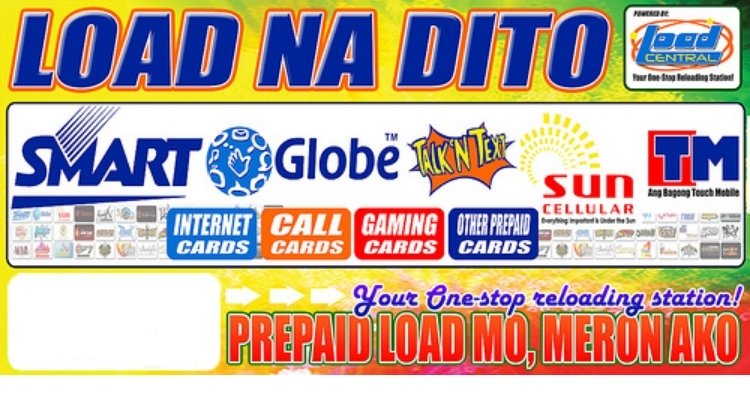 My new friend's parents also ran the local sari-sari store! (Sari-sari stores are little general stores. In Thailand we would call them mom and pop stores). Darkness was falling and the gloom was punctuated by flickering candles as it appeared we were in the middle of yet another brownout! (Brownout in the Philippines refers to a temporary power cut of which, depending upon your location, there are many!).
The house was little more than a single-storey, breeze (cinder) block building with a corrugated iron roof. Inside, it was an open plan with a small, separate bathroom and curtains to divide the living and kitchen space with the sleeping space.
I hung back as the homecoming celebrations of hugs and tears flowed and I felt an outsider's mix of embarrassment and honour to witness this beautiful moment between people I didn't know, a foreigner thrown into a part of their personal history by a series of chance encounters.
The electricity came back on and the candles were blown out and like a divine sign, dad disappeared for a moment before coming over to me with a bottle in his hand and signalled to an old deckchair, I chose the pile of blocks next to the chair and sat down as he looked at me inquisitively and I smiled and invited him to take the chair.
It was now pitch dark, with only a few house lights to brighten the scene until the barbecue was fired up, and as the ladies of the house brought out an endless supply of food from heaven knows where, the flickering flames created shadows on the walls, highlighting the geckos who were also feasting on the plethora of bugs, attracted by the lights.
Looking around, there was nothing to see. The moon cast a little light but the surrounding sugarcanes blocked out everything and it felt like we were living in a tiny microcosm and the outside world was an alien place where other people live.
But the stars! I swear I could see the far side of the universe.
More folks had magically appeared from out of the gloom and sugar-canes and the night had turned into a full-blown party. A karaoke machine had been fired up and one bottle was replaced with another and then another and then the home-brewed, sugarcane-based meths came out.
Grandad was pissed and fell asleep propped up against the wall of the house and anyone still standing was singing and dancing whilst dad and I clutched our glasses which were becoming ever more difficult to keep level and full.
Then the leccy went off again...
I have no idea what time it was other than it was a cue for the evening of happiness to end and I'd completely forgotten I had no idea where I would be staying until I was ushered inside and directed to a rattan mat on the floor and a thin sheet. Using my little pack as a pillow, I barely had time to process the unexpected events of the day and with palms of my hands placed firmly flat to the floor to stop it from swaying, I was away with the fairies in record time!
It was hot and very light when I awoke, the only one left in the middle of the floor on my mat and the house's only fan. Embarrassed, I sat up as I realised that everyone else in the house (I have no idea how many people lived there or who they all were, it seemed to be in a constant state of human flux!) had been up for hours. Much like I've learned about most rural areas of Asia, sleeping and waking hours directly correlate with the hours of light and dark.
A lady thrust a chipped cup of coffee into my hands and smiled and spoke, but not knowing the language, I just smiled back and muttered, "salamat po", before hurriedly rushing for the bathroom. No idea what I'd eaten or how much Tanduay I'd drunk but it didn't taste as good coming up as it did going down! All I know is I emptier the bin as I scooped jug after jug of into the bowl to make sure all the remnants had swirled away.
My travelling companion did speak English and I thanked her for her family's hospitality and asked for help to find a hotel in town for a couple of nights. I do like the genuine local experience but you can get too much of a good thing and even back then, I was and still am, a soft git who needs his aircon and something resembling a mattress. I also wanted a wander around town and to do a little exploring and so a Tricycle was summoned and we headed back into town.
I remembered clearly the hotel I stayed at and was one of the first things I looked for on Google street view and It was easy to find! I say 'hotel' but it was the only place in town and was called a 'pension house' which in the Philippines is very basic accommodation and similar to what we'd call a Guest House.
It actually looks quite swish, but my room was at the back and had no window. It did, however, have the required mattress and working aircon, with the added bonus of a TV to fulfil my Wowowee addiction and a little restaurant downstairs for us all to have a last dinner before I left.
The picture looked exactly as I remember it all those years ago but I think the Shell petrol station next door has had a makeover and a shop added.
When I stayed there, there was very little in the town, no 7/11s or convenience chain stores, not even a Jollibee and so it was back to the Skyflakes and KitKat diet until I discovered 'Angels Hamburgers', and as it says on the sign, it was open 24 hours!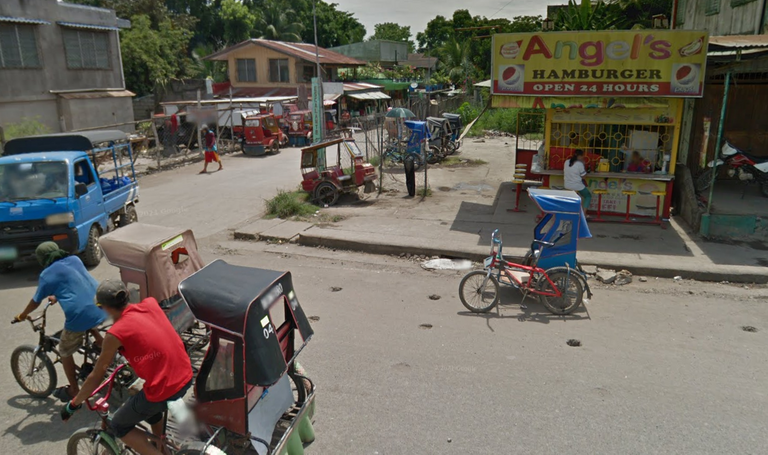 Looking at this photo, 15 years on, it hasn't changed a bit. The grills were there to stop it from being robbed during the night, I suppose. The garish yellow and red colour scheme has stood the test of time. I'd sit on those stools like I was visiting a prisoner in jail and was confused at the fact I only wanted one burger, but as they were 2 for 1, I either had to have two or pay basically double to have one. The word 'burger' was a very loose description and heaven knows what they were made from, but "a man cannot live on Skyflakes and KitKats alone", it says in the bible, and with plenty of ketchup, they made a very welcome change.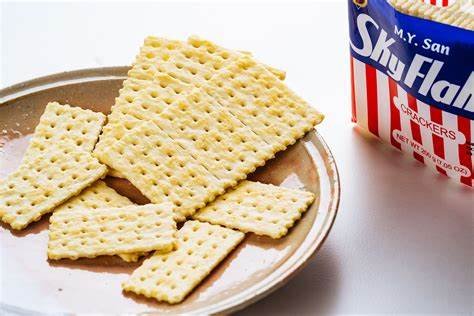 If you're looking for a tasty snack with just two ingredients, Hydrogenated fats and salt, Skyflakes have you covered. One packet has the ability to recreate the Hoover Dam across your aorta but damn are they moreish!
The other thing about this place is there was only one member of staff I ever saw there, a girl in her mid 20's and her name? Yes, you guessed it...
Jennalyn...
I have no idea to this day who 'Angel' was if it was Jennalyn's pseudonym or if the poor young lady actually lived in that hut, these are all questions that I will forever have no answer but I know, I really enjoyed sitting on those stools trying to communicate when neither of us knew each other's language and generally watching the world go by and breathing it all in.
NOT a Travelogue
This wasn't written to be a travelogue, but Escalante City, as it turned out had quite an interesting, but extremely tragic history. In 1985, government forces opened fire on a demonstration by local sugar-cane workers and farmers which resulted in 20 dead and over 30 being injured.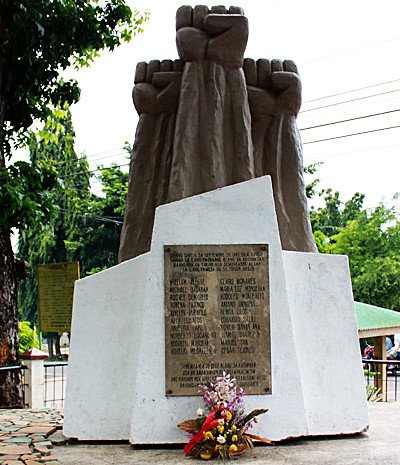 The memorial to the victims of the Escalante City massacre
It was a busy, hustly-bustly provincial town and there was a nice beach close by where we had another huge party the following day, sixteen people in total crammed onto two tricycles with the foreigner being given the best seat in the sidecar despite my protestations and Grandad climbing up and making the 3km trip sat crossed-legged on top of the sidecar.
Following the streets on Google street view, it seems almost nothing has changed. 'Load na dito' signs everywhere and there is now a 7/11 I noticed and as I said, the Petrol Station has been modernised but other than that, my memories coloured themselves back in vividly. (@millycf1976, following our recent comments, you might like to try this!).
It is precisely the friendly rural town I loved visiting and the reason I was there was all just a coincidence following a random chain of events.
I stayed in town a couple of days just chilling and exploring before jumping on a bus back to Bacolod and ultimately starting the long journey back to the UK.
The reason I wrote this is that a few days ago I got a message from Rasel, the lady I travelled there with, who is now in her 30's, happily married and with three kids of her own.
"Hey, big Kuya. Rosie wanted to send you a picture she made at school. Mum and Dad say hi"
Since I left that day, I never went back to Escalante City. I did tour around other parts of Negros again but not Escalante and nor have I ever met Rasel or her family again and so it follows that I have never met her husband or beautiful children. We have stayed in touch though through all these years for which I am blessed.
Sometimes, special times are had and the best memories are created and people often try and go back in an attempt to recreate them. This never works out in my experience and could possibly taint the original with a slight smear of disappointment. The best times in life are always unique events and so I didn't go back. I was supposed to meet up again with Rasel and her husband a few years later in Manila, but their work commitments didn't allow them the window, which is a shame but one day, I'm sure we'll meet up again.
If you got this far. Thank-you. If you didn't, it matters not what I write next but thank you for humouring this old fella and his trip down memory lane.
Best wishes to all. Life's not about the hustle. It's all about the humanity!
Sources
The rest of the photos to illustrate the story are lifted from Google street view as mentioned at the top of the post.
I've also added this post to @pinmapple but if the admins are not cool with this due to the non-original photos, I am sure they will be kind enough to tell me and I will be happy to remove it :-)
---
---