When it comes to "experts" you would certainly think that a Virologist who also happens to be a Nobel Prize winner would be an expert in his particular field. In this case the French Nobel laureate has come out with a claim that it is the vaccines that are causing the variants that are being reported and seen around the world.
It is unlikely the mainstream (Captive) media will tell anyone this. It is as usual inconvenient to the propaganda narratives they have been directed to push.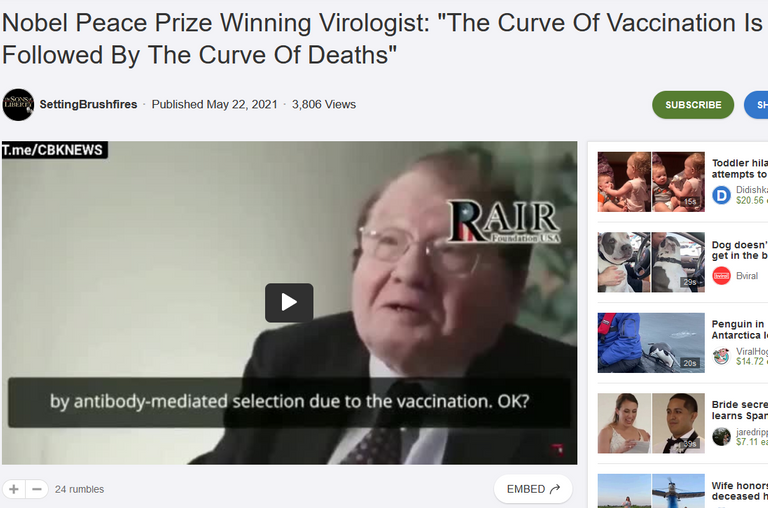 Looking at the WHO curve, since vaccinations began in January, the curve of new infections (those infected) has exploded, along with deaths.
Especially among young people.
---
It's a huge mistake, isn't it? Both a scientific and a medical mistake. It's an unacceptable mistake. The history books will show that, because it is vaccination that creates the variants.
For the China virus, there are antibodies created by the vaccine. What does the virus do? Does it die or does it look for another solution?
The new variants are a production and the result of vaccination. You see it in every country, it is the same: the curve of vaccination is followed by the curve of deaths.
---
Dr. Sherri J. Tenpenny
An Osteopathic Medical Doctor whom is also board certified in three medical specialties and is a very outspoken doctor about vaccines had the following to say:
"This vaccine candidate is of interest because the clinical studies, done in collaboration with the University of Oxford, were widely publicized as the first and most promising vaccine," she wrote. "However, in May 2020, it was reported that all the vaccinated monkeys treated with the Oxford vaccine became infected when challenged. Then, why did the company press forward with the renamed, AZD1222 vaccine candidate? Because even though the vaccine did not protect the animals from infection, it did moderate the disease. Watch for this type of logic as the 80+ COVID vaccines try to make their way into the multi-trillion-dollar vaccine market."
She is talking about the AstraZeneca vaccine there.
"Are you willing to be injected with something unknown and never tested before in humans?" she asks.
After all, humans are now the guinea pigs for these injections.
Tenpenny warns that those who have taken the vaccine will begin to become sick and many will die within 3-6 months.
Whether this manifests as she is concerned remains to be seen. If it does begin to go that way will they actually tell us or will they spin it as something else? I would not be surprised at all to see them use people starting to die as an excuse for telling people they should get a booster shot.
---
Salk Institute
Others have written about the Salk Institute here before and I reblogged their posts. Here is another article on that:
Bombshell Salk Institute science paper reveals the covid spike protein is what's causing deadly blood clots… and it's in all the covid vaccines (by design)
---
Closing
There is a lot going on nonstop with COVID and the documents I link have many other links within them. It is a deep rabbit hole and getting deeper every day. I think it is important to get some things in front of as many eyes as we can to counter the propaganda pushing a narrative that benefits and covers for big pharmaceutical companies. The fact that they do cover should be no surprise if you pay attention to who purchase most of the advertising space in media. How many drug/prescription commercials do you see? Wouldn't you think these media companies would be afraid to lose that if the Big Pharma was doing something negative and they reported on it truthfully?
As is often the case. I didn't intend to publish this but then I noticed some of these articles which I thought were pretty important. Though they are mostly a rehash of things many of us have been speaking about. If you needed more to read up on or watch then hopefully I have provided you a good place to start.
---
EDIT: I also saw that Senator Rand Paul has come out saying he will not be taking the vaccine. He was actually advised with this recommendation by his Doctor.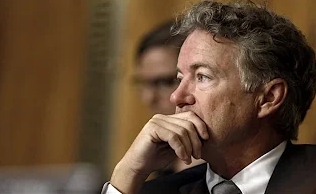 ---
EDIT 2: Added May 26th, 2021:
The virologist that I began this article with has also stated that ALL people who have taken these COVID vaccines will die within the next 2 years. That is a fairly bold statement. He says the cause will be due to antibody-dependent enhancment (ADE). Whether you agree with it or not I know this news will terrify a lot of people. Actually all people to some degree even those who haven't taken one of these vaccines. We all know people and likely have loved ones who have taken them. The cognitive dissonance would likely inspire us to want to shoot the messenger. Instead you can hope that he is wrong. If he is not and people start dying enmass then it isn't the messengers you should target. It is those that coerced and propaganda bashed you into taking the vaccines in the first place. Those that ridicule anyone that said that this is probably not a good idea.
There is also the possibility he is wrong. For the sake of those that have taken the vaccines I hope this is the case. My mother is one of those that took the Pfizer jab.
Everyone vaccinated for covid will DIE, warns French virologist