msm admits
1:37, passing out while driving after getting covid shot
---
Step right up, go to your local vaccine drive-thru! We ahve many location in parking lots and what not. Maybe you want to get vaxxed while you buy something? Well you're in luck! Many businesses are offering on the spot vaxx!
It's totally safe to get a medical procedure in a restaurant, on at a grocery store. They are ready for any side effects. Even at your drive thrus, you will be in your car and then be off on your way 15 minutes later!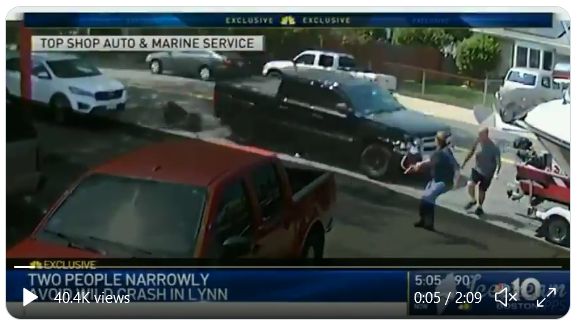 Well, not exactly. A known side effect is passing out after you get this completely absolutely totally safe injection that is also experimental and being tested on everyone globally at the moment. People have passed out while driving. Like in this example where we are lucky enough to have it on camera as proof, with which a new story is made about.
A man in a pickup was passing out while driving, and crashed into a boat parked on the side of the road, nearly hitting two people who were behind the boat.
As one of the people who avoided the crash stated, they were only so lucky to avoid it and get out of the way and time because the pickup first hit the driver side of the parked white vehicle which offset the angle at which he would have initially hit the boat. If that white vehicle wasn't there, the angle would've been steeper and those people would've had a smaller margin to escape collision with the vehicle.
The driver didn't even have time to pull over. He felt like he was going to pass out and tried to pull over, but he didn't even have the time. He just passed out almost killed two people.
This is the insanity of what's going on right now. There are known side effects such as passing out after getting an injection. But the insane push to get people to take this experimental injection is having drive-through injection site set up, where people are driving off after a mere 15 minutes of observation.