Splinterlands rental market how to lease out your cards - SPS giveaway win 10 SPS
Splinterlands has gone through an exciting week, the NFTgame has experienced a huge influx of new players. The hype is real and so is buying pressure on nearly every asset you can hold in the game. If you have not signed up for splinterlands yet get yourself a spellbook using my refferral link and comment your username I will send you 1 SPS as a welcome gift!

https://splinterlands.com?ref=solymi
The rental market has seen a huge demand for nearly every card with a focus on higher level summoners and legendary and epic monsters. As the demand grew so did the prices on the rental market. One of my best performing cards on rental market is Mylor and as you can see I have a lot of them delegated for free to members of our two guilds under the roof of
@acolytesofhelio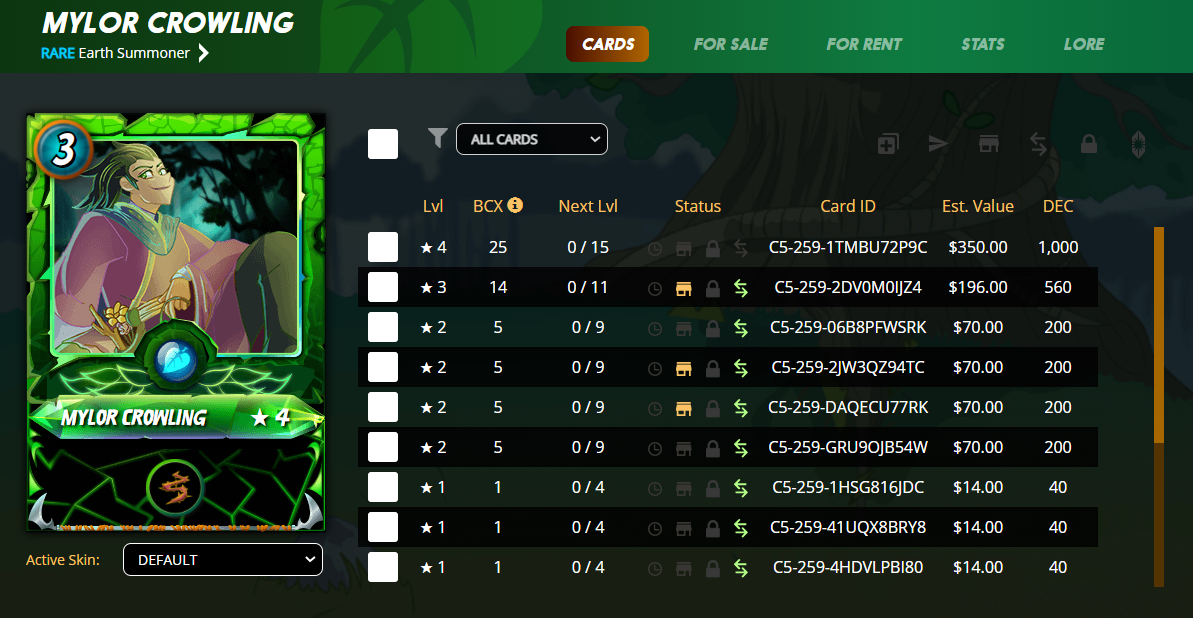 source splinterlands.com
These summoners are at a high demand and if you look at the market you can see that sellers can basically pick whatever price they want and there always will be someone feeling the urge to buy.
If you do have the money for this card go get it now as it is the number one game changer in Bronze and Silver leagues.
Mylor renting is huge business right now and if you have a spare one you should consider putting it on the market.
Why?
Because renting out a Mylor brings huge returns! Just check out that my cheapest rental contract runs on over 60% ROA (return on asset) and the highest ROA is at ridiculous 500%
Before you start hating on me why I rent out my Mylors for such horrendous amounts I have to say that I list at the cheapest price suggested by peakmonsters and usually deduct a few DEC from that.

source: peakmonsters.com
So as you can see If I rent my level2 Mylor for a whole year at the end I can buy 5 more Mylors at the same level. Of course for that the price would have to stay at the same level (which it certainly won't... no financial advice dyor!)
And here you see the dillemma of the free market. It is purely just dictated by card owners listing their cards at horrendous prices and players fomoing hard to get a card rented before someone else snatches it. Or look at that lvl 1 Mylor rented out at baffling 334% three mylors in a year if you manage to rent yours out...
So as a newbie to the game with a low budget to rent or buy cards you see these prices and go well I could buy the card straight and could safe a lot of money. 4 Mylors worth of money...
And here is the thing: as soon as people stop renting overpriced cards the market will regulate itself and lower the prices.
So my best advice if you have some money on the side:
buy instead of renting (no financial advice do your own research bla bla)
rent out your cards
buy cards with the returns and rent them out
repeat
For the players who can not afford to buy just wait until chaos legion rolls out and hope to get some good cards next month.
As long as the demand for cards is this high rental prices will not go down. I am sorry to say. But it makes not much sense to rent a card you can get for 35$ and pay a lot of DEC. So much that after only 4 month of saving 20 DEC a day you could buy a lvl 1 Mylor on your own. (considering that price stays the same which it will not but no financial advice DYOR) if you want to safe money invest in the cards you always rent! Yes cards are expensive right now and I do not know where this ride takes us. But if the Team does good and does not fuck up tremendously we will see a massive influx of new players who are even later to the party. And by that time you will have your Mylor ready to hit the rental market.
But enough of the market talk I wanted to give you a guide to the rental market and thats what I am trying to do now and yes there will be a giveaway. I just have to put some lines in front of it so readers who actually like to read get something from me too.
How to rent out a card
There is more than one way to do this but I will concentrate on the easiest way and that is not in game.
Go visit https://peakmonsters.com/ and log in with your keychain!
Go to your collection and click on bulk view in the top menu select the cards you want to rent out and click on the the icon where you see the blue numbers next to your cart.

Click on rent! Really make sure to click that you don't want to be selling some cards by accident. (It happens sometimes as I read on discord)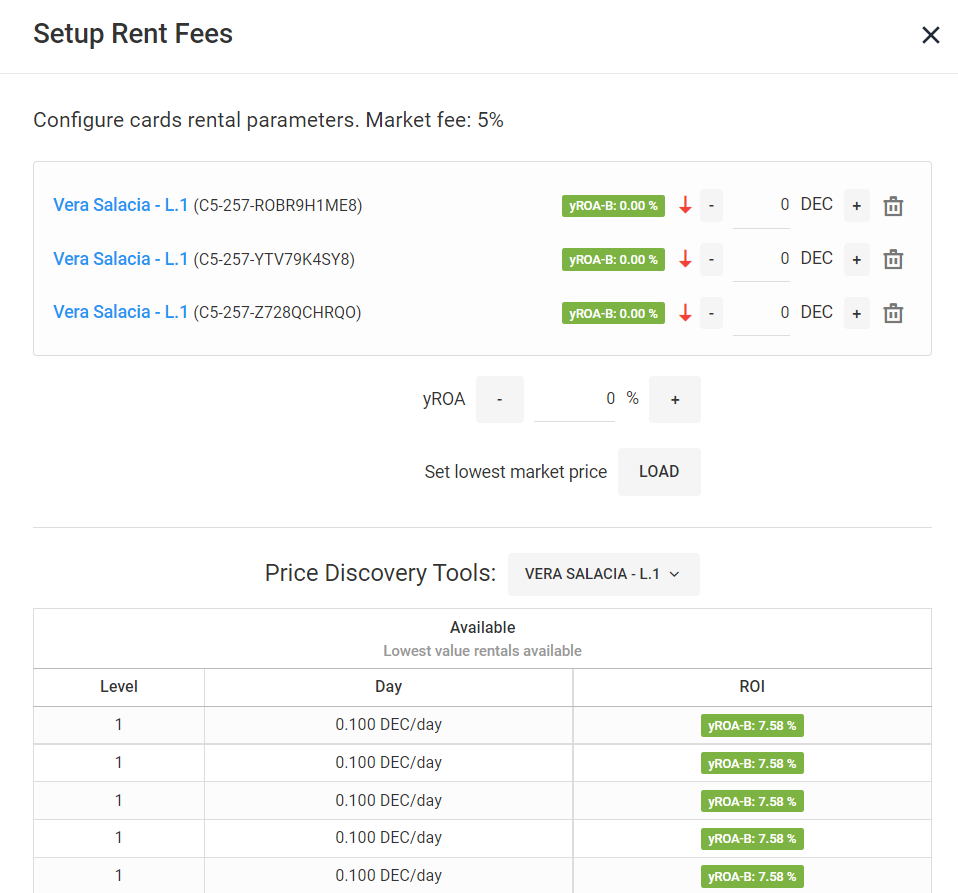 You can now set your price manually or let peakmonsters do the calculation for you. By clicking on the LOAD button it will be puled from the freshest rental data available and automatically set the lowest price on rental market. You can see that it does not make sense to rent out cards there is no demand for. You will not get much return on your card.
When you have set your prices click on the confirm button and sign the transaction with your posting key.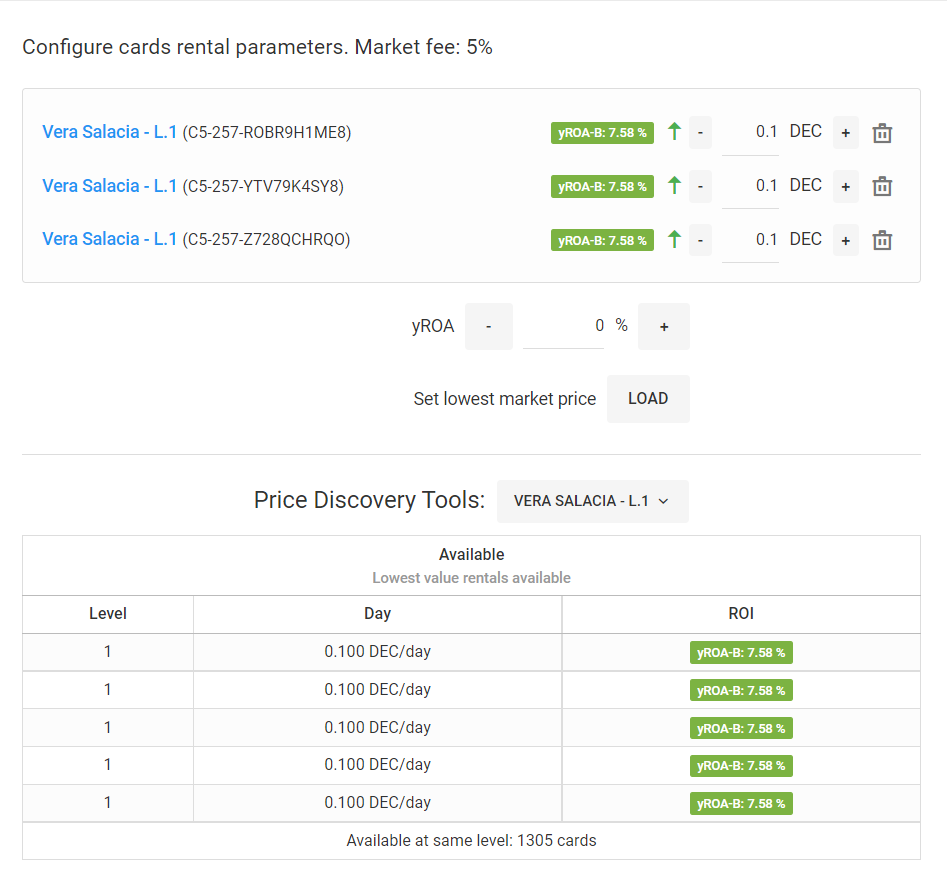 On the right side of the bulk view window you will see that your card(s) are processing. You are done. Come back later to see if your cards are rented out already.

Below you can see how I filtered for the cards I want to rent out. Use these filters and you will be faster when renting out in bulk. You can set as many filters as you want to narrow down your selection or just type in the name of the card.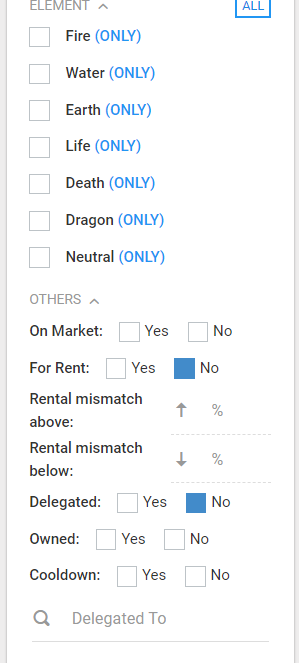 I hope this little how to guide helps you navigate the rental market with greater confidence.
OK BUT WEN GIVEAWAY?
NOW!
First of all lets announce last weeks lucky winner:
This time I thought I do a little extra and chose the one person, whose comment I liked the most. And it is because they engaged with my post and left a thoughtful comment:


congrats to @agentc0re aka @erialos please let me know, to which account I should send your 10 SPS.
NÄXT GIVEAWAY
As always I am a little special when it comes to the to dos for my giveaways but hey I am giving away the monies so we play by my rules :)
WHAT DO YOU HAVE TO DO?
How many Veras where on the rental market before I listed mine?
whats your favourite splinter and why?
follow @dudeontheweb and upvote his newest post!
IMPORTANT! Leave your SL in game name in the comment
Winner will be announced in 7 days when this post has paid out. I will chose randomly at my own will or I put all the names in a wheel and spin for the winner.
Good luck to all of you!
Consider reading the weakly roundup of @acolytesofhelio we would love to see you as our newest follower. It increases the chance of winning :)
---
---