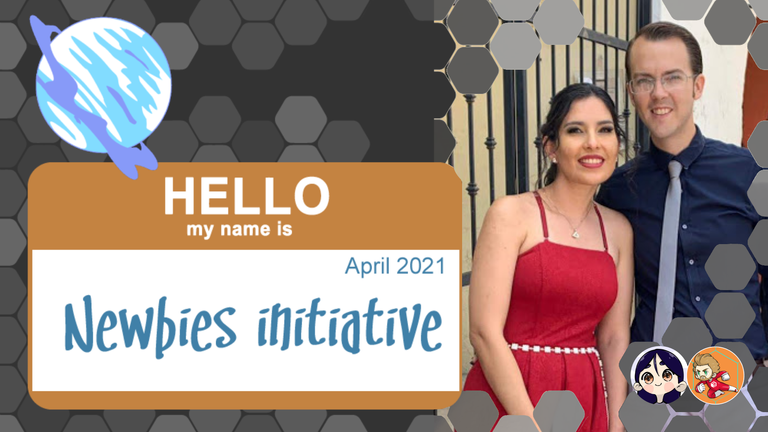 ---

Newbies Initiative
It took me a while, but I found the time to do this post. I want to thank @starstrings01 for setting the basis for this initiative. I'm getting inspired by his work, and I'm adding my style or my touch.
This post will include both the goals for the month and some basic recommendations for new users. Let's start!

Iniciativa para novatos
He tardado un poco, pero he sacado tiempo para hacer este post. Quiero agradecer a @starstrings01 por sentar las bases de esta iniciativa. Me estoy inspirando en su trabajo, y estoy añadiendo mi estilo o mi toque.
Este post incluirá tanto los objetivos del mes como algunas recomendaciones básicas para los nuevos usuarios. ¡Empecemos!

Hive Goals
Let's talk about goals. In any entrepreneurship, it's essential to set goals, and it's no different with HIVE. If we want to grow, we need to set goals and objectives. For this part of the Newbies Initiative task, you will need to answer two questions:
Which are your HIVE goals by the end of the month?
How do you plan to achieve them?
I will share an example. With @aliento, we have the following goals and a plan to achieve them.
By the end of the month, we want to achieve 20,000 HivePower in total.
We will achieve that by posting original content and by powering up as much HIVE as possible.
Metas de HIVE
Hablemos de los objetivos. En cualquier emprendimiento, es esencial establecer metas, y no es diferente con HIVE. Si queremos crecer, necesitamos establecer metas y objetivos. Para esta parte de la tarea de la Iniciativa para Novatos, tendrás que responder a dos preguntas:
¿Cuáles son tus objetivos en HIVE para finales de mes?
¿Cómo piensas alcanzarlos?
Voy a compartir un ejemplo. Con @aliento, tenemos los siguientes objetivos y un plan para alcanzarlos.
Para finales de mes, queremos conseguir 20,000 HivePower en total.
Lo conseguiremos publicando contenido original y potenciando todo el HIVE que podamos.

Basic Recommendations
I'm not going to lie to you, and there are many things that you need to learn about HIVE. My recommendation is always to ask if you have doubts. Trust me; there are no dumb questions. Now I'm going to share some suggestions and also share some guides.
Post only original content.
Always source your content and be sure that you have permission to use the images or text. They should have a license that marks them free to use.
Make your content visible pretty. Check this HTML and Markdown Guide.
Publish in the correct communities. Explore them here.
Never post your content twice. We've found some newbies who have been posting the same article in two or more communities. DON'T do this, your account could be blacklisted, and you could lose the rewards of all your pending posts.
---
For more information about HIVE, check out this excellent Guide by @ura-soul.
Recomendaciones Básicas
No te voy a mentir, y hay muchas cosas que tienes que aprender sobre el HIVE. Mi recomendación es que siempre preguntes si tienes dudas. Confía en mí; no hay preguntas tontas. Ahora voy a compartir algunas sugerencias y también voy algunas guías.
Publica sólo contenido original.
Siempre agrega las fuentes de tu contenido y asegúrate de que tienes permiso para usar las imágenes o el texto. Deben tener una licencia que los marque como libres de usar.
Haz que tu contenido sea visualmente bello. Consulta esta guía de HTML y Markdown.
Publica en las comunidades correctas. Explóralas aquí.
Nunca publiques tu contenido dos veces. Hemos encontrado algunos novatos que han publicado el mismo artículo en dos o más comunidades. NO hagas esto, tu cuenta podría entrar en una lista negra, y podrías perder las recompensas de todos tus artículos pendientes.
---

Summing Up...
Let's sum up the task!
Create a post where you answer the questions about the goals.
In the same post, add a summary or your thoughts of the recommendations and the guides shared in this post.
Let us know if you learned something new and how this information has impacted your vision of HIVE.
Newbies, I'm so proud that you have taken this step, and this post is an excellent opportunity to apply some of the new knowledge.
April's Newbies!
Please share your posts in the SMILE Discord Server under the #newbies-initiative-posts channel. Please share it too in the comments of this article. For the title, you can use "Newbies Initiative Task - Goals and Recommendations".
En Resumen...
¡Resumamos la tarea!
Crea un post donde respondas a las preguntas sobre los objetivos.
En el mismo post, añade un resumen o tus pensamientos sobre las recomendaciones y las guías compartidas en este post.
Haznos saber si has aprendido algo nuevo y cómo esta información ha impactado en tu visión del HIVE.
Novatos, estoy muy orgulloso de que hayan dado este paso, y este post es una excelente oportunidad para aplicar algunos de los nuevos conocimientos.
¡Newbies de Abril!
Por favor, compartan sus publicaciones en el Servidor de Discord de SMILE en el canal #newbies-initiative-posts. Por favor, compártanlo también en los comentarios de este artículo. Para el título, puedes usar "Tarea de la Iniciativa para Novatos - Objetivos y Recomendaciones".



---

@aliento initiative by @eddiespino and @grisvisa

Click the banner to get redirect to Blogging Challenge Community

Click the banner to get redirect to SMILE server, or: https://discord.gg/wyhVUvt

Smile illustrations were made by @tripode in Adobe Illustrator.