1700 POB power in 3 months !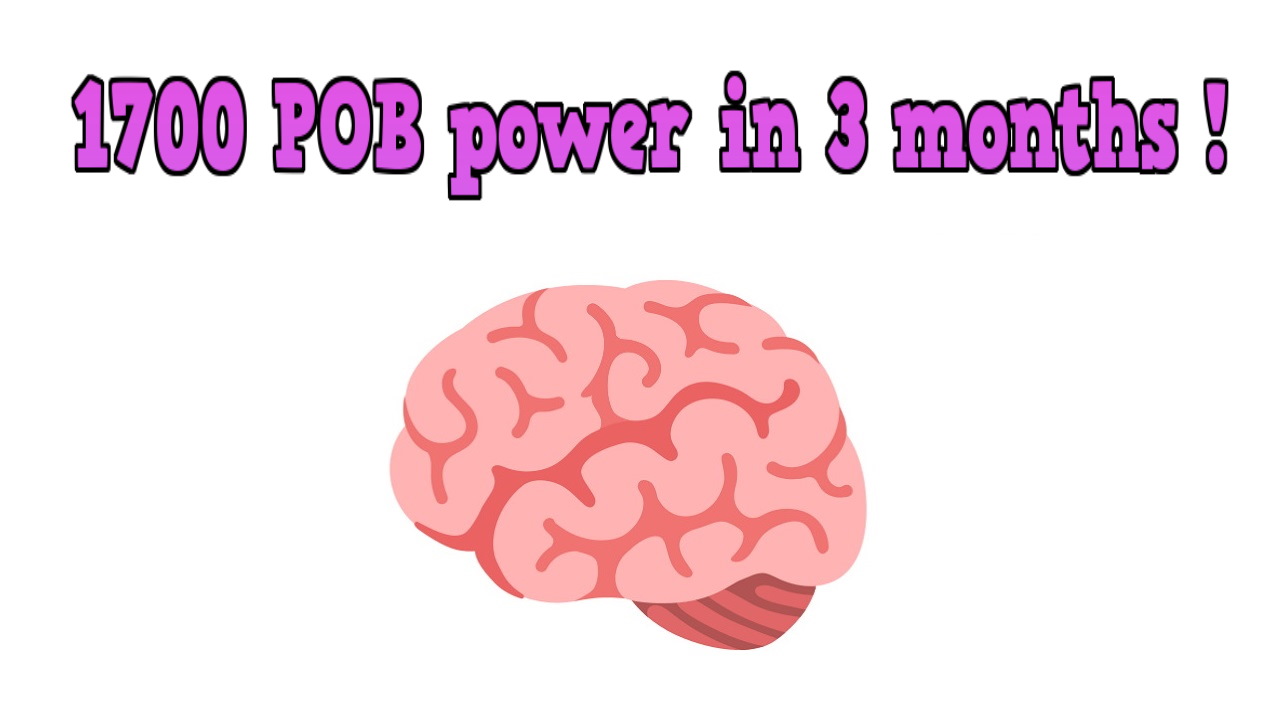 This is my fourth month in POB tribe. I really enjoyed a lot and keep enjoying it.

I still think that Proof of Brain is the best concept for a crypto community !. I didn't change my mind, even knowing the importance of the proof of stake. I think now that PoB and PoS shouldn't be separated. Because we are not only here to show our ideas and thoughts, but we are all here to earn. And just like I said before in this post : Let the Spectrum be in POB !, the monetary aspect can't allow the tribe to be completely proof of brain ! That's at ;east what I still think, if you think otherwise, please prove me the opposite.

So, my goal now is to reach 2000 POB power, and I'm sure before the end of the fourth month here, I'll reach it. I hope I'll be able to reach 10k by the end of this year. Even 5k will be good for me. Maybe I just need to be more active in the tribe to reach that. The thing is that I'm doing a lot of things during the day and I can't be everywhere at the same time. It's because I do everything manually and nothing automatic. I mean curating, creating reports, contests, sharing links to support #dcc and taking care a bit about @dcooperation. For now, we have enough members in the community, but we need some moderators or those who are ready to help with organizing everything. That's one of the reason, I'm growing my account and the account of the community in many tribes. Maybe when the power will be big enough, more people will be interested to help.
By the way I'm staking all my POB power on @clixy, it's a special account for the tribe I curate from !

Anyway, I'll keep my work on. Because now, besides creating and curating content and trading, I don't have any other work to do. I'm also not planning to look for any work because of the vaccination everywhere. I prefer to be a crypto guy, not that related to the system. I'm not even active in famous social media, because I know how centralized they are. The only thing I like to do from time to time, is to watch tiktok, because there I see real people talking about their problems and what's happening in the country.

So, I'm glad I joined the tribe, and I'm glad that I'll grow now a bit faster because of earning more curation rewards. And my content is doing also well thanks to my biggest supporter @onealfa. I'm thankful to him and I wish him all the best !
You always may have the chance to find supporters if you are doing your best. Just don't give up on what you started, and you will reach your goal, no matter how hard it is !
---
I hope this post motivates enough members to keep growing their accounts and inspire everyone about a great future ! Be strong and never give and take care of you, your family, your supporters, your friends and followers and likeminded people ! And to support #dcc , I would like to share and promote this post : Difficult Roads Lead to Beautiful Destinations
---
Posted via proofofbrain.io
---
---