Sometimes I Just Am Not in the Mood... (Of "Low Effort" posts and "Adding Value")
... to sit down and write a whole "long format" post. Like right now.
As you no doubt have noticed, I tend to use my own photos to illustrate my posts... which also means I spend a lot of time outside, roaming around with my camera. In a sense, it's a meditation. And a hobby.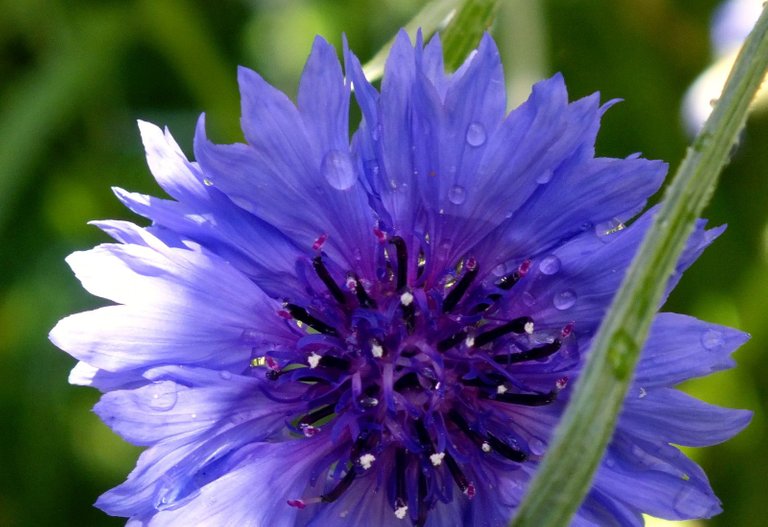 A "Bachelor Button" flower after rain.
Macro photography has been an interest since my teen years. Back then, my friends with cameras would be busy taking pictures of people and parties and sporting events... and I would be out in nature with my nose to the ground, looking at flowers, insects or wildlife.
Not that I had any aspirations of becoming "the next Attenborough." I still don't!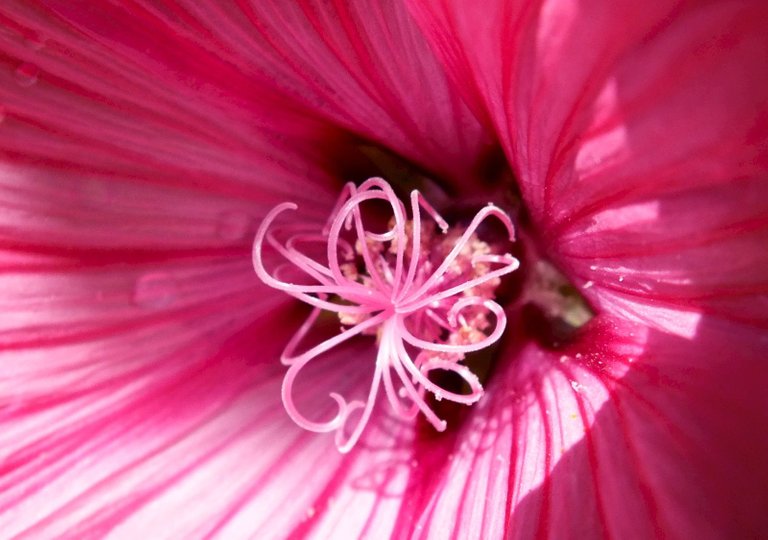 The "curlicue" stamens of a hollyhock flower, in extreme closeup
So this is mostly a "picture post."
Personally, I don't believe picture posts are necessarily "low value" OR low effort. If the work is your own, and you went out to get the photos, then processed only the best ones to be "just so" and then created a post with appropriate captions... that's not low effort, at least not from my perspective.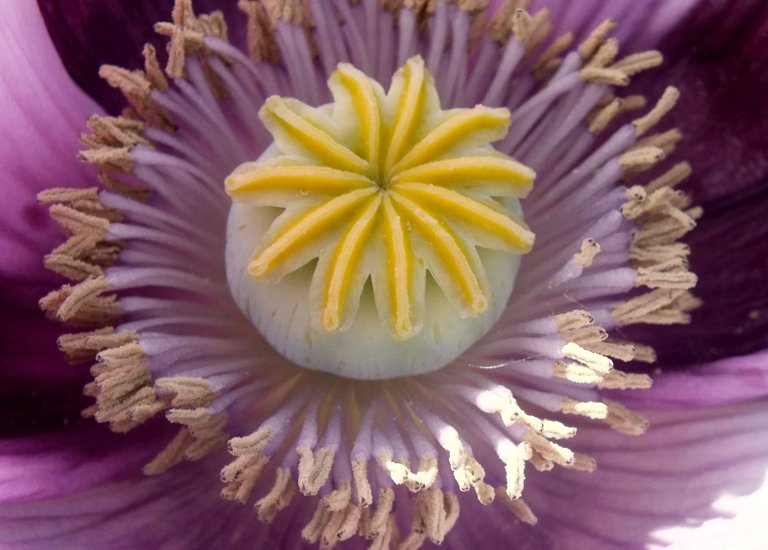 Inside the center of a delicate violet poppy
Which, of course, brings up the whole issue of just what "quality" content means, and what "adding value" means.
From where I am sitting, it seems like it depends a lot on what individual perspectives and interests are. A simple "final score" from a sporting event has value to every person who follows the subject team or person. Particularly if you were actually at that event and added a little "color commentary."
To me, a good picture post has value for a couple of reasons.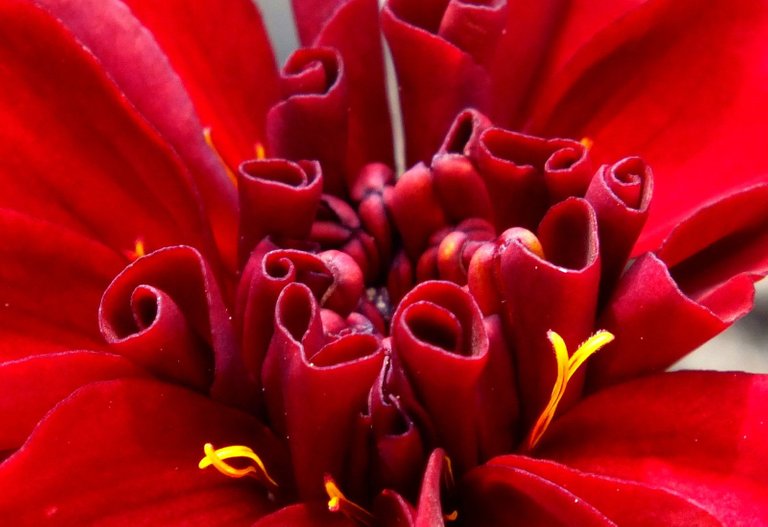 The petals of marigolds are actually tiny "rolls" that unfurl as the flower grows.
First, it offers me — and hopefully the viewer — a brief moment of reflection and a "break of state" from the endless stream of bad news, angry opinions, political mudslinging and whatever else comes across our feeds pretty much... all the time.
Second, I am sharing an interest; I am hoping to show the amazing and intricate aspects of the natural world that typically go overlooked... in large part because they are so tiny that nobody notices them.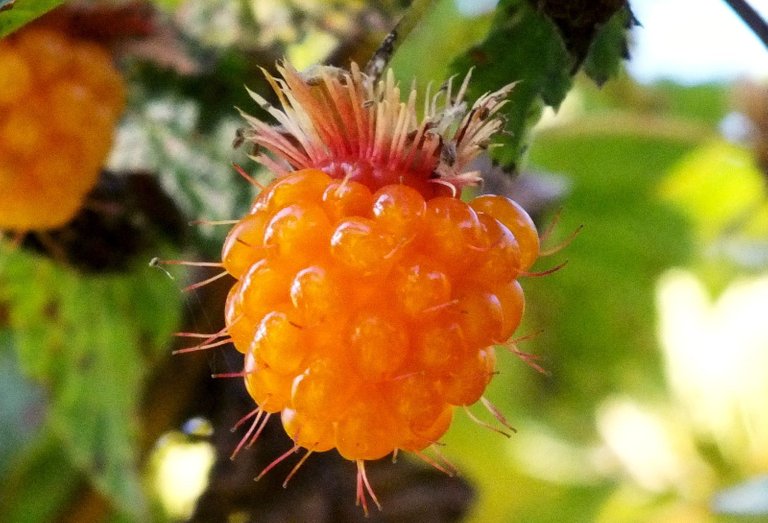 A ripe salmonberry, showing us things we don't normally see: notice the tiny gossamer insect "silk" between the hairs at left...
Of course, I do realize that there is a wide chasm between this post and someone simply nabbing another person's photo from the web — even from a "free-to-use images" site — and calling that "a post."
And even though I am calling this a "picture post," it is not "without words." I'm just not engaging in heavy political or philosophical discourse, here. My brain is still engaged, just not in Universal Problem Solving.
There's more to life than just intense thinking, all the time!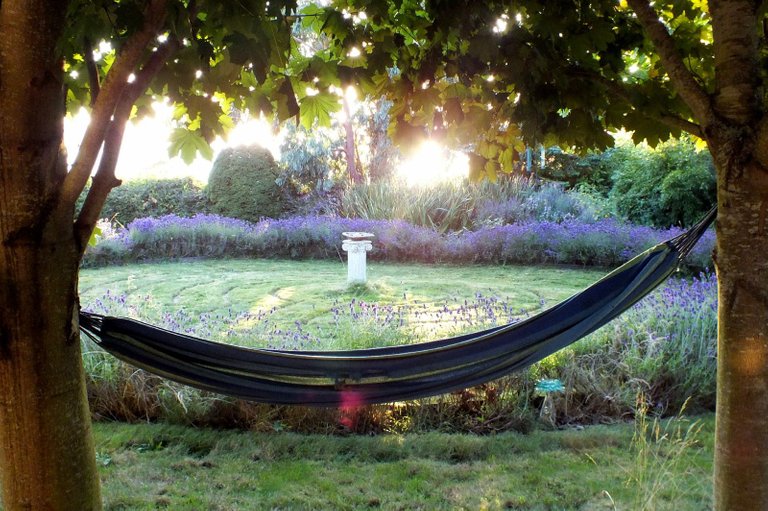 I'd rather be here, in our back yard...!
And sometimes, I'm just not in the mood for that, but I still want to create something. Something of value, that amounts to more than just a meaningless "placeholder.
We're having a heatwave, and right now dozing off in our shady hammock looks increasingly attractive.
Thanks for stopping by, and have a great final bit of your weekend!
How about YOU? What's your opinion on photo posts? Are they necessarily "low effort?" Does content not have "value" unless it relates to "important discourse" and solving the problems of the world? Comments, feedback and other interaction is invited and welcomed! Because — after all — SOCIAL content is about interacting, right? Leave a comment — share your experiences — be part of the conversation!

---
Greetings bloggers and social content creators! This article was created via PeakD, a blogging application that's part of the Hive Social Content Experience. If you're a blogger, writer, poet, artist, vlogger, musician or other creative content wizard, come join us! Hive is a little "different" because it's not run by a "company;" it operates via the consensus of its users and your content can't be banned, censored, taken down or demonetized. And that COUNTS for something, in these uncertain times! So if you're ready for the next generation of social content where YOU retain ownership and control, come by and learn about Hive and make an account!

Proud member of the Proof of Brain Community on Hive!

(As usual, all text and images by the author, unless otherwise credited. This is original content, created expressly and uniquely for this platform — NOT cross posted anywhere else!)
Created at 20210627 11:16 PDT
0286/1529
---
---