Alexei Sultanov a man whose story is very inspiring, I know that many people may not know him, but if so, it is my duty to tell you about him so without more to say let's start.
He was born on August 7, 1969 Tashkent, the capital of Uzbekistan, from a very young age he began to practice music with his father and mother who were music teachers, at the age of 6 he began to play piano.
At the age of 7 he began his first debut, shortly after that Tamara Popovich his tutor managed to make the boy start teaching several times a year at the Tchaikovsky Institute in Moscow and the little one, despite the difficulties, did not miss out on this great opportunity, for which he traveled by train with one of his parents to be able to give his classes and not miss any, it was quite a sacrifice that his parents made since they had to pay the ticket every time they went to classes for which they spent a lot money ... but, it was worth every penny spent as Alexei showed great talent which led him to study at the central music school in Moscow in 1986, after that he finished his studies at the Tchaikovsky Conservatory, the The same in which he was chosen to participate in the Van Cliburn International Piano Competition in Fort Worth, Texas, among all the contestants, he was the youngest but that was not an obstacle for him, he went ahead and after playing volc Liszt, Prokofiev and Chopin's musician became widely recognized because everyone liked the way he played.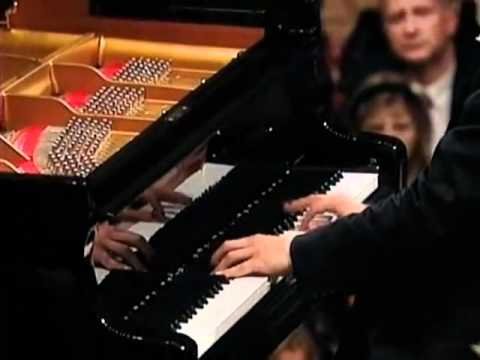 source
He says that when it came his time to play he did not feel any fear, on the contrary, he delighted in the music, closed his eyes and let himself be carried away, while playing he made a small mistake but did not care and continued playing in the most normal way possible.
At the end of his presentation, he bowed before the public and pointed towards the piano as if he wanted to give him part of the credit, with this gesture he won the hearts of his audience and the judges of the contest.
When he was only 19 years old Alexei won an international piano competition in June 1989, from that moment he became quite recognized and gave several shows in cities such as Berlin, Paris, New York and Boston.
Now I will tell you a little about the woman who will later become his wife and how he met her.
She was studying cello, one day she had a little encounter with Alexei in which a tragedy could have happened but it was not. They both went to the same place to see the presentation of one of their favorite artists but unfortunately they did not have tickets so they and all the others who were there decided to go to see through the ceiling, while jumping one by one Dace (the future wife) She slipped and almost fell but thanks to Alexei that did not happen since he managed to grab her and raise her again, she did know him a little, but he did not know anything about her, and even so he was delighted with that girl, On October 31, 1991, through a civil meeting in Worth, Texas, they were married.
After this Alexei gave a tour in which he would have to give 200 concerts and lasted 2 years, during his tour he went through many interviews and television shows.
In 1995 he won another contest but this time in second place, not bad but the public did not think the same, they believed that Alexei should have been in first place, but what can we do about this ... Some time later he received an award such as "the crowd favorite "

source
In 2001, a serious incident occurred in which Alexei fell and hit his head hard, a week after this he went to a neurologist's office at that time he had difficulty speaking, they gave him the terrible news that due to the strong blow he was He had produced a subdural hematoma, some time later he had to go into urgent surgery to stop the internal bleeding, the doctors had to remove a blood clot that was in his brain, but that night another tragedy occurred, Alexei suffered another stroke from which he quickly the doctors had to hasten to remove him from death.
After all this Alexei managed to recover and little by little he began to feel better.
Alexei died at the age of 35 on June 30, 2005, among the people who attended his funeral were renowned pianists such as Van Cliburn, José Feghali and Korsantia Alexander, proving that his work was incredible and highly recognized.
Thanks for reading ... regards!

---
Posted via proofofbrain.io