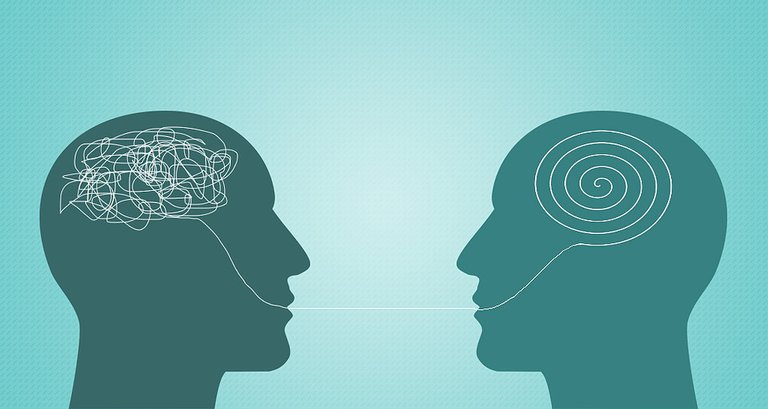 Source
There will be days when you will need to talk to someone to let off steam. Inevitably, how often you let off steam can be different from person to person.
Generally, those who are used to complaining about everything, will always want to vent everything. The outburst is kind of a complaint. But in some cases it is necessary to throw it out. We can go on accumulating, turning around on our own, putting up with everything in silence and only us knowing. But there comes a time when it will accumulate too much and you are about to explode. Things that make you relax and distract you may no longer work and you will need to talk.
Now who will you talk to?
For someone who is married, perhaps the most obvious choice would be your partner, but theoretically if you are together it's kind of possible that the person already knows about your daily struggles, only if it's something more internal, emotional that you didn't share... .
Some cases we will tell our mothers, or father, grandparents, brothers, your best friend... Sometimes you will even catch someone very unknown in the act of need.
If the act you want is just talking, whatever. Just talk, but now if you want to be heard and understood or at least someone to empathize with you then it can be difficult and you get frustrated even more later. Not always the person you imagined you could count on will be the best person. Not without always will it be your husband/wife, your mother, father, brother or your best friend... Unfortunately, it is at these times that you discover who is who. And not that they are wrong, or bad people for you. Maybe they just don't know how to listen to you in these cases. For other purposes they will be great people who love you and will help you. It is necessary to understand that in life one person will not always be everything. It is necessary to know how to see first, listen and then know how to speak.
To grieve and let off steam is necessary, but it is necessary first of all to know how it will be. Again I repeat: If you just want to talk, then it's ok whoever it is, but if you want to be understood, it's good to know who you'll choose, otherwise you may be even more disappointed.
This text I had the inspiration today when I analyzed a situation recently, not mine (but it could be), and that led me to think and build answers why people are like that. And from that, new texts will emerge.
Thanks for reading ;)

Vão ter dias que você vai necessitar conversar com alguém para desabafar. É inevitável isso a frequência com que você desabafa pode ser diferente de pessoa para pessoa.
Geralmente quem tem o costume de reclamar de tudo, sempre vai querer desabafar de tudo. O desabafo é meio que uma reclamação. Mas alguns casos é necessário jogar para fora. Podemos ir acumulando, se virando sozinhos, aguentando tudo calados e só nós sabendo. Mas chega um momento que vai acumular muito e você estará prestes a explodir. Coisas que te fazem relaxar e distrair podem não funcionar mais e você precisará falar.
Agora com quem falará?
Para quem é casado talvez a escolha mais óbvia seria o seu parceiro, mas teoricamente se vocês estão junto é meio que possível que a pessoa já sabe de suas lutas do dia a dia, apenas se for algo mais interno, emocional que não compartilhou...
Alguns casos vamos contar para nossas mães, ou pai, avós, irmãos, o seu melhor amigo... Ás vezes pegará até alguém bem desconhecido no ato da necessidade.
Se o ato que você deseja é só falar, tanto faz. Apenas fale, mas agora se você quer ser ouvido e entendido ou pelo menos alguém ter a empatia com você aí pode ser difícil e se frustra ainda mais depois. Nem sempre a pessoa que você imaginou com quem poderia contar será a melhor pessoa. Nem sem sempre será seu marido/esposa, sua mãe, pai, irmão ou seu melhor amigo... Infelizmente são nessas horas que você descobre quem é quem. E não que elas estejam erradas, ou são pessoas ruins para você. Talvez elas apenas não saibam ouvir você nesses casos. Para outros fins serão ótimas pessoas que te querem bem e vão te ajudar. É preciso entender isso que na vida nem sempre uma pessoa será tudo. É necessário saber enxergar primeiro, ouvir para depois saber falar.
Se lamentar e desabafar é necessário, mas é necessário antes de tudo saber como vai ser. Volto a repetir: Se você apenas quer falar, então tudo bem quem for, mas se você quer se entendido, é bom saber quem vai escolher, se não você pode se decepcionar ainda mais.
Esse texto eu tive a inspiração hoje ao ter analisado uma situação recentemente, não minha (mas poderia ser), e que me levou a pensar e construir respostas porquê as pessoas são assim. E disso ainda vai surgir novos textos.
Obrigado por ler ;)
---
Posted via proofofbrain.io