As the festive season approaches, community is strengthening again. Interestingly, the engagements have witnessed significant growth after the gap of 7 weeks. This is a very encouraging indicator for the community and its time to cheer up according to me.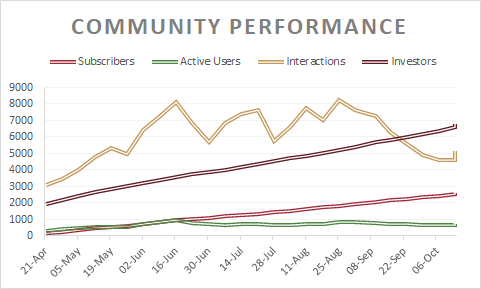 Highlights of the week
2619 (Last week 2531) subscribers to the community - This was the strongest parameter with the growth of 7.25%.
730 (Last week 676) active users are actively posting on POB. During the last week number of active users have grown up by 9%. This is one of the major factors that contributed to the growth.
There are about 6786 (Last week 6578) investors who are/were holding POB tokens. 6.23% growth of investors. Investors have seen a continuous growth since April, when I started compiling these reports.
Growing number of investors against the interactions also indicate that the stakeholders of the community are now not interested in the engagement but prefer to be in the curators role.
Engagement is key
Since last 7 weeks, the engagement was underperforming other indicators. It was consistently recording the downward growth. On 25th August the community witnessed the activity crossing 8000 mark, from there straight 7 weeks the numbers were falling down. On 7th October it reached 4605 levels, on 14th the number remained more or less the same and today on 21st October we are witnessing an impressive 11% growth in the engagement.
Hope the new initiatives would help to pick up from these levels.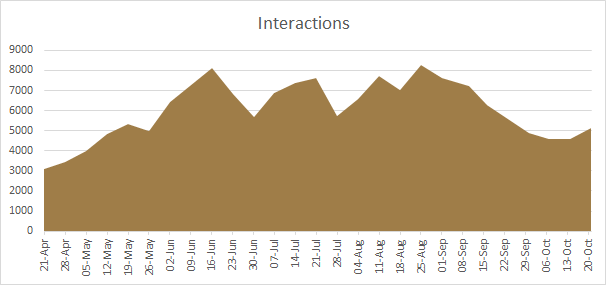 CINETALKIES Initiative
This was the initiative started by @gimmetricks1 to promote the talks around cinema. This was quite impressive concept, hence I decided to back it up with my votes. Its almost 3 weeks, since it started, but there is no significant spike in the statistics which was witnessed on 2nd October. It is quite steady community.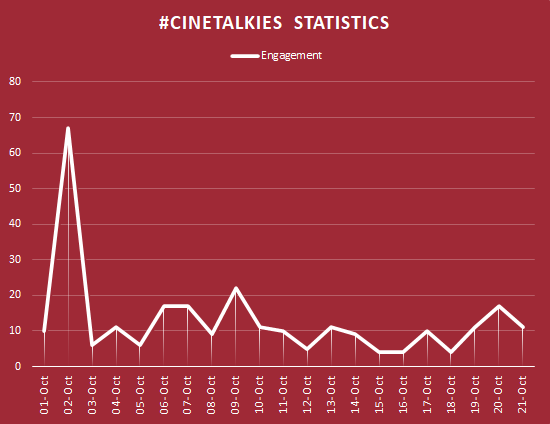 ---
Posted via proofofbrain.io