Subscribers, Active Users, Investors and Engagement are the four most important factors to measure the growth of any community. This week the community witnessed a silent growth in all the parameters.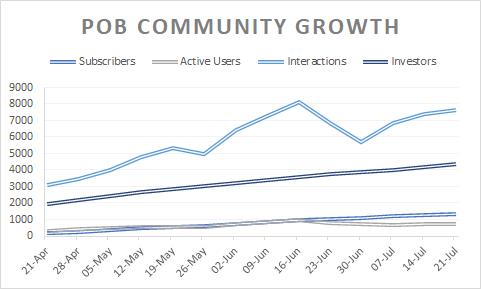 Steady and silent growth in these numbers is helpful in the long run for the community. There is no extra-ordinary growth in any parameters.
#pob token prices have dropped below the prices of the #leofinance after a long time.
Highlights of the week
1359 (Last week 1270) subscribers to the community - Growth of 7.01%.
739 (Last week 712) active users are actively posting on POB - Growth of 3.79%.
There are about 4363 (Last week 4190) investors who are/were holding POB tokens. A small growth of 4.13%.
Engagement is the Key
The biggest and the most important number for the POB community was the interactions. The engagements started picking up from the last week and engagements have reached closer to all time high. It registered the growth of close to 3.58% over the past week. Engagement growth is in tandem with the active users.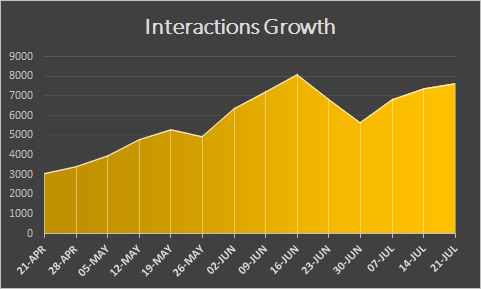 POB Talk Engagement
I have been tracking this initiative by @vempromundo for last couple of weeks. As this becomes a daily feature on POB it is gaining popularity. This week the total contribution of the #pobtalk in overall engagement on platform went up to 13.68%.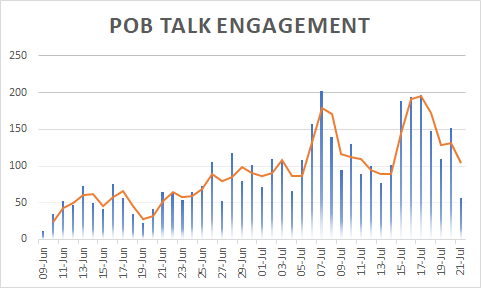 This means 13 of every 100 comments on the platform are made on the #pobtalk post. This is one of the highest weekly contribution of the initiative till now. We can easily conclude that the growth of the interactions on platform is directly proportionate to the growth of #pobtalk.
---
Posted via proofofbrain.io