@pob.curator was the biggest gainer of the last week in the rich-list. This account gained another 10 positions in the rich-list. As the prices of the token are touching the bottom there are more investors looking to disrupt the rich-list.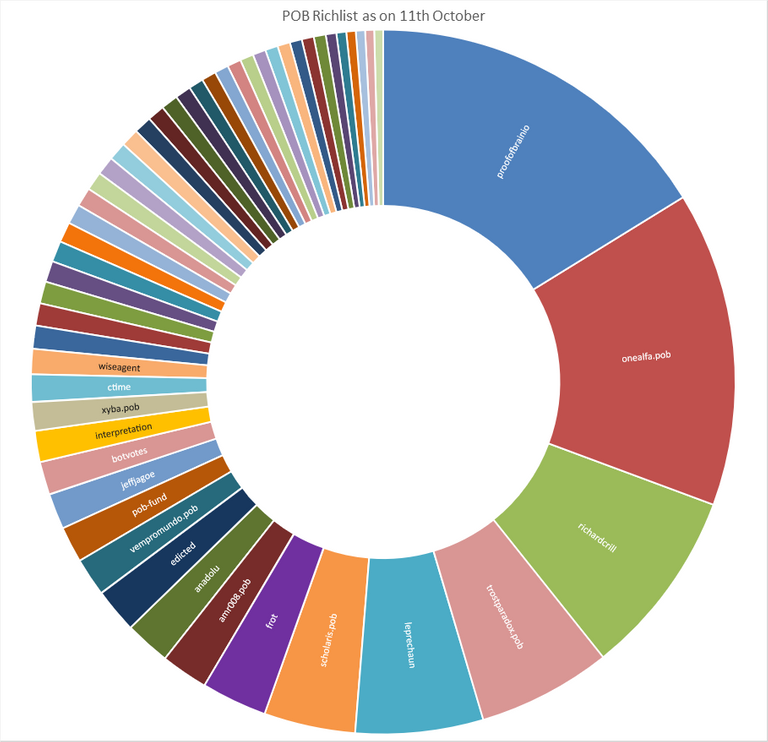 Highlights of the week
Ranks for 19 accounts, were unchanged during the last week, indicating the stability in the rich-list.
9 Accounts gained the positions from the previous week.
18 Accounts lost their positions in last 7 days.
6 Accounts were added newly to rich-list.
There were 2816 accounts with negligible or zero balance. This number is substantially higher than the previous weeks 2612.
This week total accounts analysed for this rich-list were 6502. This indicates that 40% of the accounts hold no real #pob.
Top 50 POB Accounts
Here are the top 50 accounts holding maximum number of #pob in the rich-list.
Influence of Top 50 POB Holders
Last week when I posted the statistics, there were 1320717 POB tokens staked in the #pob power. Out of these 884210 POB power was staked in these 50 accounts.
This week the total POB power locked in the stakes is 1408503 and the total power with top 50 rich accounts increased to 957616.
Which means out of the total power staked, top 50 Rich accounts control 67.98% of the total power. The staked power of top 50 accounts has marginally increased from 66%.
How much POB Power you need ?
In order to be featured in this publication, you need atleast 4515 POB power staked. This amount keeps changing every week, last week it was 4298. This indicates that there is a good jump in the minimum threshold required.
---
Posted via proofofbrain.io