Rich-list becomes volatile once again

Rich-list has become volatile. On the end of the rich-list the account of @calumam gained 6 ranks from 13 to 7. Just two days back this account received a delegation from @proofofbrainio account.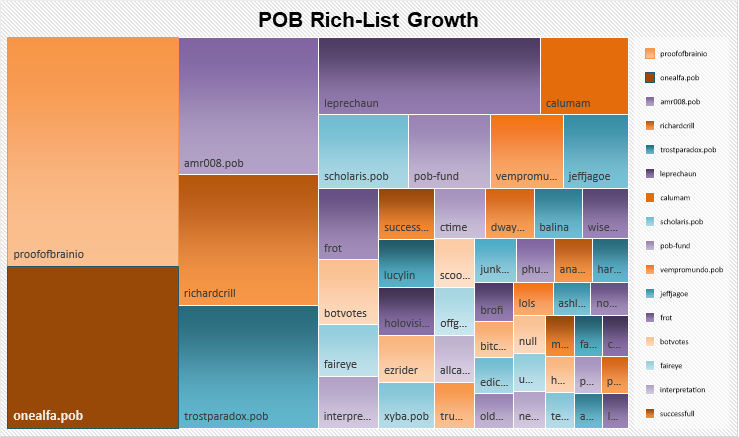 Summary of the Rich-list changes
As many as 1808 accounts had zero or close to zero balance in their wallets on 19.07.2021.
This means as many as 42% of the total accounts have negligible balance. However, this has improved as last week the total % of zero balance account was 43% of the total.
18 out of 50 maintained their ranks as it is, last week it was 22
16 Out of 50 saw their positions going down, last week it was 18.
13 Out of 50 saw their positions improving, last week it was 10
4 Were new entrants to this list.
These changes are indicating that the ranks are not stable any more.
Top 50 Rich Accounts
4313 accounts of the POB holders were analysed for this presentation.
In the bottom of the rich-list, there are four new accounts. However, one very important account @gillianpearce was thrown out of top 50. She was one of the regular contributors to the rich list and her feedback was valuable.
Influence of Top 50 POB Holders
Last week when I posted the statistics, there were 809251 POB tokens staked in the #pob power. Out of these 531386 POB power was staked in these 50 accounts.
This week the total POB power locked in the stakes is 867214 and the total power with top 50 rich accounts increased to 565524.
Which means out of the total power staked, top 50 Rich accounts control only 65% of the total power. The staked power of top 50 accounts seems to be stabilizing.
How much POB Power you need ?
In order to be featured in this publication, you need atleast 2725 POB power staked. This amount keeps changing every week.
---
Posted via proofofbrain.io
---
---