Accountability in life. Accountability na vida.

English
About 6 years ago, more or less around 2014/2015, after going through a very complicated phase, I started to study the topics of coaching, self-motivation, NLP, etc., even before the fever of coaches here in Brazil broke out. I listened to a lot of English content, read articles, books, researched influential people and everything.
Because of that, I started to study a lot of English too. And in the midst of these studies I discovered the concept of accountability, which is a concept well connected to business and governance issues, but it can also be applied to life.
In Portuguese, the closest concept of accountability would be the concept of "give account"(pt-br:prestar contas) in combination with the concept of responsibility. We don't exactly have a word to explain this concept, as it is a concept loaded with meanings. In my research before dealing with the topic in a text, I decided to do a research on the internet and found this academic article a very interesting reading for those who want to go deeper into this issue.
Well then, and why do I want to talk about this topic?
As I said above, in addition to being applied to business and governance issues, the concept of accountability can be applied in life, in several ways. I do not believe in exaggerated punishments, and I think that sometimes the very idea of ​​punishment is unnecessary in certain cases, or one should not think about this concept. Certain things are simply consequences of others, each action has a reaction, and choices imply having access to some things and missing others.
I don't want to be a generalist, but I dare say that many people nowadays, I don't say most, maybe it can be, but many people want to have everything. They want to act in any way and not be affected by the consequences of their choices. They want to curse and criticize others without any reaction. They want to exploit financially, mentally, etc., other people without the other side speaking out. They want to have healthy, strong, fast bodies without eating well, exercising, etc.
And life doesn't work like that, life itself at some point tends to charge us for our choices, time too, being the biggest charge is death, from which no one will escape (as far as I know).
But in addition to perhaps morbid questions, or pointing fingers at other people, let's take a closer look at the process of using the concept of accountability in life.
Using accountability in life
As I said above, the concept has to do with accountability and responsibility, and when it comes to our life, it's not just about being accountable to other people, and not just being responsible to them, but also about being accountable to ourselves and being responsible to ourselves.
This means always reflecting and observing what we do, and having ownership and being responsible for our successes and our mistakes, without wanting to escape the consequences, which are sometimes harsh or negative, or not necessarily positive.
A personal example, before I got to know POB I had made 2 commitments to other people and to myself: Teaching programming classes on a project and taking a software engineer course at an international school. One is a medium-term commitment, the other is a long-term commitment.
As for a long time in my life, I didn't have discipline, when accumulating this, with production for decentralized networks, among some other tasks, in some days I'm having to choose between focusing on these commitments, or producing texts, posting, etc., something that takes at least 2 hours a day between writing, proofreading, translating into english, proofreading again, and posting, sometimes also making images.
But it is a process that I try to possess all the aspects involved, in which I try to understand and reinforce for myself that doing one thing implies not doing another, and in the end, although in the short term teaching, and studying does not yield as far as posting, in the long run it can change my life and even positively influence the quality and reach of my production, in addition to serving to achieve greater goals in my life.
That is, I am accountable to myself and take responsibility. I believe that if I did not have this vision, this whole process would probably be more costly, as it was in the past where I did not know what my priorities were, did not analyze my actions, just acted and revolted with the results.
Nowadays I understand that my actions have consequences, and I avoid running away from them, even if they are sometimes negative. If when I am accountable to myself, and to other people, even though I was wrong, I am not held responsible in a negative way, ok, now if I am, ok too.
There are those who say that this is maturity, and I do not disagree, it is a part of the process of maturing and growing, but I would say that it goes further (just as the concept of maturity goes further). I talked about career and work decisions to exemplify, but I could talk about financial issues, for example, if I spend too much, or wrong, I will have debts or I will be short of money at a time I need, if I do not research the processes related to cryptocurrencies properly, I may have losses miss opportunities, and I need to be aware of that.
It also has to do with personal and social relationships, if I don't treat people well, if I'm not respectful of them, if I don't give the level of attention required for each case, if I don't try to be understanding, there will be consequences, and if I really do something that has negative consequences, I need to accept that without blaming people or victimizing myself.
It is not an easy process to do so, but I increasingly understand it as necessary!! And I seek to apply this process consciously because we as human beings always seek comfort, always avoid the consequences of our actions, but if we want to follow a full path in the long run, we need to assume the consequences, whether good or bad.
Note: I used the term accountability in English in the Portuguese text because as I present in the text, we don't have a specific word to define the concept. And at least in Brazil we tend to adapt foreign words to our vocabulary, sometimes over time changing some letters to make it more pleasant to speak. In general I am not in favor of using the term in other languages, especialy jargon, or for to avoid ostentatious reasons, but I also make exceptions when necessary.
What about you? Do you apply the concept of accountability in your life? Or some other similar concept?
---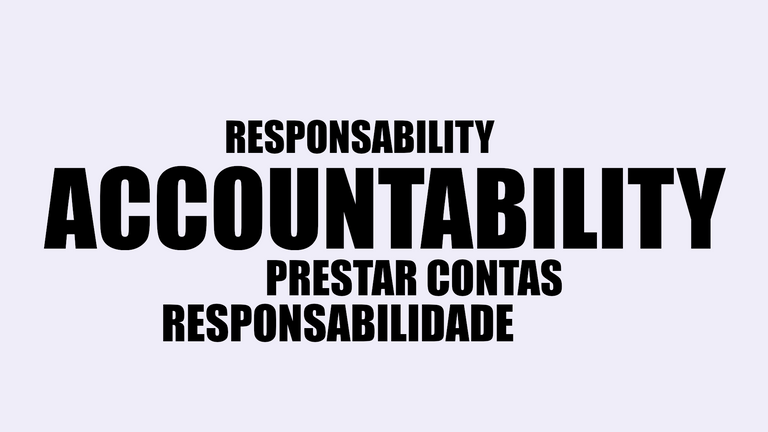 Fonte/Source: Made by me, with GIMP and lack of creativity.
---
Português
Há uns 6 anos, mais ou menos por volta de 2014/2015, depois de passar por uma fase bem complicada, comecei a estudar os temas de coaching, automotivação, PNL, etc., antes mesmo de estourar a febre de coachs aqui no Brasil. Ouvia muito conteúdo em inglês, lia artigos, livros, pesquisava pessoas influentes e tudo mais.
Por causa disso, comecei a estudar bastante inglês também. E no meio desses estudos descobri o conceito de accountability, que é um conceito bem ligado a questões empresariais e de governança, mas também pode ser aplicado para a vida.
Em português, o conceito mais aproximado de accountability seria o conceito de "prestar contas" em combinação com o conceito de responsabilidade. Nós não temos exatamente uma palavra para explicar esse conceito então, pois é um conceito carregado de significados. Inclusive na minha pesquisa antes de tratar sobre o tema em um texto, resolvi dar uma pesquisada na internet e achei esse artigo acadêmico uma leitura bem interessante para quem quiser se aprofundar mais nessa questão.
Pois bem, e porque quero falar sobre esse tema?
Bem, como disse acima, além de ser aplicado em questões empresariais e de governança, o conceito de accountability pode ser aplicado na vida, de diversas formas. Eu não acredito em punições exageradas, e penso que as vezes a própria ideia de punição é desnecessária em certos casos, ou não se deve pensar nesse conceito. Certas coisas simplesmente são consequencias de outras, cada ação tem uma reação, e escolhas implicam em ter acesso a algumas coisas e perder outras.
Não quero ser generalista, mas ouso dizer que hoje em dia muitas pessoas, não digo a maioria, talvez pode ser, mas muitas pessoas querem ter tudo. Querem agir de qualquer forma e não serem afetadas pelas consequências de suas escolhas. Querem xingar e criticar os outros sem que haja reação. Querem explorar financeiramente, mentalmente, etc., outras pessoas sem que o outro lado se manifeste. Querem ter corpos saudáveis, fortes, rápidos sem comer bem, se exercitar, etc.
E a vida não funciona assim, a própria vida em algum momento tende a nos cobrar pelas nossas escolhas, o tempo também, sendo a maior cobrança é a morte, da qual ninguém escapará(até onde sei).
Mas para além de questões talvez mórbidas, ou apontar dedos para outras pessoas, vamos abordar melhor o processo de usar o conceito de accountability na vida.
Usando accountability na vida
Como falei acima, o conceito tem a ver com prestação de contas e responsabilidade, e quando se trata da nossa vida, não é só sobre prestar contas para outras pessoas, e nem só sermos responsáveis com elas, mas também sobre prestar contas a nós mesmos e sermos responsáveis com nós mesmos.
Isso significa estar sempre refletindo e observando o que nós fazemos, e termos propriedade e sermos responsáveis pelos nossos acertos e nossos erros, sem querer fugir das consequências as vezes duras ou negativas, ou não necessariamente positiva.
Um exemplo pessoal, antes de conhecer a POB eu tinha firmado 2 compromissos com outras pessoas e comigo mesmo: Dar aulas de programação em um projeto e fazer um curso de engenheiro de software em uma escola internacional. Um é um compromisso de médio prazo, o outro é um compromisso de longo prazo.
Como durante um bom tempo da minha vida, não tive disciplina, ao acumular isso, com a produção para redes descentralizadas, entre algumas outras tarefas, em alguns dias estou tendo que optar entre focar nesses compromissos, ou produzir textos, postar, etc., coisa que toma no minimo 2 horas por dia entre escrever, revisar, traduzir para inglês, revisar novamente, e postar, as vezes também fazer imagens.
Mas é um processo que busco ter posse de todos os aspectos envolvidos, em que busco entender e reforçar para mim mesmo que fazer uma coisa implica em deixar de fazer outra, e no fim, apesar de no curto prazo dar aulas, e estudar não renda tanto quanto postar, a longo prazo pode mudar minha vida e até influenciar positivamente a qualidade e o alcance da minha produção, além de servir para alcançar metas maiores na minha vida.
Ou seja, presto contas a mim mesmo e me cobro responsabilidade. Acredito que se não tivesse essa visão provavelmente todo esse processo seria mais custoso, como já foi no passado onde não sabia quais eram minhas prioridades, não analisava minhas ações, só agia e me revoltava com os resultados.
Hoje em dia entendo que minhas ações tem consequências, e evito fugir delas, mesmo que as vezes sejam negativas. Se ao prestar contas para mim, e para outras pessoas, mesmo tendo errado, eu não for responsabilizado de forma negativa, ok, agora se eu for, ok também.
Há quem diga que isso seja maturidade, e não discordo, é uma parte do processo de amadurecer e crescer, mas diria que vai mais além(assim como conceito de maturidade vai mais além). Falei de decisões de carreira e trabalho para exemplificar, mas poderia falar de questões financeiras também, por exemplo, se gasto demais, ou errado, terei dívidas ou faltará dinheiro em um momento que precisar, se não pesquisar direito os processos relacionados a criptomoedas, posso ter prejuízos ou perder oportunidades, e é preciso ter essa consciência.
Também tem a ver com relações pessoais e sociais, se não trato as pessoas bem, se não sou respeitoso com elas, se não dou o nível de atenção requerido para cada caso, se não busco ser compreensivo, haverão consequências, e se eu realmente fizer algo que gere consequências negativas, preciso aceitar isso sem culpabilizar as pessoas ou me vitimizar.
Não é um processo fácil agir assim, mas cada vez mais entendo como necessário!! E busco aplicar esse processo de forma consciente porque nós como seres humanos buscamos sempre o conforto, sempre evitar as consequências de nossas ações, mas se queremos seguir um caminho pleno a longo prazo, precisamos assumir as consequências, sejam boas ou ruins.
Obs: Usei o termo accountability em português porque como apresento no texto, não existe bem uma palavra para definir o conceito. E pelo menos no Brasil tendemos a adaptar palavras estrangeiras ao nosso vocabulário, as vezes com o tempo mudando algumas letras para ficar mais agradável de se falar. No geral não sou a favor de se ficar usando termo em outras linguas, principalmente jargões, ou por motivos de ostentação, mas também abro exceções.
E você? Aplica o conceito de accountability na sua vida? Ou algum outro conceito parecido?
If you liked this post, give it a share, a upvote or make a comment! If you have any criticisms or positive suggestions, comment too!!

Si te gustó esta publicación, dale un voto positivo, haz un comentario, ¡comparte! Si tienes alguna crítica o sugerencia positiva, ¡comenta también!!

Se você gostou desse post, dê um upvote, faça um comentário, compartilhe! Se tiver alguma crítica ou sugestão positiva, comente também!!

---
Posted via proofofbrain.io
---
---