Chant's rebellion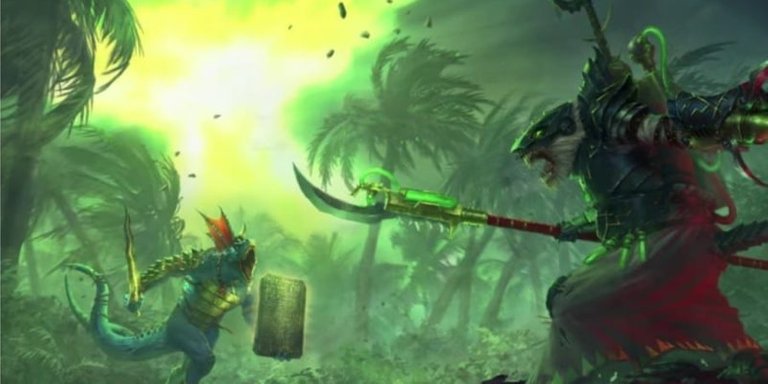 ---
Hello friends, today we will continue our saga in total war, if you are arriving now and do not want to understand the previous chapters of our history follow the links below.
Part 1 - The battle of Xlanhuapec
Part 2 - The arrival in Xahutec
Part 4 -The puzzle of the ancestors.
Part 5 -The end of the 'Putrid Clan'
Tehenhauin is marching towards the temple of Tlencan, it will be a long way and his first stop should be in the capital Xlanhuapec.
When inside the forests close to the capital news arrives that a rebellion is taking place in the city, insolent skavens have joined together and are plundering the outskirts of the city. sera nosario subdues them quickly and brutally.
The leader of the rebels is called "Chant" a skaven mage, he gathers forces to fight alongside him, more rats join his army at every moment.
Tehenhauin sees them looting less than a day's march and sets out to confront them, the army of rats is composed of two phalanxes of spears with spears, one with swords, and two of rodent ogres, a showy and disgusting but very strong infantry physically.
Chant has 500 skavens under his command and Tehenhauin 981 in his army, divided into Saurian warriors with maces and spears and blowguns, lizards with azagais and upper axes, a pack of salamanders, a monumental bastodonte and of course Tehenhauin and the hero Ka'mi ' lya specialist in hand-to-hand combat.
The terrain is composed of a central hill that extends across the battlefield but it is covered by a dense forest, on the right side a strong slope followed by another hill that goes up high in a traversible way but very accentuated. on the left side there is a plain and there Tehenhauin positions his troops waiting for the rats to advance from the forest on the central hill, waiting for the attack of the enemy who does not have long-range troops, the numerical advantage is clear and to avoid combat within the forest favors the large number of lizards with azagais and blowguns.
the battle begins and Tehenhauin moves across the plain in order to place his troops in a straight line towards the jungle that runs along the hill, to wait for the rats to descend from it and be shot at by his soldiers with projectiles, the troops of lizard men circling the central forest but the rats remain hidden inside it without attacking.
Tehenhauin orders that his army partly enter the forest in order to attract the attention of the rats and when the infantry enters, soon the rats reveal themselves, quickly the whole troop retreats out of the forest again then the rats run towards the army.
The rodent ogres come running towards the troops and clash with force, killing many skinny lizards due to their brute strength, but only in a first attack, soon they start to be shot by fireballs of the salamanders and a rain of spears cover them, very merrem and start to run away.
The smaller rats that came after are attacked by the bastodonte who has been trampling them and killing several with their attacks.
on the left flank a garrison of rats tries to go around the army to reach the salamanders, but they are intercepted by saurian warriors with spears.
In the background, leader Chant runs across the battlefield after his troops in the open without a clear objective, but he is an easy target for the troops of azagal and salamanders who start targeting him, who runs desperately, Tehenhauin then catches up with him and starts a short duel soon all the troops of the rats are dispersed and the leader flees away from Tehenhauin who sees that the battle is won.
There were 41 casualties in the Tehenhauin army 198 in the Chant army 25 skavens are captured and offered as a sacrifice right there to the serpent god Sotek.
The surviving rats flee and regroup near the capital, but Tehenhauin pursues them, corralls them and annihilates them, ending the rebellion and capturing Chant and a few more rats to serve as a sacrifice.
---
Versão em português
A rebelião de Chant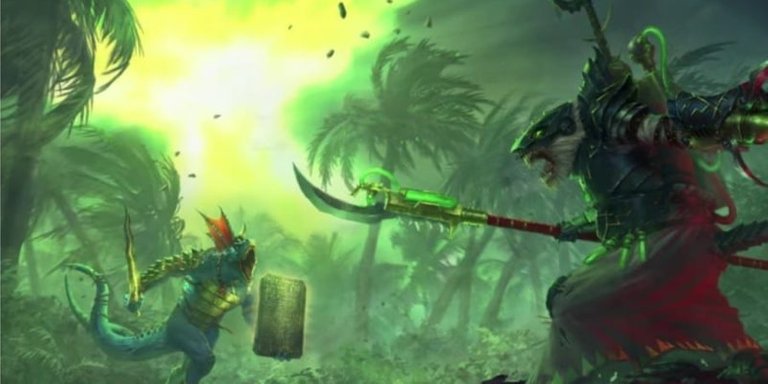 Ola amigos, hoje vamos continuar nossa saga em total war, se voce esta chegando agora e não quer entender os capitulos anteriores da nossa historia segue os links abaixo.
Part 1 - The battle of Xlanhuapec
Part 2 - The arrival in Xahutec
Part 4 -The puzzle of the ancestors.
Part 5 -The end of the 'Putrid Clan'
Tehenhauin esta marchando em direção ao templo de Tlencan, sera um longo caminho e sua primeira parada devera ser na capital Xlanhuapec.
Quando dentro das florestas proximas a capital noticias chegam de que uma rebelião esta acontecendo na cidade, insolentes skavens se uniram e esta saqueando os arredores da cidade. sera nessesario subjulga-los com rapidez e brutalidade.
O lider dos rebeldes se chama "Chant" um skaven mago, ele reune forças para lutarem ao seu lado, mais ratos se unem ao seu exercito a cada momento.
Tehenhauin os avista saqueando a menos de um dia de marcha e parte para confronta-los, o exercito de ratos é composto por duas falanges de rataiadas com lanças, uma com espadas, e duas de ogros roedores, uma infantaria mostrusa e repugnante mas muito fortes fisicamente.
Chant tem 500 skavens sob seu comando e Tehenhauin 981 em seu exercito, divididos em guerreiros saurios com maças e lanças e zarabatanas, lagartos com azagais e machados superiores, uma matilha de salamandras, um montruoso bastiodonte e claro Tehenhauin e o heroi Ka'mi'lya especialista em combate corpo a corpo.
O terreno é composto por uma colina central que se estende por todo o campo de batalha mas ela é coberta por uma densa floresta, do lado direito um forte declive seguido por mais uma colina que sobe bem alto de forma percorrivel mas bem acentuada. do lado esquerdo ah uma planice e la que Tehenhauin posiciona suas tropas esperando que os ratos avançem a partir da floresta na colina central, esperando pelo investida do inimigo que não possui tropas de longo alcance a vantagem numerica é clara e evitar um combate dentro da floresta favorece o grande numero de lagartos com azagais e zarabatanas.
a batalha começa e Tehenhauin se movimenta pela planice a fim de colocar suas tropas em linha reta em direção a selva que percorre a colina, para esperar que os ratos desçam dela e sejam alvejados pelos seus soldados com projeteis, as tropas de homens lagartos circundando a floresta central mas os ratos se mantem dentro dela escondidos sem atacar.
Tehenhauin ordena que seu exercito entre em parte na floresta a fim de chamar a atençao dos ratos e quando a infantaria entra, logo os ratos se revelam, rapidamente toda a tropa recua para fora da floresta novamente então os ratos correm em direção ao exercito.
Os ogros roedores vem correndo em direção as tropas e com força se chocam matando muitos lagartos magros devido a sua força bruta, mas apenas num primeiro ataque, logo começam a ser alvejados por bolas de fogo das salamandras e uma chuva de lanças os cobrem, muito merrem e começam a fugir.
Os ratos menores que vinham atras são atacados pelo bastiodonte que vem pisoteando eles e matando varios com seus ataques.
pelo flanco esquerdo uma guarnição de ratos tenta dar a volta no exercito para alcançarem as salamandras, mas são interceptados por guerreiros saurios com lanças.
No fundo o lider Chant corre pelo campo de batalha atras de suas tropas em campo aberto sem um objetivo claro, mas é um alvo facil para as tropas de azagais e salamandras que começam a alvejar ele, que corre desesperadamente, Tehenhauin então o alcança e começa um curto duelo logo todas as tropas dos ratos estão dispersas e o lider foge para longe de Tehenhauin que ve que a batalha se encontra vencida.
Foram 41 baixas no exercito de Tehenhauin 198 no exercito de Chant 25 skavens são capturados e oferecidos em sacrifio ali mesmo ao deus serpente Sotek.
Os ratos que sobrevivem fojem e se reagrupam proximo da capital, mas Tehenhauin os persegue, encurrala e os aniquila acabando com a rebelião e capturando Chant e mais alguns ratos para servirem de sacrificio.
---
Posted via proofofbrain.io
---
---