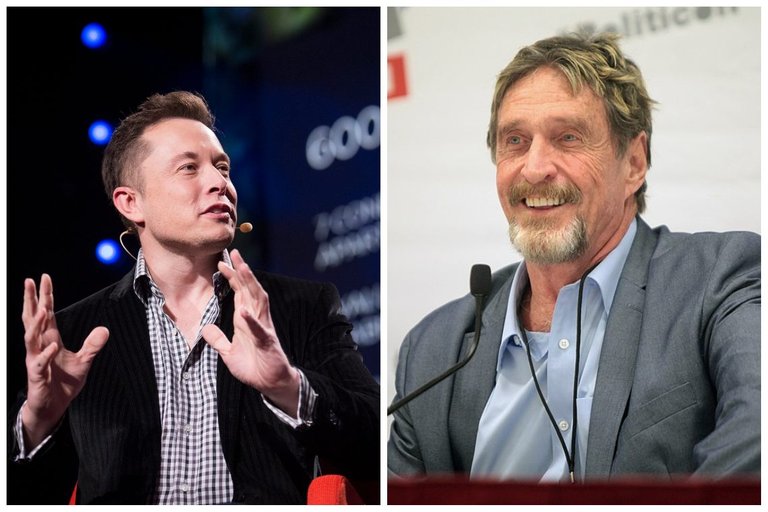 Elon Musk continues his prank of using twitter to pump and dump coins. And that attitude of his didn't change my way of looking at the market at all, because I'm already vaccinated against that kind of attitude.
In 2017, when I started to actually study about cryptocurrencies, I also got to know S*****t, and started making some trades, which made me lose something around 0.20 btc at the time it was worth around $3,500 .
Then came McAfee, also on twitter, saying that he would study the TOP 100 coins and say which was a thriving coin and which was a shitcoin.
Obviously one of the currencies he pumped was DogeCoin, as well as Elon, and he would buy at low prices and everyone would buy right away, with him then making the sales and making a profit.
He did this with several coins, even charging for lying that some coins were good.
As months before I had already lost a considerable amount on my own and being a premature trader, I didn't join the McAfee bandwagon and didn't make any profit or loss with their tweets.
The US federal prosecutor recently indicted him for these actions. And now in 2021 Elon Musk having similar attitudes.

A lot of people are losing money with his irresponsible attitude. 50% his fault and 50% the person who doesn't go after studying where he's investing his money.
Again, I didn't join this wave, in 2017 luckily I already lost a little money with trading (fortunately or unfortunately) and now again I didn't join because I already know the market and this kind of people.
I took the opportunity to buy more BTC every time he tweeted irresponsibly. And I took the opportunity to warn all my close friends who were thinking of selling their BTC because of him, not to worry, he is irrelevant to the functioning of cryptocurrencies and is just taking advantage of the profits of his companies to invest in BTC, money that your companies have achieved a lot in part from loans from the state that, as usual, has no idea where to allocate resources because it is mostly managed by incompetents.
Elon Musk is just that, a branded McAfee, and nothing more.
All his credibility he created over the years with his products (which if you study deeply many were not his merit, but engineers working for Tesla, where he was just the face of a poster boy).
Newbies, when investing your money, read MANY LeoFinance posts, there are many responsible people there, who taught you how to overcome some of the rocky paths that he has already trodden.
---
Posted via proofofbrain.io