This publication was also written in SPANISH and PORTUGUESE.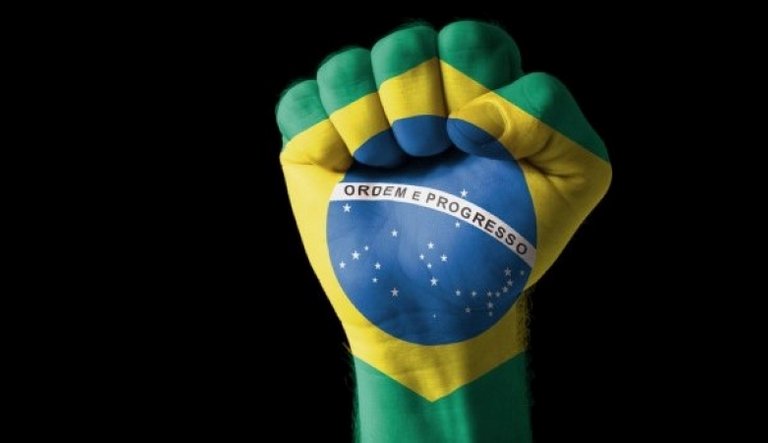 CACB
Six weeks ago, @hranhuk started making a ranking to monitor the strength of Brazilians in the Proof of Brain community. Since then, more and more new Brazilians have been discovered here and this can and should change constantly in the coming weeks, because the weekly list written by @hranhuk has been bringing good projections for this to happen. Everything is just a prediction, and I hope I'm right... Haha!
The idea was inspired by what is done by @vempromundo (which ranks the strength of Brazilians, but within the LeoFinance community), so, with the help of these two users, we have two different scenarios of Brazilian influence in these two communities. Speaking specifically of POB, through this post, I am going to put into practice a recent idea I had today: helping Brazilians with net POB donations.
It won't be a contest and I don't know how long this initiative will last, but winning these tokens will be too simple. If you are Brazilian, write in the Proof of Brain community and make weekly stakes of any amount you earn (and I believe you know that this only brings more benefits), I will transfer 10 POB, straight to your account, later that I check the list that is written by @hranhuk. So you better stay tuned!
The only prerequisite for receiving this donation is to maintain a weekly stake of 25 POB. The objective of doing this has two main points (at least in my point of view): to encourage Brazilians to write a greater amount of posts, thus increasing their financial rewards + interactions and putting the name of Brazil on the route of better countries within the Proof of Brain community. Let's make it happen!
---
Gane más POB haciendo Stake de POB. | Una ayuda extra para los brasileños.
Hace seis semanas, @hranhuk comenzó a hacer un ranking para monitorear la fuerza de los brasileños en la comunidad Proof of Brain. Desde entonces, se han descubierto cada vez más brasileños nuevos aquí y esto puede y debe cambiar constantemente en las próximas semanas, porque la lista semanal escrita por @hranhuk ha estado trayendo buenas proyecciones para que esto suceda. Todo es solo una predicción, y espero tener razón... ¡Jaja!
La idea se inspiró en lo que hace @vempromundo (que tiene la fuerza de los brasileños, pero dentro de la comunidad LeoFinance), por lo que, con la ayuda de estos dos usuarios, tenemos dos escenarios diferentes de influencia brasileña en estas dos comunidades. Hablando específicamente de POB, a través de esta publicación, voy a poner en práctica una idea reciente que tuve hoy: ayudar a los brasileños con donaciones netas de POB.
No será un concurso y no sé cuánto durará esta iniciativa, pero ganar estos tokens será demasiado simple. Si es brasileño, escriba en la comunidad Proof of Brain y haz stakes semanales de cualquier cantidad que gane (y creo que sabe que esto solo trae más beneficios), transferiré 10 POB, directamente a su cuenta, luego verifico la lista que está escrita por @hranhuk. ¡Así que es mejor que estés atento!
El único requisito previo para recibir esta donación es mantener un stake semanal de 25 POB. El objetivo de hacer esto tiene dos puntos principales (al menos desde mi punto de vista): alentar a los brasileños a escribir una mayor cantidad de publicaciones, aumentando así sus recompensas financieras + interacciones y poniendo el nombre de Brasil en la ruta de mejores países dentro de la comunidad Proof of Brain. ¡Hagámoslo realidad!
---
Ganhe mais POB fazendo Stake de POB. | Uma ajuda extra para os brazileiros.
Há seis semanas, @hranhuk começou a fazer um ranking para monitorar a força dos brasileiros na comunidade Proof of Brain. Desde então, vem sendo descobertos cada vez mais novos brasileiros por aqui e isso pode e deve mudar constantemente nas próximas semanas, porque a lista semanal escrita por @hranhuk vem trazendo boas projeções para que isso aconteça. Tudo é apenas uma previsão, e eu espero estar certo... Haha!
A ideia foi inspirada no que é feito por @vempromundo (que faz o ranking da força dos brasileiros, mas dentro da comunidade LeoFinance), então, com a ajuda destes dois usuários, nós temos dois diferentes cenários de influência do Brasil nestas duas comunidades. Falando especificamente do POB, através deste post, eu hoje vou colocar em prática uma recente ideia que eu tive: ajudar os brasileiros com doações de POB líquidos.
Não será um concurso e eu não sei até quando esta iniciativa irá durar, mas ganhar esses tokens será simples demais. Se você é brasileiro, escreve na comunidade Proof of Brain e faz stakes semanais de alguma quantia que você ganha (e eu acredito que você saiba que isso só se traz mais benefícios), eu vou transferir 10 POB, direto para a sua conta, depois que eu checar a lista que é escrita por @hranhuk. Então, é melhor ficar ligado!
O único pré-requisito para receber esta doação é manter um stake semanal de 25 POB. O objetivo de fazer isso tem dois pontos principais (ao menos no meu ponto de vista): incentivar os brasileiros a escreverem uma quantidade maior de posts, aumentando assim as suas recompensas financeiras + interações e colocar o nome do Brasil na rota dos países mais bem sucedidos dentro da comunidade Proof of Brain. Vamos detonar!
---
Posted via proofofbrain.io